Facts at a Glance About Space Mountain:
Park:

 

Magic Kingdom. Location: Tomorrowland Height Requirement: 44″ (112 cm) or taller Genie+: No. Individual Lightning Lane: Yes.
Quick Notes: High-speed roller coaster in the dark, and flashing lights. 
Disney Warnings: Thrill ride, big drops dark. Guests should be in good health and free from high blood pressure, heart, back or neck problems, motion sickness or other conditions that could be aggravated by this adventure. Pregnant women should not ride.
Our Additional Cautions: A very rough ride with quick unexpected hairpin turns, plunges, twists that jerk you around. Dark ride with some periods of total darkness. Multiple light effects including blue pulsating lights before launching, flashing lights, and a single bright flash for a picture. Includes high pitched noises, loud music and screams from other riders. Ride car is low to the ground and seats are single file, so parents will not be able to comfort a child. The low ride cars can feel tight to those of larger size and those with long legs. See below for more cautions and details.   
Length: The pre-show is about 3 minutes.
Special Needs & other info: Guests using ECVs must transfer to a wheelchair to enter the attraction and all guests must transfer to the ride car. For power wheelchair users, in most cases queues that allow wheelchairs also allow most power wheelchairs. See the Cast Member at the attraction for your options. Service animals are not allowed on this ride. Children under age 7 years must be accompanied by a person age 14 years or older. Some parts of the pre-show have Closed Captioning. Automated External Defibrillators.

Overview of Space Mountain
Take a rough ride through space on this very popular roller coaster. Though you won't be turned upside down, there are still plenty of rushes for thrill seekers. There are plunges, stops, hairpin turns and twists that jerk you around, with speeds up to 28 miles per hour. This may sound slow compared to other attractions, but it doesn't feel slow when you're on it! The G-forces generated by the angles of the curves and the drops contribute to this. The ride is often in the pitch dark, which enhances the sensation of speed. It also makes it very difficult to brace yourself, since you don't know where you're headed.
Queue and seating information for Space Mountain
The queue sometimes overflows into the outdoors under full sun. Most of the indoor queue is dimly lit, with some very long hallways that slope down and then up. People with claustrophobia should be aware of this, especially during crowded times when it can feel more confined. There are some interesting space-related things to see as you walk through, and some interactive game screen elements. As you approach the ride car area you'll hear people who are already on the ride screaming. This can increase anxiety in those with fears.
The vehicles look like little space rockets with open tops. They seat six single file in two connected cars which each have 3 seats. The seats are firm with a backrest and armrests. They're individual seats with individual padded lap bars. The ride vehicles can feel claustrophobic to those who are sensitive. Those of larger size and those with long legs may find them uncomfortable.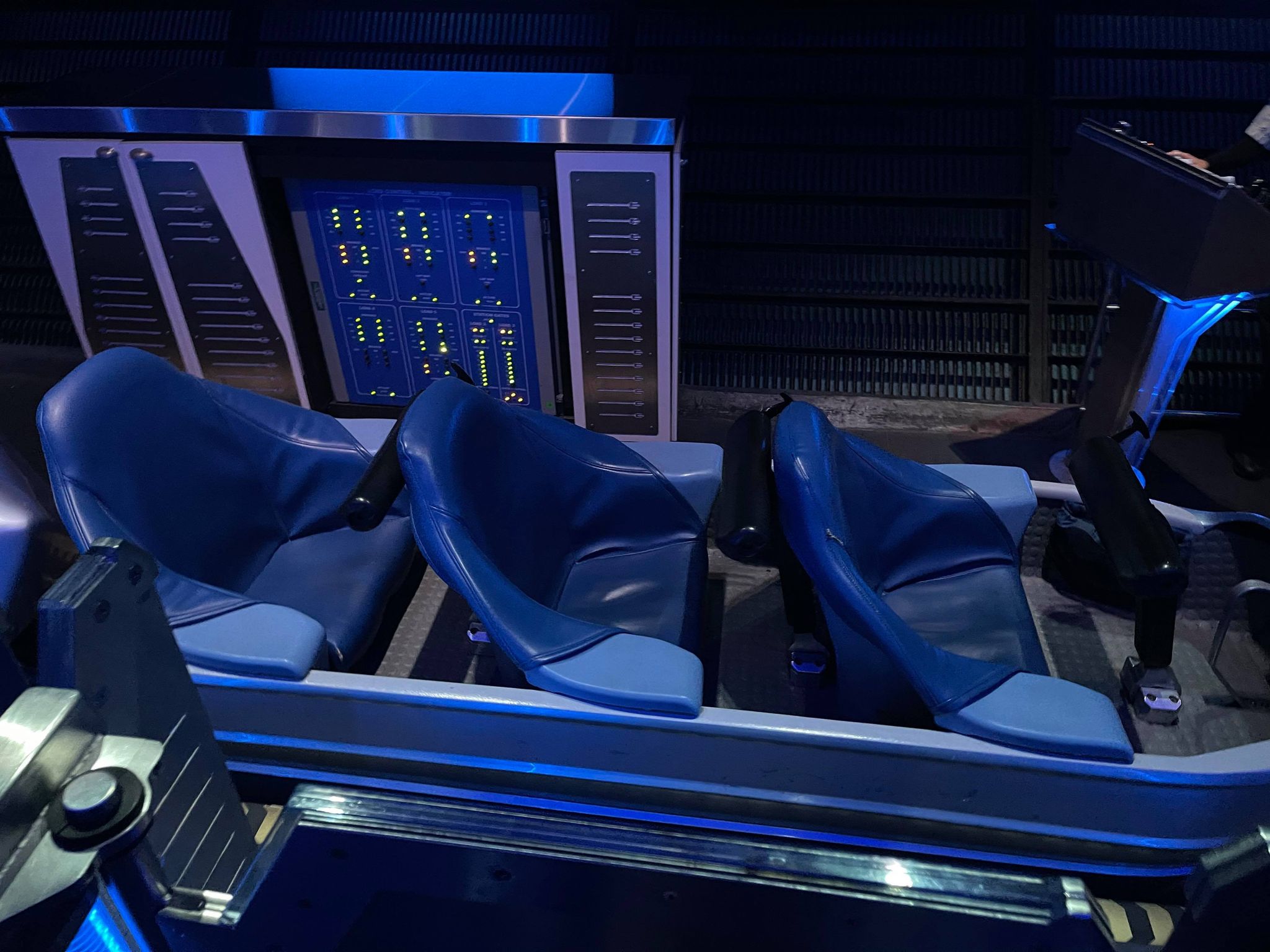 Wheelchair/ECV information for Space Mountain:
The queue can be challenging for someone pushing a wheelchair. As mentioned above, there are very long hallways that slope down and then up. If you're using an ECV you must transfer to a wheelchair to go through the queue. You'll then transfer from the wheelchair to the ride car.
You'll have to step or transfer down into the low-lying seat car which is near ground level, with little to hold onto. If this is difficult for you, using the seat as a step may help. The transfer must be made quickly because there's only a short time allowed.
A cast member will bring a wheelchair to you for disembarkation. Getting out may be more difficult than getting in because of having little to brace against, working against gravity, and the short time period allowed for transfer.
Though the same ride at Disneyland has a special load and unload area for disabled guests making it more easily accessible, this was not added here.
Disembarking from Space Mountain: While there are two separate tracks inside Space Mountain, they're almost exactly alike. To exit the attraction guests will first pass through several rooms with futuristic displays. Guests then ride on a moving sidewalk that slopes downward very steeply, reaches a flat part at the bottom, then inclines up very steeply. Wheelchairs can roll right onto it, but riding on it can be scary because of the steepness. It may help to lean back and hold onto the handrails when on the downward part of the ramp. On the way up, lean forward and have a member of your party behind you to brace the wheelchair (especially if you don't have antitip bars). Be certain to lock your wheelchair brakes, but be ready to take them off at the end of the moving ramp. Be careful at the end of the ramp; if your brakes are still locked at the end, you won't move off the ramp and the wheelchair could tip as the ramp keeps moving. If they're off and you're not holding the wheelchair still, the wheelchair will 'shoot' off. Guests pass thru several more display rooms on the way out before finally exiting in a gift shop.
Tip: Some of the ride track and several of the last display rooms at the exit are visible while riding Tomorrowland Transit Authority Peoplemover, so that may be a good way to get a small preview of Space Mountain before riding it.
Additional details about Carousel of Progress
Your ride car will make a turn and then take you up a 180-foot climb. Suddenly you're vehicle is released and the ride begins. We consistently hear that the roughness of the tracks is uncomfortable, even for people without health issues.
The ride itself is very dark, and you'll rush by a lot of flashing lights and still lights. We've heard that this can be an issue for some people with seizure disorders who are sensitive to lights. One particularly intense portion of the ride is when the ride car first takes off. You'll pass through a closed tunnel with many long lights that are meant to simulate a ship taking off in space through the stars at high speed. There's a kind of pulsating light effect that increases in speed as you move forward. Towards the end there's another tunnel simulating re-entry into Earth's atmosphere, which is shorter with a lot of flashing red lights. A bright light flashes when your photo is taken.
Adding to the visual confusion are projected asteroids, space vehicles and other visual effects moving across the dome. This is almost subliminal, but can definitely add to disorientation for some people.
Tip:  Some people feel they're able to discern direction more when seated in the front seat.
People prone to motion sickness may want to avoid eating right before this ride. There are high-pitched noises in this attraction. This ride may be too intense and scary for some young children, and for those who are sensitive.
Check out Space Mountain on video:
This video captures space mountain running with the lights on:
Check out other rides in Disney World's Magic Kingdom:
Adventureland 

Fantasyland

Liberty Square

Main Street USA

Tomorrowland
SEE RIDES AND ATTRACTIONS IN THE OTHER PARKS:
Join our Facebook group!!!!
Ask any questions, share your knowledge and just enjoy getting to know other Disney fanatics in our Facebook group called Walt Disney World Made Easy for Everyone.
Also: Like our Facebook page here.
And join me on Pinterest here.
GET UPDATES, NEWS & TIPS (IT'S FREE!!!) Plus get a Free Disney World Planning Schedule Form.
Sign up below to stay updated on the newest information, tips and tricks to help you plan your perfect Disney World trip!