How Anyone Can Save Big Money On A Disney World Resort: Using Disney Vacation Club Rentals
"How do you get discounts on Disney trips?"
This is a question I get a lot, and it's a frequent topic of discussion on my Facebook group. There's only one way to get a really huge discount on a Disney World trip. With this technique, I've seen room prices at almost half the regular prices Disney charges. In fact, I've seen Disney Deluxe resorts pricing at around what you'd pay for a Disney Value level resort.
Here's how you get those huge Disney World room discounts:
The biggest and most significant discount I know of can be had by renting a Disney Vacation Club Villa through DVC timeshare owners or resellers. It's easy if you do it through a reputable reseller. And you can save thousands of dollars!
But you must be careful about who you rent from…
There are some things you must be aware of before you do this, which we'll cover below. You can do this safely, or you can risk your money and your vacation. We'll explain, and suggest a reseller with a great reputation.
First, what are Disney Vacation Club Villas?
Disney Vacation Club Villas or DVC for short, are Disney resorts. Sometimes they're resorts planned and built from the scratch as a DVC type resort. For example, Disney's Old Key West resort was built as a DVC resort. Sometimes DVC resorts are added on to a regular Disney resort. Disney expanded several of their resorts to include DVC sections and rooms. For example, Disney's Beach Club Villas added a new villa section of the resort. And sometimes Disney transformed some of their regular rooms into DCV villas. For example, in Animal Kingdom Lodge Jambo House you'll find some of these rooms.
The DVC rooms are designed to have more amenities and space than standard rooms. They range from studio rooms with a dry bar area to rooms with private bedrooms, a full kitchen, washer/dryer, etc.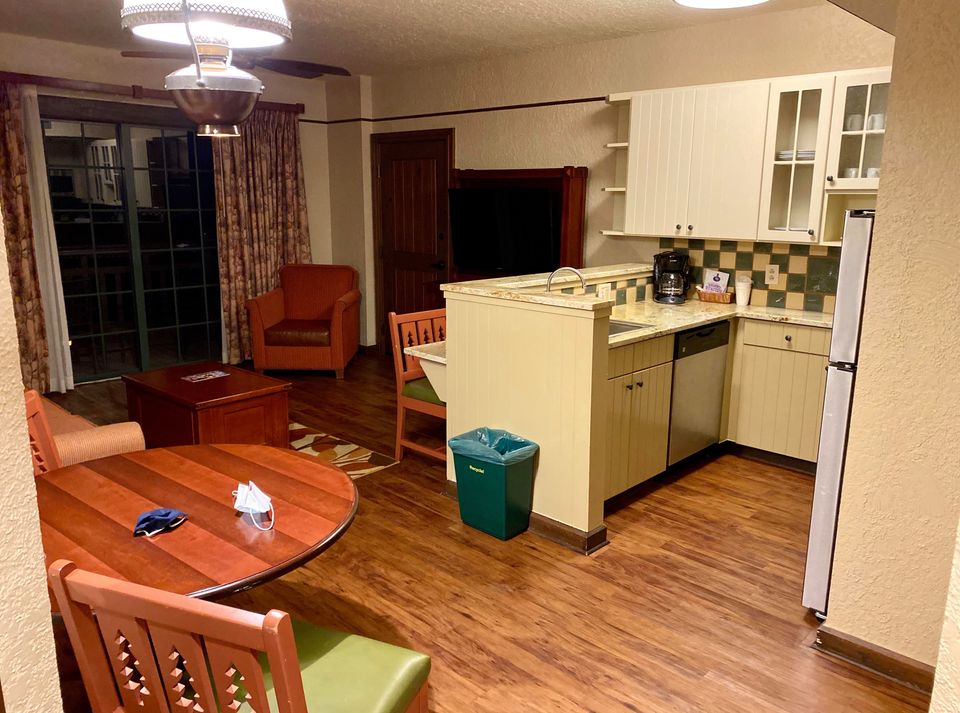 Here are the Disney Vacation Club Villa's at Disney World that you can rent this way, as well as some of the other Disney resorts around the USA that participate:
Disney's Animal Kingdom Villas at Jambo House
Disney's Animal Kingdom Villas at Kidani Village
Bay Lake Tower at Disney's Contemporary Resort
Disney's Beach Club Villas
Disney's BoardWalk Villas
Disney's Villas at Grand Floridian
Disney's Old Key West Resort
Disney's Polynesian Village Resort
Disney's Riviera Resort
Disney's Saratoga Springs Resort
Villas at Disney's Wilderness Lodge – Boulder Ridge
Villas at Disney's Wilderness Lodge – Copper Creek
Disney's Hilton Head Island Resort (South Carolina)
Disney's Vero Beach Resort (Vero Beach, Florida)
The Villas at Disney's Grand Californian Hotel & Spa (Disneyland, California)
Aulani (Oahu in Hawaii)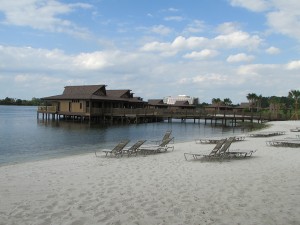 These resorts are great for anyone wanting more deluxe amenities and services, a larger space, or the use of a kitchen.
Is it really possible to get that big a discount?
Amazingly you can cut your resort costs by up to half (give or take a couple percentage points), and you can stay in a Deluxe resort for less than the price of a moderate and only slightly higher or equal to the cost of a value resort. Incredible, right?!!!
BUT before you do this… You should know that there are pros & cons, and risks that you should be aware of. You'll need know how to do this safely. Please read the full article and do your research before you rent DVC points.
First let me tell you more about how this works.
There are three ways for someone isn't a Disney Vacation Club owner to secure a DVC room:
Buy directly through Disney. Although most of the Disney Vacation Club rooms go to DVC owners, Disney rents a number of these rooms to non-DVC owners. Renting from Disney is the most expensive but least risky. You'll pay Disney's going rates. Sometimes they offer discounts, but they're not hearly as deep as with a points broker (see below0.
Buy direct from the DVC owner. Sometimes people who become Disney Vacation Club owners don't want to use their vacations themselves. They are permitted by Disney to rent out their own timeshare points. Going directly through a DVC owner can bring the most savings, though I wouldn't recommend that because it's the riskiest option. I'll discuss why below.
Buy from Points Brokers. You can rent through a DVC resale business. They act as a middleman between you and the DVC owner to make the process safe for you. Going through a DVC resale business (as long as it's a reliable business) gives you a deep discount with less or no risk of losing your money.
WHAT ARE THE ACTUAL DISCOUNTS LIKE?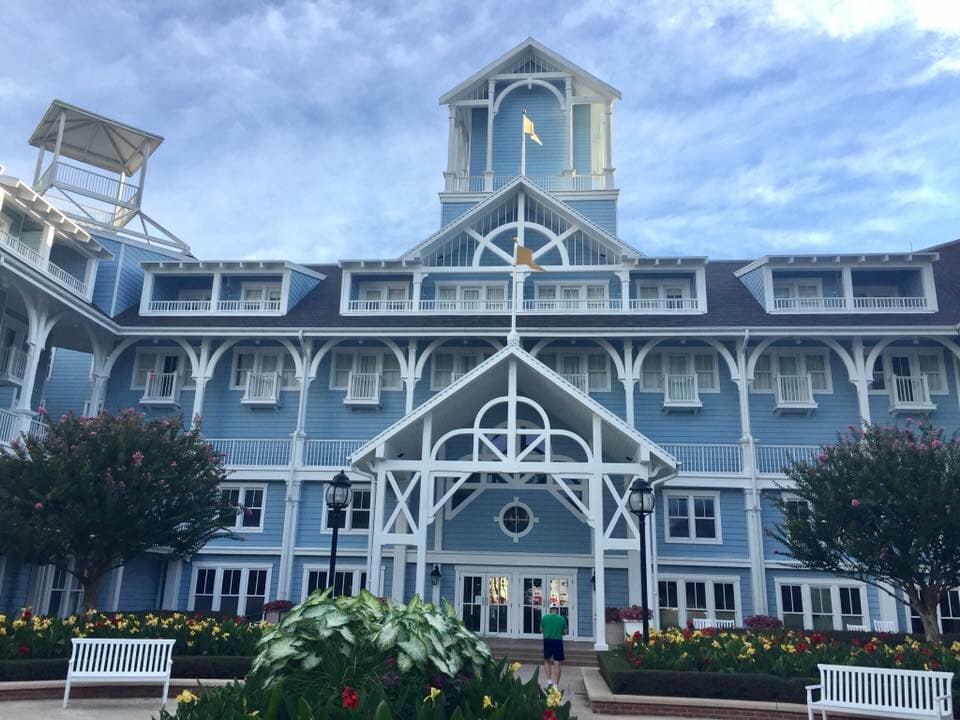 To show you the potential savings, here are pricing samples taken at the time of writing this article. Please recheck rates if you're pricing for yourself, since rates tend to rise over time.
I priced the rooms for a week, in three ways. First, going through Disney directly using their rack rates. Second, using a Florida Resident discount. Third, using a Disney points broker. I'll also throw in rates at a Disney Moderate level resort so you can compare.
I chose David's Vacation Club Rentals because after researching, I felt David's had the best reputation as a points broker. We have heard only glowing reports of their services. We also chose to become an affiliate with David's since we felt comfortable sharing this company with our readers.
Here are the rates for a week at Saratoga Springs which is a Deluxe Villa, along with the Moderate resort called Port Orleans French Quarter:
| | | | |
| --- | --- | --- | --- |
| Resort Name | Resort Type | Booked thru Disney or David's? | Price  |
| Saratoga Springs Studio – Rack Rate | Deluxe Villa | Disney | $2289 |
| Saratoga Springs Studio – Florida Resident Discount Rate | Deluxe Villa | Disney | $1802 |
| Saratoga Springs Studio | Deluxe Villa | David's (Points Broker) | $1064 |
| Port Orleans French Quarter (Non DVC Resort) | Moderate | Disney | $1,414 |
So, in this case you save $1,225 if you book a Disney Vacation Villa thru David's Vacation Club Rentals rather than booking by Disney directly. Less than 1/2 price!
That's a 53-54% discount! That's big money. It's even less expensive than booking a moderate resort through Disney. You save a good chunk even if you're comparing to a Florida Resident discount or an annual Passholder rate.
But there are pros and cons to points renting that you should be aware of before you choose this route.
WHO SHOULD RENT DVC POINTS, AND WHO SHOULD NOT?
This is my personal opinion, so be sure to do your own research. I feel that renting DVC points is an great option and a great opportunity for most people. This is provided that someone goes through a reseller with an excellent reputation like David's Vacation Club Rentals. I feel that the risk is to great when you go directly through an owner. I'll share more on that below.
Who should not consider renting points for a Disney Vacation Club Villa?
This would not be right for someone who needs to be able to maintain flexibility to cancel or change their dates.
This is because once you book with David's or most (if not all) resellers, you won't be able to change your dates or cancel. In fact, David's suggests that you purchase trip insurance, which I'd highly recommend to everyone.
If the lack of flexibility doesn't bother you, read on to see if this is a good option for you.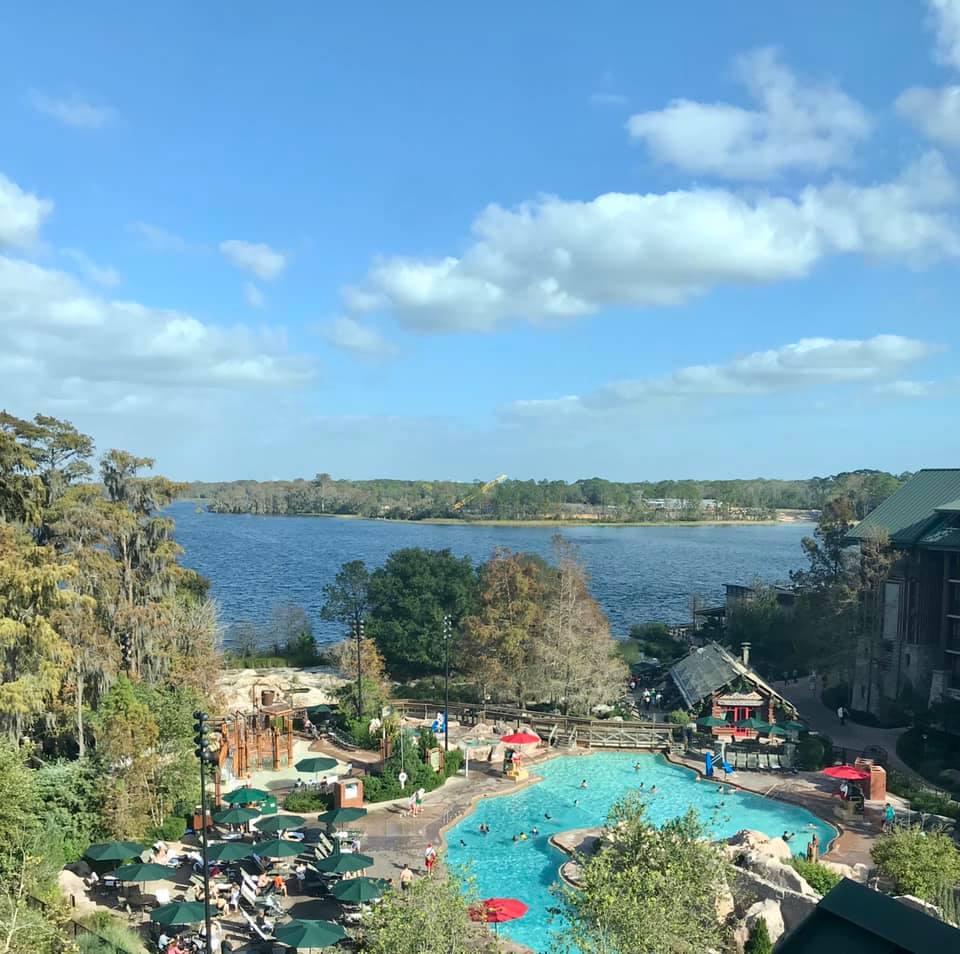 HERE'S MORE ABOUT HOW THE DVC POINTS RENTAL PROCESS WORKS:
When you rent points from a Disney Vacation Club owner, the owner checks availability and makes a reservation with Disney in your name. Though the reservation is in your name, you are not allowed to talk to Disney directly about your reservation. The DVC owner must make any special requests, and they must add any other options to your reservation such as a Dining Plan. Also generally speaking you'll be paying for the entire thing up front, at the time of booking.
THERE ARE RISKS WHEN YOU GO DIRECTLY THROUGH AN OWNER. Here's what you need to consider: 
Here are some of the risks of going through a DVC owner, and info on how a good company like David's Vacation Club Rentals helps remove the risk to you:
Scammers – Look around the web and you'll see that there are unscrupulous people posing as DVC owners, taking money and then not actually making the reservations. There are some scammers out there. When you're going directly through a DVC owner, there's little or no protection for you if this happens.
How to remove that risk: The only way to protect yourself from this is by using a resale company such as David's that absorbs all the risk and gives a 100% money back guarantee.
The DVC owner could default on their dues.

If they do, they'd lose their good membership standing and your reservation would be cancelled by Disney. Not only could you lose your reservation, but you can lose your money if the owner doesn't refund it.
How can you protect yourself? I spoke with a representative named Emily at David's Vacation Club Rentals about this. I asked if they protect their customers from this happening. She let me know that there's no way to know if someone won't pay their dues after you've booked. Here's what she said:
"We don't have access to the DVC member's membership so we aren't able to verify 100% that their dues are all paid which is why we have the money back guarantee… Since members are ultimately the ones who are in control of the reservations we do also guarantee that if, on the very rare occasion, something does happen to their reservation we will try to find alternate accommodations and if there is nothing that works for the guest at the very least we will refund their payment so that they don't lose money on the reservation."  
Availability of the DVC Owner.

When you rent DVC points, you're not permitted to contact Disney yourself to make a change or addition to your reservation. If you have any kind of need or problem with your reservation, you will be dependent on the availability of your DVC owner. If something goes wrong and you need to reach them, they may or may not be accessible.
How can you remove this risk? With a good DVC reseller like David's, you know you can reach someone there every day of the week between 9 am to 5:30 pm eastern time.
DO YOU STILL WANT TO GO DIRECTLY THROUGH A DVC OWNER TO RENT POINTS?
I see that some websites say that you can go through individual owners provided you do your research. Personally, I wouldn't want to risk it. You're talking about a lot of money and your precious vacation time. What recourse do you have if your DVC owner doesn't do right by you? Will you sue them and take them to small claims court? Assuming you could find them, it's unlikely that anyone would want to go through this. Especially if the owner is in a different state.
If you pay with a credit card that has a good history of protecting its clients like American Express or Discover, you could dispute the charge if needed. This can take months to complete, and it could require you to write a report, talk to the credit card's investigator, etc. It's still a hassle with no guarantee you'll get your money back.
If all of this doesn't dissuade you, and you still want to rent directly from a DVC owner, here are links to sites where DVC owners list their points for rent:
To reduce your risk, I'd only deal with owners that clearly have a long history of reliability on the site you're working from. I'd avoid anyone who is newer.
After doing a lot of research, we felt most confident in David's. Here's why:
Trust – They currently have an A+ rating with the Better Business Bureau. At the time of this writing, I noticed that they had a clean and positive business reputation. It seems to me that they're widely respected and trusted. The Better Business Bureau gives David's an A+ rating.
Safety with a 100% Money Back Guarantee. They remove the risk of losing your money with a 100% money back guarantee. Personally, I wouldn't be willing to risk that much money to trust an owner that I've never met and don't know personally. Even people I know personally and have trusted have surprised me over the years, so I'd definitely go where I know my money is safe. And where I have a contract that protects me.
They do everything with a legal, binding contract. Everything is spelled out in advance, so you know what to expect, and you're protected by the contract. It's call clear and easy to understand.
Easy access and communication. Your DVC member may or may not make themselves available to you. Personally, I don't want to be in a position where I have to chase someone down. As I mentioned above, you know you can reach someone there every day of the week between 9 am to 5:30 pm eastern time. I was told that they also monitor calls after hours so if there's a problem you can leave a message and they'll get back to you.
Easier process. There are no unknowns and surprises in the process. There's nothing to try to work out or negotiate. Plus, when you need David's to take care of something such as making special room requests or adding the dining plan, you can be sure they'll take care of it. You don't have to chase them to get them to do it.
Visit the David's Vacation Club Rentals site to get started, to check dates, availability and prices.
And whatever you do, please do your research first. You do this at your own risk, so it's a personal choice! To save a lot of money, are you willing to take a little risk, a lot of risk, or no risk at all? That's up to you.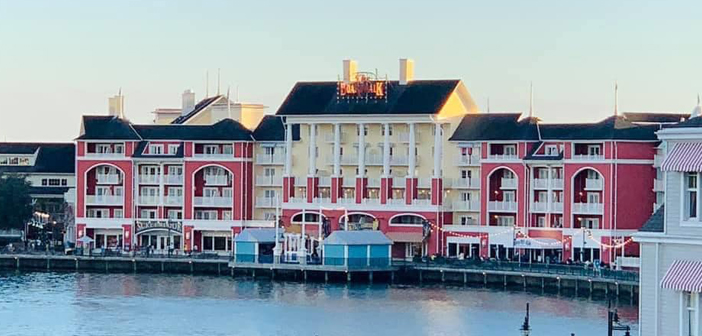 The beautiful top image photo was used with permission from: My Disney POV Photos
AFFILIATE LINK INFORMATION: Please note that we have affiliate links on this page. If you click through we get a very tiny commission, and you are not charged any more than you would have been otherwise. We only became affiliate partners with David's after we've researched intensively. We saw that they had an excellent reputation. We would appreciate if you would support our work and enable us to continue helping make dreams come true by using the links.
Join our Facebook group!!!!
Ask any questions, share your knowledge and just enjoy getting to know other Disney fanatics in our facebook group called Walt Disney World Made Easy for Everyone.
Also join me on Pinterest here.
GET UPDATES, NEWS & TIPS (IT'S FREE!!!)
Sign up below to stay updated on the newest information, tips and tricks to help you plan your perfect Disney World trip!