Can you bring your infant or toddler to Disney World and have a good time?
Absolutely. It will have its challenges, but Disney does offer a number of support services to make your life easier. However here's what Amy Paulshock, one of our book contributors with a lot of firsthand experience had to say about this: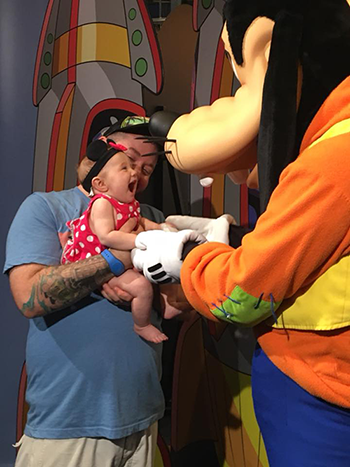 "Think long and hard before bringing a child younger than two or three. Of course, it depends on your child, and how much you're willing to sacrifice your Disney experience for your child's well-being. Small children thrive on routine more than thrill, and as much as you want to show them a good time, what you may be exposing them to is a lot of stress."
As with all things Disney, there are plenty of people who feel the complete opposite, and very passionately! We hear from a lot of parents who feel they got a lot of joy out of seeing their babies light up with all the sights and sounds. Just look at the photo at the top and to the right. That's one happy baby.
How young is too young? And Can I bring my newborn to Disney World? 
That's a personal choice, and a good question for your doctor, but keep in mind that there are people visiting Disney World from all over the world. You'll be exposing your baby to a myriad of germs in crowded areas. Even if you keep others from touching your baby, consider that some germs are airborne.
Consider waiting until your child's immune system is strong enough to handle the many germs they'll be exposed to. According to Genevieve Fairbrother, MD, an OB/GYN who was quoted on CafeMom.com, it's best to avoid public crowds and non-essential outings during the first 6-8 weeks because the baby's immune system is still developing.
Also each child is different and their ability to handle the situation will depend on their condition. For example were they premature? Are they breast fed? These and many other things can impact immunity. So there seems to be some risk involved with bringing a newborn or a very young infant to Disney. Again, it's something you must decide with your doctor, but we wouldn't recommend exposing a newborn. It's not worth the risk.
Here are some tips for optimizing your visit and having a great time.
Timing, Crowds, and Weather with an Infant or Toddler
When should you go? First, let's talk about when you shouldn't you go!
Crowd conditions are important. If you do choose to go to Disney with an infant or toddler, we recommend that you don't go during high season. The crowds and long lines will make an already challenging trip more difficult. We also suggest that you don't go during the warmest weather. To determine the crowd conditions, check out our article called "How to Pick Your Disney World Travel Dates".
Weather is important. In this article you can check out the weather averages for Orlando. Look about halfway down the page to see charts for temperature and rain averages. You'll see that the intense heat starts consistently revving up in May and lasts through September. The increased humidity makes it feel much more uncomfortable. You can also check weather averages on weather.com.
In the summer the Florida heat and humidity is relentless and intense, and infants should not be exposed to that level of heat for any length of time. Babies are much more sensitive to heat than adults, and their bodies are less able to cope with it effectively. Many adults have difficulty with Florida's summer heat. If you're visiting the parks in the summer, you run the risk of overexposing the child. Here's what one local health worker had to say:
"I used to work for the emergency room across the street from Disney and seen too many infant babies dehydrated from the heat… I'm just giving you my experience from what I've seen in my 12 years at celebration hospital. If you have to put three fans and a cooling rag on your baby it's too hot to come. I know people say they brought their infant child but I cringe every time." —Randy Dunn
Randy also mentioned that he saw a lot of sunburned babies come in to the ER.
Protecting your infant or toddler from heat and sun while at Disney World.
Regardless of the time of year, even in winter, infants, toddlers and young children must be protected from the Florida sun. Be very careful to keep your child hydrated, and take frequent breaks in air conditioned locations such as restaurants. Keep babies, especially those who are younger than 6 months old, out of direct sunlight. Infants over 6 months old should use a sunscreen product. We'd suggest using a product made for children, preferably with a high SPF protection factor such as 40-50. Avoid the eye area. Although sunscreen is made for babies 6 months or older, the American Academy of Pediatrics says it's okay to use it on small areas of a babies body such as the face (avoiding the eye area) if the baby must be exposed to sun. Talk to your pediatrician about this in advance of your trip, and ask for any other recommendations he may have.
Use as many other ways of protecting your baby or toddler from the sun as you can. For example:
A hat with a brim that shades the face can be helpful.
Use a stroller canopy to block the sun, and make sure there's plenty of air circulating. If you do use a canopy, watch to make sure it's actually positioned in a way that blocks the sun. Sometimes, because of the sun angle, the sun canopy can be up, but the sun is still shining on the child.
Dress your child in lightweight, light colored clothing with a tight weave that covers the body.
Consider bringing infant or toddler sunglasses. Remember, if the sun bothers your eyes without sunglasses, it's bothering your child's.
UV rays, and often the heat levels, are strongest between 10 am and 4 pm. It's especially harsh in summer, and you may wish to plan indoor activities during those hours. Don't forget that even in cloudy weather or in the winter sun you and your child can get sunburn. You may wish to visit the parks in the late afternoon and evening to avoid this. This is especially true if it's hot out.
Where to stay when visiting Disney World with an infant or toddler.
I often suggest staying in a Disney Hotel. This is especially true if you're visiting with an infant or a toddler. Check out this article here called Should I Stay in a Disney World Resort.
In addition to the many perks you gain, staying in a Disney resort puts you close to all that Disney has to offer, cutting down on the amount of time you must spend traveling. Of course anything that makes your visit easier will cut down on stress and allow you to spend quality time with your children.
Another benefit of staying in a Disney resort is that most of them have fabulous pools that are as much fun as the parks for children and adults alike. It's a great way to take a break from the parks. Children in diapers must wear plastic pants over their diapers, which must fit snugly, or they can wear swimming diapers. They're usually available for purchase in the hotel's main store, or in the pool shop if there is one.
What amenities can you get in the Disney resorts?
Many of the Disney resorts have a counter service restaurant or food court with a microwave available for guests to use. All of the Disney resort standard rooms have at least a mini refrigerator, including the value resorts. If you need a partial or full kitchen, consider staying in a Disney resort villa or suite.
The Disney resorts offer Pack 'n' Play style cribs with sheets at no extra charge. Many rooms have them in there already, but I'd suggest you request one in advance if you need it.
Another perk in the Disney resorts is that their convenience style stores carry basic baby supplies such as diapers.
Here's a tip from one of our readers, Philip Schoen:
"If you can afford it, a monorail resort can make transportation easier as you don't need to fold up your stroller when getting on the monorail."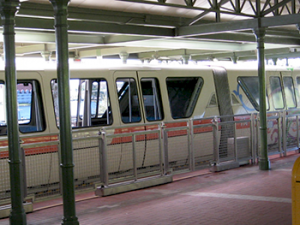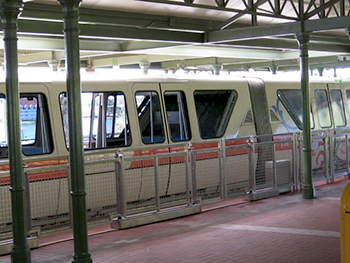 The monorail resorts are Polynesian, Grand Floridian and Contemporary. You can use the monorail to get to Magic Kingdom or Epcot.
For more information on where to stay when visiting Disney World, check out our series. Read "Should I Stay in a Disney World Resort?" and "Which Disney Resort Should I Pick?".
Transportation at Disney World With an Infant or Toddler
Disney provides free transportation to all of its resort guests. This is a huge perk and you can check out all the Disney transportation here.
Having your own car may be worth considering.
Although the Disney transportation system can be really convenient and easy, if you're bringing an infant and your budget allows, you may still want to consider renting or bringing a car.
Disney transportation has its benefits, but having your own car allows some freedom and convenience.
For example, you won't have to wait in lines for Disney transportation (except when going to and from the Magic Kingdom), which could be challenging when you're dealing with tired children (and parents). It will shorten your travel time as well. Depending upon where you're going and the number of stops before yours, the Disney bus rides can take as much as 45 minutes. Waiting for the bus to arrive can add to that time. The boats and monorail can also be time consuming. Disney buses and boats can get packed, and there may even be standing room only. This can be very difficult with an infant or toddler.
Having your own vehicle allows you to drive directly to some places that Disney doesn't provide direct transportation to.
For example, we enjoy visiting some of the Disney resorts to dine, and most of the time there's no direct route to get from one resort to the other. You'd have to transfer at least once. Having our own vehicle makes this much more convenient. With your own car you can also leave Disney property. This is great for needs like visiting the drug store, picking up baby supplies, or getting snacks for your room.
Car seats are required.
If you decide to have a car, remember that the law in Florida requires that children three years old and under be secured in a child safety seat. Older children can use a safety belt, but if it doesn't fit the child well, either a child safety seat or a booster set (if they're too big for a child safety seat) is required. Also, children should always be placed in a back seat. It's against the law to place a child safety seat in the front if there's a passenger airbag.
See the Florida government site for more details on Florida driving safety laws here:
Strollers at Walt Disney World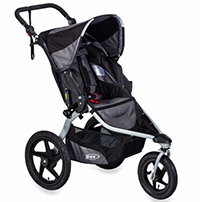 There are a variety of options when it comes to strollers, and you'll need to know how to use them in the parks, on Disney transportation and in the resorts. Please take a look at our article called:
Strollers at Disney World – All you need to know!
If you're renting a stroller, which is a great idea by the way, consider using Buena Vista Rentals. We invited them to sponsor us because they have a great reputation.  They also have a great selection of strollers that are kept in good condition.
They're giving our readers a FREE SNACK TRAY with rental of a stroller. Check out this page on their site here to view the discount. 
Managing with Infants or Toddlers inside the Disney World Parks
Children under the age of three are admitted to the parks free of charge. There's one good reason to take them at that young age!
If you're bringing an infant or toddler you'll need to adjust your expectations to care for the child. The parks have much to keep the attention of an adult, but you'll need to pay close attention to your child throughout the day. Pace yourself, and make it your goal to keep your child comfortable and happy.
It's likely that you won't be able to do as much as a family without an infant or toddler could, so take time to research all of the attractions, and pick the ones you (or your older children) most want to experience. Go to those attractions first.
What rides can your infants and toddlers go on?
They can go on any ride that doesn't have a height restriction, but we suggest you be very choosy. Not every attraction that you can take your infant or toddler on will be good for your child. For example, consider avoiding attractions with loud noise levels which can be uncomfortable or startling for an infant or young child. Check out the ride cars to be sure you can comfortably and safely hold your baby.
For info on which rides don't have height requirements, visit here.
Sitting with an infant on rides:
Here's a tip from reader, Philip Schoen: "Definitely be open to rides, but note that on some you will be able to take your baby in the carrier or while baby wearing, but some you will have to take the baby out. We found that on rides that had lap bars (such as the Little Mermaid ride) we were asked to take the baby out of the baby wearing or carrier, and face her forward."
This is for safety reasons, because those lap bars come down on you automatically, and they come down hard. In fact we've had our knees and hands banged up in the past, because we didn't position ourselves with the bar in mind when we sat. So even if you're holding your baby on your lap, it's important to be aware in those types of ride cars that the bar will be coming down on its own, and you'll need to position the baby accordingly.
Do you want to try rides that your child can't go on?
You may wish to use the rider switch program that's available on some rides (mostly on those with height restrictions). It allows one person to wait with the child, while the other person rides. Afterwards, the other person can go on the ride with very little wait. Also make use of the Disney Genie+ and Lightning Lane systems whenever possible to minimize waiting in line, and you can use single rider lines which have shorter waits than the regular queues, whenever they're available.
Character Meet & Greets:
Here's a tip from one of our readers, Philip Schoen. "Don't forget about meeting characters! We've had some great interactions when they were really young – including Ariel asking "who's this little guppy?" Many of them, but especially the princesses seem to really be into babies. "
Some children light up with the characters and those moments can be magical. Be ready with your camera! On the other some children react with fear. In that case just take it very slow. Don't press it. Often they'll come around when they see other children enjoying the characters. Sometimes they won't. In that case I'd suggest avoiding character interactions.
Advice: Take it slow in the Disney World parks.
At the parks, pace yourself, take frequent breaks, and don't try to do everything. The objective is to have fun, and the pressure of having to do everything can take the fun out of your day. Remember that part of making it work with children is to be able to stay relaxed and flexible. If you're determined to try everything, consider taking a longer trip, and spread out your activities.
Bring some help if possible. Or hire help.
Some people enjoy the perks of bringing their in-laws along! Or consider bringing other family members or friends along to split the childcare responsibilities. They can help in the parks, or stay at the hotel with your infant. This will give you some adult time, and/or time with your older children.
Another option is to hire a babysitter or mother's helper. For details on that read our article called Babysitting, Child Care, Mother's Helpers & Senior Care at Disney World.
Baby-Changing Stations in the Disney Parks:
There are baby-changing stations in most of the bathrooms throughout the parks. This includes the men's restrooms. Some of the companion restrooms have them, but most don't. You may want to bring antibacterial wipes, and some choose to bring a pad to lay down on the changing station.
Baby Formula at the Disney World parks:
You can carry a small cooler for formula. One way to make fresh formula when needed is to measure an amount of instant powdered formula out, and then add it to room temperature water when you're ready to feed. You can also make use of the Baby Care Centers found in the four main Disney parks.
Baby Care Centers at the Disney World Parks:
Each of the major parks has very convenient baby care centers designed to make your life much easier. Read all about it here: Disney World park's Baby Care Centers
Breastfeeding while at Walt Disney World
By law, moms are allowed to breastfeed in any public or private location. While public breastfeeding is commonly done and completely acceptable in this country, it's customary for women to cover up their breasts as much as possible.
While in the parks, many women find the Baby Care Centers the most comfortable and private place to breastfeed; however since the parks are so large, they're not always the most convenient location when you're baby is ready to feed. There are few truly private areas around the parks; however there are many locations that will work.
One idea is to nurse during an attraction that takes place inside a darkened theater such as Walt Disney's Carousel of Progress in Magic Kingdom, Finding Nemo – The Musical in Animal Kingdom, and The American Adventure in Epcot. There are also benches around the parks in areas that are on the quieter side.
A Contributor to our book, Sue Mickelson, said the following:
"I breastfed my youngest child at Disney World over 20 years ago when she was an infant. Although breastfeeding in public was less common then that it is now, I had no issues. I fed her a lot in rides, but also sitting on benches in quiet places in the park. I must have been discreet, because the only comments I received were people asking if they could look at the sleeping baby. I had done some practicing in front of a mirror before our trip, so I was quite confident that I could nurse my baby without showing anything."
————————————————————————————————————————————
MENTION US AND YOU'LL GET A FREE SNACK TRAY STROLLER ACCESSORY with stroller rental. MENTION THE DISCOUNT CODE "EASY DISNEY". 
Or Call: (866) 484-4797 (mention the diz-abled.com offer or "EASY DISNEY" to get your FREE SNACK TRAY)
————————————————————————————————————————————
Join our facebook group!!!!
Ask any questions, share your knowledge and just enjoy getting to know other Disney fanatics in our facebook group called Walt Disney World Made Easy for Everyone.
Also join me on Pinterest here.
GET UPDATES, NEWS & TIPS (IT'S FREE!!!)
Sign up below to stay updated on the newest information, tips and tricks to help you plan your perfect Disney World trip!