Facts at a Glance About Mickey's PhilharMagic:
Park: Magic Kingdom. Location: Fantasyland. Height Requirement: Any Height. Genie+: Yes. Individual Lightning Lane: No.
Quick Notes: 3-D movie starring Mickey and Donald.
Disney Warnings: None.
Our Additional Cautions: 3D movie includes loud music and some out of tune blasts of music, blasts of air and some water sprays. Also includes periods of dim light and a few short dark scenes. Seat vibrates slightly at some points. Includes 'flying' sequences, and other sequences which involve the movie rapidly changing direction which causes some guests to feel as if they are moving (although the seats do not move). Scents used in some scenes. Some startling 3-D effects, though they don't seem designed to cause fright. You must wear 3-D glasses.          
Length:  The movie lasts approximately 10 minutes.
Special Needs Info: Guests can stay in their wheelchair or ECV, though you'll miss some of the sensory effects. Reflective Captioning, Assistive Listening, Audio Description. Automated External Defibrillators. Genie+. 

Overview of Mickey's PhilharMagic
This dazzling experience is presented on one of the largest seamless screens in the world. Adults and kids alike will enjoy this. You'll follow Donald Duck through scenes from many of Disney's animated films as he chases Mickey's sorcerer hat, which constantly gets away from him. This attraction does a great job at having you feel like you're a part of the scenes. For example you'll feel like you're swimming under the sea with Ariel and flying on a carpet with Aladdin. There are sensory experiences in this show as well as visual.
Queue information for Mickey's PhilharMagic
The queue is indoors, but can overflow to a covered area outdoors. Most of the outdoor queue is shaded, but during peak crowd periods guests overflow into the walkways in full sun (although, when this happens, the line has overflowed the actual queue and you can wait out of the sun while the rest of your party is in line in the sun). Indoors there's not much to see and the lights are low, but it's air conditioned and cool! The floor is carpeted, and you may get away with sitting on the floor while waiting.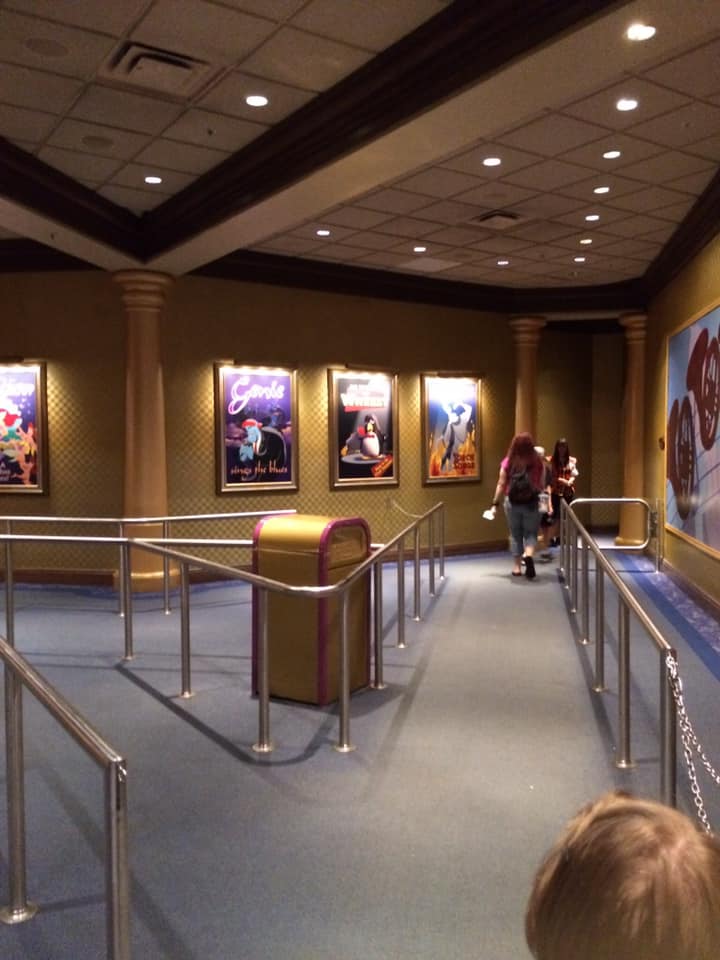 The theater seats almost 500 people at a time, so the waits are usually not too bad. While you're in the indoors queue, be sure to read the posters on the wall, including the small print.
Inside, if you have DAS (Disability Access Service), show it to the cast member at the entrance who will tell you what to do. Guests with wheelchairs and ECVs should stay to the right unless you're directed to go elsewhere. The right side area is just a queue that's separated from the main queue by a chain. When it's busy, the separated queue begins near the door to the building and continues all the way to the last waiting area. When it's not busy, guests with wheelchairs and ECVs may be directed to stay in the regular queue until reaching the last waiting area.
The separated area is usually far less crowded, though it's in the same room as the other guests. Guests in this area are admitted into the theater about a minute before the other guests.
Seating in Mickey's Philharmagic
Once admitted to the theater, you can choose to stay in your wheelchair or transfer to a theater seat. The back row has wheelchair cut-out spots between theater seats, and they allow guests to experience the sensory effects from their wheelchairs.
The seats are padded theater-style with arms. People of larger size may find them to be tight, but most people will find them comfortable with sufficient leg room.
Guests enter at one end of the row and exit is all the way at the other end. If you may need to leave early, continue all the way to the end of the row to be close to the exits.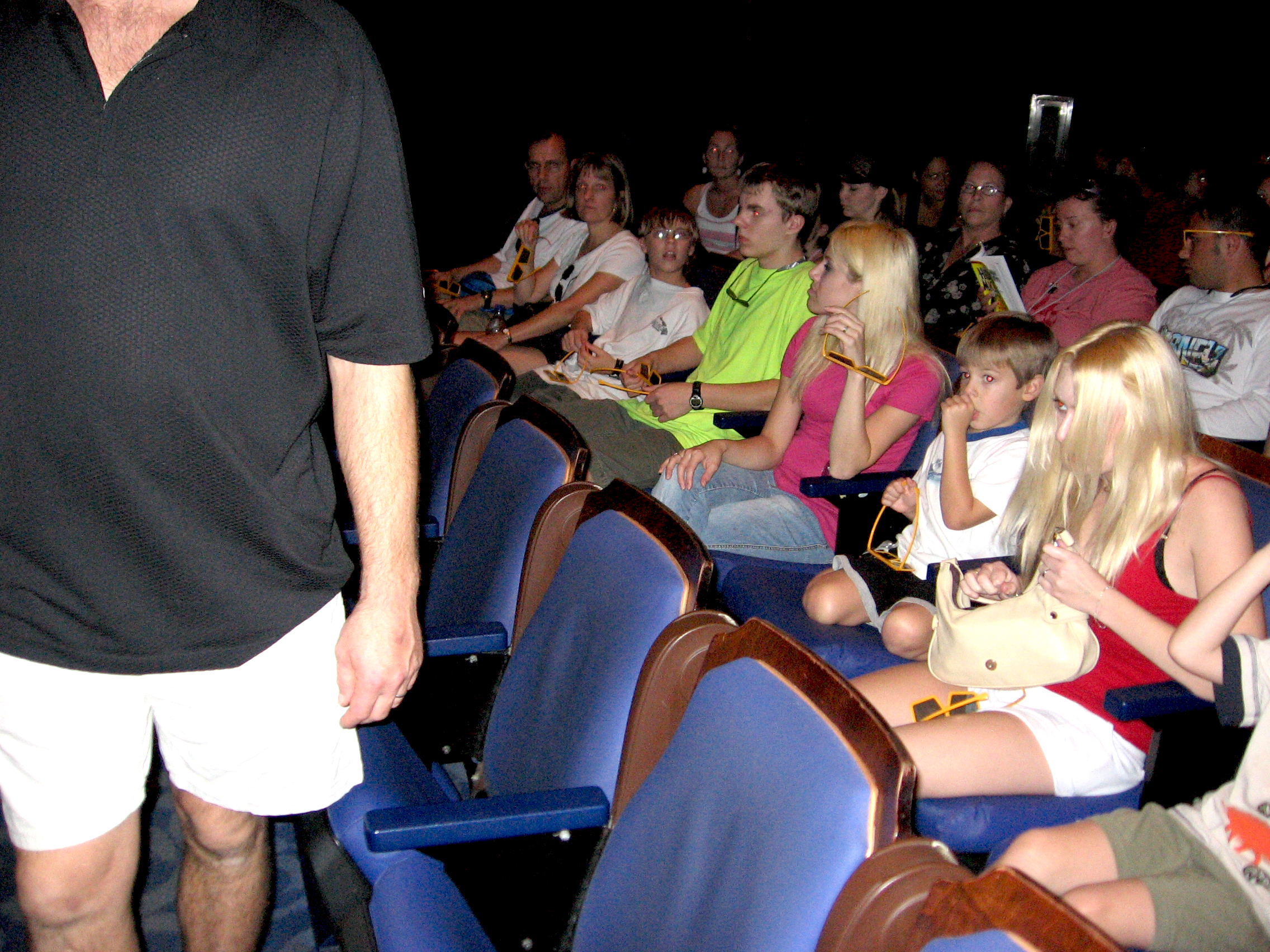 Wheelchair/Scooter information: The wheelchair/scooter seating is in the rear of the theater. There is at least one companion seat for each wheelchair spot. If it's not busy, the Cast Members may allow 2. The remainder of your group will be asked to choose seats somewhere else in the theater.
Service animals: Those with service animals will want to sit in the back. Here's the experience of one of our readers who travels with a service dog:
"I've gone twice now with my service dog. As soon as they spot us we get moved to the wheelchair zone and sit in the back where there is more space for him." — Michelle Dutoit
More details about the experience of Mickey's PhilharMagic
During the magic carpet sequence, the audience follows Donald as he careens wildly through Agrabah, turning upside down. Even though there's no actual movement for the audience, the screen is large and wide enough to cause a feeling of flying and motion. If you have a problem with motion sickness, just shut your eyes until Donald stops screaming.
There are some special effects including wind gusts repeatedly blowing at your face, a water effect that splashes your face, as well as apple-pie–scented fragrance blown at you. If you wish to prevent the water spray, use your hand to block the sprayer on the seat in front of you (find it before the lights go down).
The show can seem very loud to those who are sound sensitive. The theater is dark, as with any movie. There's a brief moment of total darkness. At one point in the film, the seats slightly vibrate as if there were heavy footsteps in the room. Most guests won't notice the vibration, but it could be uncomfortable to those who are ultra sensitive.
Though this movie's effects don't seem designed to cause fright, they still sometimes scare very young children and the exceptionally sensitive. The 3-D effects can sometimes be startling. At times they seem to come right at you and sometimes appear close enough to touch. If someone in your party is scared, have them remove their glasses to stop this effect. You can also tell them about the effect in advance to let them know that it's not real.
The 4-D effects can be also startling. For example, at the end of the movie there's an explosion and Donald appears to be "blown" off the screen and through the back wall above the guest's heads. You'll be able to see the rear of his Animatronics body and his duck feet, as he kicks and squeezes his way through a hole in the wall. If this may scare a member of your party, you may wish to tell them about it in advance to reduce the surprise.
Those with certain vertigo conditions should note that the 3-D film moves fast in spots, which could trigger disorientation.
Some of those with certain visual impairments may wish to skip this attraction because of the 3-D. Here's the experience of one of our readers:
"We have been to Disney a few times with a family member who is legally blind. This experience is difficult because of the 3D aspect. Because she has only one working eye, there is no ability to see 3D images or film. As such, PhilharMagic causes a lot of dizziness, which can lead to nausea. We just wave off this experience while in Magic Kingdom, if traveling with our visually impaired family member." —Melissa Brown Grundt
Check out other rides in Disney World's Magic Kingdom:
Adventureland 

Fantasyland

Liberty Square

Main Street USA

Tomorrowland

TRON Lightcycle Power Run Rollercoaster 

(Coming Soon)
SEE RIDES AND ATTRACTIONS IN THE OTHER PARKS:
Join our facebook group!!!!
Ask any questions, share your knowledge and just enjoy getting to know other Disney fanatics in our facebook group called Walt Disney World Made Easy for Everyone.
Also: Like our facebook page here.
And join me on Pinterest here.
GET UPDATES, NEWS & TIPS (IT'S FREE!!!) Plus get a Free Disney World Planning Schedule Form.
Sign up below to stay updated on the newest information, tips and tricks to help you plan your perfect Disney World trip!