Facts at a Glance About Jungle Cruise:
Park: Magic Kingdom. Location: Adventureland. Height Requirement: None. Genie+: Yes. Individual Lightning Lane: No
Quick Notes: Boat ride that passes various scenes with Audio-Animatronics and non-animated creatures, people and settings. You may get damp.
Disney Warnings: None.
Disney Noted Attraction Details: Artificially introduced odor. May also include operational fumes. Loud noises, periods of darkness. Wet. 
Our Additional Cautions: Includes Audio-Animatronic jungle animals and snakes, possible gunshot sound, possible splashes of water, a trip through a very dark, tight space in the 'temple'. Possible musty smell in places. Loud motor, and traveling through a low light cave.
Length:  The boat ride lasts approximately 10 minutes.
Special Needs Info: Guests may remain in their scooters and wheelchairs (manual and power); however the wheelchair accessible boat may not be able to accommodate all ECVs. Depending on your ECV, you may be able to remain in it, or you may be required to transfer into a manual wheelchair. A Cast Member will advise you. Sign language interpretation is available on Mondays and Thursdays at the time of this writing. Since show times vary, you can get the schedule for that day at Guest Relations. Assistive Listening.
Overview of Enchanted Jungle Cruise:
This is a simple boat ride that passes by various exotic scenes with Audio-Animatronics as well as non-animated creatures, people and settings. The skipper of the boat will share some of the corniest, loosely scripted jokes you've ever heard. One fan of the attraction puts it like this:
"This is one of our must-sees, because it is so bad it's good! Best at night, when the Animatronics look more realistic and the night crew skippers are a bit zanier."
The boat itself looks similar to the boat in the classic movie "The African Queen". The scenes you ride through are meant to  simulate the South American Amazon, the African Congo, the Mekong river in Cambodia, and the Egyptian Nile.
Queue, Boarding & Seating for Jungle Cruise:
The outdoor queue is covered but open sided, and there can be long waits.
Seating: The seats are wooden benches with the side of the boat as the seat back, and a wide backless wooden bench running down the center of the craft.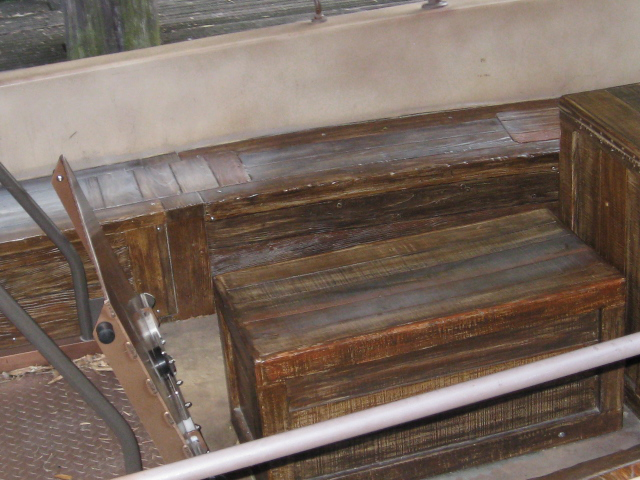 Guests sit shoulder to shoulder. There are a small number of separate box style seats as shown in the photo above.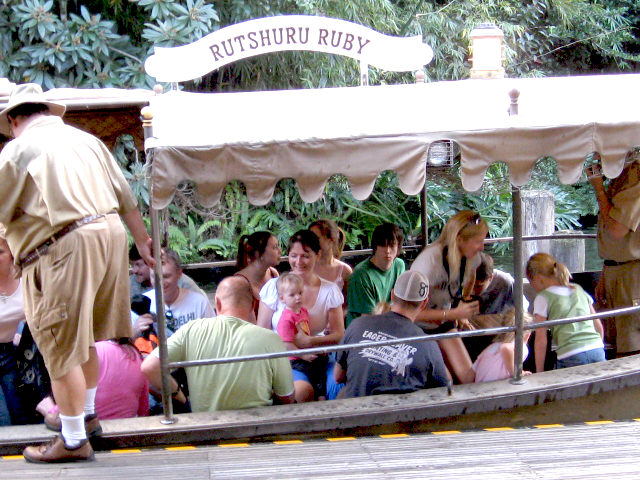 Once seated, guests are not permitted to move around. The boat captains make an announcement to stay seated if anyone tries to move over in their seat or stand up. This includes children seated on an adult's lap who try to get down to sit on the seat or stand next to the adult. It also includes children being held in a standing position on an adult's lap. Here's a tip from one of our readers:
"It is VERY important that you remain seated. My little tried to switch to sit beside me and you can't, so wiggles need to be out." — Natasha Louise
Wheelchair/ECV & Mobility Info for Jungle Cruise at Magic Kingdom:
There are wheelchair accessible boats with a space for a single wheelchair (manual or power) or ECV. Some wheelchairs or ECVs may be too large to use the lift, but the majority should have no problem.
In most cases, they will give a Return Time to any guests using mobility devices. When you come back to the wheelchair entrance, you will be asked whether you intend to transfer or stay in your chair. Guests who plan to transfer will be directed to one side of the line and those who plan to stay in their chair are directed to the other side.
Guests with mobility devices can choose to park them and walk in line, or stay in their wheelchairs/ECV's and wait in a separate accessible line to use their mobility device until they board.
If you wish to ride in your chair on the accessible boat, you may have to wait a while for one to come. This is especially true if other guests ahead of you are waiting to board in their wheelchair or ECV.
Guests transferring to a boat seat are let on first. If you wish to transfer to a boat seat, you must step across the dock, step upwards about 6 inches over the side of the boat, and then down into the boat. You can step on a seat which is about a foot down, and then you can step to the floor of the boat which is about another foot down. You must then walk to your seat.
The boat itself can do a lot of bobbing and it may be leaning while at dockside. You may need to have a member of your party help steady you as you step down to get into the boat and step up to get out of the boat. For all boarding, the boat is steadied by the skipper and a cast member can provide an arm assist when boarding.
If you have mobility needs, you may be able to board from the wheelchair dock even if you don't have a wheelchair. Here the boats are tied up more securely and are more stable.
The accessible boat can accommodate most wheelchairs, including power wheelchairs and many ECVs. The person using a wheelchair and up to one member of their party will be called to the right for the chair to be loaded. After the chair is loaded, the rest of the party will be called to board. When the ride is finished, one member of the group may stay on to assist with unloading at the same place the boat was loaded. The rest of the party will get off at the regular unload dock.
The accessible boat is equipped with a rather interesting lift. A platform lifts up from the bottom of the boat and then folds out to make a ramp that reaches the dock. After the wheelchair is rolled onto the boat, the ramp is refolded, the wheelchair is secured and the platform is turned to face the front of the boat. Then, the whole platform is lowered back into position on the floor of the boat. After the ride, the process is reversed to unload the wheelchair or ECV. Here are some photos, followed by a video where you can see the process of loading.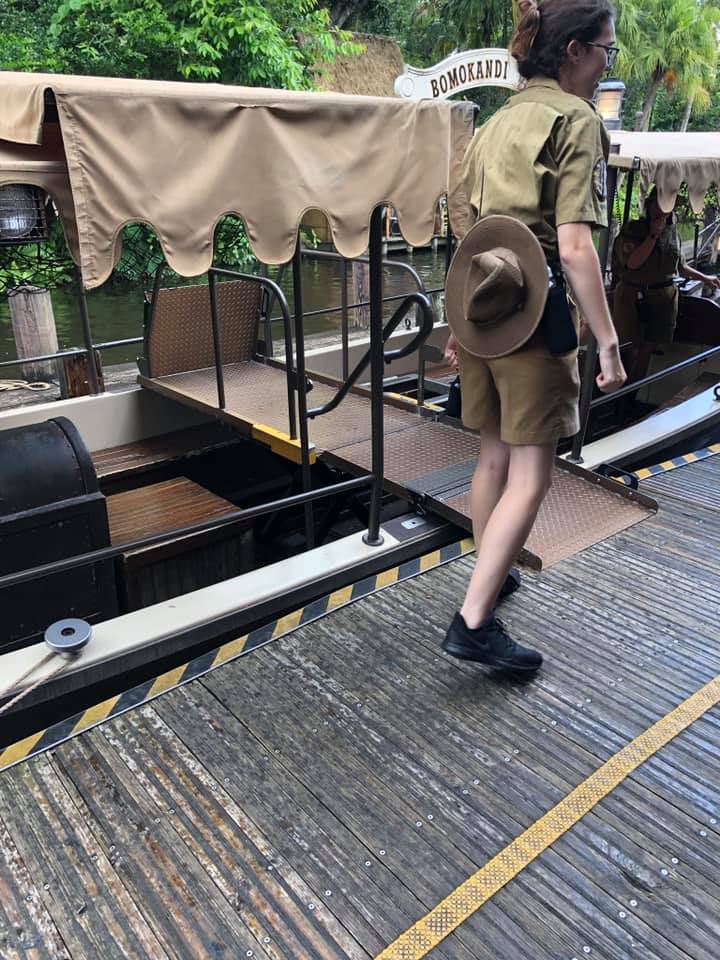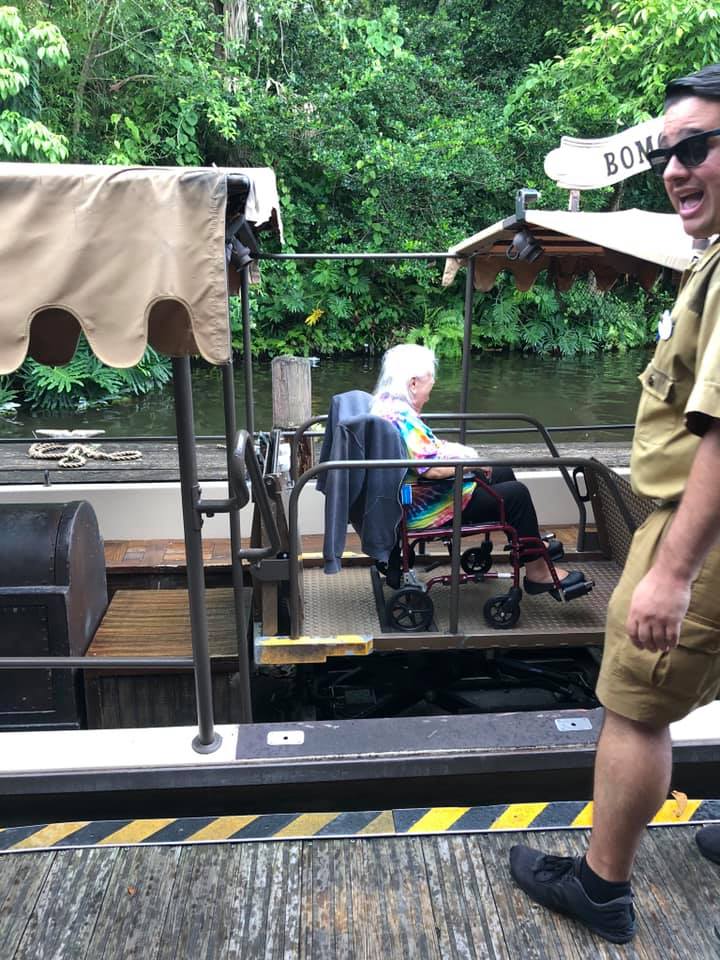 For additional photos of an accessible Jungle Cruise boat, visit here.
Jungle Cruise  Feel, Experience, Details & Tips:
During the ride, the boat is usually very steady and smooth.
You'll see plenty of Audio-Animatronic animals and people. You'll pass villages with natives, an old crashed plane, elephants, lions, gators, hippos, etc. You'll enter a dark jungle temple where there are some snakes and a tiger (fake of course). The very young or sensitive might find it a bit scary.
You'll pass through some mist and near waterfalls and water bursts from the elephants, so you might get damp (but not usually soaked as on some of the other water rides).
There's a sudden gunshot sound. At one point the guide may start screaming about an ambush; however, nothing happens.
Guests with support animals can request that the gunshot not be used.
During the portion of the attraction while the boat is in the 'temple', the boat captain sometimes picks a child close to the front to 'pilot' the boat. The boat is actually running between rails at that point, so there is no chance of steering into danger. Sit nearer to the back if you don't want your child to be chosen.
Fun fact: Here's something we find this kind of hilarious, and most people will probably never notice this. It may be gone by the time you read this due to renovations, so consider it history. During your ride you would pass by a bunch of audio-animatronics natives who angrily yell and wave spears at you. If you listened carefully, you'd hear something surprising. One of the natives yelled out "I love disco". This was an inside Imagineer joke.
For an example of the full Jungle Cruise ride experience check out this video:
Check out other rides in Disney World's Magic Kingdom:
Adventureland 

Fantasyland

Liberty Square

Main Street USA

Tomorrowland
SEE RIDES AND ATTRACTIONS IN THE OTHER PARKS:
Join our facebook group!!!!
Ask any questions, share your knowledge and just enjoy getting to know other Disney fanatics in our facebook group called Walt Disney World Made Easy for Everyone.
Also: Like our facebook page here.
And join me on Pinterest here.
GET UPDATES, NEWS & TIPS (IT'S FREE!!!) Plus get a Free Disney World Planning Schedule Form.
Sign up below to stay updated on the newest information, tips and tricks to help you plan your perfect Disney World trip!