Facts at a Glance About "it's a small world":
Park: Magic Kingdom. Location: Fantasyland. Height Requirement: Any Height. Genie+: Yes. Individual Lightning Lane: No.
Quick Notes: Slow-moving, smooth ride that passes costumed dolls from around the world.
Disney Warnings: None.
Our Additional Cautions: Includes flashing lights, spotlights, running lights and other light effects. Can be overstimulating for some people because of constant repetitive music, many bright colors and many moving dolls/characters wherever you look. Boat may get bumped by boats from behind while near the unloading area or during the ride if there are any backups. Boat travels over bumpy rollers when departing and arriving back at the unload area. See below for more cautions and details.           
Length:  The ride lasts approximately 11 minutes.
Special Needs Info: There are some boats that can accommodate wheelchairs. If you're in an ECV or power wheelchair you must transfer to a manual wheelchair to board this ride. For boats without wheelchair accommodations, you must transfer from your wheelchair or ECV to the boat seat. Handheld Captioning, Audio Description.

Overview of "it's a small world"
This classic is a slow, smooth ride with no big surprises. You'll pass by costumed dolls set in various scenes representing countries all around the world. Most of them move with the music. Some have a lot of movement with rotating or twirling. Others move only a part of the body like their head or an arm or leg. There's pretty much constant motion of some type wherever you look.
Kids will like the bright colors and doll costumes. It's an excellent example of early Audio-Animatronics. In fact the ride has a great nostalgia factor since it was first shown at the 1964 World's Fair in New York when I and many others first saw it.
One word of caution. The theme song plays over and over again for the full 11-minute cruise. It will be stuck in your head for quite some time after that, like it or not! And many people don't like that.
Queue information for "it's a small world"
Most of the queue is under cover. It's a wrap around on a downward hill. The queue can get crowded at times.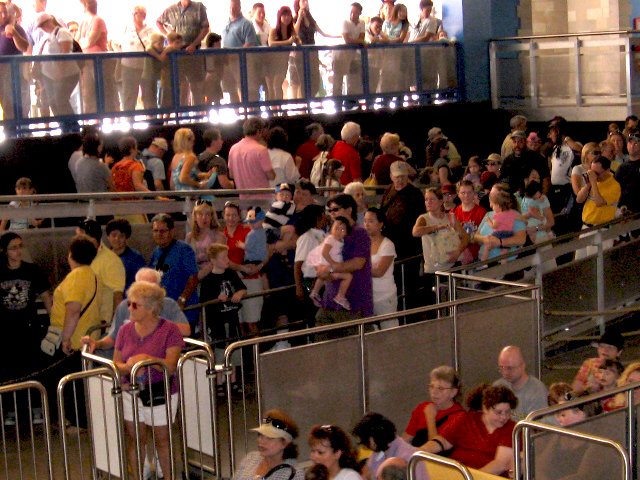 Handicapped info: This is one of the few attractions with a separate accessible queue because the main queue is not accessible. Guests who are able to walk and wish to park their ECV or wheelchair with the strollers can do so. There are no steps in the main queue. The issue for guests with wheelchairs or ECVs is that their mobility devices would not be on the exit side of the water if they used the regular queue.
The handicapped entrance is marked with a wheelchair gate and it's near the entrance to the regular queue and the exit area. The handicapped queue goes down to the boarding area as a fairly steep, continuous ramp which can be hard to hold a wheelchair on. It's narrow – about 36 to 40 inches wide and it's separated from the exit path by a run of metal rails.
Boats and boarding "it's a small world"
The boats seat 20 people and have hard bench seats with backs. The seats in the front and back of the boat are quite low and are lacking legroom. For more legroom, request the center rows. For regular boats guests will step up about a foot over the side of the boat. You can use the seat as a step which is about a foot down and then you'll step down the rest of the way about a foot.
Handicapped boarding: At the end of the ramp described in the previous section, a cast member will ask if you can park your wheelchair/ECV and walk. If so, when it's your turn you'll walk about 30 feet downhill to transfer onto the boat. Guests who are not able to transfer may take a wheelchair (power or manual) onto the accessible boat, but it can sometimes be an approximately 11 minute wait at the end of the ramp if the accessible boat just left. It can be longer if other guests ahead of you are also waiting for the accessible boat.
If the wait is long for an accessible boat, Cast Members have been giving out Return Times. A Return Time allows you to wait outside the ride queue. This has been separate from the DAS so if you have a Return Time for another ride using a DAS, this won't impact that.  You can have both at the same time.
The Return Times may be given under multiple situations. They can be given when the Standby Wait time is greater than about 20 minutes, when the accessible entrance ramp is full, when there are a large number of people waiting for the wheelchair boat or when the parking area at the bottom of the ramp for people who transfer is full.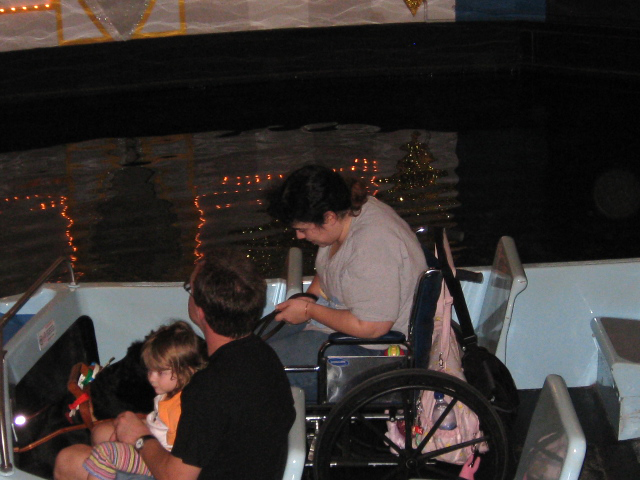 More details about "it's a small world"
Here's a tip from one of our great Facebook group admins, Angel Cooper. At the end of the ride, pay attention to the screens in the "goodbye section". You'll see something Angel found really surprising and fun.
On the ride there are some flashing lights, as well as spotlights in various colors. There are miniature moving rides that have lights on them, including a carousel. There are also lights within the many small sets representing the various countries.
Sometimes as the boats approach the disembarking area they can get close and hit each other, creating a jerking motion. It's a low rate of speed, and it's usually fairly gentle, but some people may need to take note of this.
When the boat leaves the landing it slides slightly downhill over some bumpy rollers. From there the ride is smooth, except that the boat bumps the sides of the tracks as it moves along. Still, it's mild and even the most sensitive people will usually be okay with it. When you arrive back at the docking station, your boat goes slightly uphill and briefly rides over bumpy rollers again. Your boat will most likely hit the boat in front of it, and it may be hit from behind repetitively before you're allowed to disembark.
We hear varying viewpoints on this ride such as the following:
"We loved the small world ride with its beautiful dolls. It's magical and my kids were absolutely delighted! It was calm, pleasant and cool on a hot day."

 "What a bore. It was dolls, dolls and more dolls. The song was so repetitive that it was literally driving me crazy. It seemed to go on forever. I wanted to jump out of the boat."

"This was an attraction I thought my daughter would love when she was 2 years old, but the constant stimulation was too much for her. She spent the entire ride with her eyes shut, sucking her thumb, with that arm somehow also covering one ear, and her other arm covering her other ear and also twirling her hair. It was many years before she could actually ride and watch it. Just too much going on."
Those with sensory issues might want to consider what this grandma had to say:
"My young grandson, who was 4 at the time, is sensitive to loud noises and has some sensory issues. He freaked out when we entered the building- too loud, too much going on, and I think he might have not liked the doll faces. I walked through the boat and exited with him, and the rest of the family rode. Just FYI for families with sensitive kids." —Janet Orr
Here's one man with autism who loves this ride:
"I'm Autistic, and utterly ADORE Small World; an easy song that anyone can sing, and I can *feel* the joy; love looking at all of the dolls and the scenes… and the little Easter eggs, heh…; given my anxiety, it's just a warm, calming place for me…" —Michael Stancel
Take a look at "it's a small world":
Check out other rides in Disney World's Magic Kingdom:
Adventureland 

Fantasyland

Liberty Square

Main Street USA

Tomorrowland
SEE RIDES AND ATTRACTIONS IN THE OTHER PARKS:
Join our facebook group!!!!
Ask any questions, share your knowledge and just enjoy getting to know other Disney fanatics in our facebook group called Walt Disney World Made Easy for Everyone.
Also: Like our facebook page here.
And join me on Pinterest here.
GET UPDATES, NEWS & TIPS (IT'S FREE!!!) Plus get a Free Disney World Planning Schedule Form.
Sign up below to stay updated on the newest information, tips and tricks to help you plan your perfect Disney World trip!