Facts at a Glance About The Magic Carpets of Aladdin in Magic Kingdom:
Park: Magic Kingdom. Location: Adventureland. Height Requirement: None. Genie+: Yes. Individual Lightning Lane: No
Quick Notes: Ride a magic carpet which spins and allows you to control how high or low to fly.
Disney Warnings: None.
Disney Noted Attraction Details: Bumpy. Lifts off ground. Wet (spitting camels)
Our Additional Cautions:  This attraction is an elevated spinning ride. You must step up and over a decoration on the vehicle to get into the ride seat. Camels spit water at the riders.  At the end the ride goes up high without your control. Motion can be jerky when you direct the carpet ride car.
Length:  The ride is approximately 1 ½ minutes long.
Type of restraint: Lap belt.
Special Needs Info: You must transfer from your wheelchair or ECV to the carpet car, or you can ride an accessible carpet car staying in a manual wheelchair. If you're in an power wheelchair or scooter, you can transfer to a manual wheelchair provided by Disney, and board a wheelchair accessible carpet car.

Overview of The Magic Carpets of Aladdin:
Aladdin, Dumbo and Astro Orbiter are basically the same ride themed three different ways. A major kid's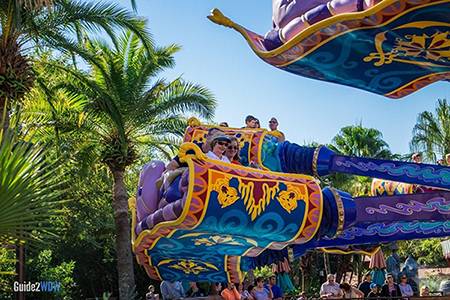 favorite, this attraction is an outdoor elevated spinning ride. Like a bicycle wheel, there's a central hub with spokes sticking out. At the end of the spokes are the magic carpet vehicles. Each vehicle allows the rider in the front seat to control how high or low to fly. The rider in the back seat can control how to pitch the vehicle forward and backward.
Queue, Boarding & Seating for The Magic Carpets of Aladdin:
Queue information: It's a really popular ride with a very long queue. The outdoor queue is mostly shaded and is wheelchair accessible, but not ECV accessible. You must transfer from your ECV (and usually oversized or power wheelchairs) to a manual wheelchair before getting into the queue if you want to ride in the accessible carpet or you can't walk the distance of the queue.
Ride car info: The attraction seats are hard plastic, shaped to look like well-padded bench seats.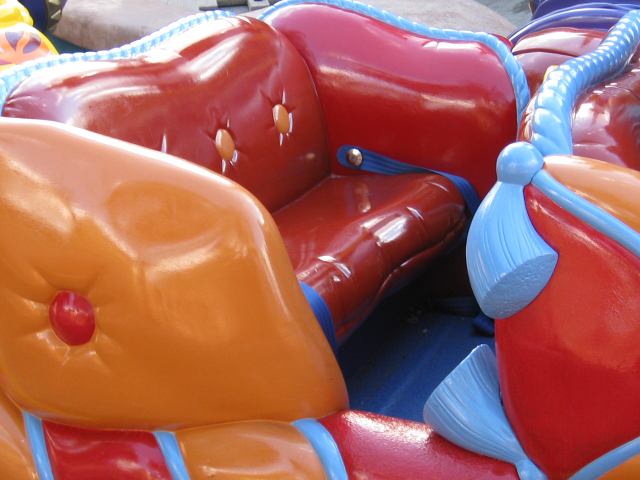 There are 16 ride cars that each hold 4 people. Each ride car has two rows of bench seats that hold two people in each row.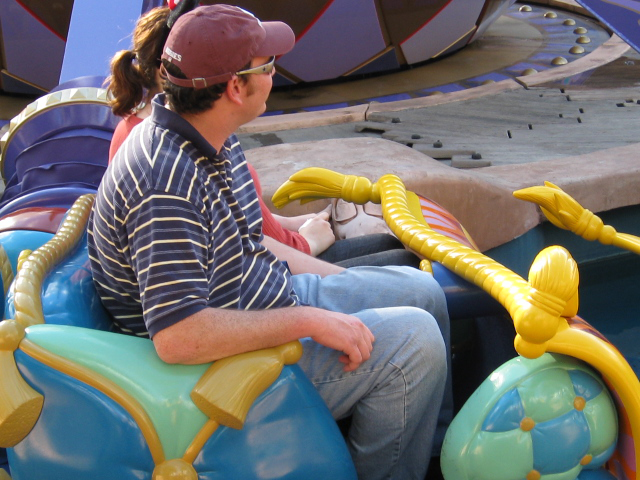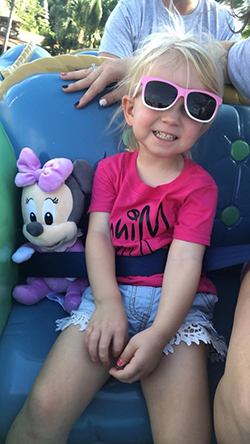 Each seat has a loose fabric-style belt, shared by the entire seat. On the photo to the right, you can see the seat belt.
Wheelchair/ECV & Mobility Info for the ride cars: 
To transfer right into the carpet vehicle you must step up and over a decoration about 6 inches on the vehicle side and then you can get onto the seat.
Wheelchair users can transfer to the ride seat, or request the wheelchair accessible carpet vehicle. In the accessible carpet vehicle, the regular ride seat is removed to make space for a wheelchair, and the back of the ride car folds into a ramp. The wheelchair will be loaded into the back of the carpet, the platform will be rotated to face front. Up to 2 companions will be seated in the front seat.
There is a small rail on the floor of the ride car which may cause an issue for some wheelchairs. The space is fairly small and some larger wheelchairs will not be able to be loaded. In the photo below you can see the rail on the floor between the Cast Members feet.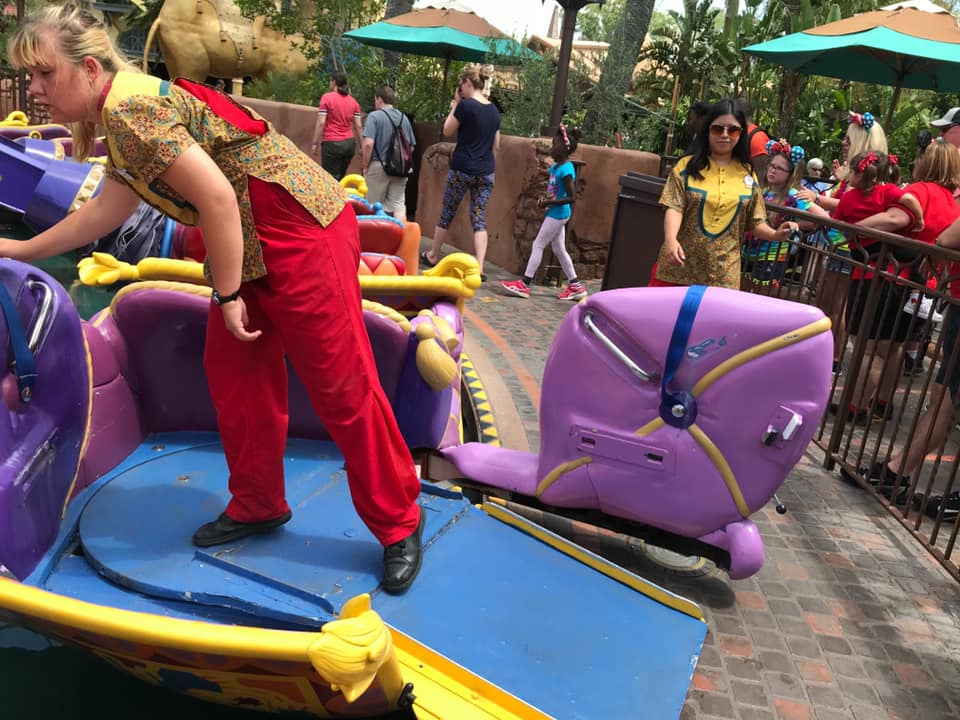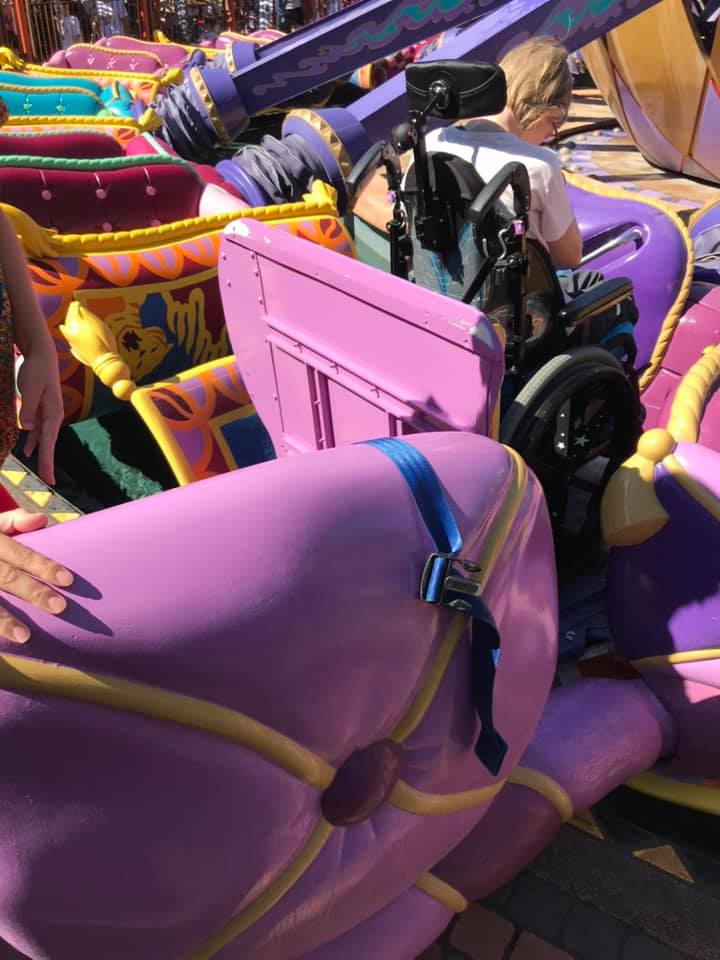 The Magic Carpets of Aladdin Feel, Experience, Details & Tips:
The magic carpet vehicles are really whimsical and colorful. The ride spins at a fairly good clip, so anyone with problems affected by spinning should avoid this.
When you're directing the carpet ride car downward, it is not a smooth motion. It can feel like it's bouncing on the way down. Also be aware that at the end of the ride the carpets are made to go up high without your control.
There are some spitting camels that spit water at the riders, but it's not enough to get really soaked. You may be able to move your carpet vehicle to avoid the water.
For those with visual impairments, one of our readers had this to say:
"For anyone with a visual impairment, this can be uncomfortable because of the way it leans inwards. I can't go on this or orbitron as it makes me feel like I'm falling (not in a fun rollercoastery way)." — Jacquie Truswell
The following video shows the experience of The Magic Carpets of Aladdin ride:
Pooh sized information for The Magic Carpets of Aladdin:
There's a video that is for Pooh sized people (Plus size). It also gives an excellent view of what the seats look like, and it shows the decoration that you must step over in order to board the magic carpet ride car. If you need to, you can ask for your own row to sit in. It can't be embedded here so you have to view it on YouTube here: https://www.youtube.com/watch?v=HTk6q875Kjo
Check out other rides in Disney World's Magic Kingdom:
Adventureland 

Fantasyland

Liberty Square

Main Street USA

Tomorrowland
SEE RIDES AND ATTRACTIONS IN THE OTHER PARKS:
Join our facebook group!!!!
Ask any questions, share your knowledge and just enjoy getting to know other Disney fanatics in our facebook group called Walt Disney World Made Easy for Everyone.
Also: Like our facebook page here.
And join me on Pinterest here.
GET UPDATES, NEWS & TIPS (IT'S FREE!!!) Plus get a Free Disney World Planning Schedule Form.
Sign up below to stay updated on the newest information, tips and tricks to help you plan your perfect Disney World trip!