Facts at a Glance About Peter Pan's Flight:
Park:

 

Magic Kingdom. Location: Fantasyland. Height Requirement: Any height. Genie+: Yes. Individual Lightning Lane: No.
Quick Notes: Flying is simulated as you ride a sailboat suspended over various scenes.
Disney Warnings: None.
Our Additional Cautions: Elevated ride we're you are looking down from a flying pirate ship onto nighttime scenes below. Includes pirates, crocodile, Wendy walking the plank, some very dark scenes. The pirate ship ride car starts out on the ground, then is lifted and becomes airborne. Guest may feel a small bump as the ship becomes suspended and comes back down. The moving walkway to board and unload can't be stopped or slowed. Very limited time and space to load and unload. Musty smell on last check. See more cautions below.          
Length: The ride lasts approximately 3 minutes.
Special Needs Info: You must be able to walk. Those in scooters must transfer to a wheelchair to use it in the queue. For power wheelchair users, in most cases queues that allow wheelchairs also allow most power wheelchairs. See the Cast Member at the attraction for your options. Service animals are not permitted on this attraction. Handheld Captioning, Audio Description. Children under age 7 years must be accompanied by a person age 14 years or older.

Overview of Peter Pan's Flight
Sail aboard a flying pirate ship and follow Peter Pan on a journey to Neverland. This smooth ride has your ride vehicle suspended in the air as you "fly" over various scenes from the story of Peter Pan. Perhaps the most magical scene is when your ship flies over the classic nighttime London scene with Big Ben.
Perhaps a bit dated, this ride has not been significantly changed for decades. It's a comparatively old-style low-tech ride. Yet it's considered a classic Disney ride, and it's so popular that there are often long waits to get on.
Queue information for Peter Pan's Flight
The queue is under cover. Lines can be long here with shorter waits possible first thing in the morning, during parades and late in the evening.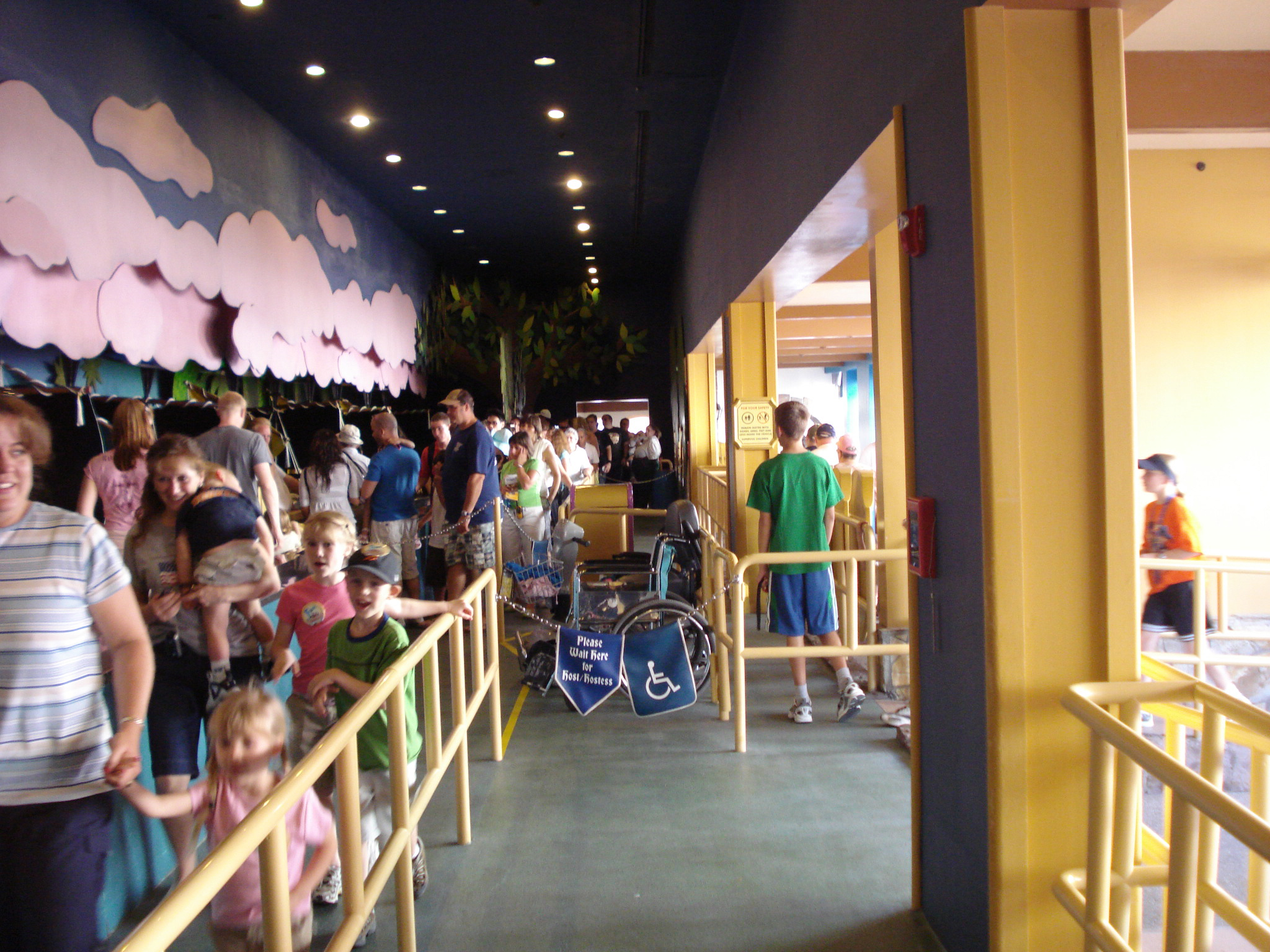 Boarding Peter Pan's Flight and ride car information
The colorful ride vehicle looks like a whimsical pirate sailboat. It has bench seating with a back and lap bar, and holds two average-sized adults comfortably. People of larger size may wish to have their own ride car. There's no neck support, but there's a hard sail behind you that you can put your head on if you need the support. Some people find that the sail forces them into an unnatural position that irritates their back and neck pain. However, on the right-hand side of the ride vehicle, the sail is further back and may allow you to sit more naturally.
Accessibility: Guests must step onto a moving walkway to board this ride, and Disney's official stance is that the walkway cannot be slowed or stopped. However we have heard from those who have had the walkway slowed or even stopped for boarding. So it may be up to the Cast Member's discretion.
Wheelchair info: Those in scooters must transfer to a manual wheelchair to stay seated in the queue. Those in wheelchairs must step from their chairs onto a moving walkway, walk to the ride vehicle and then board the vehicle. You must be able to step upwards into the moving vehicle and board your seat while walking. This all must happen rather quickly.  Mike Tuchman shared this tip:
"About a year ago, I spoke with the area manager who told me that if a person comes first thing in the morning or very close to closing time, they can stop the attraction for people who cannot handle the moving walkway. This is because the ride is elevated and they cannot, for safety reasons, stop it while Guests are on board."
Details and description of the experience on Peter Pan's Flight
The vehicle does go higher and lower, but the angles are not severe. There are some scenes from the movie that may be scary to the most sensitive such as Captain Hook in the mouth of the crocodile, but the ride on the whole doesn't seem meant to frighten. There's cheerful music playing throughout, and though some of the characters are animatronics and move, their motion is very limited and unnatural. It's all quite unrealistic and even cartoonish. We find that these things dampen the scary factor.
People with fear of heights should take note that you're suspended above scenes looking down. Despite that, it's not extremely high (my personal opinion but you'll need to judge for yourself) and it shouldn't concern most people unless the fear is very severe. There are a lot of darker scenes and periods of extreme darkness between scenes. There's one fairly brief point where it's almost pitch black, but within seconds you'll turn a corner into a lighter area.
During the ride there are twinkling lights. At the end of the ride there's a minor jolt as the boat brings you into the disembarking area.
This attraction smells particularly musty to us.
For those with religious interests, note that the word "Pan" is taken from Greek and Roman religion and mythology. Pan was considered to be a god, and the word "panic" comes from the name of this god who was able to inspire fear.
Here's what one mom had to say about this ride:
"We loved this ride! My son with ADHD and ASD loved it. It did stop in the middle of the ride but we were able to take a good look at everything below us and we pointed out some of the details to each other to redirect his attention off the ride being at a stand still. It was definitely one of our favorites." —Natalia Plaisted
Take a look at Peter Pan's Flight:
Check out other rides in Disney World's Magic Kingdom:
Adventureland 

Fantasyland

Liberty Square

Main Street USA

Tomorrowland
SEE RIDES AND ATTRACTIONS IN THE OTHER PARKS:
Join our facebook group!!!!
Ask any questions, share your knowledge and just enjoy getting to know other Disney fanatics in our facebook group called Walt Disney World Made Easy for Everyone.
Also: Like our facebook page here.
And join me on Pinterest here.
GET UPDATES, NEWS & TIPS (IT'S FREE!!!) Plus get a Free Disney World Planning Schedule Form.
Sign up below to stay updated on the newest information, tips and tricks to help you plan your perfect Disney World trip!