Header photo by Fi Brown
Facts at a Glance About Enchanted Tales with Belle:
Park: Magic Kingdom. Location: Fantasyland. Height Requirement: Any Height. Genie+: Yes. Individual Lightning Lane: No.
Quick Notes: Walkthrough attraction based on the Beauty and the Beast story that takes guests to a live storytelling interactive show.
Disney Warnings: None.
Our Additional Cautions: At one point guests enter a small room which feels crowded and the exits close. This is brief, and guests are then taken into larger areas. Volunteers are chosen and sometimes drafted to participate as actors in the storytelling. Brief period of dim lights, darkness and a lightning and thunder effect.          
Length:  The show lasts approximately 20 minutes, but this can vary.
Special Needs Info: Guests in wheelchairs can stay in them for the queue and show. For power wheelchair users, in most cases queues and rides that allow wheelchairs also allow most power wheelchairs. See the Cast Member at the attraction for your options. Those in ECVs must transfer to a manual wheelchair. Handheld Captioning, Assistive Listening.

Overview of Enchanted Tales with Belle
NOT your run of the mill Meet & Greet, this walkthrough attraction takes guests through Belle's home and magically transports them to Beast's castle. Once there, live performers including Belle, Audio-Animatronics Lumiere and Madame Wardrobe, and volunteers from the audience to tell the story of Beauty and the Beast. The attention to detail in this attraction is Disney at its best, and the special effects are worth the wait for those who enjoy them. The Audio-Animatronics are incredibly alive and natural, and the mirror transformation described below is jaw-dropping fantastic.
Queue information for Enchanted Tales with Belle
The majority of the queue is outdoors and uncovered. It's designed to look like you're on the sidewalk in Belle and her dad Maurice's front yard. There are so many interesting personal touches around the yard that you may believe that they really live here. As you get close to the house, there's an overhang that provides some cover. The queue continues indoors, where you'll enter Belle's living room. Throughout the queue there's no seating, but in the storytelling room there are benches with no backs.
Wheelchair/ECV info: Those in ECVs must transfer to a wheelchair and use the standard queue. You can stay in your wheelchair throughout the attraction. In the room where the storytelling takes place, you can transfer to a bench if you prefer. There are several wheelchair parking spots at the ends of the benches in the storytelling room. A cast member will tell you where to park. The ends of the benches near the handicapped spots are marked with wheelchair symbols. These seats are for the companions of those in the wheelchair spots.
We've heard from a couple of moms with children that were placed in seating positions that kept them from seeing. If you have a child in a stroller marked as a wheelchair or in a wheelchair, you may wish to try to get your child towards the front so he/she can see. Most Disney Cast Members will try to help with positioning, however that's up to the Cast Members. This mom and her son had a negative experience due to seating position:
"I was disappointed in this attraction. My son with autism stays in a special needs stroller as a wheelchair. He was seated in the way back of room where he couldn't see anything. I mentioned to cast member and was told it's where he has to sit. Also he was the only child not included in some capacity for show. This is the Only attraction at Disney I have ever had any issues."
And this one as well:
"We had the same experience. My daughter had to have her wheelchair in the back. When I told them that she could not see we were basically ignored. Not chosen to participate and we were unable to leave until it was finished. Only bad experience we have ever had at Disney. Would definitely not recommend it to others, especially if you have a family member in a wheelchair."
However more commonly we find that Cast Members will bend over backwards to support those with disabilities such as with this mom and her son:
"My son is in a chair and he got to go on the end of the first row. They even moved people to put us there. He also got to be some part and they pulled him up to do it when it was his turn."
And this mom here:
"My daughter is in a wheelchair and they have always been awesome with her. Put her where she can see and always have offered her a part in the show."
More details about Enchanted Tales with Belle
There's pure Disney magic here. Here's the process. First guests enter Belle and Maurice's living area, which is really part of the queue. It's homey, and full of details and personal objects such as a desk with blueprints of Maurice's inventions, Belle's books and dishes. Next guests are led into another room designed to look like Maurice's workshop. The guests are sardine stuffed into this room, and the door closes, so those with claustrophobia may feel uncomfortable. You're in here only briefly, and everything after is more spacious.
In Maurice's workshop, guests all face the mirror and wheelchair users should try to stay in the front or your view will be blocked. Guests are asked to say "Take me to the night Belle and Beast fell in love". Suddenly the lights dim, and then a plain mirror somehow magically transforms into a full door that guests will walk through to get to Beast's castle. The effect is dazzling. During the transformation process there are electrical effects, and a small amount of thunder and lightning.
After walking through the mirror, guests are led into a hallway which is well lit and open. The audio-animatronics Madame Wardrobe and cast members interact with the guests.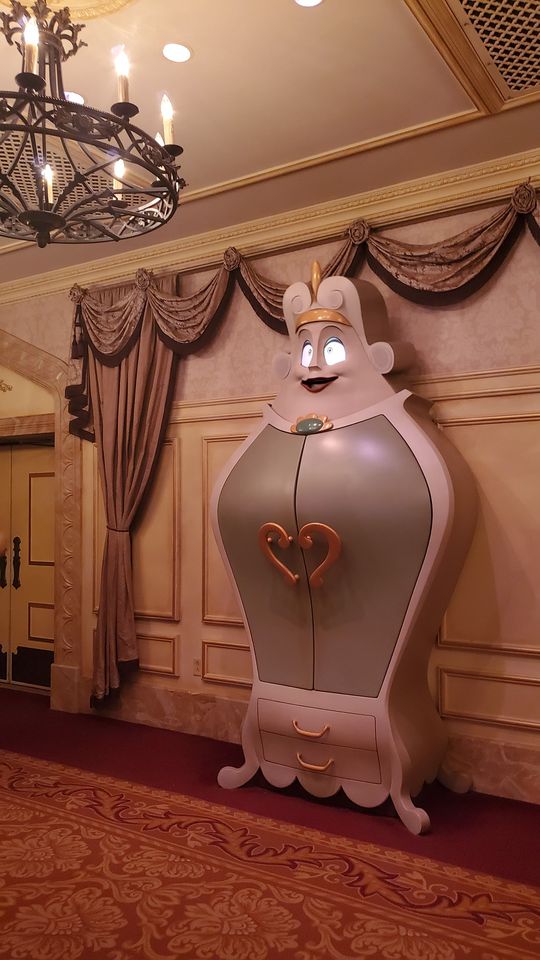 Volunteers are chosen, and each one is given a flat character mask to hold. Cast members may draft people, but you can always refuse. Adults and kids participate in the show. Those with handicaps and special needs can also be chosen to participate in the show. There are a limited number of roles to play so at times not all who want to participate will be able to.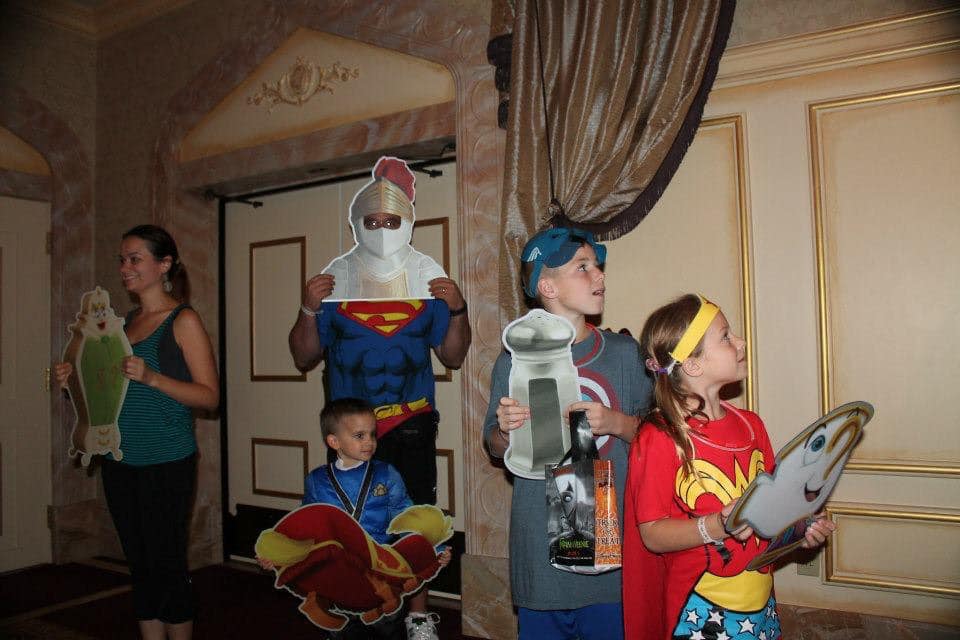 You're now brought into the castle's library where Audio-Animatronics Lumiere, cast members including Belle, and volunteers retell her story. The Cast Members and Belle coach the volunteers, telling them what to do.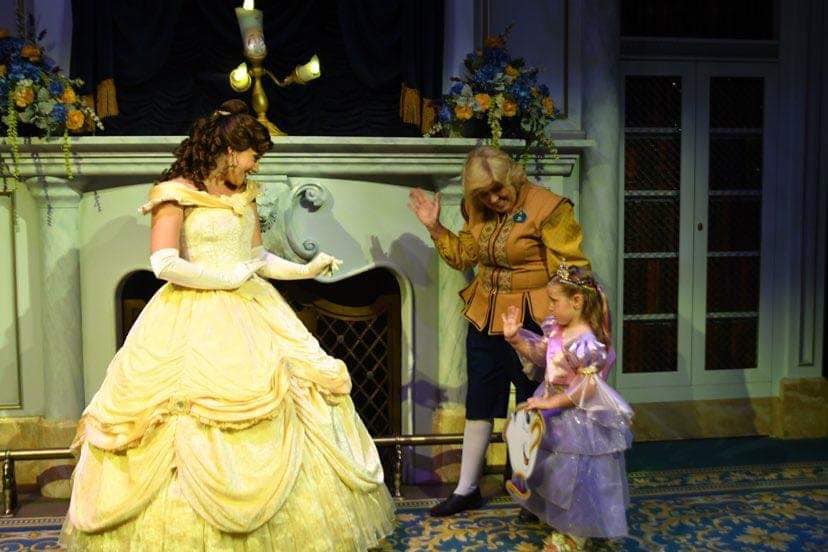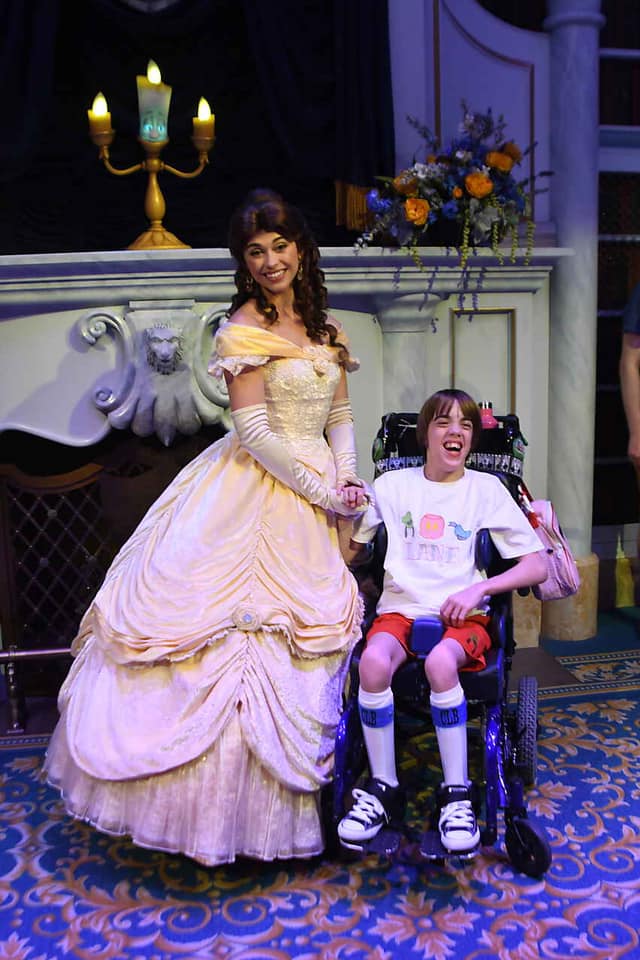 At the end of the story, volunteers march (or walk) around the room and then each one gets to pose with Belle for a photo. The rest of the audience does not get to personally meet & greet Belle.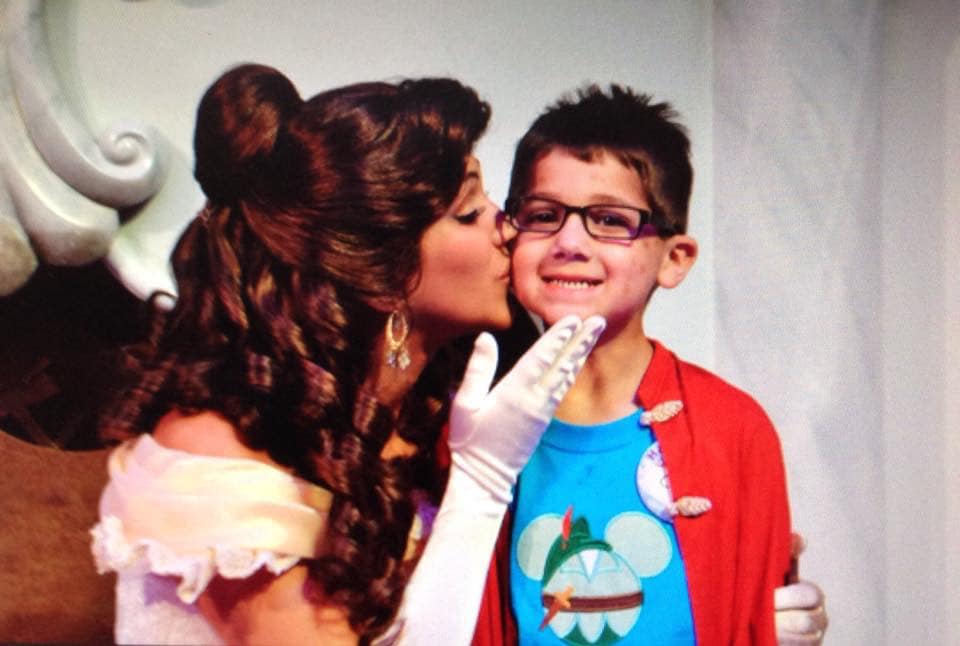 Take a look at a video of Enchanted Tales with Belle:
Check out other rides in Disney World's Magic Kingdom:
Adventureland 

Fantasyland

Liberty Square

Main Street USA

Tomorrowland
SEE RIDES AND ATTRACTIONS IN THE OTHER PARKS:
Join our facebook group!!!!
Ask any questions, share your knowledge and just enjoy getting to know other Disney fanatics in our facebook group called Walt Disney World Made Easy for Everyone.
Also: Like our facebook page here.
And join me on Pinterest here.
GET UPDATES, NEWS & TIPS (IT'S FREE!!!) Plus get a Free Disney World Planning Schedule Form.
Sign up below to stay updated on the newest information, tips and tricks to help you plan your perfect Disney World trip!