Disney World can still be fun when it rains. Here's how you can maximize your rainy day visit.
By Katie Penn
(Cover photo by Sue Welsh Guindon)
This article will look at:
Rain in Florida – What to expect
Rainy Days in the Parks and Disney Springs – How to have fun anyway
Alternative Activities for rainy days
Rain in Florida – What to expect when you're visiting Disney World
Probably the most asked question for anyone planning a trip to Walt Disney World is: What will the weather be like?
First of all, the caveat for anything to do with the weather in Florida is that it is changeable and unpredictable at any time of the year. Patterns and trends suggested here are based on averages and should not be taken as set in stone. To see weather trends in detail, check out our article here.
But the usual answer to this question, if you are going any time between the end of April and the end of November, is that it will probably rain. This may seem strange if you think of Florida as a sunny paradise, but it is a 'sub tropical' climate, which means there is a rainy season. It does also rain at other times of the year too, but it tends to be much less frequent, and it rains less predictably.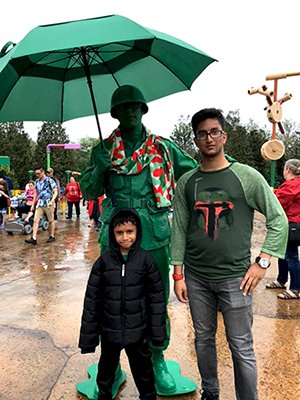 Throughout the season, especially in the summer months, it will rain every day.
The rain will usually last around 1-3 hours, almost always in the afternoon. Sometimes it does rain all day, but an isolated afternoon shower is more typical. There is often thunder and lightning with these storms.
These rain storms will be heavy, sudden downpours of rain, but it will still be warm. On very hot days the ground, benches, even your clothes will be dry very quickly after the rain. The key is to be prepared and you can still have a magical day. In the heat of the summer in July and August, the rain tends to offer a relief from the heat and humidity.
Rainy season is accompanied by 'storm' or hurricane season.
So, when tropical storms or hurricanes are passing (they very rarely hit central Florida directly) there will be increased rain. The rain is also often accompanied by thunder storms and wind. These are spectacular storms with loud rumbling thunder and often, lightening.
It is advisable to seek shelter in a thunderstorm, and you certainly shouldn't swim during one.
What to expect in the Disney World parks when it rains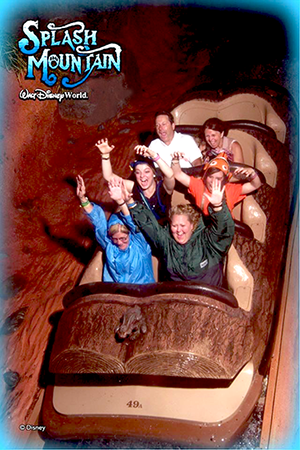 Rain without thunder and lightning will hardly ever stop operations, unless it's so heavy that it becomes dangerous or it's accompanied by hurricane force winds. Outdoor rides and rides with parts of the experience outdoors will keep running. If you wish, you can go on rides like Splash Mountain, Big Thunder Mountain or Expedition Everest in the rain.
This changes if there is lightening in the area, when the majority of outdoor and partially outdoor attractions will close. This is for the safety of everyone around. Disney will watch the radar reports of the storm, and when the lightening has moved far enough away they will reopen the attractions.
The water parks will open in the rain – in fact on a warm, rainy day it is the perfect thing to do. The water parks will be almost empty, and you're already wet, so the rain doesn't matter! The pools, lazy river and all attractions will close when there is lightening within 10 miles and you will be rounded up by lifeguards to seek shelter e.g. under a cabana, or in store or restaurant. When there has been no lightening within 10 miles for 30 minutes, all attractions will resume as normal.
TIP – shops and restaurants will have air conditioning, so if you are in your swim suit you may get cold. Take your towel or try and aim for an outdoor cabana which would be warmer.
What can you expect in Disney Springs when it rains?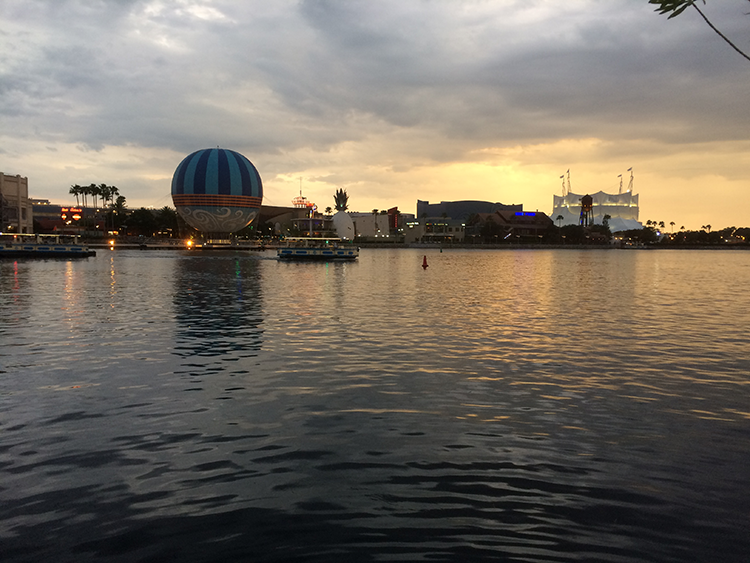 If you're visiting Disney Springs in the evening when it's raining, the outdoor musical acts and the dance parties will be cancelled. You'll find a small number of musical acts inside in various locations such as in the Planet Hollywood bar or in the Boathouse restaurant. There's still plenty to do in Disney Springs with all the inside entertainment, shopping and dining.
What should I do in the Disney World parks when it rains?
Planning is key when it comes to the rain. If you're prepared for it, it is unlikely to impact your day. You have two choices:
You can seek shelter in a store or restaurant (these will be packed with other people doing the same).
You can carry on in the park.
With a little rain protection gear, carrying on with your day in the park is a great idea. Here are some ways to protect yourselves from the rain.
How do you protect yourself from the rain when you're in the Disney World parks?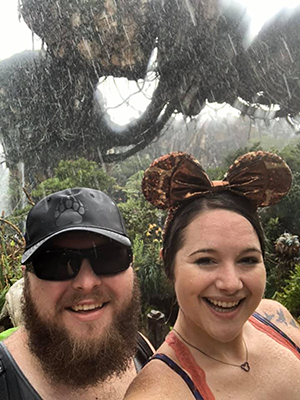 There are a few options. Granted it's not ideal to have to carry gear, or to be covered head to toe with protective clothing in the hot Florida weather. There are some people who prefer to just let the rain get them wet. For example, check out this very happy couple enjoying Pandora in Disney's Animal Kingdom on the right! (Photo by Katherine Jordan Brush)
Though some people do go without it, most people see some type of rain protection as a necessity. While it may seem warm enough to get your clothes soaked through, sitting in an air conditioned attraction in soaking wet clothing is not comfortable.
Here are your options for rain protection in the Disney World parks:
Rain coats and rain ponchos at Disney World:
Disney sells rain ponchos in almost every store. If you don't see them, ask a Cast Member. A small number of Disney stores also carry rain coats. Of course you can buy rain ponchos or rain coats in advance for less, and bring them with you.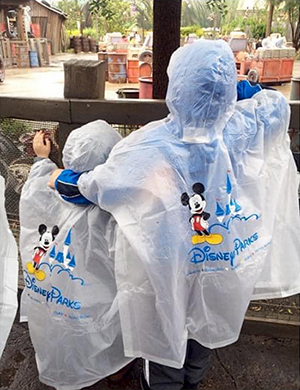 The benefit of a rain coat or rain poncho is that it will keep your torso and part of your legs dry. The downside is that when used alone, your face will get wet. An umbrella can take care of that (see below).
If you're sitting in a ride car exposed to the outdoors, a poncho can usually be pulled over your legs, while a rain coat can't do that. For this reason, we feel a rain poncho might be the better choice than a rain coat when at a Disney World park.
The ponchos and rain coats can be warm. In hot weather this can get a little uncomfortable. Still, since the sun won't be shining, the heat is usually bearable under a rain poncho or coat when it rains. During the cooler months the warmth can be welcome. Any time of the year, the warmth can be helpful when you're inside one of the air conditioned areas, such as in a ride queue or on a ride.
Umbrellas in the Disney World parks:
You can use an umbrella with or without a poncho. Some people like to use both. The poncho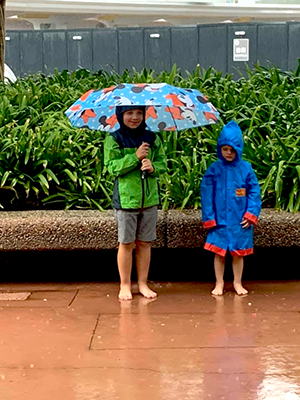 keeps your body dry, while the umbrella can keep your face dry. It might also help keep your legs and feet dry if it's not extremely windy.
If you use an umbrella, you might want to avoid using it if there is lightening in the area.
You can buy umbrellas in some Disney park & resort stores, but again, you can get them much less expensively at home or at the nearby Walmart. Of course it's always fun to get anything with a Disney design on it! Check out the Minnie Mouse umbrella in the photo on the left.
Managing with strollers in the rain:
If you have a stroller, it's a good idea to pack a stroller rain cover (or additional poncho). Even if your child is wearing a rain poncho, when you leave your stroller to ride an attraction when it's raining, the inside of the stroller will get wet. It's a good idea to cover it before you leave it. You can purchase stroller covers in advance, and bring it with you.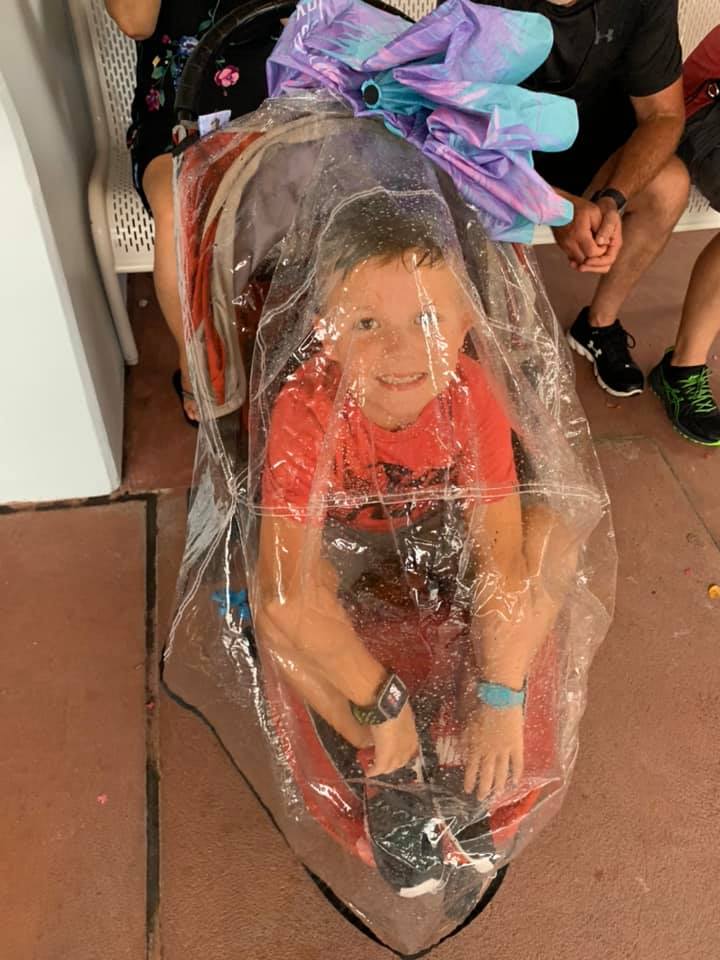 Dave Sorlie, a member of our Facebook group called Walt Disney World Made Easy for Everyone, had this to say: "We throw on ponchos and take advantage of a less crowded park. We also use a stroller cover when using the stroller and bring a shower curtain to put over the stroller when it's parked.". You can see Dave and his family below in rain gear that they purchased before their trip to Disney World.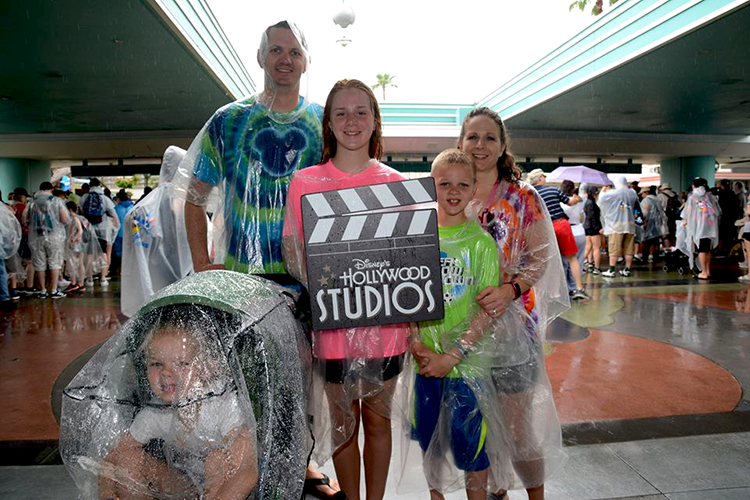 Protect your shoes on rainy days in the Disney World parks
Even with a rain poncho or umbrella, your shoes and socks are likely to get wet. You can carry a spare pair of shoes and socks, flip flops or even water shoes. Disney offers lockers for rent at the parks, and you can store spares there if you wish, or you can carry them with you in a backpack or bag. Sandwich bags and spare plastic bags are also useful to keep your stuff dry – and to separate the wet from dry after the rain.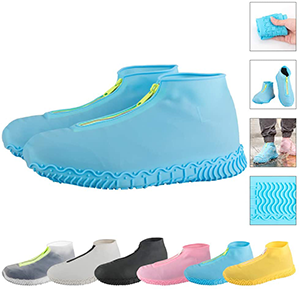 You can change to your flip flops or water shoes when it starts raining, keeping your shoes and socks in your backpack, plastic bag or locker. Once the rain has stopped, you can put your dry shoes and socks back on. The rain is so heavy that your socks can get wet enough to ring out if you do wear them in the rain.
You can also buy waterproof shoe coverings. These are easy to carry and allow you to get by without carrying spare shoes and socks. In the image below, you can see rain shoe covers on both of the young girls visiting with Belle.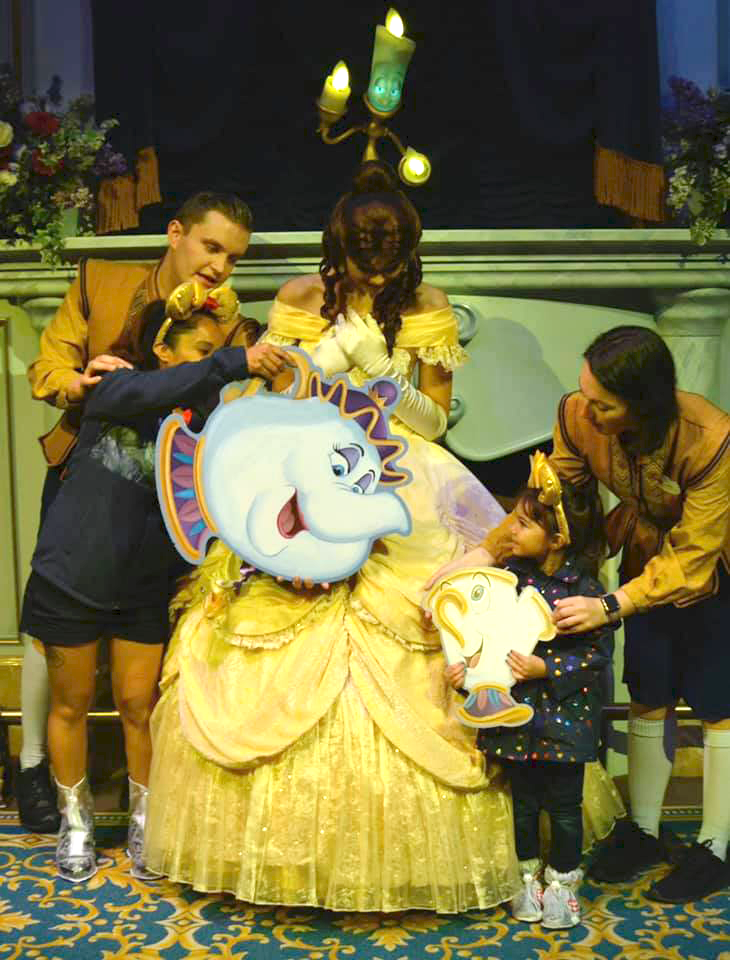 TIP – The blue plastic 'Disney Parks' bags they give with shopping in the parks use a dye which runs when wet. Do NOT use these to store wet items, or separate wet/dry stuff. The dye is dark and impossible to remove from clothing, even with a stain remover/detergent.
What happens with the Parades and Cavalcades when it rains at Disney World?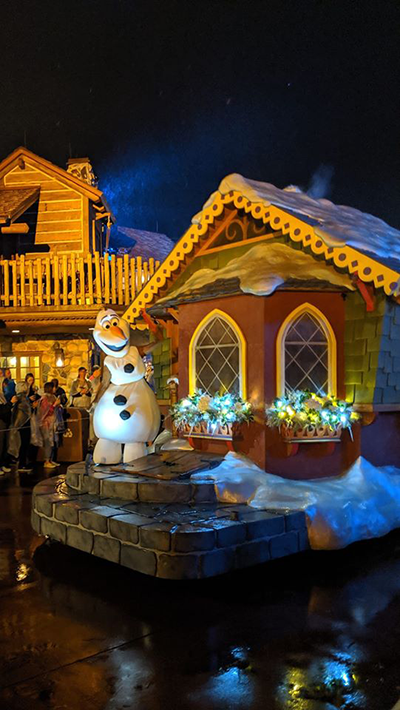 In the past, Magic Kingdom has always had major parades. Since Covid, there have been what's called Cavalcades. These are smaller, less grand versions of the parades. We assume eventually the  parades will return. So we'll address both Cavalcades and parades.
If the rain is heavy enough, or if there's lightning, the parade or cavalcade can be cancelled.
If the parade at Magic Kingdom is cancelled you may be treated to the Rainy Day Parade. It's a small cavalcade that travels the parade route. This doesn't happen very often, so if you go out in the rain you may get to see this rare treat!
If the weather allows, the show must go on and the cavalcades and parades will happen. To the right is a photo of a parade taking place in a fairly heavy rain storm. Notice the guests to the left, in their rain gear.  Some of them were able to get a certain amount of protection from the building overhang. Olaf still seems to be having a great time!
Here are a couple of photos of the special Rainy Day Parade. It's smallish and low key but fun none the less.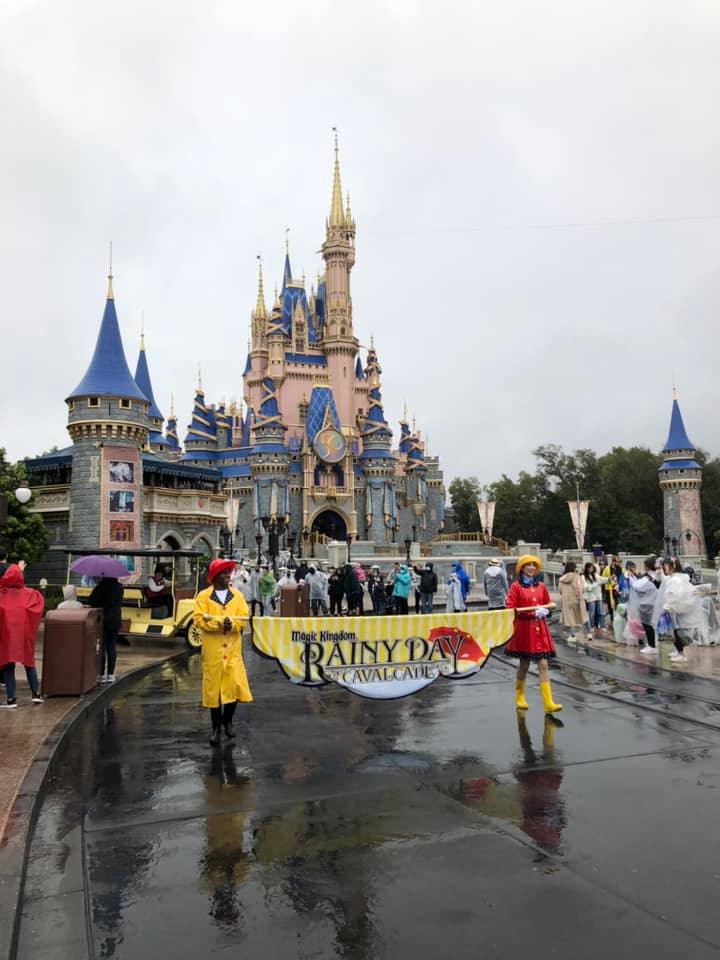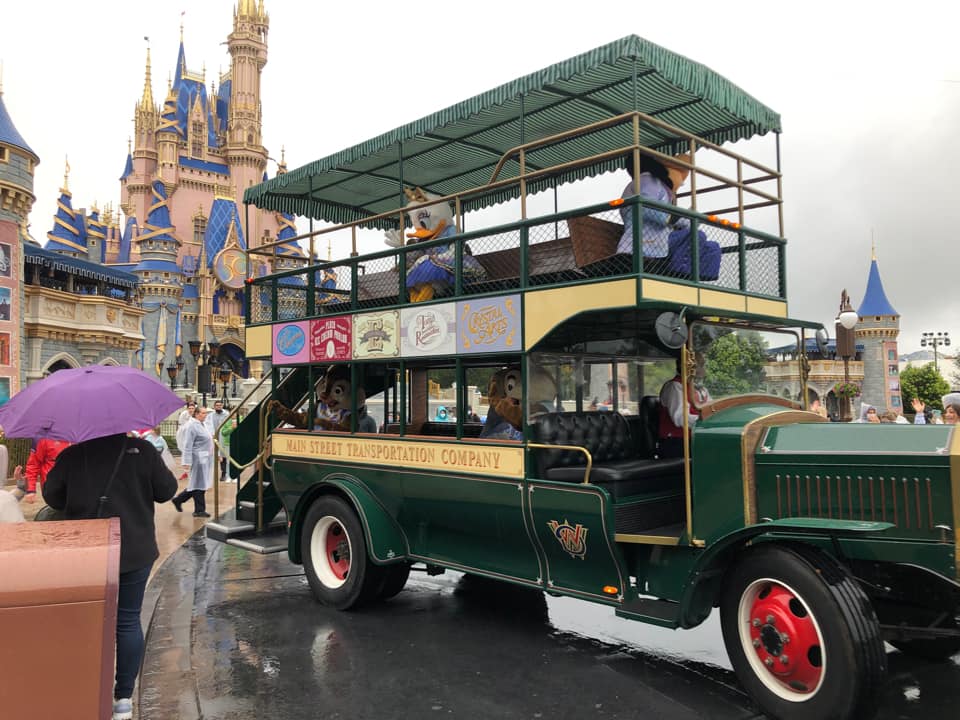 So should I stay in the Disney World park if it rains?
There's a benefit to staying when it rains. A lot of people choose to sit out the rain, by sheltering indoors or leaving the parks. This means that the wait times for attractions, and crowds in general, will be lower. This is especially true of any outdoor attractions that remain open. If you don't mind a bit of rain, you can get a lot done.
It is worth bearing in mind, that while you may want to leave the park, it can be worth staying. Whether you choose to shelter undercover, or dance in the rain, on most days it's not going to last long. Even if it does, here's a saying we see a lot:
"A rainy day at Disney is better than a sunny day anywhere else".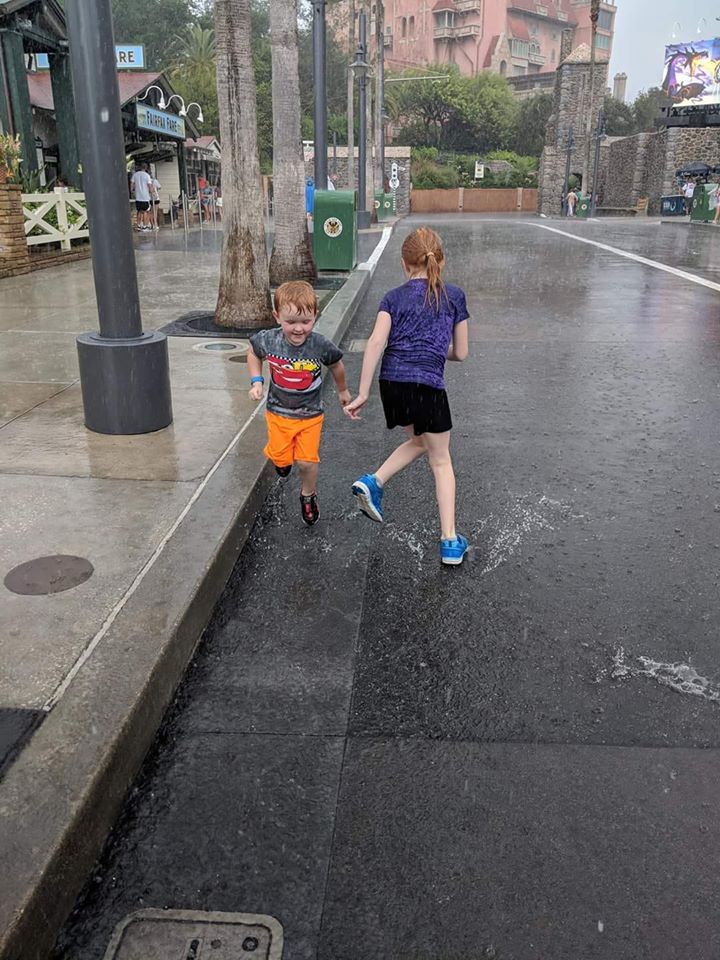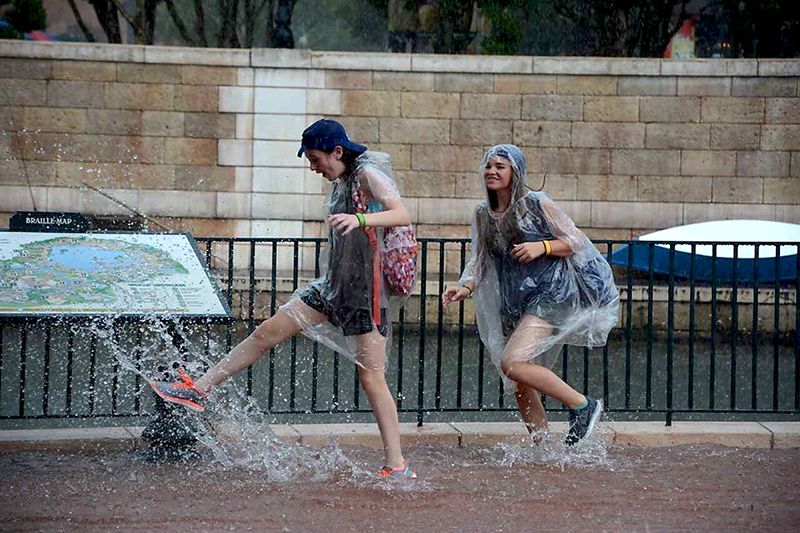 It will be hot and sunny again before you know it. Crowd levels will still be low immediately after the rain, even if you shelter to stay dry, because people do leave the park, so it is still worth hanging on for.
One option is to hang out in one of the many restaurants in the parks. Kids will enjoy some of the amazing snacks that are available!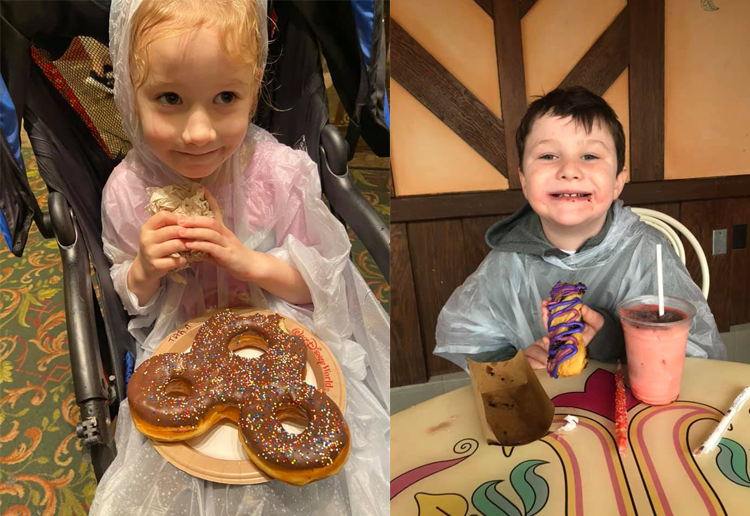 Watching the weather while you're at Disney World
If you have a smart phone it is a good idea to download an app which will show you the radar of the rain fall. This will allow you to see the size of the rain storm, its direction and it will give you a rough idea whether it is going to rain for the rest of the day, or just the next half an hour. With this information you can make more of an informed decision about whether you will stay in the parks or do something else.
You can also check out weather.com for hourly weather projections. While we find that it's not always completely accurate, it can give you a general idea of what to expect.
Top Tips for managing in the rain when you're at Disney World
Buy ponchos and umbrellas before you arrive to save money.
If you do buy a Disney World rain poncho, they will give you a new one if they break or tear.
Magic Kingdom and Epcot are the best parks to explore in the rain, as they have more undercover areas and shorter distances between covered areas.
Alternative activities for rainy days while on your Walt Disney World trip
Enjoy your hotel: If you really don't want to go to the parks in the rain, there are other options besides sitting in your hotel room. Firstly you could see what's available in your resort. The majority have arcades with games to keep you occupied for a little while at least. They also may run various activities. Check with the concierge for details on what's offered.
Disney Springs: At Disney Springs you can shop or have a nice meal to keep you inside and dry. There is also bowling at Splitsville. You can bowl, watch sports on TV, enjoy the bar, and eat in the restaurants too. On busier days,or rainy days, there is likely to be a wait for walk ups to bowl, so it's a good idea try and make a reservation in advance. They do accept the dining plan if you intend to eat there.
Unlike a standard bowling alley which is just rows and rows of bowling lanes with a burger counter at the back, Splitsville is spread over two floors. There are tables so you can eat and not bowl, or you can eat while you bowl.
Also at Disney Springs you can go to the AMC Movie theatre, which offers the latest movies. They also offer Fork and Screen in select theaters, where you can eat a full meal while watching a movie.
Off-site options: Going off-site for shopping could be a good way to avoid the parks. Just bear in mind that a lot of people may have a similar idea, so the malls and outlets are likely to be busier than usual. It is also worth noting that a lot of the outlets are not covered malls, so will not offer any greater protection than if you were in the parks. The Florida Mall is one place to shop that is completely covered.
International Drive and the Orlando area offers a number of indoor experiences such as the Wonderworks, Madame Tussauds Orlando Wax Museum, and the Titanic – The Exhibition. In fact there is so much to see that you could spend several days exploring it all!
The most important thing to remember is that while you are likely to see rain during your visit to Walt Disney World, it will not ruin your trip. The parks were designed so there is still plenty to do. Besides, where else can you jump in puddles and dance in the rain without a care in the world?
PHOTO DONATIONS: Thank you so much to those who donated photos. We're so grateful for your support! To those whose photos we didn't get to use, thanks so much for sharing! We'll keep them in case there's another article that they'd be appropriate for.
Join our facebook group!!!!
Ask any questions, share your knowledge and just enjoy getting to know other Disney fanatics in our facebook group called Walt Disney World Made Easy for Everyone.
Also: Like our facebook page here.
And join me on Pinterest here.
GET UPDATES, NEWS & TIPS (IT'S FREE!!!) Plus get a Free Disney World Planning Schedule Form.
Sign up below to stay updated on the newest information, tips and tricks to help you plan your perfect Disney World trip!