More About Managing at Disney World With Autism
In Part 2 of this series we'll give you tips from a different perspective. They'll be coming from an adult with autism, who also has a teen son with autism.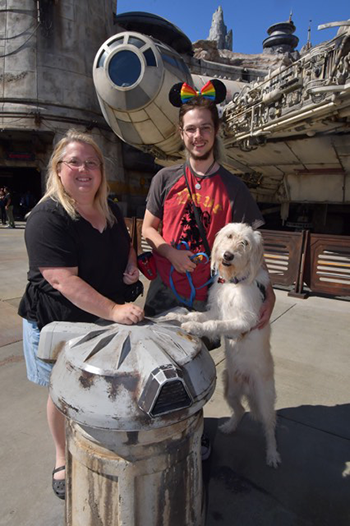 Ann Ashenfelder Littell has been visiting Disneyland for over 40 years, and has been to Disney World several times as well. She's a huge fan. She read our first article on autism which included an interview with Donna Lorman, called:
Managing with Autism at Disney World Part 1 – Interview With President of the Autism Society of Greater Orlando.
Ann felt that the article was coming from the perspective of a neurotypical parent (a parent without autism) of a child with autism who was probably non-verbal. Ann wanted to share her perspective as an autistic adult who also has an autistic teen child.
Ann had so much insight and so many great tips, all coming from a different perspective, that I thought it would be best to create a new article featuring Ann's thoughts. Ann answered the same questions we asked the President of the Autism Society, Donna Lorman, in Part 1. Ann had some very different answers.
In this article we'll share any of Ann's thoughts that are different from Donna Lorman's thoughts. I'll also add some of my own notes for clarification where needed.
We also suggest that you read Part 1 for a different perspective. Part 1 also includes a variety of great tips from our readers.
So here goes:
Register for the DAS (Disability Access System) at Disney World
(Stephen's note: Before reading Ann's tips on the DAS, if you're not familiar with what it is and how it's used, it's best to read about it first. Click on our DAS article page here first, and then come back and read Ann's tips.)
Ann says that the DAS is incredibly helpful for autistic individuals because it means that they can wait for their turn to ride somewhere other than in the queue.  You can take this time to find a quiet area for a sensory break, if needed. Be aware that a DAS does not give "front of the line" privileges.
Requesting the DAS
Like many other invisible disabilities, it is not always possible for Cast Members to tell if someone is autistic.  This can make getting a DAS a bit challenging.  Disney is not allowed to request or look at doctor's notes or other proof of a disability.  It is generally best to focus on specifically why the person struggles with regular queues.
Mentioning that you or your family member is autistic and gets anxious with being stuck in a crowd for an extended period, or that your autistic child doesn't understand waiting in a long line, can help the cast member understand why the DAS is an appropriate accommodation. If the first cast member you speak to does not feel that you qualify for a DAS, you can speak to a manager.
Special circumstances not covered by the DAS
The DAS is intended to work for most people with non-mobility-related disabilities who struggle with waiting in the traditional queues.  However, Disney has stated that they will work with individuals who are not able to use the DAS system as it usually works.  For example, if you have an autistic child who only wants to ride one ride multiple times, then leave the park, talk to a cast member at Guest Services.  They may be able to help you. There are no guarantees, but Disney does understand that there may be special situations where other arrangements need to be made.
Getting DAS return times
It may be helpful to have another family member take the park tickets or MagicBands to get the DAS return time rather than taking the autistic family member to the ride entrance to get a time, just to walk away to wait to return.  For some autistic individuals, going to the ride, but not getting to ride right away can be very confusing and stressful.  Some of the parks also offer Guest Services locations throughout the park and you can get a return time at any of these locations for any ride.  This is extremely helpful so that no one has to go all the way to the ride in order to get the return time.
Tips for Dining at Disney World with an autistic individual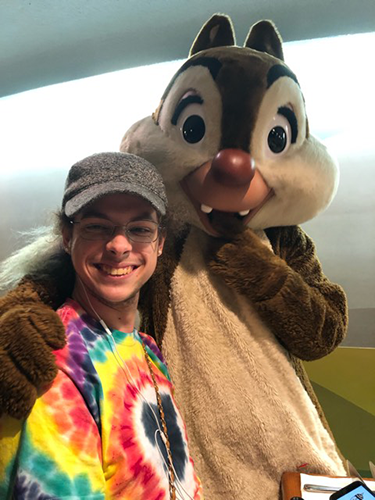 Are character meals right for your party?
Character meals can be a lot of fun if the autistic member of the family enjoys interacting with characters.  Having the characters come to your table can be less stressful than waiting in lines to see them in the park.  While the character meals are more expensive than most other meals and often take longer, seeing multiple characters with no lines is often worth the time and money.
Choosing the right character meal is important
Before sitting down to a character meal, there are some important things to consider.
Does the autistic individual enjoy meeting characters?
Is the autistic individual comfortable with characters in masks? Some individuals are not comfortable around characters with masks. They may only like the "face characters" such as the princesses.
Choose meals that are likely to have characters that your family member wants to see.
It also helps to find out a bit about the restaurant.  For example, some families love Chef Mickey's because it tends to be a place where kids can run and make noise without disturbing other diners. For other  individuals, this might be sensory overload.
If you want to eat somewhere that is known to be noisy, bringing some headphones or ear plugs can help make the environment less stressful.
Preparation for the character meal
While some characters are almost guaranteed to visit at character meals, many of these meals have a variety of characters that may show up randomly.  This can also be quite challenging for many autistic individuals unless they understand ahead of time that "Minnie and Friends" means that they are 99% sure to see Minnie, but there is no guarantee for any other specific character.  If there is a "must see" character, have a back-up plan to find the character elsewhere in case they don't make it to the meal.
It is also a good idea to look over the menu, or at least find out what types of foods to expect. Is this a breakfast buffet with lots of kid-friendly options? Is this a prix fixe menu with limited choices?  Knowing these things ahead of time can help autistic individuals know what to expect so that there are fewer surprises, which can be unsettling.
Cast Member involvement at the Disney World restaurant
At any character interaction, you can choose to mention to one of the supporting cast members that you have an autistic family member if you think this will help the character(s) understand how to interact appropriately.  The characters are generally incredible about modifying their interactions to best fit each individual.
Special dietary needs in the Disney World restaurants
If you have special dietary needs, most table service (or "sit down") restaurants are able to accommodate many options.  Some, such as gluten free or nut free, are common requests and can be accommodated without advance notice. For unusual dietary needs, it is helpful to contact WDW at least 2 weeks before your trip to determine what options are available. Many restaurants are able to accommodate special requests if given this advance notice. Don't just show up and expect every restaurant to have almond milk if that is the only thing your family member will drink. Call ahead and see if it can be made available for your reservation.  Disney works hard to accommodate these requests if the item is available at any of their restaurants. (Please read more about managing at Disney with special dietary needs here)
Managing at Quick Service Meals in the Disney World Parks
Disney World has much more than burgers and fries at quick service restaurants. Most have a kids' menu with simpler fare, and adults are welcome to order from the kids' menus at quick service places. Of course, kids are also welcome to choose from the full menu if those options appeal.
Again, doing a bit of research can save a lot of time and stress.  The Disney World app (called My Disney Experience) has menus for all of the dining locations to help you choose a place that has options that work for your family.
A relatively new option is Mobile Order through the app. You can read about mobile ordering here.  This can be a huge help for anyone, but particularly for those with autism. You can look at a menu in the app and choose what you want to order without having to deal with the crowds and lines at the restaurants.  Once you get to the restaurant, just let the app know that you are ready for your food, and it is typically ready in just a few minutes with a much shorter line.
Live Shows in the Disney World Parks (including 3-D movies)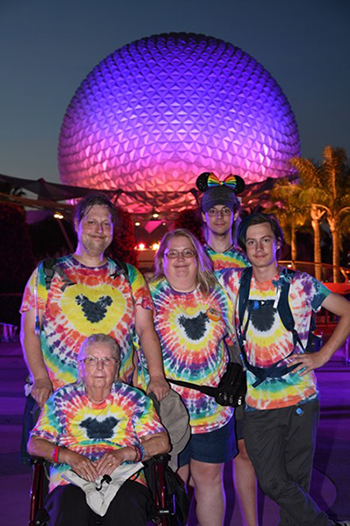 Some autistic individuals love live Disney shows. Get a daily schedule as you enter the park so that you can plan when to see these shows. These schedules change frequently, so it is important to have current information.
If you are going to a show with seating, it can be helpful to show up early and speak to a Cast Member about getting a seat in an area that would be better for your family member. Here are some thoughts on seating locations:
Sometimes the front row is better since there is open space in front, which can help those who don't like being in crowded spaces.
For some the end of a row would be better.
The back can be good for those who might want to get up and move to the music.
Sometimes, near the exit can be a good place if you think you might need to leave unexpectedly.
The Cast Members can't always accommodate special requests, but many will try if you ask politely and explain the need.
3-D shows can be challenging for some people.  The glasses may be uncomfortable and everything looks rather strange. Some individuals may end up not wearing the glasses, or may find it easier to only wear the glasses for part of the show.
These shows are often loud, so headphones or earplugs can also help make the show more comfortable for those individuals who are sensitive to sound.
Park Preferences for those with Autism
Park Preferences can be a very individual thing. Some autistic individuals love Magic Kingdom because it has the most "Disney" feel and has so many characters and rides. Others may find Animal Kingdom soothing with more natural areas and a less crowded feel in many areas. Hollywood Studios appeals to those who love movies, particularly Toy Story and Star Wars. Epcot might be the favorite for someone who is fascinated by other countries.
For detailed descriptions of the experience and feel of all the rides and attractions at Disney World, visit here. 
Disney Springs for those with Autism
While there are many fun things to do in Disney Springs, it can also be very overwhelming to some. The crowds and variety of stores with different sounds, smells, lights and more can lead to meltdowns.  Planning a visit during quieter times of the day can be helpful. (Stephen's note: Disney Springs does tend to be quiet early in the day, especially on weekdays).
One other note from Ann regarding a Disney Springs restaurant called Rainforest Cafe. While Donna Lorman recommends it highly for those with autism, Ann feels it can be too noisy and overwhelming for others.
More about Ann Ashenfelder
Ann Ashenfelder Little has recently become a travel agent specializing in special needs travel to Disney. You can check her out here.
Check out Part 1 if you haven't read it yet: Managing with Autism at Disney World Part 1 – Interview With President of the Autism Society of Greater Orlando.
Join our Facebook group!!!!
Ask any questions, share your knowledge and just enjoy getting to know other Disney fanatics in our facebook group called Walt Disney World Made Easy for Everyone.
Also join me on Pinterest here.
GET UPDATES, NEWS & TIPS (IT'S FREE!!!)
Sign up below to stay updated on the newest information, tips and tricks to help you plan your perfect Disney World trip!