Facts at a Glance About Pirates of the Caribbean:
Park:

 

Magic Kingdom. Location: Adventureland. Height Requirement: None. Genie+: Yes. Individual Lightning Lane: No.
Quick Notes: Indoor boat ride with Audio-Animatronics and pirate scenes.
Disney Warnings: You may get wet! Your boat will drop down a short waterfall into dark, mysterious caverns where "dead men tell no tales". (See the full sign below)
Disney Noted Attraction Details: Artificially introduced odor. May also include operational fumes. Lighting effects, loud noises, periods of darkness, bumpy, wet. 
Our Additional Cautions: Includes some periods of almost total darkness, low light, mist and fog (sometimes heavy), flashing lights, loud cannon shot noises, possible small water splashes, flickering orange 'fire' simulations in sections, smoke, fragrance in some spots. Some spooky things included such as skeletons, creepy parrot. Most of the ride is gentle, but there's one point where the boat accelerates and drops down a 14 foot drop in total darkness, coming to a sudden stop at the bottom with a jolt. You may get splashed. It can seem longer and steeper because of the darkness. Some parents feel that some scenes are too mature or intense for their children (More details below). Boats can hit one another while waiting in the disembarking area. May have a musty smell.         
Length:  The ride lasts approximately 10 minutes.
Special Needs Info: If you're in a manual wheelchair, you can stay in that for the queue. For power wheelchair users, in most cases queues and rides that allow wheelchairs also allow most power wheelchairs. See the Cast Member at the attraction for your options. If you're in a scooter you must transfer to a manual wheelchair for the queue. All guests must transfer from the wheelchair to the ride boat vehicle. You must be able to step down into the boat to get in and up to get out. Handheld Captioning, Audio Description.

Overview of The Pirates of the Caribbean:
This indoor boat ride travels down through "caves" past scenes of pirate life with Audio-Animatronics characters.
The old mixes with the new in this attraction. It was updated to include scenes and characters from the Pirates of the Caribbean film series with Johnny Depp as Captain Jack Sparrow and Geoffrey Rush as Captain Barbossa. Some of the attraction is as it always was, and the Audio-Animatronics remain less than life-like. The newer effects and Audio-Animatronics are quite a contrast to the old. For example there's a Captain Jack Sparrow that you'll swear it's the real thing.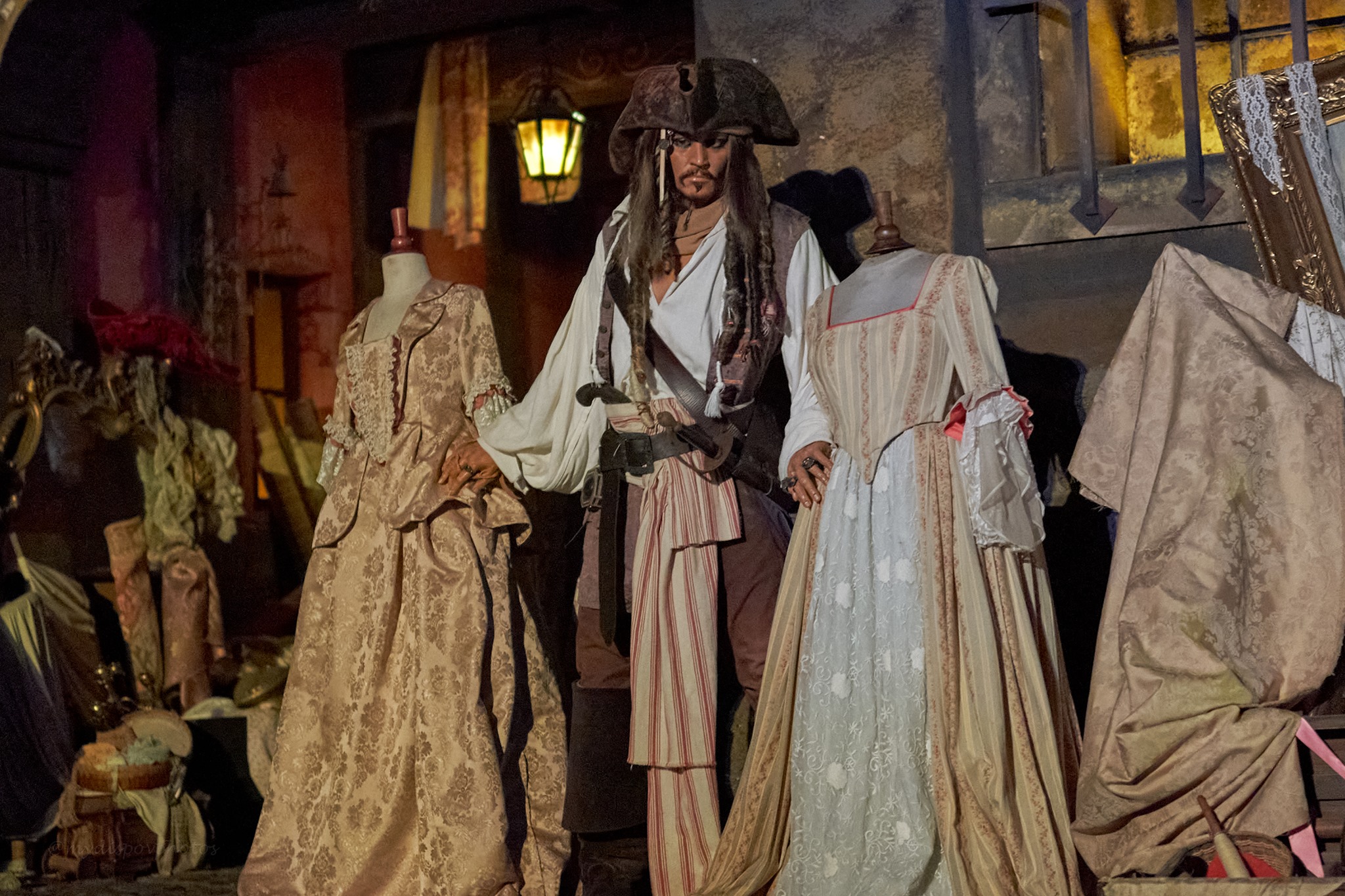 The attraction was also altered to make it more politically correct by removing the "Red Head Wench Auction Scene". Instead of auctioning off a woman, the scene now depicts men and women auctioning off of pirate's loot. This move was controversial within the Disney fan community. You can see a photo of this revised scene at the top of this page.
The Queue for Pirates of the Caribbean
Most of the long queue is indoors, winding in an atmosphere like an underground cavern pirate lair, with dim lighting. Some people find this claustrophobic, especially when it's crowded. There are some gradual inclines as you move along. The outdoor queue is covered with a roof.
Ride Car information
Guests board a boat that seats approximately 24 seats. They are bench seats, so a guest needing more room can take more than one 'seat' space.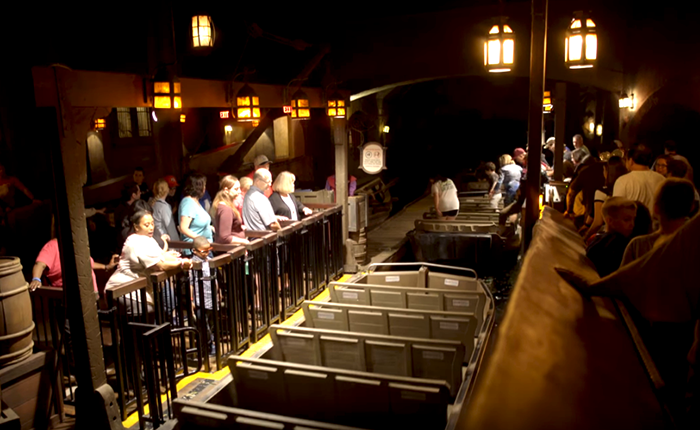 Handicapped information for Pirates of the Caribbean
Wheelchair/ECV Queue Information:
Both the Genie+ and regular lines are wheelchair accessible. The Genie+ entrance is on the right as you enter the line.
Guests using ECVs and personal wheelchairs (either manual or power) will be asked whether they want to walk in line or transfer to an attraction wheelchair. The reason for this is that the boarding area is in one building and the unload area is in an entirely different building, one floor below ground level.
There are always attraction wheelchairs available at the unload area, but it can sometimes become difficult to make sure someone's own wheelchair gets to the unload area at the right time. If you need your own wheelchair in the line for some reason, explain that to the Cast Member at the entrance. They MAY be able to accommodate you – although this may require coming back at a different time when staff are available to move the chair. Contributor Sue Mickelson requests this for her daughter since her wheelchair has special equipment that she needs to sit comfortably.
If you brought your own wheelchair to the boarding area, it will be waiting for you at the unload area. If you transferred to an attraction wheelchair, there will be an attraction wheelchair parked at the unload area. You can take one of those into the elevator to the area where you parked your own wheelchair or ECV when you entered the line. It will be in the same area that you left it, near the ride entrance.
There are two boarding areas. One boards from the right side of the boat and the other from the left. Before reaching the boarding area, guests using wheelchairs or walkers/rollators will be directed to the area boarding from the left. This area has a little more room for boarding. Guests can place their wheelchair close to the boat. It also has access for Cast Members to move devices to the exit.
Boarding & Disembarking Pirates of the Caribbean:
There is no wheelchair accessible boat and all riders must transfer to the boat seat. You must be able to step down two steps, into the boat and onto your seat. There's a good-sized step down required to get into the boat. It's approximately 12 inches long, but you can use the seat as a step to cut the step size roughly in half. A member of your party may need to steady you. The cast members can't do this. The boats have hard bench seating with backs.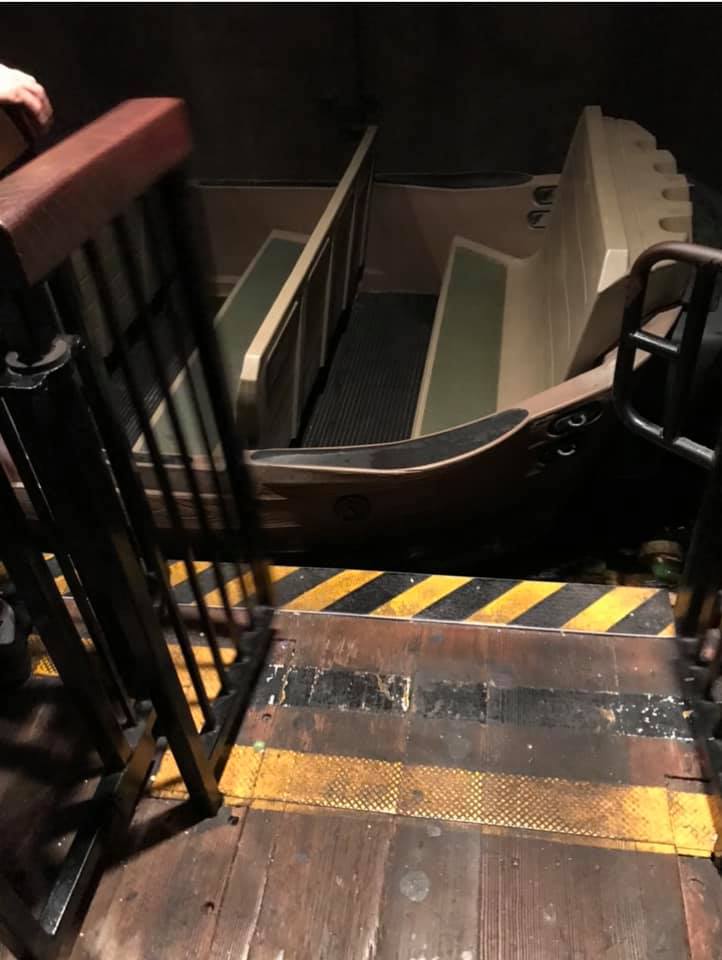 Tip: Although the boats are different, the step down into the Pirates boat is very similar to the step required for the boats in It's A Small World. Riding Small World first can give a preview in better lighting conditions, and you'll also be in a position while waiting in line to watch other guests getting on and off.
When you get off the boat there's a steep, inclined moving walkway with a hand rail that gets you up to the exit. There's an elevator at the unload area to the left of the moving ramp for those in wheelchairs and for those who are uncomfortable using the moving ramp to leave the attraction.
Ride Details for Pirates of the Caribbean (the feel and experience) 
Although the majority of this ride is gentle, there's a point at which the boat makes a sudden acceleration, goes down a fairly short flume and then makes a sudden short, somewhat steep drop. Some find the drop to be insignificant, even with pain issues. Those who are sensitive find it uncomfortable as with this Disney guest:
"I'll never go on this ride again. It's not that I wouldn't like to. I would. It's fun for the most part. But we were riding along when all of a sudden the boat went down a little waterfall thing and slapped down hard on the water. I've got a neck problem and it really hurt. I had no idea this was coming, or I wouldn't have gone on this ride."
For people with pain issues, sensitive backs or necks, or other similar issues, it can cause discomfort. It also happens in the dark, so it may come as a surprise.
Here's a warning sign outside of the attraction: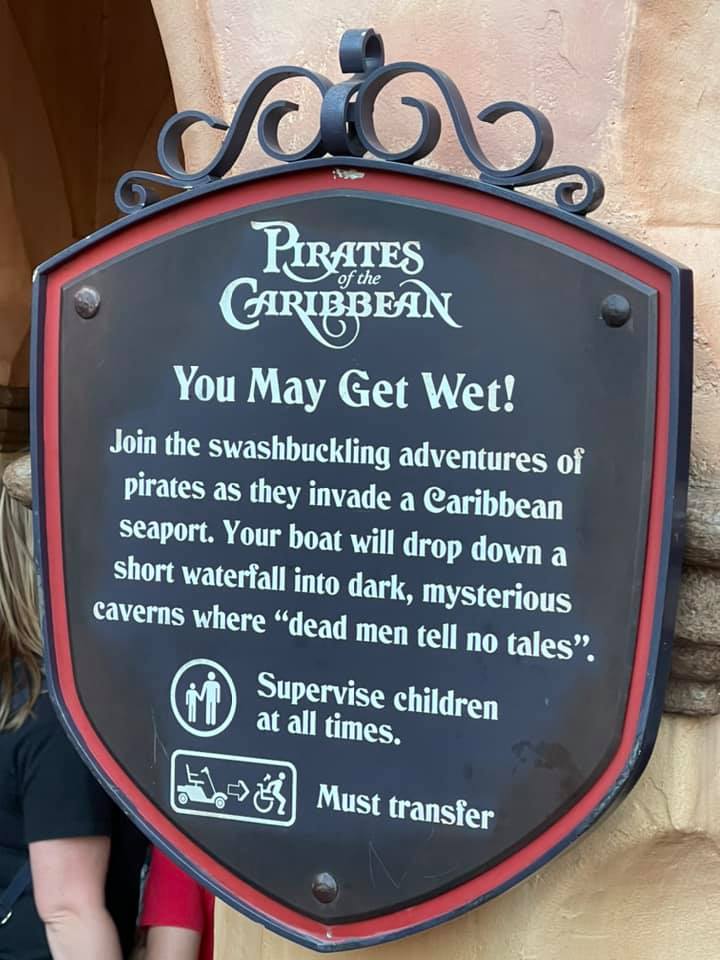 When the boat hits the bottom, the people in the first few rows or so may get splashed. However, it's more of a minor splash than a soaking.
There are times when the boats get backed up, and occasionally one boat will hit the boat in front of it. The collision occurs at a slow rate of speed, and most people will find it nothing to write home about. However, the very sensitive may find it uncomfortable.
When the boat leaves the landing it slides slightly downhill over some bumpy rollers. From there the ride is smooth, except that the boat bumps the sides of the tracks as it moves along. It's mild and even the most sensitive people will usually be okay with it.
When you arrive back at the docking station, your boat goes slightly uphill and briefly rides over bumpy rollers again. Your boat will most likely hit the boat in front of it, and it may be hit from behind repetitively before you're allowed to disembark.
During the ride, there are some times of darkness, and much of the ride has low lighting. The set is designed to look like you're riding through a pirate siege of a port town at night. There's the sound of cannons and guns shooting. Water splashes simulate cannonballs hitting the water. You may get wet, but usually not soaked when the cannons shoot.
You'll ride through a thin steam curtain on which images of Barbosa are projected. Throughout the opening scenes, the fog and mist can be thick. Some steam is used in the town scenes, although it is not always noticeable.
Synthetic fragrances are used. For example, a burning wood scent can be detected in the burning town scene. This is a synthetic fragrance.
Some parents feel that the scenes are a bit too suggestive or intense for their children. These scenes include a man being dunked in a well, some drunken pirates, thunder and lightning, buildings on fire, and some spooky things including skeletons.
To view the full ride experience, check out this video:
Check out other rides in Disney World's Magic Kingdom:
Adventureland 

Fantasyland

Liberty Square

Main Street USA

Tomorrowland
SEE RIDES AND ATTRACTIONS IN THE OTHER PARKS:
Join our facebook group!!!!
Ask any questions, share your knowledge and just enjoy getting to know other Disney fanatics in our facebook group called Walt Disney World Made Easy for Everyone.
Also: Like our facebook page here.
And join me on Pinterest here.
GET UPDATES, NEWS & TIPS (IT'S FREE!!!) Plus get a Free Disney World Planning Schedule Form.
Sign up below to stay updated on the newest information, tips and tricks to help you plan your perfect Disney World trip!