Are you concerned that your child or someone in your party may be afraid of the live Disney World characters?
Throughout the parks, in some dining locations, and even in some unexpected locations throughout Disney World, Disney has character appearances.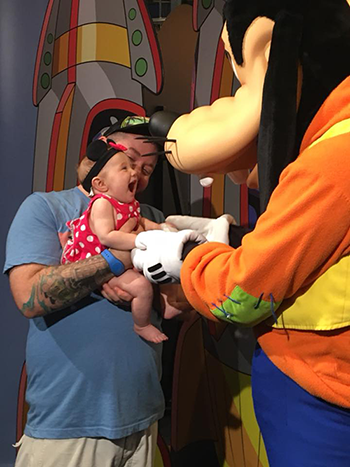 For many people, the characters are a delight. Just check out this baby to the right! Yet for some people the Disney characters may pose a challenge. They're afraid of these characters.
We'll give you some tips for managing with this issue.
Fear of characters in the Disney World parks:
In the parks, character appearances are usually in pre-set locations where guests can line up and visit with the character. Some are completely covered in character suits such as goofy and Mickey, and others look like human characters such as Mary Poppins or any one of the Disney princesses.
If someone in your party has fear of characters, whatever you do, don't force them to meet characters. It can be traumatic and stressful for them. Disney World is a place to create wonderful, happy memories. So one valid option is to avoid characters altogether during your trip.
If you feel your party member can handle it, you might want to introduce them slowly to characters.
A good place to start is with a character that looks human. Of course the human characters should seem less strange and unusual to them when compared to the non-human characters.
Another way to introduce characters in a way that might reduce fear is by standing nearby and observing others with a character. Stand a good distance back from a character meet and greet that's in progress, and watch. Point out to them how much fun everyone's having, and that it's very safe.
When it's your turn to meet a character, you can approach the character with the person who is afraid, and interact yourself with the character at first. When they see that the character is safe, they may be willing to interact.
One strategy that might help is to get an autograph book and have them get an autograph of characters.
Disney sells them throughout the parks. Children and children at heart like to get autographs from the characters. This gives them something to hold and it gives them an action to take with the character. This can be helpful with breaking the ice.
Here's a video on how to deal with kids who are scared of characters from someone who was a character player at Disney. She gives a number of insights and recommendations for handling character interactions with scared children. The same recommendations would be true for those who are older and mentally impaired.
Be aware of sudden appearances of characters in the parks
If someone in your party is afraid of Disney characters, you may need to watch out for characters that can pass by unexpectedly. Upon entering the parks you can get a schedule for the times and locations of the days' meet and greet character appearances.
For the most part, you should be able to keep your distance however sometimes they can pass by unexpectedly. Characters in the parks usually have an assigned location where they stay, but they have to walk to and from that location. Keep an eye open for this and move away from their path if necessary. They won't usually approach guests, including children.
Occasionally there will be roaming characters. For example, in Hollywood Studios, there can be roaming Star Wars  characters such as the First Order Stormtroopers, especially in the Galaxy's Edge section of the park. If this is a problem, you may wish to avoid that area. Here's an example:
Characters and the Disney World park parades
The parades are full of Disney characters, and some are on foot. They do approach the crowd at times, and they will approach individuals (most often children). If a character makes contact with someone during a parade, it's usually very brief. If this is an issue for you or someone in your party, consider taking a position further back in the crowd. You may not have as good a view, but it will be unlikely that you'll have any direct contact with a character.
You can also avoid the parades altogether. During the parades, wait times for rides sometimes go down, so it can be an excellent time to get on rides.
Exposure to Disney Characters during character meals
If characters are a concern, you may want to avoid character meals. Most of the character meals have only friendly characters, (princesses, Mickey, Chip n' Dale… etc.), but they do come right up to your table. In fact, they make a point of circulating and visiting everyone.
Be aware that restaurants can change. Last year's fine dining spot could be a character buffet today, so make sure to ask before you make a reservation.
On the other hand, some people find that the character meals are the best place to meet the characters in a non-threatening way. The characters have a specific route they are following and it may be helpful for some people to watch as others interact with the characters.
If someone in your group is fearful, you may want to ask for a booth or a table along the wall when you check in. That way, the fearful person can sit where the characters can't get close to them. You can also request that the characters skip your table if you want to watch from a distance. Mention it to the Cast Member checking you in and also to your server.
Reader tips and insights for character interactions at Disney World:
Tip from Amy Drake Norman: "My ASD son has never liked the characters. When he was younger he would hide in his BOB stroller while his sister was chatting with them. Consequently, we have many more pictures of her than we do of him. Last year we took a cruise and it was more of the same. This time he was old enough to reason with a bit. We compromised. I told him I really wanted him to be in family pictures and include him in our album, something he loves looking at. In turn, I told him that he didn't have to touch or interact with them and that I would stand as a buffer between them and him. He agreed and for the first time we have some really good family pictures with characters." 
Tip from Vickie LeVally Chytil: "My granddaughter has always been leery of the costumed characters. We never force her to approach, we simply say "love from afar and smile and wave". Her older brother always takes her book up for her autographs with his. Then asks the character to wave to his sister… each one has always waved!"  
Tip from Jen Jechorek Mrosla: "I write cute little notes explaining that my daughter uses ASL (American Sigh Language) but can hear. I also put on there that she wants to meet the characters but not get close. All of them were great- especially at the character meals- they blew her kisses and signed I love you. She thoroughly enjoyed it. We also put her in the corner with one of us to block access to her."
For more Disney World planning tips, check out this page:
Join our facebook group!!!!
Ask any questions, share your knowledge and just enjoy getting to know other Disney fanatics in our facebook group called Walt Disney World Made Easy for Everyone.
Also: Like our facebook page here.
And join me on Pinterest here.
GET UPDATES, NEWS & TIPS (IT'S FREE!!!) Plus get a Free Disney World Planning Schedule Form.
Sign up below to stay updated on the newest information, tips and tricks to help you plan your perfect Disney World trip!