At Disney World, Can you leave a ride or show before or once it's begun? Plus, how to use ride test vehicles before choosing to get on a ride.
Have you wondered if you can:
Decide to leave a ride once you've gotten in the queue
Refuse to get on a ride car once it's your turn to board
Get off a ride once you've gotten on it
Get off a ride once it's started
Try out a ride vehicle before going on it
We'll talk all about your options here. Let's start with the basics!
Can you leave a ride or show before it starts?
It's possible to experience an attraction's queue and pre-show, but to leave before you get on the ride. There are various situations where you may want to do this. For example:
You know you don't want to go on the ride, but you'd like to experience the queue and/or pre-show. Some of the queues are events in themselves and worth walking through. For example, the Mission: Space queue as well as the Avatar Flights of Passage queue has a lot to see.
You've researched an attraction but you're still not sure about whether it's okay for you. You want to experience the queue and if possible, see the boarding area to help you decide.
Something comes up when you're in the queue and you decide you need to leave. It could be anything from needing a restroom to having a child in a meltdown.
You "chicken out". This happens and it's okay. Disney is expecting that this will happen with some visitors.
How do you leave a ride when you're in the queue, but before you  board the ride?
When you reach the boarding area, just let the cast member know that you don't want to ride. A cast member will escort you out, or show you how to exit using what's lovingly called the "chicken exit". It's used for those who decide to back out just before the actual ride.
There are two ways you may exit from most rides. They are the: 
1. Exit door to the unloading area: Some attractions have a door that takes you to the ride's unloading area, and the cast member will lead you there. This is where everyone gets off the ride, so if you wait for your party near there, you'll see them when they come out. A cell phone is very helpful for situations like this so you can wait somewhere out of the traffic stream where you feel comfortable and still know that the rest of your party will be able to find you.
2. Crossover using a ride car: Some rides load and unload in the same area, but guests board on a platform on one side of the ride track and unload at the same place on the other side of the track. For those rides, you will probably need to step onto the ride vehicle and get off immediately on the other side of the track.
Can you leave a ride at Disney World once you're on it?
Usually, no.
Once you've boarded a ride car or cabin, even if it's not moving, do not try to get off without a cast member's assistance. It's extremely dangerous to try this. If the ride hasn't begun to move yet and you want to get off, call to a cast member and let them know. If it's possible, they may be able to let you get off. However don't count on this as it usually won't be possible.
Once a ride begins to move, you cannot get off of it. This is very dangerous. Please realize that you must not do this. The rides are not designed for people to walk through. Some are even lifted off of the ground. All of the rides have sensors that tell cast members if someone has left the ride car. The rides usually stop until a cast member tells it to go again.
I recommend that you make a decision prior to boarding and realize you'll need to see it through once you're boarded.
Keep in mind that many of the rides do have sample ride cars that you can try before deciding. Some of them are located right outside the queue entrance, such as this test vehicle at Avatar Flights of Passage.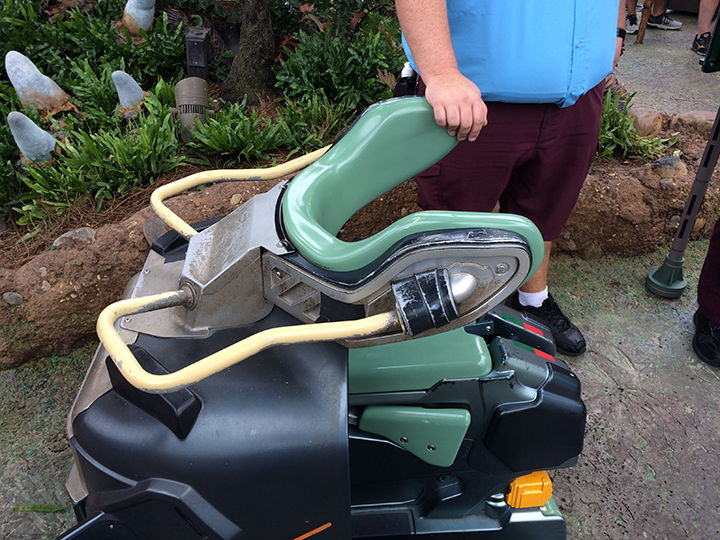 Some of the test ride vehicles are inside the ride building. Just ask a Cast Member to use it and they'll take you to it. For example, Rock 'n' Roller Coaster in Hollywood Studios has a private room where you can try the test vehicle out.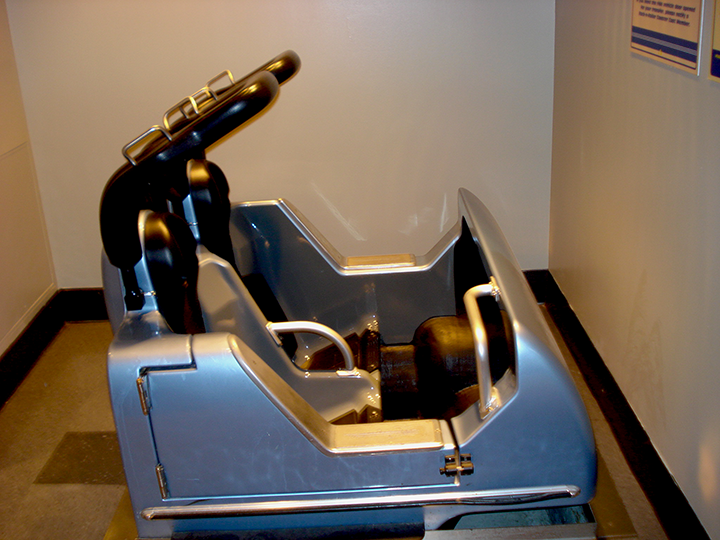 Some rides do not have a sample vehicle or ride cabin.
On some of these rides, at the discretion of a Cast Member there, you may be able to check out an actual ride car up close before deciding whether to go through with it or not. This may or may not include getting on it.
Then if it's not okay for you, they'll escort you out.
Of course this is up to the Cast Members at the ride. If it's very busy, or if it's not feasible for some other reason, it may not be possible.
Here's an example of one time when we did this. Mission Space has a sample ride vehicle that you can see, but you can't try it or walk up to it. My wife Sarah experiences claustrophobia in tight places. She wanted to go on Mission Space, but was concerned about the small ride cabins. The sample ride car that's on display is kind of raised up, and set back. She was unable to see inside the cabin from a close or level perspective. Here's the sample vehicle: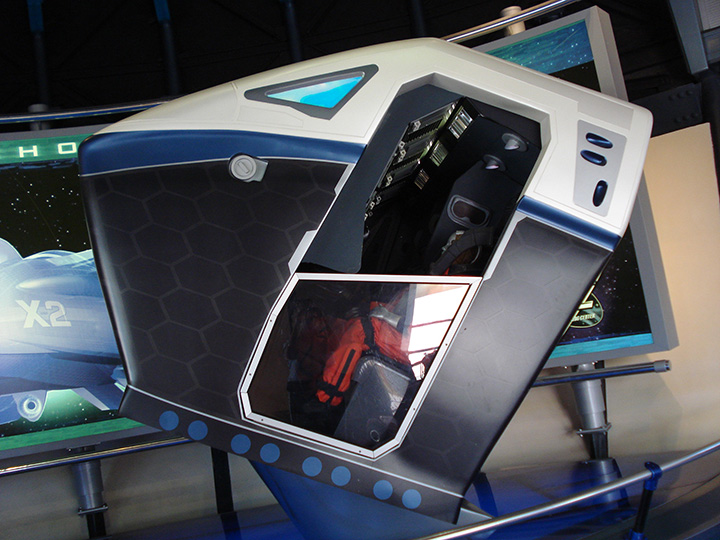 My wife asked the Cast Member at the ride if she could go through the queue and check out a ride car before deciding. Again, while it's up to the Cast Member at the ride, she was permitted to go through the queue and to walk right up to the ride car. You can see from the photo below that she took, that she was able to get a more realistic perspective of the ride car.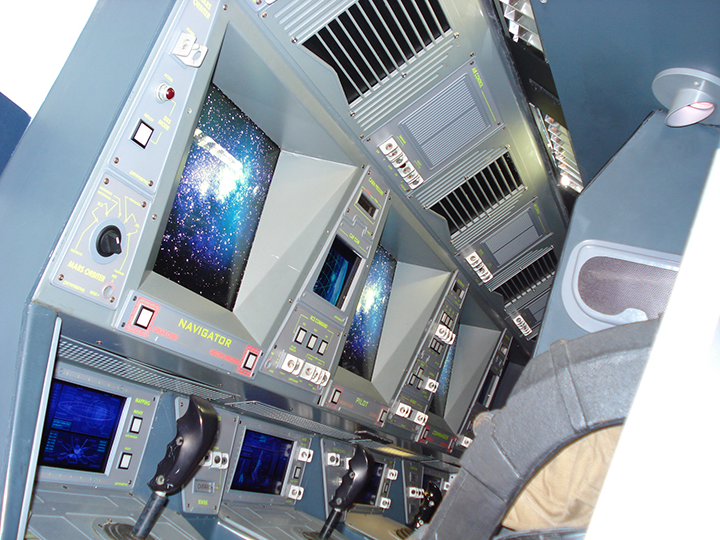 She got right up to the ride car, poked her head in and got right out. It was triggering her claustrophobia so she decided to exit the ride without going on it.
Can I leave a Disney World park show?
If the attraction is a theater show, and you want to wait in the queue but you don't wish to see the show, you should be able to just walk across the theater and leave through the exit on the other side.
If you need to leave during the show, for most shows you can. Just leave through an exit. Even though the theater doors have no handles, they'll push open easily if you need or want to leave. Some theaters actually have a cast member stationed in the theater to assist guests who need to leave during the show.
There are also shows that are outdoors and easy to leave, such as Beauty and the Beast at Disney's Hollywood Studios. While you may have to step over people in your row for indoor or outdoor shows, there's no rule against leaving before the shows have ended.
Here's a suggestion from Disney expert Sue Mickelson: "For almost all indoor theater shows, guests enter on one side of the row and exit on the other side. If you think you might have to leave early, enter a row and continue all the way to the other end of the row before sitting down."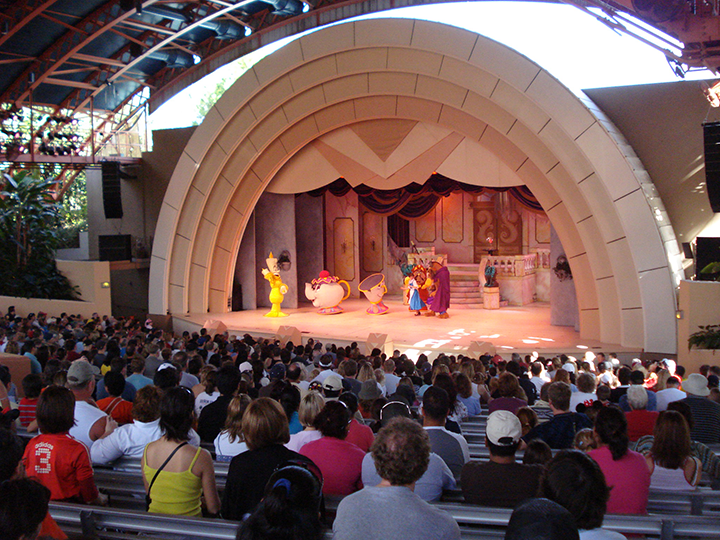 One show that you can't leave is the Carousel of Progress in the Magic Kingdom. Once the show has started, guests are NOT able to leave because the theater actually rotates and guests are not allowed to exit.
Join our facebook group!!!!
Ask any questions, share your knowledge and just enjoy getting to know other Disney fanatics in our facebook group called Walt Disney World Made Easy for Everyone.
Also join me on Pinterest here.
GET UPDATES, NEWS & TIPS (IT'S FREE!!!)
Sign up below to stay updated on the newest information, tips and tricks to help you plan your perfect Disney World trip!