Facts at a Glance About Carousel of Progress:
Park:

 

Magic Kingdom. Location: Tomorrowland. Height Requirement: None. Genie+: No. Individual Lightning Lane: No.
Quick Notes: Educational Audio-Animatronics show displaying technological changes throughout the 20th century.
Disney Warnings: None
Our Additional Cautions: Once inside the theater, guests can not leave until the show is finished. After each scene the theater seating section slowly rotates to a new position to face a new scene. Seats are on the small side.
Length: Rides last about 21 minutes.
Special Needs & other info: Guests can stay in their wheelchair or ECV. Handheld Captioning, Video Captioning, Assistive Listening, Audio Description, Language Translation Devices. Ears to the World, Disney's Show Translator, is capable of translating this experience into French, German, Japanese, Portuguese, or Spanish. The service is complimentary and devices can be picked up at the Guest Relations service counter.

Overview of Carousel of Progress
This attraction actually pre-dates Disney World, having been created by Walt Disney himself for the 1964 World's Fair. It was then moved to Disneyland, and then finally to Disney World in 1973. In fact, it's the longest continuously running stage show in American theater history.
It's an educational experience with an Audio-Animatronics American family shown through the generations, as they experience technological changes throughout the 20th century. The first generation begins before the family had electricity, and as the scenes progress you can see the way technology changed family life and the American culture. It's a very calm experience and many adults seem to like the nostalgia factor.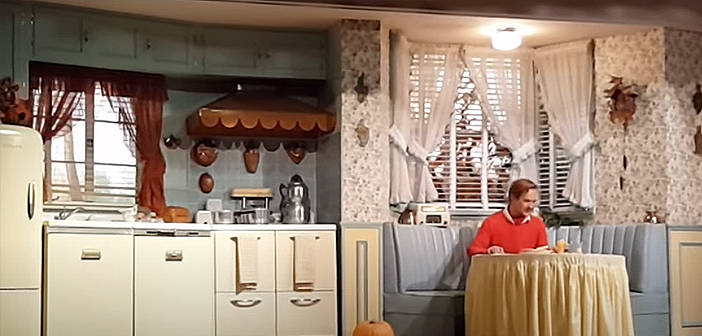 Queue and seating information for Carousel of Progress
The queue is outside and has partial shade.
There's a slight incline in the theater. The seats are theater style. Shorter guests may need to look up to view the stage. People of larger size may find the seats tight. The back rows are slightly elevated compared to the front, giving all guests a view over the row in front of them.
Wheelchair/ECV information: You can stay in your wheelchair or ECV. There are two wheelchair/ECV spots in each theater, so if one show is filled, you may need to wait for the next show. Wheelchair seating is in the front row near the center, with seating for companions next to the wheelchair/ECV spot. If those two spots are filled, you may be allowed to park the wheelchair/ECV at the end of a row, but your view will be of only one end of the stage.
Additional details about Carousel of Progress
The Audio-Animatronics production takes place in a theater where the seats actually move around a series of stationary stages. At the end of each scene the theme song begins and the theater gently moves until you're facing the next scene. You'll end up back where you started. The motion is easy and smooth.
This isn't the most thrilling of attractions, and perhaps the technology is a bit dated when compared with newer attractions. Still we' find it to be interesting and a great way to cool down and rest. There usually aren't big waits here since it's not among the most popular of attractions, and the show reloads once the audience moves on to the next scene. Here are some thoughts about this attraction from a couple of our readers:
Okay, so this is the ride I feel the most sentimental about. I love that it has direct ties to Walt and that it was something he saw from start to finish. So much of Florida was his dream, but he never saw the reality.
"Okay, so this is the ride I feel the most sentimental about. I love that it has direct ties to Walt and that it was something he saw from start to finish. So much of Florida was his dream, but he never saw the reality. The storyline is catchy and I love the focus on innovation and growth, plus the song is just so catchy.
It's a nice place to sit down and take a cool break on a hot day, and even my small kiddos enjoy it (it's great for nursing moms too!!). After a few rough years we chose to use the catch phrase as a way of announcing our third baby on our last trip, because it's true, there is always a great, big, beautiful tomorrow waiting for you." – Adriana Hope
"I wasn't expecting much, but I was surprised at how moved I was. The show effectively revealed how much technology has changed our lives. When you see it all put together like this, it's eye opening. I'd recommend this show to almost everyone."
"One of my kids snoozed off to sleep and the other was antsy and bored. I kind of liked it, but I'm not sure I'd recommend this to families with small kids."
We've been hearing occasional reports of a strong smell of gear oil in the theater. Those who might be sensitive may want to be aware of this.
Check out Carousel of Progress on video:
Check out other rides in Disney World's Magic Kingdom:
Adventureland 

Fantasyland

Liberty Square

Main Street USA

Tomorrowland
SEE RIDES AND ATTRACTIONS IN THE OTHER PARKS:
Join our facebook group!!!!
Ask any questions, share your knowledge and just enjoy getting to know other Disney fanatics in our facebook group called Walt Disney World Made Easy for Everyone.
Also: Like our facebook page here.
And join me on Pinterest here.
GET UPDATES, NEWS & TIPS (IT'S FREE!!!) Plus get a Free Disney World Planning Schedule Form.
Sign up below to stay updated on the newest information, tips and tricks to help you plan your perfect Disney World trip!