So you've decided to stay in a Disney World resort. That's a great choice! (If you're not sure yet, read our article called Should I Stay in a Disney World Resort?) Now you're wondering how to choose the right resort. There are a lot of them, and it can be confusing. Let's talk about some of the things that you may want to consider as you decide:
Budget
How much time you'll spend there
Level of amenities
Service Required
Theme – taste and interests
Resort Location
Transportation
Dining options preferred
Space needed – room size and maximum occupancy
Kitchen needed
Crowds at the resorts
Special Needs
The items on that list will be weighted differently for each person. For example, for some people, their budgets will be a big factor, while for others it won't. For some people, theme is everything. For others it's the resort location. You'll know what's most important for you, so let's talk about the items above.
1. What's your
budget

for your Disney World resort?

Disney categorizes their properties based on price levels. For many people, budget will be a huge deciding factor. I'm going to give you the starting prices at the time of this writing for each category, but keep in mind that they can go up and down from here. Check the Disney World site when you're ready to research price and availability for a specific date.

Keep in mind that there are numerous ways to get discounts on the prices you'll see on the Disney site. We've almost never paid full price for a Disney resort. For ideas on how to get discounts, check out my article called "Should I Stay in a Disney World Resort", and read the section called "What About the Cost of Staying in a Disney Resort?".

And check out my article called "How to Save $$$ (Safely) on Disney Vacation Club Rentals". You can save somewhere around 50% give or take, but there can be risk involved, so I wrote about how to do it safely.

To hep you narrow down the resort categories if budget is a consideration, here are the levels of the resorts with the starting costs for each level at the time of this writing. Again, please note that these prices can go up or down depending on the season and Disney's pricing policies :
Disney's Campgrounds (currently starting from $60 per night)
Value Resorts (currently starting at $99 a night):
All-Star Movies Resort
All-Star Music Resort
All-Star Sports Resort
Pop Century Resort
Art of Animation Resort
Disney World's Moderate Resorts (currently starting at $198 a night):
Coronado Springs Resort
Caribbean Beach Resort
The Cabins at Fort Wilderness
Port Orleans French Quarter
Port Orleans Riverside
Disney World's Deluxe Resorts (currently starting at $363 a night):
Contemporary Resort
Grand Floridian Resort & Spa
Polynesian Village Resort
Wilderness Lodge,
Beach Club Resort
BoardWalk Inn
Animal Kingdom Lodge
Yacht Club Resort
Disney's Deluxe Villas (currently starting at $456 a night):
Animal Kingdom Villas – Kidani Village
Animal Kingdom Villas – Jambo House
Old Key West
Saratoga Springs Resort and Spa
Tree House Villas at Saratoga Springs
The Villas at Wilderness Lodge
BoardWalk Villas
Bay Lake Tower at Disney's Contemporary Resort
Beach Club Villas
The Villas at Disney's Grand Floridian Resort & Spa
The Polynesian Villas & Bungalows.
Keep in mind that within each category the prices can go up depending on factors like the resort you choose, the type of room you get, the room location, etc. Prices can really fluctuate, especially in the Deluxe Villa category. For example, though the category starts at $441, a Polynesian Deluxe Studio starts at $470 and one of the very unique and amazing Polynesian Villa Bungalows that sits over the water start at approximately at $2,272 a night.
2.
How much time

will you really spend there?

I've met a lot of people who really don't plan to spend much time at the resort. They often express that as long as there's a bed, they're fine. They don't care much about any of the other considerations on the list. All they want is a place to stay, and if there's a little Disney magic that they get to experience during their stay, so much the better. For these folks the value resorts are what they're looking for.

However if you plan to make use of your resort and its amenities, you'll want to read the rest of this article and find the resort that works for you.
3. What 
level of amenities

 do you need at the Disney World Resorts

Keep in mind that the higher the level of the resort, the better the quality of the amenities. For example, as you increase in level there's usually more detailed décor and theming in the architecture, inside the resort and rooms, and on the grounds. The moderate and deluxe resorts have hot tubs and pool slides, and the values don't.

Though this varies, there are often more dining options including some better quality food choices. Also the moderates and deluxe resorts have full service restaurants, except for Port Orleans French Quarter.

As you go up, there may be more entertainment options such as live music, horse and buggy rides, quiet pools, boat docks and hammocks.

The beds can be larger (though the values are being made over to include queen beds), the towels thicker, the rooms bigger, etc.

As would be expected, the higher level categories usually have a more upscale feel to the rooms and to the resort in general.
4. Consider the

levels of service

 at the Disney World Resorts
If service is a big priority for you, we recommend that you secure at least a Moderate resort, and preferably a Deluxe resort. The higher the level the better the ratio of cast members to guests, usually translating into a greater array of services, more personalized service, and quicker service.
For example, getting your luggage delivered to your room in a value resort can take a lot longer than in a deluxe resort. Also when you're ready to go home and you want your luggage picked up, in the value resorts you must call Bell Services 24 hours in advance. In the Moderate or Deluxe resorts that's not required.
Here's another example. At the pools in the value resorts, guests must bring their own towels from their rooms. In the moderate resorts, you'll find unlimited towels in the the main pool areas, but not at the quiet pools. In the Deluxe resorts, all the pools have towels for the guests.
For those who have health issues and tend to need a lot of service and support, I'd strongly suggest at least a moderate resort, and even a deluxe.
That being said, many people feel that if they can't get reservations anywhere else on property, they would still choose a Value resort over leaving the property just to be able to be on Disney property.
Concierge (club level) rooms: One thing you may wish to consider when choosing a resort is the availability of a concierge room. Several of the Deluxe resorts offer concierge rooms, as well as the Moderate Coronado Springs Resort. These rooms are often the same size as non-concierge rooms, but they offer some major benefits for the added expense. They usually include a club level check-in, continental breakfast, snacks and drinks throughout the day, help with itinerary planning, turndown service, your Disney product purchases delivered directly to your room, and more.
5. What
theme

are you interested in? What's your taste?

Once you've decided on a resort level, you'll want to consider the resort themes, and decide what most appeals to you. Disney didn't just build nice, comfortable hotels. Each resort is built around a central theme, and the grounds, common areas and rooms are designed to immerse you in it.

There's incredible variety, and ultimately your choice should be, at least in part, about your personal taste or the taste of those in your party. You can get some idea of the themes just by looking at the names of the resorts, but I'd recommend that you look at each resort in depth, and determine which ones most appeal to you. We're adding in-depth articles on all of the resorts to this site, or you can look on Disney's site to get a general idea.

Another consideration is that there are some specially themed "story" rooms in some of the resorts. For example in Port Orleans Riverside there are Royal Rooms, and in the Caribbean Beach resort there are Pirate Rooms. Kids and the young at heart love them!
6. The Disney World
resort location

may matter to you!

When choosing your hotel, you may want to pick one that's closest to the areas where you'll spend the majority of time. For example, if you spend a lot of time at Epcot, consider staying in an Epcot area resort to cut down on travel time. To give you an idea of what the resorts are near, Disney describes the location areas of their resorts according to proximity to landmarks. Here are the landmarks and the resorts near them:
Epcot
Animal Kingdom 

Magic Kingdom
Disney Springs
 Wide World of Sports
-Caribbean Beach

-Beach Club

-BoardWalk Inn

-Yacht Club

-Dolphin

-Swan

-All-Star Movies

-All-Star Music

-All-Star Sports

-Animal Kingdom Lodge

-Coronado Springs

-Contemporary

– Bay Lake Tower

-Grand Floridian

-Polynesian

-Wilderness Lodge

-Fort Wilderness

-Port Orleans French Quarter

-Port Orleans Riverside

-Old Key West

-Saratoga Springs

-Tree House Villas

-Pop Century

– Art of Animation Resort
The Hollywood Studios area is located between Wide World of Sports and Disney Springs. Resorts in either of these areas will put you fairly close to Hollywood Studios.
Some of the resorts in the Epcot area are within quick walking distance to Epcot's back gate (and to Hollywood Studios if you don't mind a longer walk). Staying in a resort in the Epcot area is a great advantage if you're going to spend a lot of time at Epcot, such as for a Festival. The resort closest to Epcot is Beach Club, then Yacht Club. BoardWalk in is a bit farther but also very close. Dolphin and Swan are within walking distance, but it's a much longer walk.
Tip: Though the Swan and Dolphin are not Disney-owned, you still get many of the Disney perks. This includes full use of Disney transportation, Extra Magic Hours, on-site ticket desks, character dining, free parking in the parks, guaranteed park admission even if the parks are full, and advance tee times at the Disney World golf courses. Guests will not be able to use their room key for charges outside of the Swan and Dolphin.
The only Disney-owned resort that's within walking distance to Disney Springs is Saratoga Springs. There are a number of non-Disney owned resorts in the Disney Springs area, but you do not get Disney perks in any of them.
There are no resorts in walking distance to Animal Kingdom. There are no walking paths that are meant for guests to use to go to the Magic Kingdom from the resorts in that area. Same with Wide World of Sports.
7. The Disney World
Resort Transportation

 may matter to you!

The Disney World transportation available in each resort can vary. This can impact your visit in a big way.

For example, if you plan to spend a lot of time at Magic Kingdom, you may want to consider a resort on the Monorail Resort Loop. Only certain resorts have access to the monorail, which can be super convenient and easy. The Monorail can take you to the Magic Kingdom, as well as to the Contemporary Resort, Bay Lake Tower, Polynesian Resort, Grand Floridian, and the Transportation and Ticket Center.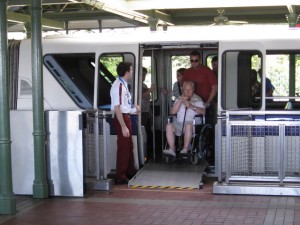 Tip: The monorail is accessible, by the way. We find that it's very easy to use if you're in an ECV or a wheelchair. A cast member just puts down a ramp, and you ride on. They then contact the cast members at your next stop to let them know that you're coming, and they're ready for you when you arrive. They come to your car with the ramp, and you just drive off. Simple!
In those same resorts listed above, as well as in Wilderness Lodge and Fort Wilderness, you'll also have access to boat transportation to and from the Magic Kingdom, as well as to the other resorts. That can also make things more convenient and even fun!
Tip: Not all of the boats are accessible, so if you're in a wheelchair that can't be carried on, or an ECV, this could be a challenge. Check out the details in our article about Disney World Boat Transportation for details.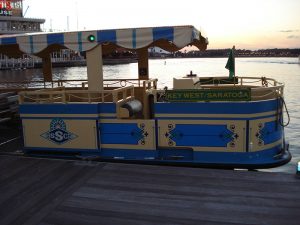 If you think you'll want to spend time in Disney Springs, you may want to stay in one of the resorts in that area. Each of the resorts give you access to Friendship Boats that take you to and from Disney Springs (or the other resorts in that area) with a very scenic ride. We love the ride itself, and we consider that a big part of what we enjoy about the Disney Springs area resorts.
On the other hand, there are some resorts that have some inconvenient transportation policies. For example, The only way to get to and from the parks from the All-Star value resorts is by bus. Much of the time the three resorts share buses, so you may experience crowded buses and possible waits.
We'll be posting in-depth information pages for each resort on this site, and we'll be including extensive information about the transportation for each resort on these pages. You may find it helpful to check out the transportation section of each resort.
8. Will 
Dining Options

 matter to you?

Each resort has dining options, and they vary between resort levels, and sometimes within levels. The available dining options can make a difference to your budget, your schedule, and the quality of your trip.Here are some things to consider:
The value resorts all have food courts only.
The moderates all have food courts, but some also have full-service restaurants.
The deluxe resorts all have full-service restaurants, and most (but not all) have counter-service restaurants and food courts as well.
If you prefer certain options, have special dietary needs, or if you need to watch your food budget, you'll want to see what's available at each resort that you're interested in.
For example, we stayed at the Beach Club resort, but they don't have a food court. My wife Sarah has special dietary needs and we wanted a quick breakfast before heading out to the parks, and we didn't want to spend the time or the money for a full-service restaurant meal. We're both happy with a couple eggs and a cup of coffee, but the only quick food breakfast option at the Beach Club resort is in the Beach Club Marketplace which is the resort store. There you can get things like yogurt or a pre-made egg, cheese and ham omelet on a croissant, but they can't really handle special dietary needs. So in this resort, we had to either get breakfast somewhere else, or eat at the full-service restaurant. It wasn't ideal for us.
So if you don't have special dietary needs, you don't care about the variety and convenience of a food court, and you don't mind taking your meals at the full-service restaurants, the Beach Club resort may be fine for you. If not, you'll need to consider a resort with other options.
If any of those things are important to you, before you choose a resort I'd recommend that check its restaurants and menus. This is a site that has all the restaurants and menus in a very well organized format.
Tip: Coronado Springs resort is a convention location. We've found that because of this, the food court has better quality food than we've experienced at some of the other moderate resorts. It's slightly more expensive, but good!
Here's a comment from one of our facebook group members, Katie Cullen, about how the resort dining impacts her choice of resort:
"I have stayed at almost every resort (deluxe, moderate, and value) and the main reason I choose not to return to Caribbean Beach Resort is the food court. The food courts at other resorts surpass CBR with healthier options IMHO. I have to admit I haven't stayed at CBR in a number of years, and I just viewed their food court menus on disneyworld.com. It appears that they have added a few healthier choices in fare. Personally, I prefer the food courts where you can create your own salad, create your own pasta, visit the carving station, etc… merely a personal preference for options in how my food is prepared."
9.

How much

space do you need? How many beds do you need?
Room size: The higher the category you go, the larger the room.
Value resort standard rooms are approximately 260 square feet.
Moderate resort rooms are all around 314 square feet.
Deluxe resort rooms vary in size, but start around 340 square feet. If you have the money, you can get a villa or suite with over 2,000 square feet!
Disney's standard rooms at any level (value, moderate, deluxe) are not that large. For some people, room size will dictate the minimum resort level you'll want. For example, if you have two adults and two young children, a standard value resort room may be adequate. But if you have two adults and two teens, the standard value resort rooms may be too tight a squeeze, especially with the added luggage. You may have to consider either a higher resort level, two adjoining rooms, or a family suite. Naturally the larger the room, the more comfortable you'll be.
If you'll be using a wheelchair or ECV in your room, room size will be important to your choice of resorts. Read my article called I Have Mobility Challenges – Which Disney Resort Should I Pick?
Maximum Occupancy: Are you traveling with 5 or more people in your party (plus a child under 3 years old)? There will be certain resorts that you can choose from that can accommodate larger parties, or you can get two connecting rooms. Disney will only guarantee connecting rooms if you have children under 18 years of age staying in a bedroom without an adult.
If you want to stay in a Disney World resort room designed for 5 or more adult guests, read our article here. You'll get a complete list of all the resorts that can take 5 or more adults in a room, and the maximum number of adults permitted in the rooms. We'll also fill you in on room size.
10. Do you need a
kitchen

?

If you prefer or need to cook some or all of your own meals, you'll have a lot of options at Disney. Some resorts and villas have full kitchens. Most of the studios in the villas either have no kitchen at all, or they have a kitchenette area with a small refrigerator, microwave and sink. Villas with one bedroom or up will have full kitchens. Here's the list of resorts with full kitchens:
Disney's Animal Kingdom Villas – Kidani Village and Jambo House (except the studios)
Disney's Beach Club Villas (except studios)
Disney's Boardwalk Villas (except studios)
Disney's Fort Wilderness Cabins and Homes
The Villas at Disney's Grand Floridian Resort & Spa (except studios)
Disney's Old Key West Resort (except studios)
Bungalows at Disney's Polynesian Resort
Disney's Saratoga Springs Resort & Spa (except studios)
Treehouse Villas
Wilderness Lodge Villas (except studios)
Disney's Polynesian Villas only have a kitchenette area (no microwave). Disney's Art of Animation Suites and Disney's All-Star Music Suites have kitchenettes with microwaves.
11.
Crowds

in the Disney World Resorts

When crowds are at their highest, some resorts seem far more crowded than others. We speculate that this has to do with the resort designs, the number of rooms, and ratio of rooms to entertainment, dining options and space. It appears to us that the higher the resort level, the lower the sense of crowding in the common areas, though there can be exceptions. Still if you wish to avoid crowds, you have a better chance of doing so in the Deluxe resorts.
12. Do you have
Special Needs

?

If you do have some extra challenges, there may be some resorts that would be better (or worse) for you than others. You can study each resort page on this site. We're in the process of putting them all up, and you'll see detailed information that includes anything we've observed that may be of concern or of benefit to those with special needs. This should help you decide which resort is appropriate for you.

In the meantime, here's some information on a few specific special needs:

Mobility Challenges: This is kind of a lengthy subject so we wrote an article just for that. Please check out our article called I Have Mobility Challenges – Which Disney World Resort Should I Pick?.

Visual Impairments: For those who are sight impaired, some resorts are easier to become familiar with than others. For example, Wilderness Lodge and Animal Kingdom Lodge have mostly inside hallways that are situated around a main lobby. Some of the other resorts have a pretty simple design with wide outside walkways, but others are quite complex and spread out such as Coronado Springs. If you feel you may be spending time on your own, you may wish to call Special Requests to discuss which resorts will be easiest to navigate. Call 407-939-7807 (choose the option related to accessible rooms which is currently option #1).

Also, you may wish to request a room that's near the main lobby, the pool and/or the food court. Please check out our resort pages where we'll let you know which resorts have layout and size issues in the individual resort descriptions.

Over stimulation: For those who need a quiet, non-stimulating environment to retreat to, I would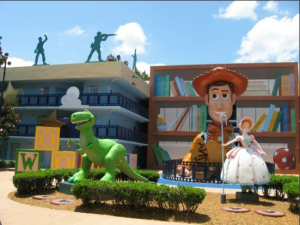 consider ruling out any of the value resorts. The atmosphere and design of these resorts is very colorful and highly stimulating. They also tend to attract large groups of kids who hang out together in public areas, and they can be extremely noisy. We've found that the rooms lack sound proofing, so depending on who is staying hear you, or who is passing by your room, it can get really noisy.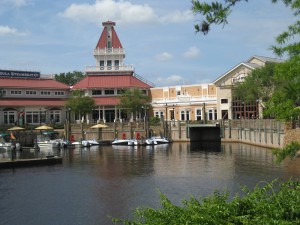 For the moderate resorts, our experiences have varied. In our rooms we've had complete quiet, and we've had some mild noise, depending on the guests staying near us. There tends to be less teen groups staying in these resorts than in the value resorts. Design and theme-wise, they are less stimulating than the value resorts. For example, Port Orleans Riverside has gardens and walkways by the river, rather than the giant, colorful statues in the value resorts. The lobby and restaurants have muted colors.
Tip: If you choose Coronado Springs, keep in mind that it's a convention resort. We often hear reports that the conventioneers can be noisy. You may want to request a room far from the convention center to minimize the possibility of noisy convention attendees.
For the Deluxe resorts, we've found the rooms to usually be very quiet. However as in any hotel, it could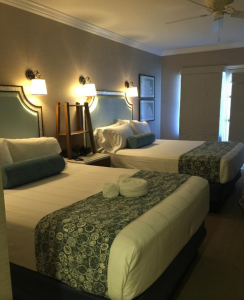 change if you had some particularly noisy neighbors. Theme-wise it can vary. For example, Animal Kingdom may seem stimulating with all the original artwork and architectural detail. The Beach Club lobby tends to be a comparatively calm environment in our experience, and the rooms are simple with muted colors as shown on the right.
If after reading this you still need help determining which resort would be the best one for your particular special needs, call the Special Reservations line at Disney for advice. Let them know the parks that you plan to visit, and what your particular needs are, and they can help you determine which resorts may work best for you. Call: (407) 939-7807 or (407) 939-7670 (TTY).
Tip: Occasionally we've encountered a reservation agent who did not give us the service we would have hoped for.  It's rare, but it has happened.  I'd advise you to always stay polite. You can either ask for a supervisor or hang up and try again. It's very unlikely you'll get the same agent, and chances are the next person will be able to bring you that outstanding Disney customer service. All calls are logged, so we don't advise you to hang up and call repeatedly.
13. Are
refurbishments

 or

Construction projects

going on?

Refurbishments in the parks and resorts are a fact of life at Disney. Before making reservations, I'd suggest checking out the resorts your interested in to see if there are refurbishments expected.

At various times, the pools, restaurants, rooms, and other common areas could be closed or having nearby construction going on. Several times over the years we've had buildings being refurbished near our rooms, and a couple of times near or at the pool we planned to hang out at. At times the noise was extreme, and sometimes there were intense fumes. 

Other times we found the pools closed, which was very inconvenient. Disney always makes some other pool available to you, but it may be at another resort.

You can check wdwinfo.com's Disney World refurbishment list. If you don't see any projects at the resort you're planning to visit, that's great. Remember though, that things can change at Disney. You may want to check again closer to your date, and you can even call there to ask about anything that might not be listed publicly.

If you're considering a resort with refurbishments or construction, read this article here.  

GET UPDATES, NEWS & TIPS (IT'S FREE!!!)

Sign up below to stay updated on the newest information, tips and tricks to help you plan your perfect Disney World trip!
Do you have more tips or thoughts on this topic?
Please feel free to post them in a comment below. We'd love your input.
Join our facebook group!!!!
Ask any questions, share your knowledge and just enjoy getting to know other Disney fanatics in our facebook group called Walt Disney World Made Easy for Everyone.
Also join me on Pinterest here.