For those who are going to Disney World with back, neck or body pain such as with fibromyalgia: You're mission.
Should you decide to accept it, your mission is to have a fantastic time at Disney without making your pain or condition worse! We'll share ideas that may help you accomplish this mission. We'll cover a variety of commonly asked questions, and we'll share some strategies. Some things we'll cover include:
Can I skip lines?
Renting a scooter or wheelchair
Are rollators allowed?
Are there enough gentle rides to keep me busy?
How to know if a ride is okay for my condition?
Can I sit down in the ride queues?
Where can I rest in the parks?
Other tips for managing with back, neck or body pain at Disney World
Here goes!
Can I skip the lines or shorten my time in lines because of back, neck or body pain?
You may be thinking that if you could just spend less time standing in lines, you'd be okay.
You may have heard that Disney offers something called DAS (Disability Access System). This does not get guests to the head of the line, and it doesn't shorten wait time. The DAS does allow guests who have difficulty waiting in lines to wait elsewhere. However It's not meant for those with problems standing due to pain. 
If your problem can be solved by the use of a wheelchair or scooter, the Disney policy is NOT to give you a DAS pass. Most people with only back, neck or body pain issues are not given the DAS. The Disney Cast Members will tell you to rent a wheelchair or mobility scooter. If you have other issues that won't be helped by using a wheelchair or scooter, then you may qualify for the DAS. Check out our article on the DAS to see if you may qualify.
Consider Renting a scooter or a wheelchair while at Disney World. Even if you wouldn't ordinarily use one.
If you're dealing with back, neck or body pain, consider renting an ECV (scooter) or wheelchair. I frequently hear from those who find the idea disturbing and say they won't do it. They don't need it in their everyday lives and don't like the idea. I understand, but I also hear from so many people who got to Disney and after suffering a lot, ultimately rented a scooter. They usually wish they had done it from the start.
Even if it's something you would never normally need, remember that each park is huge. Most people walk approximately 6-12 miles a day. You'll be on your feet almost the entire time you're there. Much of your day will be spent walking or standing in lines. For many people, back pain and even neck pain can be exasperated by walking and standing. Joint and fibroymyalgia pain will definitely become worse.
If walking long distances and being on your feet increases your pain, an ECV or wheelchair can set you free. You'll have a chair with you wherever you go, and you'll be able to cover the distances easily. It's so much better and much more fun to feel physically well than to struggle through pain.
If you or someone in your party is against this, or on the fence, read our article called Should I Walk or Use a Wheelchair/Scooter on my Disney World Trip?
Can I bring a rollator to the Disney World parks?
Yes, rollators are permitted at Disney World. If they have a seat built in, that can be especially helpful. Rollators are treated similar to
wheelchairs when it comes to managing with them for rides
. If you normally use a rollator, you still might want to consider renting a scooter. Consider whether or not all the walking and standing are going to be okay for you.
Are there enough gentle rides and shows at Disney World to keep me busy?
Absolutely. There's so much gentle stuff to see and do in the Disney World parks that you probably won't be able to do it all.  Check out our article called
Gentle & Non-Spinning Rides and Attractions at Disney World
. You'll see what's available in each park. We consider each of these rides, shows or attractions to be physically easy. Of course you should always be the final judge of that for your own condition.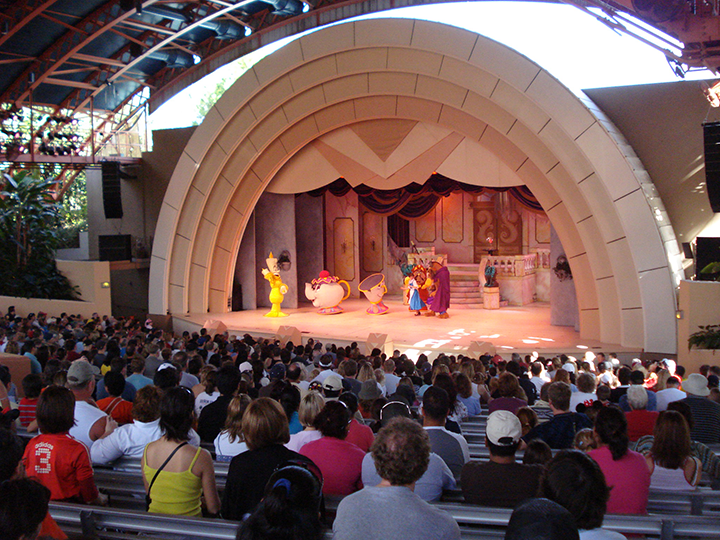 How will I know if other Disney World rides are safe for my condition or not?
There are all types and levels of conditions related to back, neck and body pain. There are different levels of motion on the rides and attractions. You may be able to do more than the rides and attractions in our above article. Since everyone has unique conditions, pain thresholds and sensitivity levels, you'll need to evaluate each ride to decide whether it's safe for you.
For some attractions, Disney posts warnings stating that those with back and neck problems should not participate. Below is the sign that you'll see at Mission Space in Epcot. Of course we advise you to take all these warnings seriously.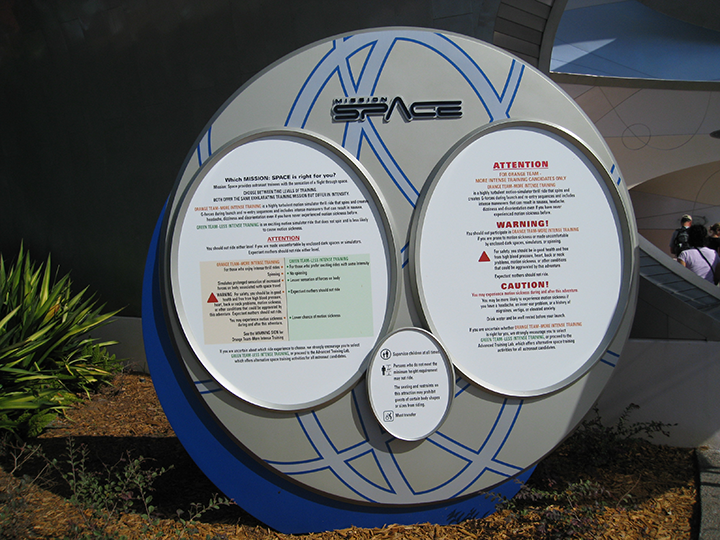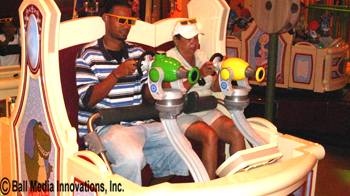 Then there are other rides where they do not post warnings, that we would consider problematic for some people with back, neck or body pain issues. For example, there's the Toy Story Midway Mania Ride in Hollywood Studios. Though Disney doesn't give a warning for back or neck problems, it whips you around over and over again. My wife found out the hard way that it was way too extreme for her neck problem. So it's important to check out everything for yourself, in advance.
Eventually on this website we plan to post detailed info on the feel and experience of each ride. Until that time, the only place we know of with that depth of information is my book called Walt Disney World With Disabilities. The book was published in 2008 so it doesn't have the newer rides, but includes the majority of rides. You can also get a general idea of what a ride entails by looking at Youtube.
What if I'm unsure about whether a Disney World ride would be okay for me?
Some of the rides at Disney can be very rough, or physically demanding. I understand how appealing those rides can be. It's very tempting to try a ride that may irritate or even worsen your condition. You may get away with it, but you may not.
I strongly recommend that you always err on the side of caution. There's so much to do at Disney World that you'll be able to try. It's just not worth it for a couple of minutes of possible excitement.
When you're in the park, if you're still unsure about whether to try a ride, speak with cast members at the attraction. Be certain that they've tried the ride themselves before taking their advice. Keep in mind that it's unlikely that they have your exact condition or sensitivity level, so it may be difficult for them to judge for you. What may feel fine to them may be unacceptable for you. Still they may be able to share their views on the attraction, as well as what feedback they've gotten from others.
Another option is to send someone who's very familiar with your condition to test the attraction out for you.
Are there seats throughout the Disney World ride queues?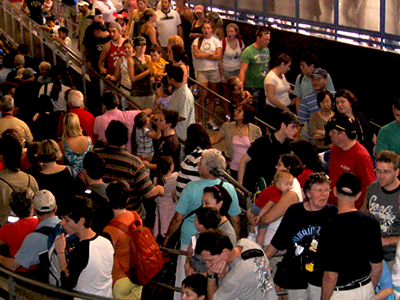 The queues for almost all rides and attractions do not have any seating at all.
If you're limber enough, there may be times when you can rest your back by sitting on the floor inside an attraction queue or inside a pre-show area. Keep in mind that you do this at the risk of being stepped on by other guests. If you choose to sit on the ground, have your companion(s) stand in front of you to block others from stepping on you. If you can sit against a wall, you'll have one protected side.
There are some attractions that don't permit sitting on the ground. A cast member will approach you and ask you to stand, or direct you to a location where they permit sitting if there is one.
 Are there places for me to sit or lie down throughout the Disney parks?
Taking the time to rest and take the pressure off your spine can be helpful for some conditions. There are pleasant places to sit around the parks, or you can stop for a cool drink at a restaurant or bar. Another option is to allow your back to rest by enjoying one of the many themed full-service restaurants. Be sure to make dining reservations well in advance to ensure you can get in.
Every park has a First Aid Station with cots available to guests. Although it's not completely private, if you need to get off your feet, this is one option within the park. You can lie down and rest on one of their cots.
You might also consider going back to your hotel in the middle of the day for a rest break. You can lie down, nap, take a hot shower or even use the pool or hot tub if your hotel has one. If you're staying on Disney property, this option is far more convenient. Here's what one Disney visitor with back pain does:
"I have really intense low back pain, and even sitting is uncomfortable for me. When I'm at a Disney park, I find somewhere out of the way to lie down for a few minutes. Sometimes it's a park bench, and sometimes it's the ground. I just need a few minutes to decompress my back, and I don't want to leave the park. This works well for me. Sure I feel a little conspicuous, but I'd rather do that than leave the park."
Tip: Use a sweater, sweatshirt or towel for back or neck support.
A sweater or sweatshirt can be a great tool for making attraction seats more comfortable. On some attractions the seats have head or neck support, but it can be made of hard material or angled uncomfortably. If you mold it properly, using a sweater behind your head, neck or back can often increase support and comfort.
Another way to use your sweater is to sit on it. If your attraction seat is uncomfortably hard, place it on your seat and sit on it.
Bring Baggies for ice to the Disney World parks.
Does your pain respond to ice? If so, bring empty baggies into the park or wherever you go. You can have any restaurant or soda vendor fill the baggie with ice, which you can use as you would an ice pack. Use a napkin or bring a cloth cover to wrap the baggie so that it's not touching your skin directly.
An old fashion ice bag – the cloth kind with a screw on top – often works better than a ziplock baggie. They don't leak or sweat like baggies and they often don't need anything over them to protect the skin from becoming too cold. You can find these ice bags in most pharmacies.
Are there places to get a massage at Disney World?
Several of the Disney resorts have spas, and you can schedule a massage at any of them regardless of where you're staying. If your condition improves with massage, this might be something you'll want to build into your plans.
If you're traveling with someone who knows how to massage your area of pain, take a small break for a short massage. In the park you might try sitting on an outside bench or you can head over to First Aid for more privacy.
There are many Orlando area businesses that offer massage. If you're a member of a business like Massage Envy, visit www.massageenvy.com for Orlando area locations and information.
Medications can be of help.
If you use prescription medication to help with pain and inflammation, read the article called Managing Medication and Medical Supplies While at Disney World.
In addition to your prescription medications, you may wish to also carry your favorite over the counter pain medication such as Biofreeze. Our personal preference for an over the counter pain reliever is Australian Dream Arthritis Pain Relief Cream
. We like that it has some natural ingredients and no noticeable smell. My wife and I find that it really works to take the edge off of pain.
If you don't normally use prescription medications, you might wish to bring something like Tylenol or Advil. Although you don't want to overdo these medications, they can be helpful for a short period of time.
Bring your own pillows and pain relief equipment if they help you.
At home my wife uses a special pillow for her neck, and always brings it. She's much more comfortable that way. If you feel less pain using a special pillow, I  do recommend bringing it along.
Some of these pillows can be large. My wife purchased a smaller travel version which packs easily in her suitcase. It takes up less space than the regular size pillow. For travel she uses this Splintek SleepRight Side Sleeping Pillow (Travel Size)
in the photo to the right.
You'll also want to bring your pain relief equipment if you have it. Since we drive, we're able to bring a number of these items. If you're flying, there are some great small devices and tools that are easy to pack, which can help relieve back, neck and body pain. If they're small enough, you can put them in your carry-on bag since any baggage checked-in runs a greater risk of being lost.
Here are some of the tools my wife brings for pain relief:
Our chiropractor recommended this Foam Roller. We both use this. There are several things you can do with it to get relief. One thing we do is to lay on the rounded side for several minutes. It acts as a sort of chiropractic adjustment as it pushes into our spines.
Be sure to clear this with your doctor, and try this at home before using it on your trip to make sure it agrees with you.
Tip: An easy to pack tool for self-massage is a golf ball. By lying on one or two of them on a carpeted floor, you can work out spasms (of course, check with your doctor before trying this). However many of the resorts have gotten rid of their carpeting, so you'd want to bring something more suitable if your resort room will have a hard floor.
This Gaiam Mini On-The-Go Muscle Massager on the right is so easy to carry. You can bring this into the park with you. Attach it to a belt buckle or key chain, or place it in your bag.
My wife uses it by placing it behind her on a wall. She then leans up against it, allowing it to press into her muscles. It gives her some deep tissue pressure. It's good for taking out knots.
This 2-Piece Massage Trigger Point Self Massage Tool for myofascial Release
is something we bring for my wife's neck. She unscrews the two halves, and carries the top half of it into the parks with her. It's not small, but she has a mobility scooter with an attached back pack that she puts it in.
If you don't want to carry this into the parks, it can be used in your hotel room.
Choose your resort with your health in mind.
There are a number of things to keep in mind when you book your resort.
First, choose a Disney resort if you can. This will allow you to easily take breaks by going back to your resort. If you wish, you'll be able to use the Disney transportation. Staying on site will also allow for less travel time.
Plan for exercise if it helps you. If you ordinarily exercise to support your back, neck and pain issues, some of the Disney World resorts have exercise facilities. You might want to choose a resort with these facilities.
The size of your resort is something to consider. There are smaller resorts that will require less walking. For example, Port Orleans French Quarter is on the smaller side. You may want to avoid staying at one of the larger resorts such as Caribbean Beach resort, that require a ton of walking.
Request a room near the action to minimize walking. Regardless of which resort you choose, request a room closest to all the resort activities. Some resorts charge more for these rooms. If preferred room locations are available for an additional fee, it might be worth the cost to minimize your walking.
If you're driving and have a handicapped Placard, bring it with you. 
If you're planning on driving at while at Disney, and you have a state issued handicapped parking permit, remember to bring it. This will allow you to use the handicapped parking lot in the parks, resorts and entertainment areas. It will also get you free parking at your resort.
Though the parks don't offer valet, the permit will allow you to use valet parking free of charge in the resorts that offer it.
Some final advice: Don't overdo it while you're visiting Disney World.
It's just so tempting to fit in as much as time allows when you're in the parks, but for some this could cause an increase in pain. Try to plan your days in a way that will support your health. It's better to under-do than to overdo. The goal is to have a blast, while taking good care of your body.
(Please be aware that there are some affiliate links on this page and on on this site. We appreciate it when you use them. It helps us cover our costs so we can continue to provide free support to our readers.)
Join our Facebook group!!!!
Ask any questions, share your knowledge and just enjoy getting to know other Disney fanatics in our Facebook group called Walt Disney World Made Easy for Everyone.
Also join me on Pinterest here.
GET UPDATES, NEWS & TIPS (IT'S FREE!!!)
Sign up below to stay updated on the newest information, tips and tricks to help you plan your perfect Disney World trip!