By Jennifer Buzzard (photos are also from Jennifer unless otherwise noted)
Are you visiting Disney World with sensory sensitivities? You can enjoy it with a little planning.
Jennifer Buzzard is a travel agent with direct experience visiting Disney World with sensory sensitivities. She's shared her tips below for managing, thriving and enjoying the parks with this issue, comfortably. If you wish to contact her for assistance with travel, visit Jennifer's travel agent page here.
Here's Jennifer's story and tips, and we'll add in some editor's tips from Stephen Ashley also.
Tackling Disney World with sensory sensitivity
Five years ago, a car accident left me with a traumatic brain injury. Due to this, I have sensory sensitivities. Regardless, I am able to go to (and enjoy) Disney World, and I visit at least once a year since my accident. I'll share some of the tips and tricks I have learned about tackling Disney World with Sensory Sensitivity.
If you or your child have sensory sensitivity, Disney can absolutely be an overwhelming experience. There are sensory stimulating experiences throughout the parks. However, with some good planning, it can be a great experience. Let's start with the one thing that has been a game changer for me.
The DAS Pass is a game changer!
Minimizing time spent in a line is important to me, and the DAS can do this.
DAS stands for Disability Access Service. The DAS Pass can help visitors who have a hard time standing in line for extended periods of time.
(Editor's tip: Please read about who qualifies for the DAS, how to get it, and how it works. Also, note that the DAS does not replace a wheelchair or scooter. If you have a mobility issue, Disney will recommend you rent one. And it does not reduce your wait time.)
When I am in line, especially in an enclosed space, I find that the noise of multiple conversations can be over-stimulating. Plus, there can be noise from the ride itself that can contribute to the noise levels. In addition there can be queue features that include stimulating effects such as lights, audio-animatronics, etc. There can even be some forms of entertainment going on in the queue.
Personally, waiting in long lines can make me feel like the walls are closing in. I'd experience a panic attack and the need to get away immediately. It can be dangerous for me or those around me.
So the DAS pass has been a game changer for me.
How do you use the DAS with sensory sensitivity?
The DAS Pass gives you the ability to get a "call back time". This time is based on the estimated amount of time you would have stood in line anyway. The benefit is that rather than waiting in line, you can wait wherever you want until your call back time. You can shop, go on other rides, hang out in a restaurant, sit outside in a quiet area, etc.
When your return time comes around, you will go back to the ride/show to wait in a much shorter line than you would have had without the DAS Pass. Many rides have a Lightning Lane you'll be placed in. These are much shorter than the standard standby queue lines. Often, though not always, the line you'll wait in will have less sensory stimulation. There will be less things to see and hear than in the regular standby line. For many rides, these Lightning Lane queues bypass the queue decorations, features and sound effects.
So, let's say the line for Star Wars: Rise of the Resistance is currently running about one hour. You can go to the front of the line and ask the Cast Member for a return time. They will give you a time to come back that is approximately an hour later. (You can also do this in your My Disney Experience app now). Then, when your call back time comes, you will go back to the front of the line. The cast member will scan you in, and you'll enter through the Lightening Lane rather than the regular standby lane.
In my opinion, this is great. Rather than spending an hour in line getting increasingly overwhelmed and overstimulated, you can spend that hour elsewhere. And when you come back, you'll go through the line far more quickly, usually with less stimulation. For me, this is a big deal.
Bring some sensory blocking equipment with you.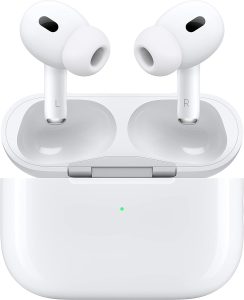 I think most people with sensory issues know this, but I always carry Noise Cancelling headphones. I use wireless ear buds, so others don't notice anything unless they're talking to me. I load my device up with soothing music. I call it my playlist for my noise cleanse.
For me it's soft rock like Stevie Nicks, or sometimes just rain sounds. When I'm experiencing too much stimulation, I can close my eyes and get away from all the things going on around me. This helps me reduce the stimulation even though I can't actually get away physically in that moment.
It's also helpful if you are forced to ride small world and you don't want that song stuck in your head. LOL!
Editor's tip: You may also want to bring something to block light and sights. For example, sun glasses may be helpful while on a ride or in a show with a lot of light effects. You may even want to carry a sweater around that you can use to cover your eyes, if needed.
Taking a midday break can make a big difference
Disney has so many lights and sounds and colors. Not to mention all of the people, scents and textures. Some of us have trouble filtering out the background noise, and/or we experience sensitivity to variations in light. Navigating around all of the people can feel challenging. Handling all the stimulation can be exhausting.
Though sensory overload can be exhausting, trying to fight through it and be okay can make it feel more exhausting. It's important to avoid exhaustion and the possible meltdown that this sometimes brings.
Consider taking a break in the middle of the day.
Give yourself or your family member some time in the hotel room. Go relax where it is quiet, cool and even dark if you/they wish it to be. Get some rest. (Editor's tip: If you find it relaxing, visit the resort pool. Avoid the main pools at the Disney resorts in the afternoon. They hold very loud pool parties. Choose a resort with quiet pools, and visit those instead.)
I always need that mid day break. I usually take a nap and sometimes get a snack. I just take the time to let my system rest. When you have sensory sensitivities, being in a place like Disney can be challenging. A rest break can make a big difference.
(Editor's tip: While it's tempting to try and experience everything Disney World has to offer, don't do it. Focus on having a relaxed, fun and uplifting experience. Make sure your health comes first, and that you're taking care of your needs. Decide in advance which rides are your highest priorities, and plan to do those. You'll have a much better time!)
Plan to use quiet places to rest in the parks.
Take some time to learn about where you can escape the crowds for a moment of down time.  (Read our article called " Quiet Spots for Breaks & Rest in the Disney World Parks.)
My favorite place in Animal Kingdom, for instance, is behind the world tree. It is not usually crowded. Very few people go down there, and it can be a great place to enjoy a drink. I like to sit and watch the water.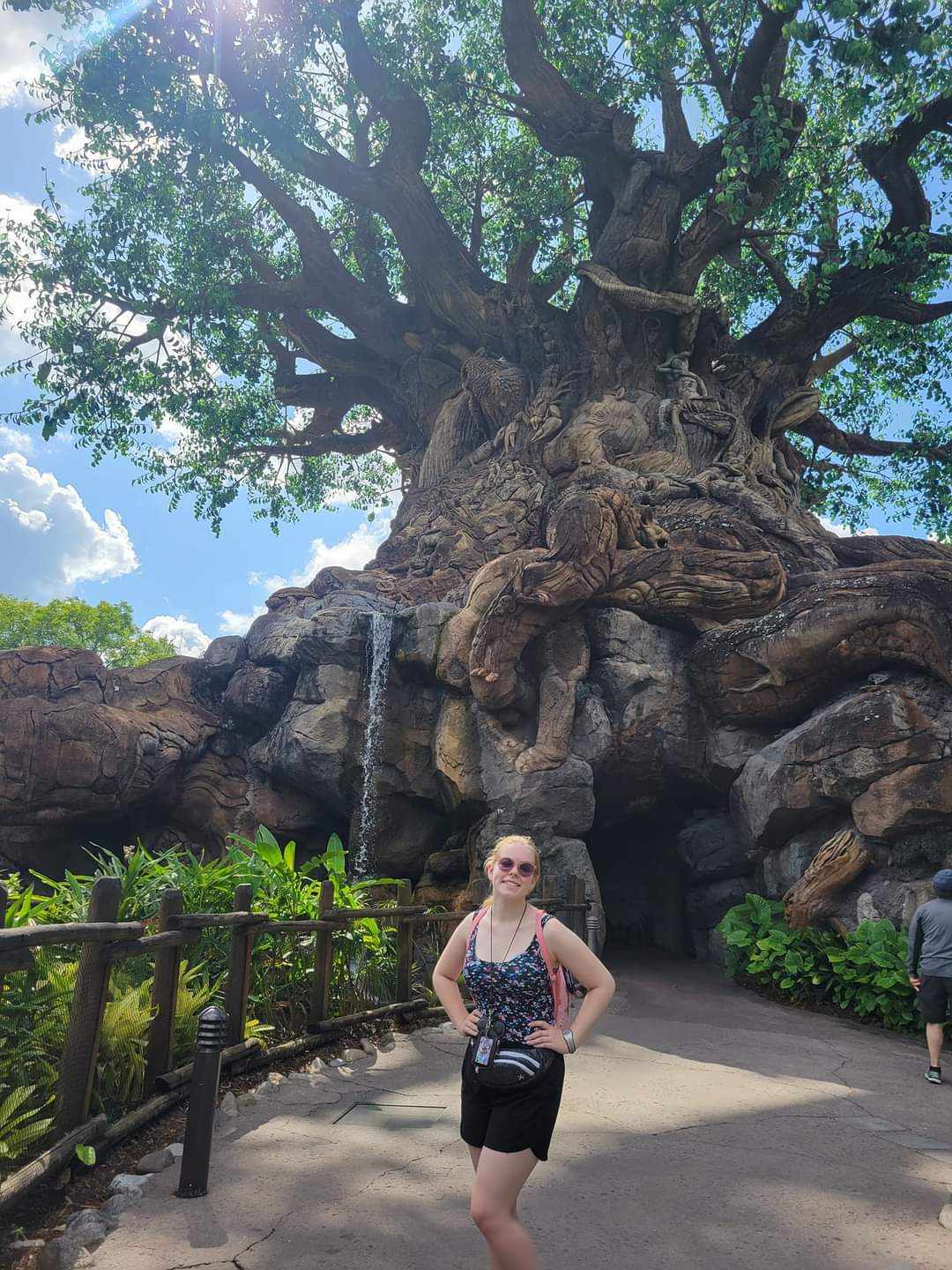 Another thing I love in Animal Kingdom is the Animation Experience at the Conservation station. It is a 25 minute class with a Disney animator to learn how to draw a Disney character. The reason I love this is you take the Wildlife Express Train to Rafiki's Planet Watch.  It is usually not crowded there. There are a lot of places to sit in the shade. The actual Animation experience is twenty five minutes and air conditioned. It is usually fairly quiet because everyone is working on their own drawing, and it is just a fun little break in the day.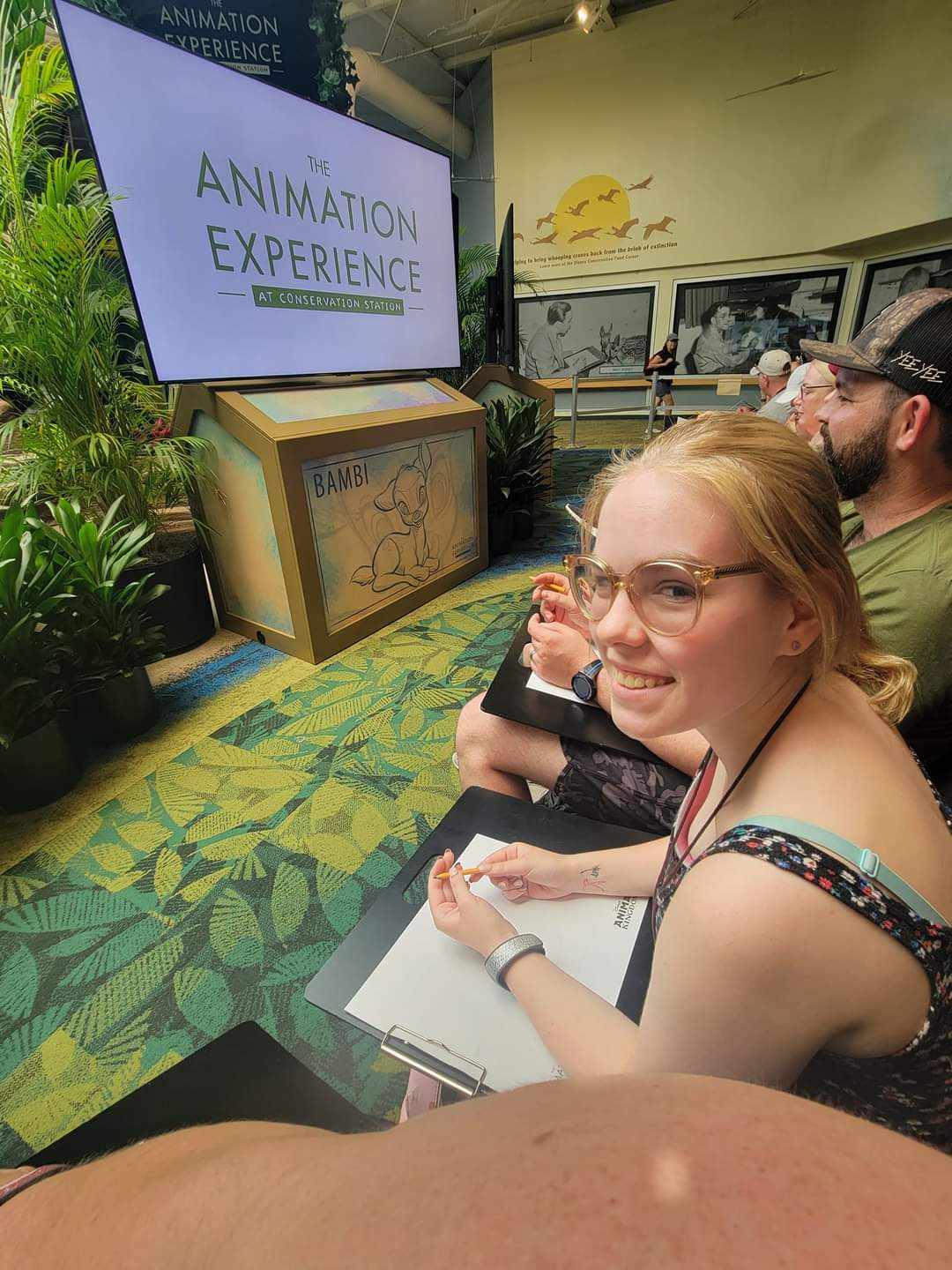 When we went last, we were early, so we sat in the shade and had a snack while we waited for the class to start. It was so cool and quiet back there. Not to mention that you get to leave with a drawing of a Disney character that you did yourself. A fun free little souvenir!
(Editor's tip: Another location that you may want to take advantage of is the First Aid Station in each Disney World park. These stations each have places for guests to lie down in what's usually a quiet atmosphere.)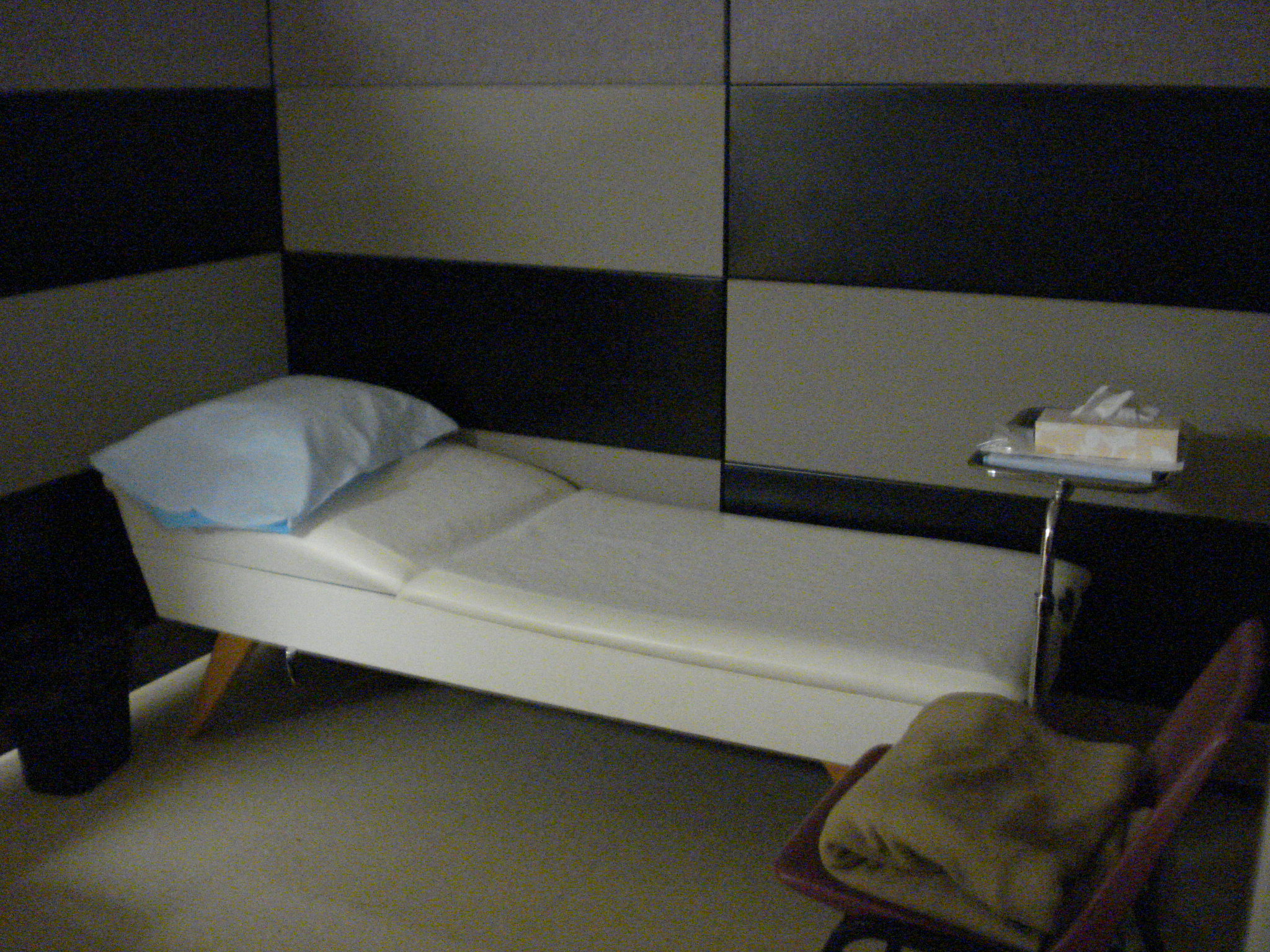 Tips for rides at Disney World with sensory sensitivities
Now for the rides. There are some rides I just find too challenging with my own personal sensitivities. You'll need to decide for yourself which rides might be okay and which might not, based on your own sensitivities.
(Editor's tip: It's always best to err on the side of caution. There are so many great rides to try! You'll still have fun even if you skip some rides. Again, I suggest you research all of the rides in advance, using our website's in-depth descriptions.)
Personally, one ride I choose to skip is Guardians of the Galaxy. Even though my husband and daughter say it's the best ride in Epcot, I choose not to ride it. There are so many different lights and sounds, plus the constant moving of the vehicle in different directions. If you have sensitivity to light that is absolutely one you may want to avoid.
Another one I also choose to avoid is Space Mountain. Unfortunately, this classic ride is a not for me due to the darkness and flashing lights.
For the 3-D rides, some people with sensory sensitivity find them to be challenging. Personally I can handle them. However, I find it's better not do them back to back. My strategy is to go on one of the 3-D attractions, and then I take a break for an hour or so before I do another one. So, for example, I space rides like Remi's Ratatouille Adventure or Star Tours throughout the day.
I did ride on Tron Lightsycle Run during my last trip, and it was a bit overwhelming. I was very dizzy after I got off. For me, all the lights, and trying to watch things along with the speed, can be too much for me.
So, to prepare, you'll want to think about what might be a problem for you. As you research ride descriptions before your trip, you'll want to make a list of the rides you feel would work for you. You'll also want to rule certain rides out. If you're uncertain about a particular ride, you can decide to avoid it. Or you can plan your day to try it out at the end of your day.
(Editor's tip: You can always talk with a Cast Member at the ride if you have any questions. Make sure the Cast Member you speak with has been on the ride.)
My biggest tip is to know yourself and your limits.
There is a time to push yourself and a time to give yourself grace. For some of you, every ride is a new experience. Research in advance will help you have a comfortable and safe experience.
As an experienced Disney World visitor, I decide on one or two new rides to try each day. I usually try them right before a break or at the end of the day when I know I am going back to the room. That way if it is too much, I know I am immediately going back to the room to lay down or rest.
So, don't be afraid to try something new, but please be kind to yourself or your sensitive family member. There is a fine line for those of us with sensory sensitivity between being fine and melting down. Sometimes we don't even see that meltdown coming. I am blessed that my husband and daughter and those who travel with me know that when I say I am done, that I am done and I can not go any farther. They support this for me.
If you are the sensitive person, be sure to have a talk about your needs with whoever you're traveling with. Make sure you're on the same page. Only visit Disney World with those who will support you completely.
If you're traveling with a person with these sensitivities, know that these meltdowns are not personal. Those of us with sensitivities want nothing more than to be able to do all of the things everyone else does. We know it can be hard to have to take break when you are trying to cram so much into a vacation. But if you are kind to yourself or your family member, you will have a much better experience. And you'll make lots of wonderful memories.
Additional editor's tips for those with sensory sensitivities
The following tips come from our editor, Stephen Ashley.
Consider staying at a more peaceful Disney World resort or outside resort.
Staying at a Disney World resort can be helpful because of the proximity. If you need a rest, you'll be able to get to your resort more quickly. You'll spend less time in transit.
There are several Disney World resorts that would be considered calmer. Of course, you can never tell who will be staying near you, but you have a better chance of staying in a relatively calm environment in some of these resorts designed with space and nature in mind.
In our experience, we would suggest skipping the value resorts if possible. (However, see Jennifer's Value resort recommendation below, if you choose to stay in one.) They tend to have big groups of teens attending, and they can get loud and rowdy. The resorts can feel busy. You have a better chance of having less groups in the moderate resorts, and the deluxe resorts tend to be even more quiet.
One of our favorite moderate resorts is Port Orleans Riverside. It's quite spread out, and we usually find it to be peaceful. The food court can get crowded at peak times, so you may wish to keep to off times.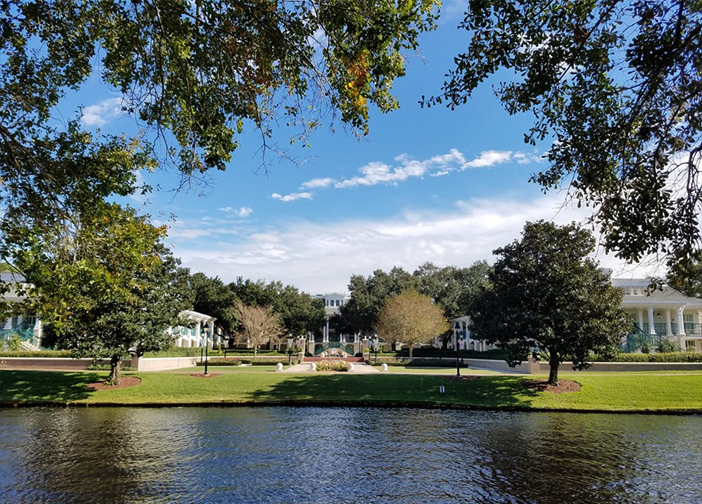 Other Disney World owned resorts to consider include Coronado Springs Resort, Caribbean Beach Resort, Wilderness Lodge, etc. At Fort Wilderness, you can have your own free standing cabin in a wooded area.
When you stay in a Disney World owned resort, or some of the Take advantage of Early Park Entry, and if you're in a Deluxe resort, Extended Evening Hours. You'll find less crowds throughout the park during these times.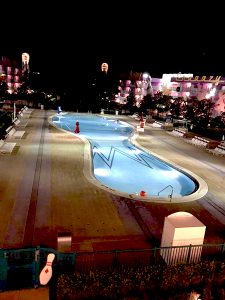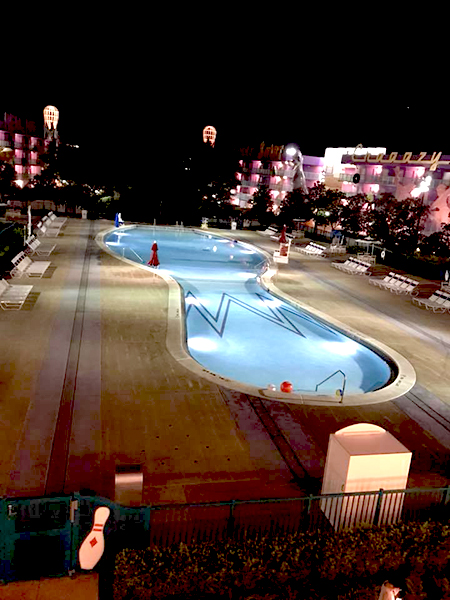 Jennifer (the author) does stay in Pop Century quite a bit, which is a Value resort. If you're choosing a Value resort, she would recommend it. She likes the 50's building, and the nearby bowling pin pool, because it is rarely busy.
Plus, she feels that the skyliner transportation that is available at this resort is great because you aren't on a crowded bus. Jennifer finds it very relaxing, but recognizes that it isn't for everyone. However, it also makes for a quick trip back to the resort if you are in Epcot or Hollywood studios, which are her favorite parks.
Consider renting a car or take Uber's rather than Disney buses, etc.
Disney transportation can be a great option. However, wait times can be a challenge for some, and some forms of transportation can get crowded. For example, buses can get very crowded with many people standing. Having your own transportation, or using a service such as Uber, can be helpful. Read our article called Do You Need Your Own Transportation at Disney World?
Visit Disney World during less busy times, and during better weather.
I strongly recommend visiting Disney World during the less crowded times. It can be a much different, calmer and better experience. Read our article called How to Pick Your Disney World Travel Dates.
Also, consider visiting during the more mild weather periods. Again, this can make for a calmer, easier and more comfortable experience. Intense heat and  heavy thunderstorms can make Disney World more challenging for almost anyone. Read our article on Weather Trends in the Disney World Area.
Join our Facebook group!!!!
Ask any questions, share your knowledge and just enjoy getting to know other Disney fanatics in our Facebook group called Walt Disney World Made Easy for Everyone.
Also join me on Pinterest here.
GET UPDATES, NEWS & TIPS (IT'S FREE!!!)
Sign up below to stay updated on the newest information, tips and tricks to help you plan your perfect Disney World trip!