Header photo by Christina Costa
Facts at a Glance About Under the Sea ~ Journey of the Little Mermaid:
Park:

 

Magic Kingdom. Location: Fantasyland. Height Requirement: Any height. Genie+: Yes. Individual Lightning Lane: No.
Quick Notes: Travel under the sea in a clamshell to see scenes from The Little Mermaid as music plays.  
Disney Warnings: None.
Our Additional Cautions: With all of the hard surfaces in the queue, it can get noisy with echoing of crowd noises, background music and sound effects. Some sections of the ride are narrow with low ceilings and may seem tight. The ride car tips backwards and goes downhill briefly, and travels uphill as well. The temperature feels very cool. Somewhat loud, repetitive music. The evil Eels and Ursula octopus character may seem scary to the very sensitive. Crystal ball effect. Some periods of darkness. The bright colors, loud music and motion of the characters may be very stimulating for some people. Those who are tall may find the clamshell a tight fit for their legs.      
Length: The ride lasts approximately 6 minutes.
Special Needs Info: Those in wheelchairs (or who transferred to a wheelchair) can ride in an accessible clamshell with one companion. For power wheelchair users, in most cases queues and rides that allow wheelchairs also allow most power wheelchairs. See the Cast Member at the attraction for your options. Those in ECVs can use them in the queue and must transfer to the ride car. Handheld Captioning, Audio Description.

Overview of Under the Sea ~ Journey of the Little Mermaid
A colorful, though quick retelling of the story of Ariel the mermaid and Prince Eric's romance, this attraction seems to be a composite of existing Disney attractions. You've got the clamshell ride cars from The Seas with Nemo & Friends, The ride car track and motion used in The Haunted Mansion along with the crystal ball holographic technology, the repetitive music of It's a Small World, and the story telling used in several attractions such as in The Many Adventures of Winnie the Pooh.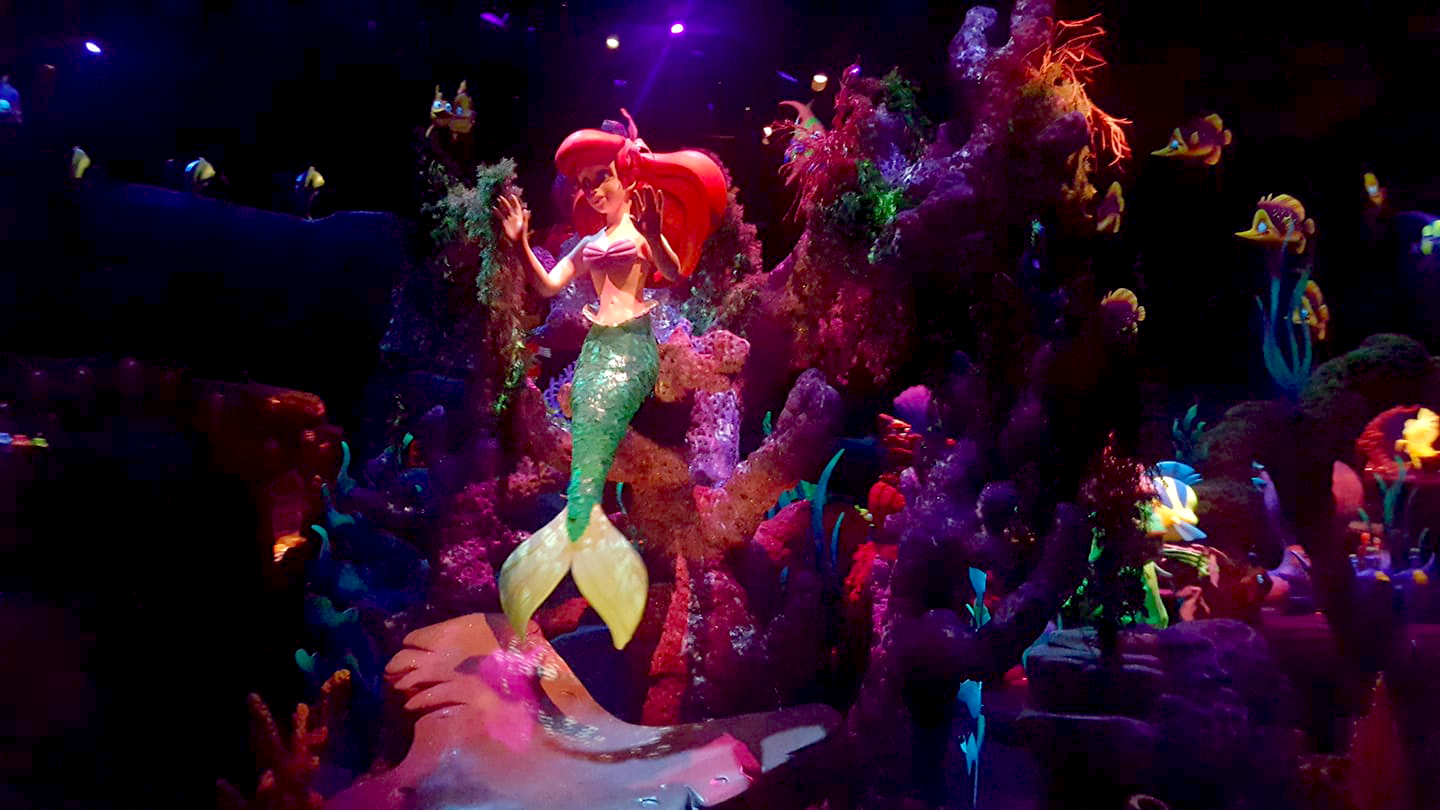 Queue information for Under the Sea ~ Journey of the Little Mermaid
As you approach the outdoors queue leading to Prince Eric's castle, you'll pass by a shipwrecked boat with Ariel as the figurehead (see header photo). The first part of the queue is outdoors and uncovered. It winds past spectacular waterfalls, tidal pools, rocky coastal cliffs and treasure.
At one point the path takes you into a cave which feels wide and open. At first it has openings letting in natural light during the day. As you go further it becomes enclosed and lit by hanging lamps, but there's still a wide, open feeling, and we didn't find it to be dark. It can be dim in places though, especially after dark.
This video shows the queue as well as the Journey of the Little Mermaid ride itself:
More about the queue: The theming in the later part of the mainstream queue includes views of Ariel's treasure trove of "human things". There's a very clever interactive game in the treasure trove. Tiny blue crabs wait for guests to point to the human item that doesn't fit in with the other human items in that area, and the crabs carry it away.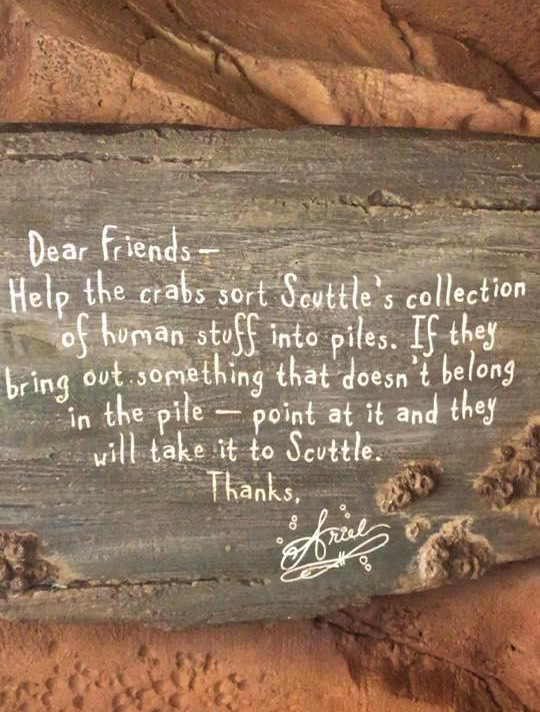 Boarding and ride car information for Under the Sea ~ Journey of the Little Mermaid
Guests walk on a moving walkway to board their clamshell vehicle. The walkway moves at the same speed as the ride cars. If needed, the walkway can be slowed or even stopped, though they'll only do this if absolutely necessary. Let a cast member know if you need this.
Once you board the vehicle, a cast member will tell you to bring down the bar in front of you. Keep in mind that it will lock wherever you put it, so try to bring it down to a comfortable level since you won't be able to raise it once it's lowered.
Wheelchair/scooter info: The Little Mermaid is one of the newest rides in Magic Kingdom. It has accessible vehicles that are similar to others with fold down ramps, but they're improved. The Imagineers took what they learned from the other vehicles and used it to design them with easier access. The wheelchair accessible clamshells load on a different angle which allows the ramp onto the ride car to be longer. This makes it less steep and easier to drive onto with a wheelchair. The accessible vehicles also have a little more space inside. You'll also find that the moving walkway here is wider than that on other similar rides.
We did hear from one reader who felt that the ramp was more steep than those on some other rides, and she found that her power wheelchair had difficulty getting up the ramp.
ECV riders and wheelchair riders who wish to transfer will be asked to park nearby and walk. If you leave a mobility device at the boarding area, it will be waiting for you where you unload.
There are two vehicles that are wheelchair accessible. Let a cast member know if you wish to ride one. There may be a wait. When you get to your clam shell, the cast member will unlatch and unfold a ramp. A single companion can ride with you, and they'll be directed to board the clamshell first. Then the cast member will push the wheelchair into place, fold the ramp, and secure the door behind the wheelchair. The wheelchair area and companion seat share a single long seatbelt which is pulled from the wheelchair side and latched into the companion side of the ride car.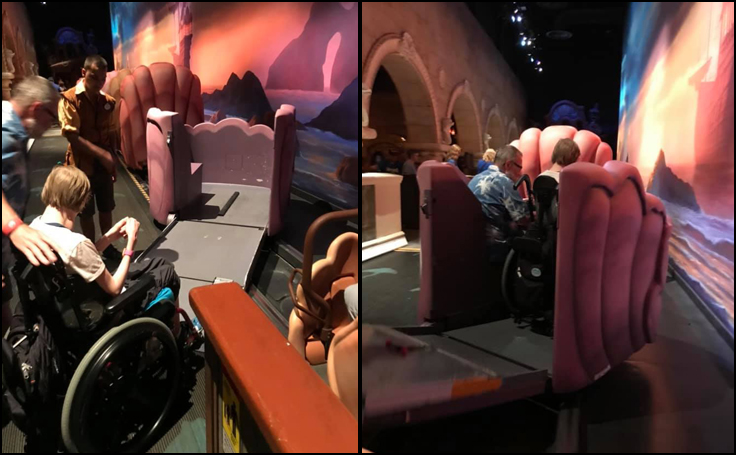 The moving walkway is long, and the loading and unloading are easy enough so that the walkway usually doesn't need to be slowed or stopped to handle a wheelchair.
Details about Under the Sea ~ Journey of the Little Mermaid
This is a smooth ride that moves relatively slowly. The clamshell first passes through rooms depicting various scenes from the movie, and makes gradual turns to have you face the action. Shortly after you take off, your clamshell turns you so that you're riding backwards, and suddenly it takes you downhill. This feels a bit unexpected, but it's smooth, fairly slow and short.
Tip: If you have sensitive neck issues, try placing a sweater behind your head and neck when you board your ride car. Once you tip backwards, you'll have some support.
As you're moving downhill, the back of the clamshell in front of you lights up with a projection designed to make it seem as if you're moving under water. The temperature turns cooler, and the area you enter is darker. From here the scenes you see will be under the sea. Those with claustrophobia may find this challenging since the area you're in during this process is narrow and has low ceilings. However, you'll soon be entering much wider rooms where this shouldn't be a problem for most people.
From here you'll be passing by scenes that use Audio-Animatronics, projections, light effects, and simple mechanical motion. Though some of the featured Audio-Animatronics characters move in a natural manner, they're rather cartoon-like rather than life-like. The rest of the undersea characters are also cartoon-like rather than realistic, and many don't move or move repetitively in a simple manner. It's all very colorful, and the music accompaniment makes most of the ride feel festive and upbeat.
At one point you'll ride into a darkened room with the evil eel characters and Ursula the octopus. Ursula sings over her crystal ball in a menacing way. You'll pass by small red lights that look like eyes that occasionally blink. Towards the end you'll see a projection of Ariel becoming human, and then you'll ride uphill to simulate rising out of the water as bubbles are projected on the clamshell in front of you. You'll then pass by happy scenes of Ariel and Prince Edward. They kiss at one point.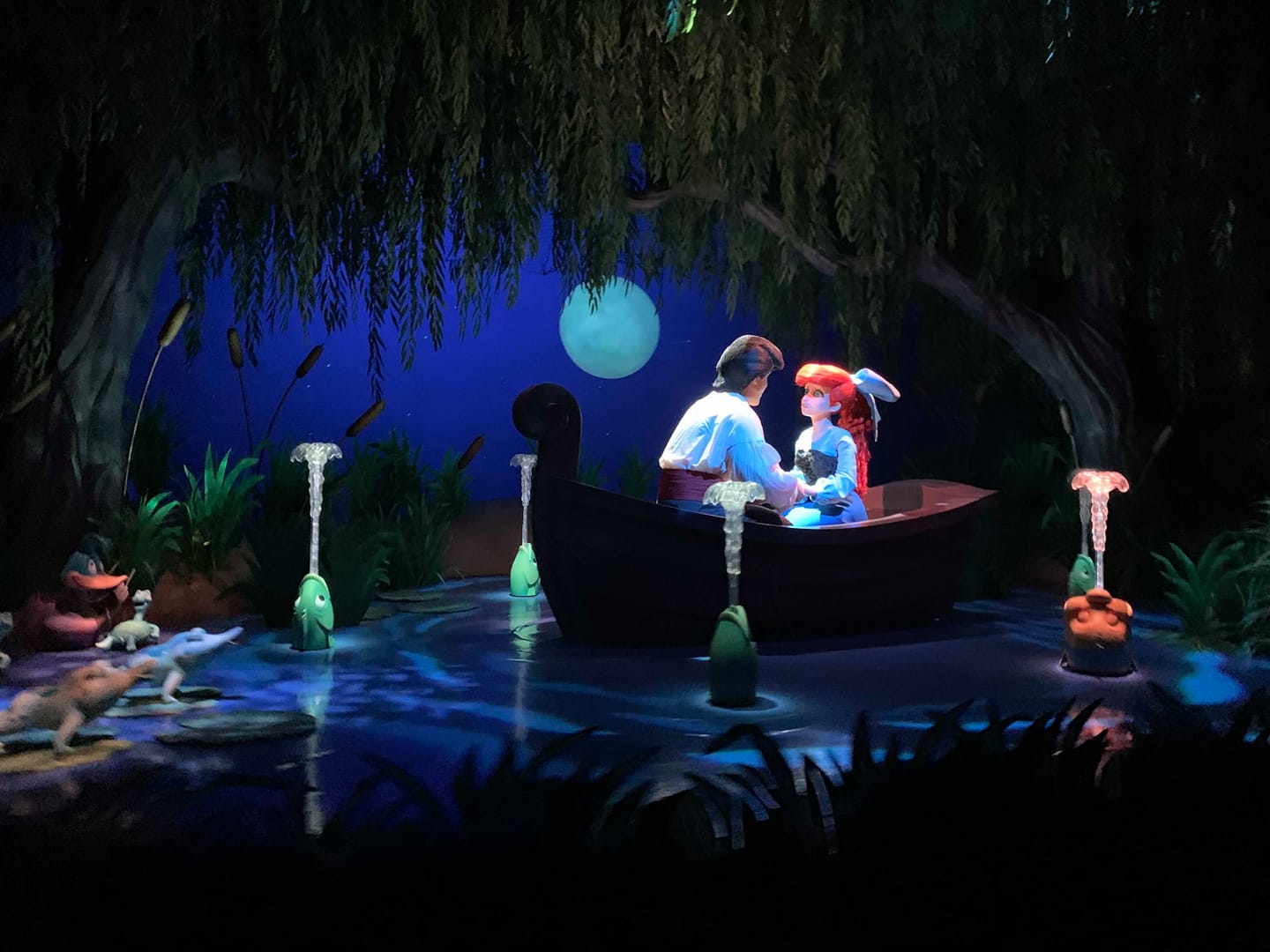 There's a brief projection of Ursula again, and then a happy wedding scene with fireworks on a screen behind the characters.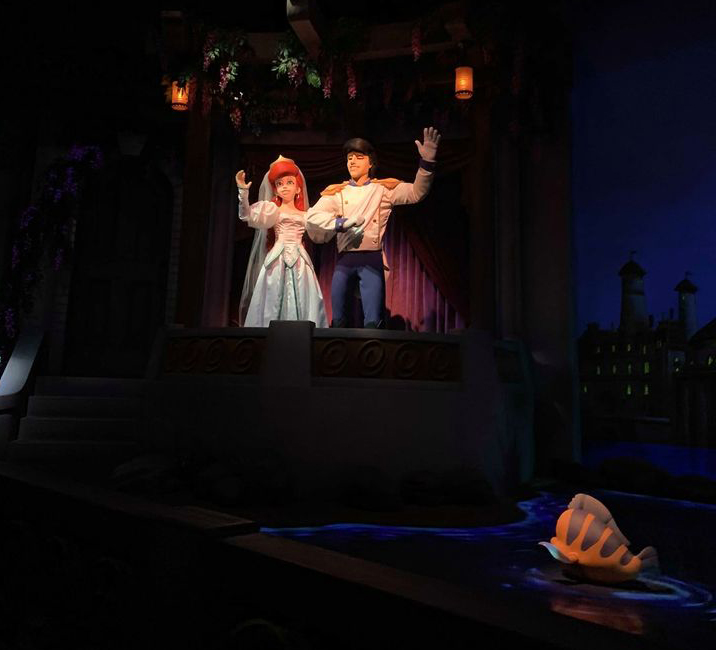 Check out other rides in Disney World's Magic Kingdom:
Adventureland 

Fantasyland

Liberty Square

Main Street USA

Tomorrowland
SEE RIDES AND ATTRACTIONS IN THE OTHER PARKS:
Join our facebook group!!!!
Ask any questions, share your knowledge and just enjoy getting to know other Disney fanatics in our facebook group called Walt Disney World Made Easy for Everyone.
Also: Like our facebook page here.
And join me on Pinterest here.
GET UPDATES, NEWS & TIPS (IT'S FREE!!!) Plus get a Free Disney World Planning Schedule Form.
Sign up below to stay updated on the newest information, tips and tricks to help you plan your perfect Disney World trip!