Everything you need to know about Disney World's MagicBand & MagicBand+ wrist bands
By Katie Penn & Stephen Ashley
In this article we'll cover the following:
What are MagicBands and what is MagicBand+?
What do they do?
Do I need a MagicBand?
How do I get a MagicBand?
Personalizing/Accessories for your MagicBand
Can I have multiple bands?
How do Magic Bands Work?
How do I link my MagicBand to My Disney Experience account?
And other questions answered…
What is a MagicBand and a MagicBand+?
'MagicBands' are a form of wearable technology, designed by Walt Disney World to improve guest experiences. They fasten around the wrist, and they're waterproof, so you can even swim with them.
There are currently two older versions of MagicBands, and MagicBands+ is the third and newest band. First let's go over the older two MagicBands:
MagicBand 1. This is just a strap with no removable parts. They have been phased out and while some may still work at touch points, the batteries and RFID does have a limited shelf life.
MagicBand 2. This is a newer version. It consists of a wrist strap which contains a 'puck'. This plastic puck is about the size of a dollar coin, and it can be removed with a mini screwdriver, and placed on special key chains, lanyards, etc. (More about that below)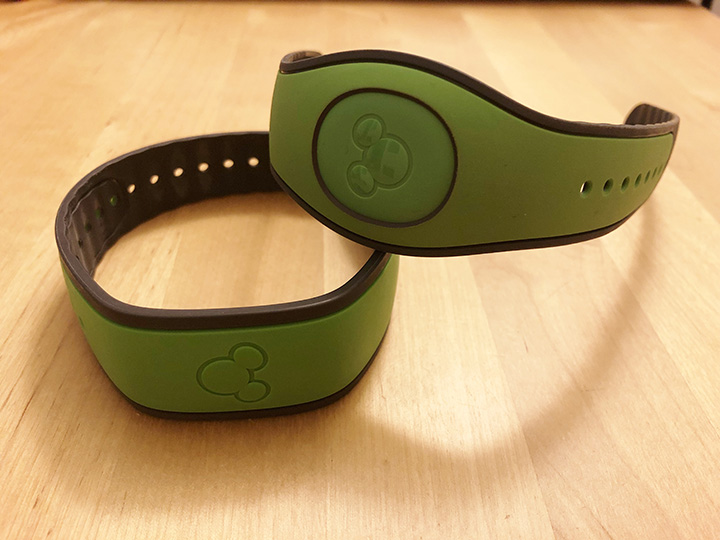 The Magic Band is just one way to wear the technology. The main reason Disney redeveloped the band was because not everyone wanted to, or was able to, wear the plastic band round their wrists. With the removable puck there are accessories to offer alternative ways to use the technology (See accessories below).
MagicBand+ is the newest version of the band.
It's just being rolled out now in early 2022. Here's a photo of a MagicBand+: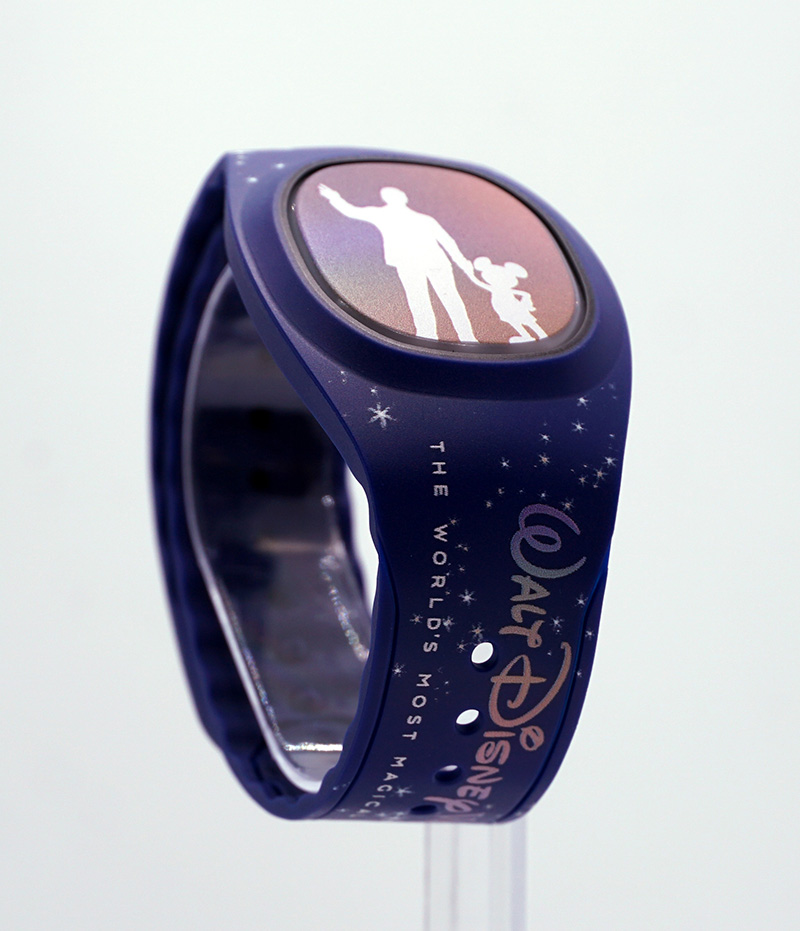 What do all MagicBands do?
(If you're interested in the actual technology of these bands, see below towards the bottom.) Here's where we'll go over what they're used for.
The following is true for MagicBand and MagicBand+ bands. Disney uses MagicBand technology to do a variety of things including: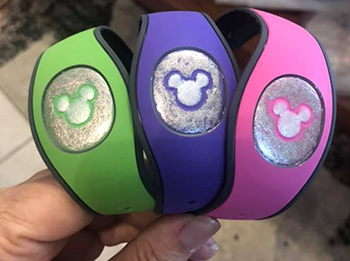 Track guests – but don't worry. Disney says they are not spying on guests! This tracking technology is how Disney is able to do some of the special "magical" things they do for you.
For example, after you order your breakfast or lunch at Be Our Guest restaurant, you'll go sit down anywhere you'd like inside any of the rooms. Magically, your order will be brought to you at your table no matter where you're sitting because they can track you due to your MagicBand! Another example – You go on a ride like Dinosaur, and when you get off, a photo of you on that ride magically appears on your account because of the tracking in your MagicBand.
Use on Disney's touch point devices. You simply touch the face of the band – the part with the Mickey image – to one of Disney's touch point devices, and the device reads the band. The band links to the information in your My Disney Experience account. For example you can touch your band on a band scanner device to:
Enter a Disney park. This is for anyone who has a ticket, and has linked their ticket with their My Disney Experience account. You'll find touch point devices at the entrances of the parks, and your MagicBand will be used instead of a ticket.
Charge purchases to your room. This is only for guests of a Disney owned resort, and only if you have set this up on your My Disney Experience account. You can tap your band at check out, and it puts your spending on your room reservation. You're also required to input a 4 digit PIN number that you set up in advance either online check-in or when you check-in at the resort. You'll input the PIN number every time you make a purchase, for security. Your charges can either be settled in installments at the front desk throughout your trip, or on check out. (There is a limit at which you will need to pay before you are allowed to continue to spend).
Pay for dining & snacks in most locations on Disney property. This is only for those staying in a Disney resort, and the charge will be placed on your room if you put a credit card on file for that purpose.
Pay for food and merchandise purchases in most stores on Disney property. This is only for those staying in a Disney resort, and the charge will be placed on your room if you put a credit card on file for that purpose. There are some places where you won't be able to use this, like at the movie theater in Disney Springs.
Use your Genie+ and Individual Lightning Lane reservations.  This is for anyone with tickets and a My Disney Experience account. You'll make your reservations using Genie in the My Disney Experience app. At the ride/attraction you touch your band to the device, and if you have a valid Genie+ or Individual Lightning Lange reservation, the device lights green. If not, it lights up blue.
For PhotoPass pictures. The photographers will scan your band after taking your picture and this will allow the pictures to be assigned to your account.
Allow cast members to review your linked data. For example, if you have a pre-park opening dining reservation, a cast member can scan your MagicBand to view your account and confirm the reservation.
Open the door to your room if you're staying in a Disney owned resort. Scan the band against the reader and the door will unlock. This is a great advantage for returning guests who have existing bands (see Can I have multiple bands?) and check in online. When you do this, you will receive a text to tell you when your room is ready. Because you do not need to go to reception to pick up a physical key/key card to access your room, you can go directly to your room.
Use your Disney Dining Plan credits. If you have the dining plan, your credits are managed on your My Disney Experience account. When checking out at a restaurant, the server can use your magicband to retrieve the details from your MDE account and debit the relevant credits from your account. This also applies at carts where you wish to use snack credits.
Get on Disney's Magical Express. You can read about Disney's Magical Express here. This is also only for those staying in a Disney resort, and those who have reservations to use Magical Express. Be sure NOT to pack away your MagicBand. Carry it with you on the plane so you can have it ready. We often put on our MagicBands when we leave for Disney! It gets us in the mood! If you do forget it or pack it, you should still be able to get on the bus. See the Magical Express article for details.
More on room charges with your MagicBand: Anyone in the room can be given access to the ability to charge your purchase to your room. If you wish to use a PIN code to secure your purchases (or to just to stop your kids from spending all your funds) you can add one via the resort front desk you are staying at or in your My Disney Experience.
NOTE – Changes to Disney World policy mean that if you opt to make charges to your room account, a hold of $100 is placed on the card linked to your My Disney Experience account. This is refunded once your balance is paid. However, some people have found that upon spending over $100, a further $100 deposit is taken to cover the next $100 of purchases. This is all refunded, but could end up with 'holds' placed on your available funds for 10-14 days while your bank processes the refund.
What else will MagicBand+ bands do?
In addition to what the earlier versions of the bands can do, these MagicBand+ will also be able to do the following:
The bands have customizable color-changing lights.
They vibrate so they can tell you when you're in the vicinity of something it will work with.
They can recognize gestures and allow for interactive experiences throughout the parks. They cause magical things to happen!
They will allow you to trigger smart speaker experiences. These are coming to Disney soon and you can read about this on Disney's site here.
They come with a rechargeable battery and a charging cable. They allow you to connect to your smartphone with bluetooth, where you can customize and manage your band.
We expect more interactions over time. Currently it's expected that you will be able to do the following:
Interact with the Disney Fab Character Collection – these are the golden anniversary sculptures spread throughout all 4 parks.
Play the role of bounty hunter in Hollywood Studio's Galaxy's Edge. You'll be able to find virtual bounties throughout the Black Spire Outpost.

Interact with the Harmonious nighttime show at Epcot and Disney Enchantment at Magic Kingdom. 
Can you link your reservations or credit card details to your MagicBand and MagicBand+?
Yes and no. It is a common misconception that you can 'link' things such as reservations or credit card details to your Magic Band. While you can use your Magic Band for these things, your Magic Band is really linked to your My Disney Experience account, also called MDE for short. The technology in the band allows the touch of the band to relay data from your My Disney Experience account, to the device touched. None of your information is linked to the band itself.
You can access or create your My Disney Experience account on the Disneyworld.com website, or on the app on your mobile device. My Disney Experience allows you to see all your plans, and it allows you to make some plans. It also allows you to share info and planning with others you are traveling with.
Having the app on a mobile devices is a huge advantage for anyone visiting Disney. Some of the conveniences are the ability to make Genie+ and Lightning Lane reservations and dining reservations while you're at Disney, and to order ahead at many counter service restaurants using Mobile Ordering. You can then use your Magic Band to check in.
How much do the MagicBands cost and where can I buy one?
Basic MagicBands are no longer free if you're staying in a Disney-owned resort, but you do get a discount. Those staying in Disney resorts can get plain bands that come in 17 colors priced from at a discounted price starting at $5. You can buy these online through your My Disney Experience account.
Everyone can buy a MagicBand if they wish. Magic Bands can also be purchased on the ShopDisney website. There are other places to buy them, but it can be risky. There are fakes and used bands being sold in places like Amazon or Ebay. A band can only be used by one person, by the way. Used bands are not transferable.
Disney sells them for a range of prices. On the lower end, you can get plain colors for $14.99. The prices currently range all the way up to a high of $48 for a Limited Release Dooney & Bourke MagicBand. Most seem to be in the $25-$35 range. It looks like you'll be able to get a MagicBand+ for approximately $29.99 to $49.99 depending upon the style.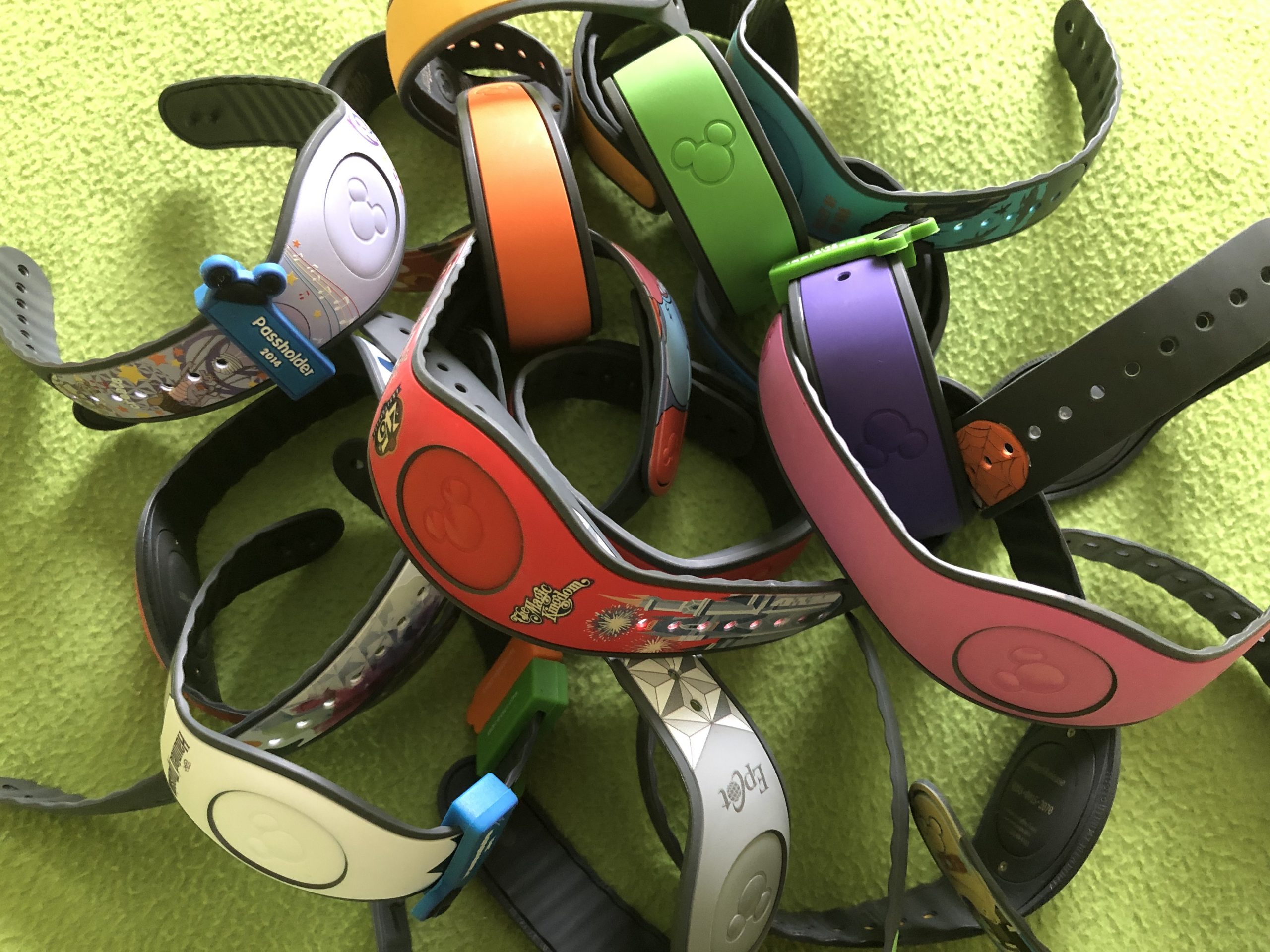 Do I need a MagicBand?
The short answer to this question is No. You do not need to have a Magic Band for your Walt Disney World vacation.
The main reason people use magic bands is for convenience. The benefit of a magic band is that they are instantly accessible to scan and leave your hands free. You don't have to hold them or go digging for them in your purse, bag or pocket. They make certain things faster.
If you're not staying at a Disney resort, and you're thinking of buying them, you'll be able to use them only for tickets, Genie+, Individual Lightning Lanes and Memory Maker. They are convenient and make a cool keepsake.
The alternative is to use your plastic ticket card or better yet, your smartphone.
More about Disney's upgraded MagicBands
There is a huge variety of Magic Bands. In addition to additional plain colors, there are different designs. These designs can be character related, movie related, theme park or attraction related. There are even bands released for special events like Mickey's Not So Scary Halloween Party, and the Epcot Food & Wine Festival.
In addition to the design printed on the band, some bands also have other special effects. For example:
A Pandora themed band glows orange then blue as opposed to the standard green, and it growls like a banshee when you use it at Disney touch point devices.
The Haunted Mansion bands works like a normal band at all attractions except the Haunted Mansion where it makes a spooky sound rather than the usual sound, when you use it at Disney touch point devices.
Some of these will only be available online and at Disney World.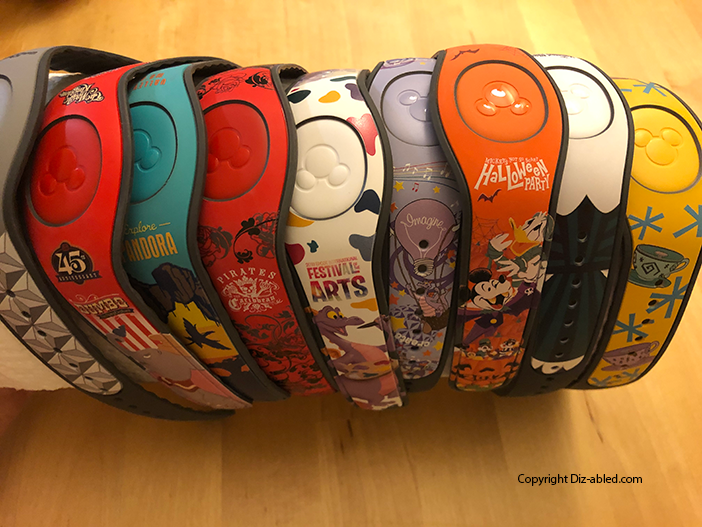 Accessories and personalizing your Magic Band
If the huge choice of designs is still not enough personalization for you, you can add sliders – slips of plastic, like the keeper on a watch, You can also add 'bandits' – little buttons that pop into the holes on the strap.
If you do not like the band set up itself, you can buy a 'puck holder'. These are generally Mickey shaped, with the puck as the center. The holders can fit onto clips, lanyards and also watch straps.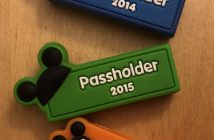 If you are an annual passholder or DVC member, you are entitled to free sliders like the ones on the left.
There is limited stock though – if you are sent your Passholder magic band to your address you may not receive them. It is possible to get them from any Guest Relations, but again stock in limited and they do run out.
You can decorate your own band!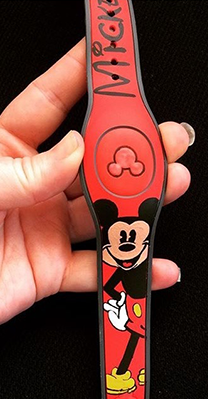 If you don't want to spend money on a patterned/design band, or you want something more unique, you can also decorate your own band.
The most popular options for decorating tend to be paining a design with something like nail varnish, using crafting gems to create a bejewelled band, or to buy/ make what is called a 'skin'. This is essentially a specially designed sticker that sticks on top of your band. Usually they leave a space for the puck.
(NOTE – The puck face must touch the touch points to work most effectively – 'Mickey to Mickey'. You can tap in if your magic band is covered by light clothing, for example under a sweater, but too many layers and it becomes difficult)
If you're crafty you can use anything you wish to decorate your band. Just bear in mind anything that may catch or irritate you, and avoid anything too thick on the puck. There are also lots of independent businesses who specialize in making such things at a relatively small cost.
Some of our awesome Facebook group members shared photos of their decorated Magic Bands. In addition to the really nice hand-painted Mickey Mouse above, I'll post a couple more here, and some more down below at the end of the article, so you can get some ideas.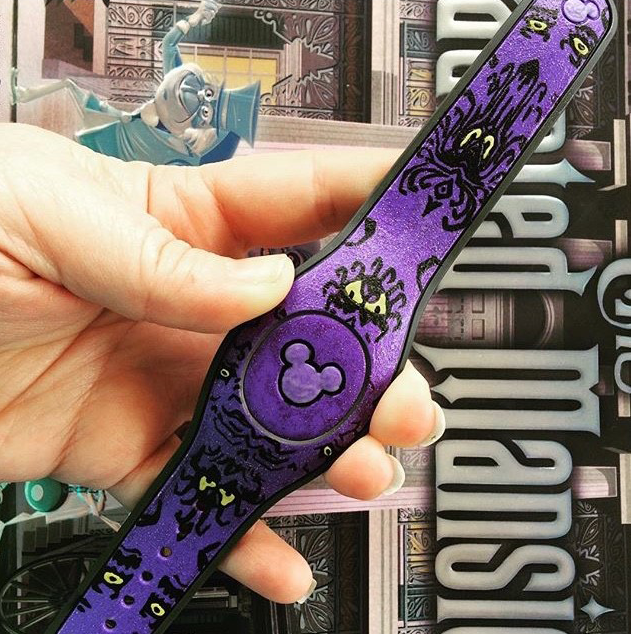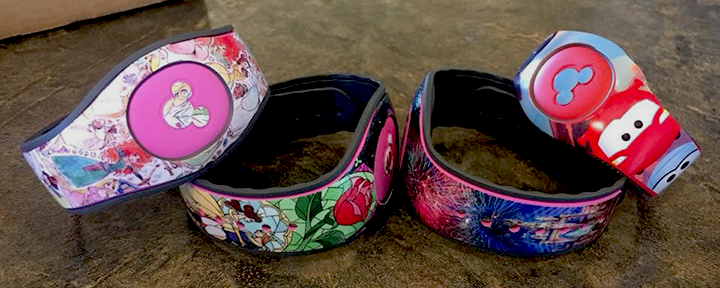 Here's a safety tip for parents. You can use your child's Magic Band as a safety tool. Use a marker pen to write your phone number inside your child's magic band. You can also add important medical information. This way you can be reunited should they get separated from you. (Of course this only works if your child is not prone to losing/taking off their band, and if your child can show the Cast Member the number.)
Do you need a "keeper" or lock on your MagicBand?
There are people who find that magic bands are not as secure as they would like. If you are worried about losing your magic band, you can buy 'keepers' online for most types of fitness bands.
These band locks are designed to hold your magic band together. However, losing a Magic Band is rare since they are designed to be sturdy. You can even wear them in the pool/at the water parks.
However if you want to be more sure and confident, a band lock or Keeper is an inexpensive way to handle this.
Can I have multiple Magic Bands?
Yes. You can reuse Magic Bands that you've had from prior trips, and you can get new ones. You're able to have multiple Magic Bands linked to your account. This allows you to change your band to suit your mood, or to coordinate with your outfit or the park you're visiting.
The batteries in the Magic Bands are supposed to last 2-3 years, but we've had some that have lasted even longer.
How do I link a Magic Band to My Disney Experience account?
To link a new magic band do the following:
Log into your My Disney Experience Account on Disneyworld.com.
Click on the tickets and bands section.
You will see the option to link a new band. All bands have a reference number on the back. If you type this in as shown on the site, your band will be linked.
NOTE – This can be a bit glitchy sometimes. If your band will not link, take it with the receipt to a store which sells magic bands (or Guest Relations), and they can link it for you. Some stores do offer to do this for you when you purchase your band.
What do I do with a Magic Band if I no longer wish to use it?
You really don't have to do anything. However if you wish, you could deactivate it. In the same section of your My Disney Experience as described above, there's an option to Deactivate a band. Be warned, though, once a Magic Band is deactivated it cannot be reactivated.
Keep in mind that even if you lost your Magic Band, it's unlikely that someone else could use it. A finger print scan would be required to use the band to enter the park. To use it on things like purchases, there's a PIN number required. So it's unlikely that a stolen band would pose a problem.
Can I give someone else my Magic Band?
Once a band is linked to a My Disney Experience account, it cannot be reassigned.
You cannot give a used magic band to a friend to use with their account/tickets. If you wish to buy a magic band as a gift, simply purchase the band and ensure it remains un-linked (i.e. don't link it to your My Disney Experience account) and they can then link it to their account at a later time.
How do the Magic Band work technically speaking?
The bands use RFID technology to transmit the data to make the band work. According to the Atlas RFID Store, RFID can be defined as follows: "Radio Frequency Identification (RFID) is the wireless non-contact use of radio frequency waves to transfer data."
There is a small battery which powers the band. It is estimated the life of a band will be 2-3 years.
Here are some more Magic Bands decorated by our Facebook group members.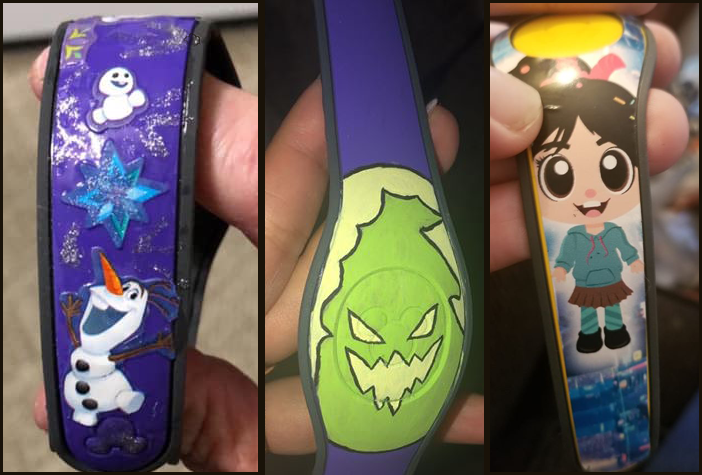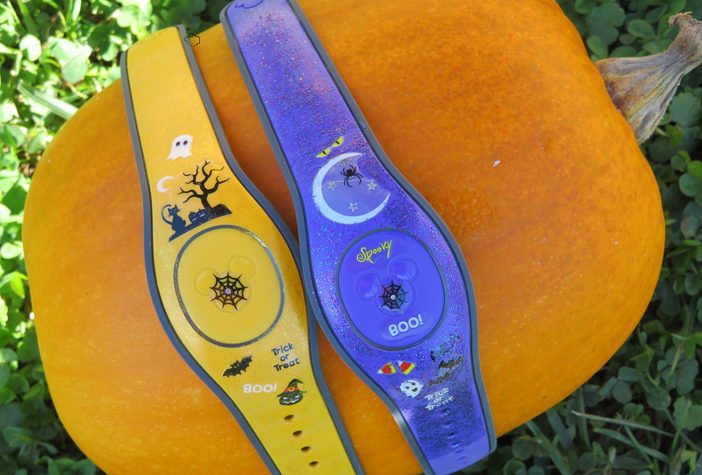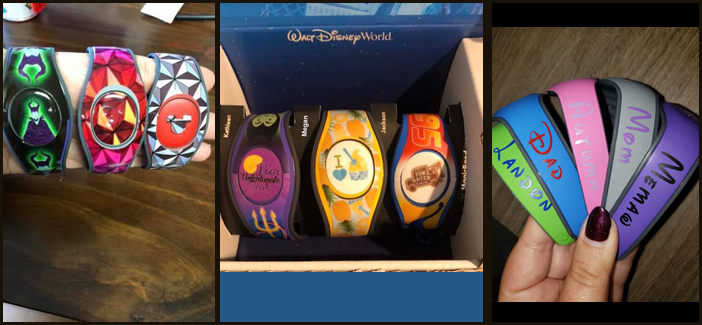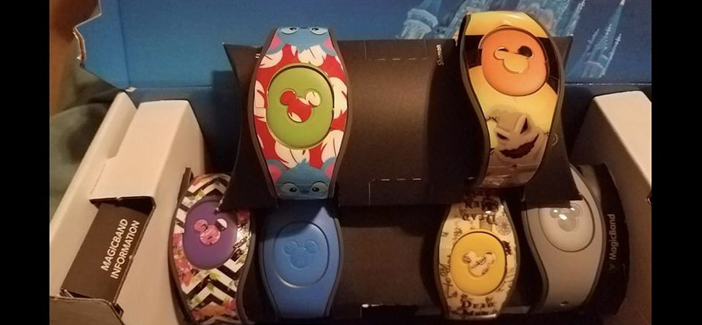 For anyone wondering why we use both MagicBand and Magic Band throughout the article, the correct form is MagicBand, however because many people don't know that, they may put Magic Bands into the search engine. To help the search engines find us, we're using both ways of writing out the term.
A HUGE THANK YOU TO THOSE WHO DONATED PHOTOS! You all rock!
Join our facebook group!!!!
Ask any questions, share your knowledge and just enjoy getting to know other Disney fanatics in our facebook group called Walt Disney World Made Easy for Everyone.
Also join me on Pinterest here.
GET UPDATES, NEWS & TIPS (IT'S FREE!!!)
Sign up below to stay updated on the newest information, tips and tricks to help you plan your perfect Disney World trip!