Facts at a Glance About Country Bear Jamboree in Magic Kingdom:
Park:

 

Magic Kingdom. Location: Frontierland. Height Requirement: Any height. Genie+: No. Individual Lightning Lane: No.
Quick Notes: Audio-Animatronics country hoedown with singing, dancing and joke-telling bears and other animals.   
Disney Warnings: None
Disney Noted Attraction Details: Lighting effects, loud noises, periods of darkness.
Our Additional Cautions: Includes dimly lit theater building, and Audio-Animatronics animals that talk, play instruments and sing (mostly bears, but also includes a talking deer, mouse and buffalo).      
Length: The show lasts approximately 16 minutes.
Special Needs Info: Guests can remain in their wheelchair or ECV. Assistive Listening, Reflective Captioning.
Overview of Country Bear Jamboree
This is an Audio-Animatronics musical revue in a darkened theater. It has country music singing bears and other animals. The fuzzy, cuddly, overall-wearing bears awake from hibernation to put on a show just for you!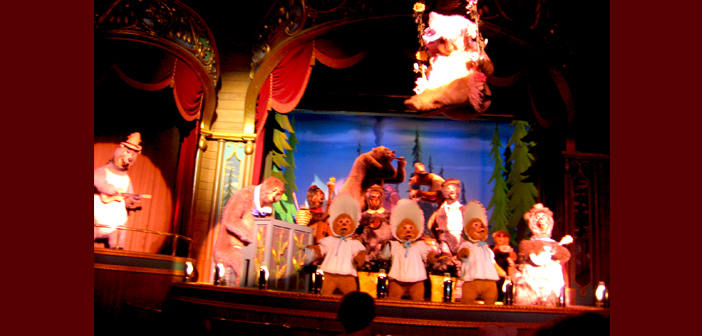 Queue information for Country Bear Jamboree
The overflow queue is outdoors in the sun. You'll be let inside through a slim turnstile. Guests can request to bypass the turnstile by using the wheelchair entrance. Once inside the indoor queue room, you'll wait about 10 minutes in an air conditioned area to be let into the theater. Guests with wheelchairs, ECVs or mobility issues should enter the building using the ramp to the left of the main door, and will wait in a roped-off area of the indoor queue room.
Seating for Country Bear Jamboree
The seats are padded benches with a partial back. (This is a thin padded section that goes across the upper back of an average sized adult.)  Although they're padded, its thin padding and we find that they feel hard.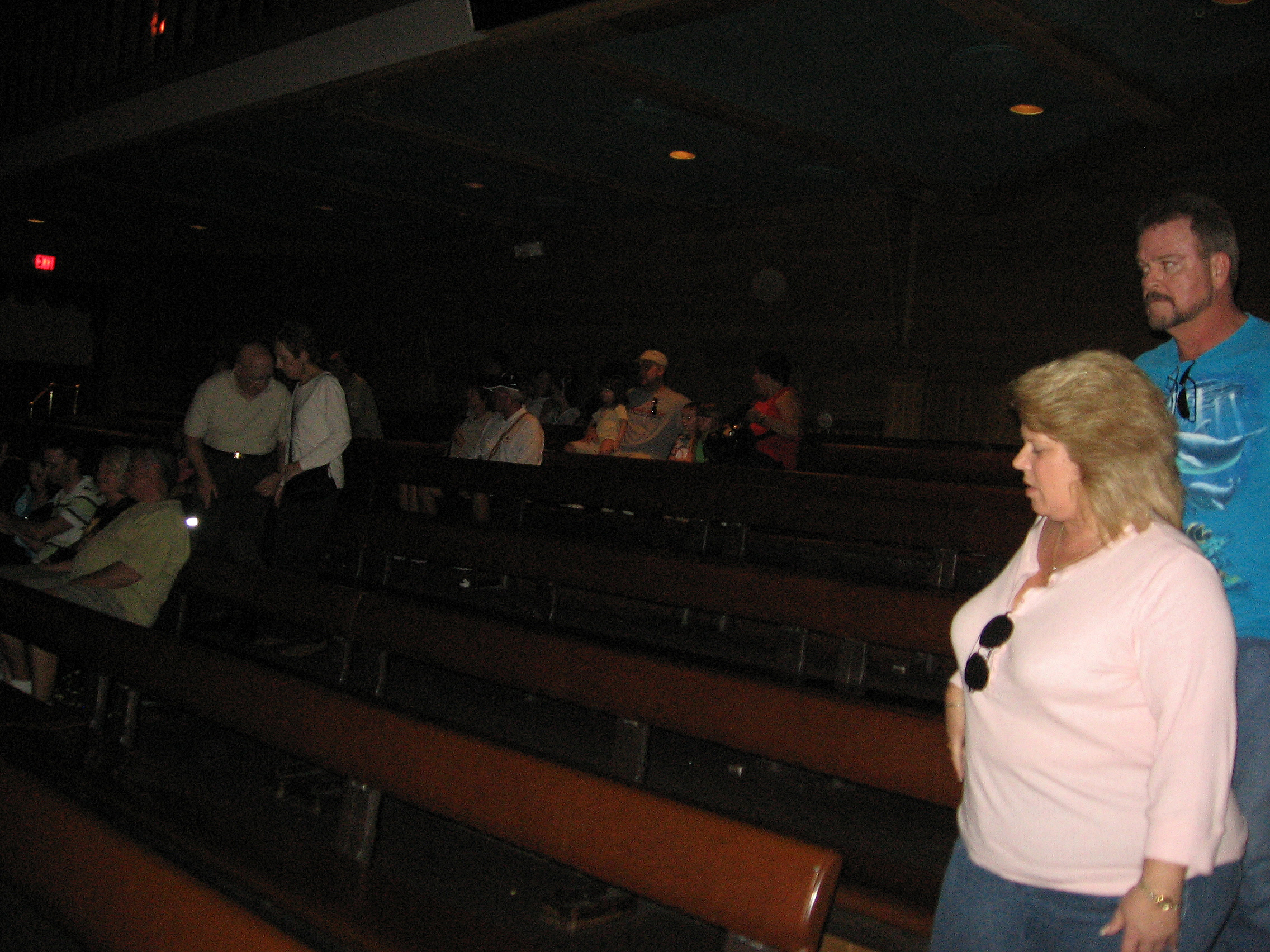 Wheelchair info: There's wheelchair/ECV seating in the front row, but the number of spots is limited. If they've already filled when you arrive, you may need to wait for a later show. Guests in the first row will need to look up to view the stage, and some of the acts will be coming from the ceiling directly above their seating position.
Additional details about Country Bear Jamboree
Some of the Audio-Animatronics animals are stuffed heads on the wall. Though there's nothing in this show designed to cause fear, some may find that a bit creepy.
Although many other sources we've read say that this show has a lot of humor, we find that it's so subtle that most kids won't pick up on the jokes. What there is of the humor is quite hokey, and we don't hear much laughter from the audience.
Still, many people regard this show as classic Disney, and it has many fans. However most often we hear that this would be considered more of a "nice to do if you have time" attraction rather than a "must-see". Here's a guest with a point of view that we've heard repeatedly:
"I was looking at my watch the entire time. My kids (ages 4 and 6) found it mildly amusing, but I don't think we would do this again on our next trip." 
As mentioned above, guests in the first row will need to look up to view the stage, and some of the acts will be coming from the ceiling directly above their seating position.
To see the full Country Bear Jamboree show check this video out:
Check out other rides in Disney World's Magic Kingdom:
Adventureland 

Fantasyland

Liberty Square

Main Street USA

Tomorrowland
SEE RIDES AND ATTRACTIONS IN THE OTHER PARKS:
Join our facebook group!!!!
Ask any questions, share your knowledge and just enjoy getting to know other Disney fanatics in our facebook group called Walt Disney World Made Easy for Everyone.
Also: Like our facebook page here.
And join me on Pinterest here.
GET UPDATES, NEWS & TIPS (IT'S FREE!!!) Plus get a Free Disney World Planning Schedule Form.
Sign up below to stay updated on the newest information, tips and tricks to help you plan your perfect Disney World trip!