Facts at a Glance About Big Thunder Mountain:
Park:

 

Magic Kingdom. Location: Frontierland. Height Requirement: 40". (102cm) or taller. Genie+: Yes. Individual Lightning Lane: No.
Quick Notes: Roller coaster themed after a runaway mine train reaching 30-35 miles per hour.   
Disney Warnings: Big Thunder Mountain Railroad is a high speed, roller coaster-type ride that includes sharp turns, and sudden drops and stops.
Guests should be in good health and free from high blood pressure, heart, back or neck problems, motion sickness or other conditions that could be aggravated by this adventure. Pregnant women should not ride. Also on the Disney site: "How Scary is it? Big Thunder Mountain Railroad is a fast roller coaster-type attraction designed for kids and adults. However, some parts of this attraction are bumpy and, in some instances, take place in the dark."
Disney Noted Attraction Details: Loud noises, bumpy, fast.
Our Additional Cautions: Includes sharp turns, multiple drops and plunges, intense curves, short stops, bumps and jolts, earthquake simulation, falling rocks, bats (not real), some very dark areas, train moving rapidly from dark indoors to outdoors (into bright light on sunny days). Some areas overlook down from height. Guests can get thrown from side to side in the ride car, especially guests riding alone, smaller guests riding with larger guests, or guests who do not pull lap bar down all the way.     
Length: The ride lasts approximately 5 minutes. Type of Restraint: Lap bar. 
Special Needs Info:  You must transfer from your wheelchair or ECV to the ride car. Service animals are not allowed on this ride. Automated External Defibrillators. Children under age 7 years must be accompanied by a person age 14 years or older.

Overview of Big Thunder Mountain
Considered mild compared to some of the other roller coasters at Disney, this one still gives thrills. This may be a good one to start with if you're uncertain about how you'll handle a roller coaster.
It's themed after a runaway mine train rushing through an Old West mining town and also through the mine itself. Speeds reach 30-35 miles per hour over rough tracks. There are sharp turns, plunges, intense curves and short stops. The plunges are not anywhere as high and deep as some of the major coasters, but you'll still feel them. You will not turn upside down at any time. The curves are banked steeply enough to have you almost sideways, so people with neck, pain or weakness issues should take note. The steep banking does minimize the G-forces.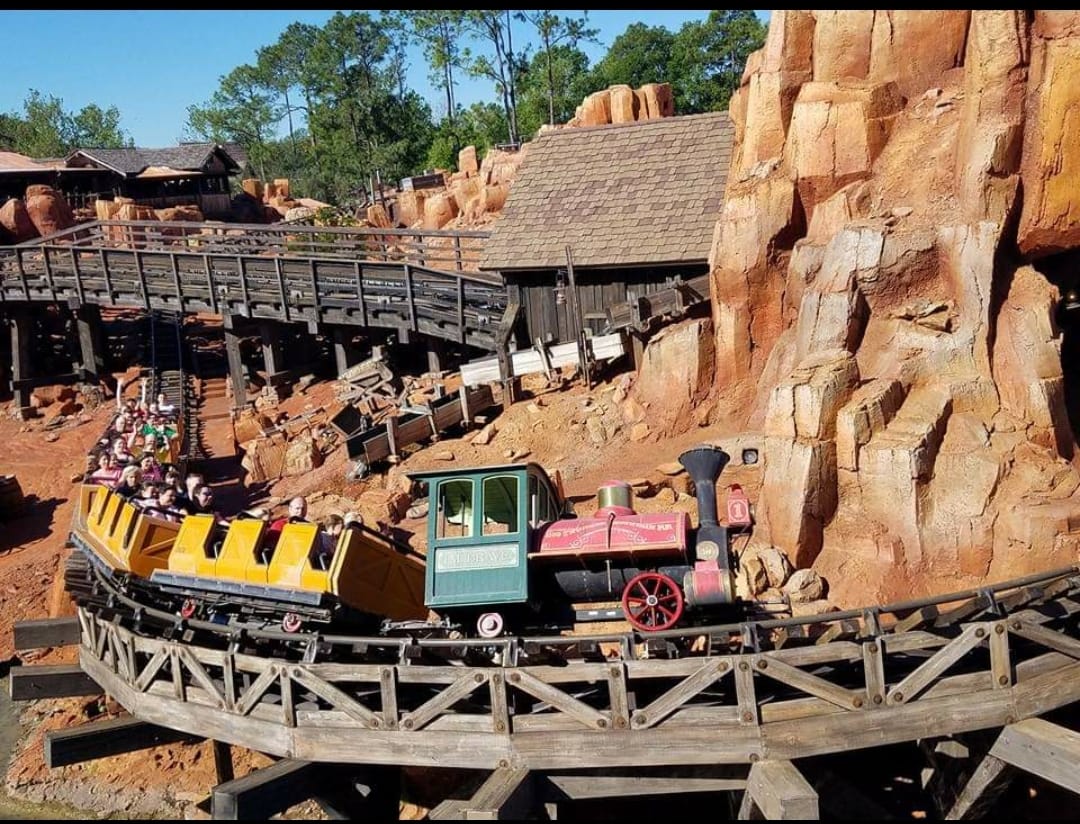 Queue information for Big Thunder Mountain
The extended queue has partial shade. It winds through a partially enclosed, totally roofed area, which can get really hot in warm weather. The lines can get very long for this attraction. As you get close to the boarding area, there's a steep downward ramp.
Boarding information
Here's a tip on seating preferences:
"Both kids really enjoy Big Thunder Mountain. But we much prefer riding in the back, the front is too jerky." —Jessica Blake
Wheelchair/ECV info: Because of this ramp and the fact that regular boarding is on one side of the track and unload at the other, guests with wheelchairs, ECVs and other mobility devices enter the ride area from an alternate entry. See the Cast Member at the entrance for instructions. You must transfer from your wheelchair or ECV to the ride car. There's a car where the side of the train folds down to make it easier to transfer in; ask for the "ADA" or "transfer" car.
Important fact for wheelchair/ECV riders: If you leave your wheelchair or ECV on the load platform (as opposed to leaving it outside the attraction), you may need stay on the ride for two full ride cycles in order to get back to your chair. This depends on which track(s) is currently in use. Sometimes the ride vehicles can cross tracks on each loop; if you got off after riding once, your chair would be in a different location. In that case you must stay on the ride after it stops and ride it again in order to come back to where your wheelchair is. Let the Cast Member at the unload point know you have a wheelchair, and then follow the CM's directions on when to get off.
Ride cars and seating choices on Big Thunder Mountain
Each train pulls 5 ride cars. The seats are bench style with low backs, no neck support, some thin padding and a lap bar.
Tip: Some people feel that the back of the train may be rougher and offer more of a thrill. Sit in the front if you're looking to have less of that. Guests in the front row will have a view from the top of every drop looking down. Anyone can request a specific row, whether from the wheelchair or regular boarding areas. You may need to wait through a few cycles, but requests are almost always accommodated.
Details about Big Thunder Mountain
The train goes through some mining caves where it gets very dark. The ride cars move in and out of dark caves at a high speed. On sunny days there's a strong contrast between the outdoor light and indoor darkness. There's a simulated earthquake with rocks falling and some bats. We don't find this to be very scary, but those who are very sensitive might.
Check out the queue and ride with this video:
Here's a comment from one of our readers about this ride: "One of my sons favorite rides. He's in a wheelchair, has epilepsy and multiple other issues but he loves this roller coaster! And it's not difficult to transfer him from his chair to the train." Jeri Lynn Earnest Baird
Check out other rides in Disney World's Magic Kingdom:
Adventureland 

Fantasyland

Liberty Square

Main Street USA

Tomorrowland

TRON Lightcycle Power Run Rollercoaster 

(Coming Soon)
SEE RIDES AND ATTRACTIONS IN THE OTHER PARKS:
Join our facebook group!!!!
Ask any questions, share your knowledge and just enjoy getting to know other Disney fanatics in our facebook group called Walt Disney World Made Easy for Everyone.
Also: Like our facebook page here.
And join me on Pinterest here.
GET UPDATES, NEWS & TIPS (IT'S FREE!!!) Plus get a Free Disney World Planning Schedule Form.
Sign up below to stay updated on the newest information, tips and tricks to help you plan your perfect Disney World trip!