Address: 14200 Bonnet Creek Resort Lane, Orlando, Florida 32821,
Reservations: (888) 353-2009  Hotel Operator: (407) 597-5500
Website: www.waldorfastoriaorlando.com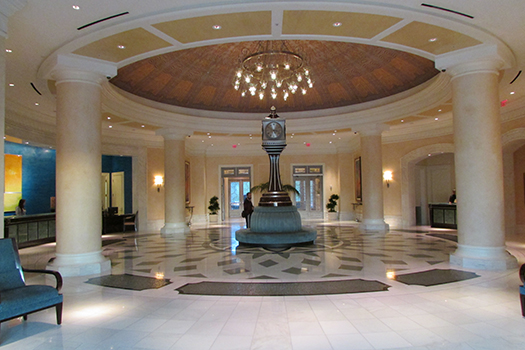 This is one of the newer resorts in the Disney area, having opened October 2009. With a convenient location right in the heart of Disney, the Waldorf is located on land not owned by Disney. However, it's been deemed an Official Disney World Hotel, at least through 2019. This means that guests of this resort can participate in Disney's Theme Park Early Entry system.
On the down-side, this resort does not currently qualify for early 7 am reservations for Individual Lightning Lane reservations. See our Disney World's Genie+ and Individual Lighting Lane page.
What's the Waldorf Astoria Orlando like?
Sitting on a 482-acre preserve, this elegant resort might be considered comparable to some of the Disney Deluxe resorts. With rates starting at $229 a night at this writing, the Waldorf Astoria is a serious contender for those seeking more luxurious amenities and outstanding service.
The resort boasts a 7,108-yard championship golf course designed by Rees Jones, the Waldorf Astoria Spa, a very complete fitness center, the WA Kids Club, and complementary bus transportation to and from the Disney parks. Views from the Waldorf include the golf course, the pool area, the nature preserve, and some rooms face Disney.
The Waldorf offers 498 spacious deluxe rooms and suites with separate living rooms, and is connected to a 150,000 square foot convention center. The Hilton Bonnet Creek resort is attached to the other side of the convention center, so you can walk from the Waldorf to the Hilton without ever going outdoors. A great perk is that guests of both resorts can use the amenities at either resort, including the wonderful pools.
As you drive up to the Waldorf, the buildings' straight lines and rather stark appearance don't give away the fact that you're about to step into a beautiful retreat. Upon entering, the feel is upscale elegance. There can be no doubt that this resort was designed to create a peaceful and sophisticated atmosphere. The spectacular lobby art adds color, yet it's not overpowering.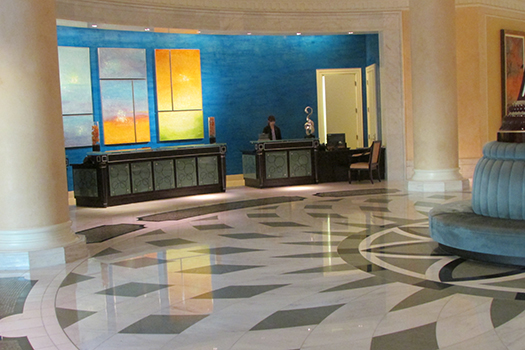 You'll see no sign of Disney here, and no Disney-style theming. The wide open space and the high oval ceiling, combined with the view of the pool, golf course and preserve through the large picture windows creates a calming atmosphere.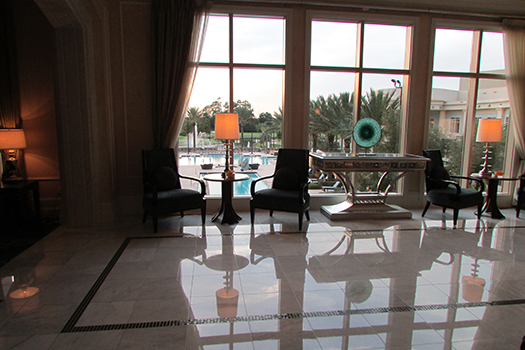 The large handmade clock in the center of the lobby chimes majestically on the hour. There's marble everywhere, and the exceptional staff awaits you with smiling faces, ready to quickly serve you in any way they can.
Infused water (lemon, oranges, cucumber, etc.) is available to guests in the lobby, and on Friday's you'll be served complimentary champagne by staff members dressed in tuxedo's and white gloves. Peacock Alley, the lounge located right off the lobby, is so inviting with its comfortable living room style seating groups and live music on a baby grand piano.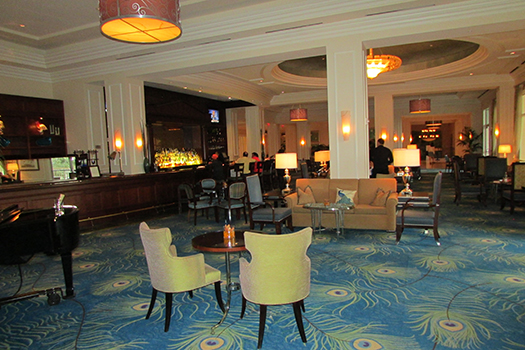 Though this resort will certainly appeal to adult travelers, children are more than welcome and will find much to enjoy. They'll especially enjoy the Hilton's 3-acre pool with its lazy river and water slide. Guests can feel comfortable with casual resort and park dress here.
Extra Fees at the Waldorf Astoria Orlando
As you research the price options, note that there's a mandatory daily resort charge, currently $25 per night which gives you the following:
Unlimited internet access throughout the resort and public areas, excluding meeting space
Unlimited access to in-room, local and toll free calls
Two welcome drinks in Peacock Alley or Aquamarine (house wine, beer or soft drinks)
Unlimited access to the resort's spa and fitness facilities
Access to the Waldorf Astoria Golf Club practice facility with complementary equipment rentals
20% off merchandise and apparel at the Waldorf Astoria Golf Pro Shop
10% off pool cabana rentals (reservations recommended)
10% off spa treatments at the Waldorf Astoria Spa
Parking at the Waldorf Astoria Orlando
Valet parking costs $26 per day plus taxes. Overnight guests have in/out privileges. When you arrive at the Waldorf, you'll be given a ticket with a number on it. When you're ready to get your car, you'll call Valet Parking and give them your number. They'll have your car for you at the front door, usually within 15 minutes or less. We appreciated being able to call from our room, and waiting there rather than at the valet area.
While self-parking is available for $18 per day, it's quite a distance from the Waldorf. However since it's closer to the Hilton, guests can self-park, enter the Hilton at the second floor and request a golf cart to take you to the Waldorf. You can also request a golf cart at the Waldorf to take you back to the Hilton. Speak to the valet parking staff. You can also walk the rather long distance through the Hilton and the Convention Center to the Waldorf.
Prior to our visit we were told that disabled guests with a valid state issued disability sign are offered a discounted rate of $18 per day, plus tax. When we arrived at the Waldorf the valet staff members were not aware of this policy, however when we shared that we had been told this by our media contact, they readily gave us this price. I would recommend that you share with them that you read it here, and request the discounted rate.
Other important Information about the Waldorf
Disney Perks: Guests of the Waldorf still DO NOT receive the Disney resort perks such as free parking in the parks, early 7 am Individual Lightning Lane reservations, or guaranteed park admission if the parks are full. However, there is bus transportation to the parks (see below), though it's not with Disney transportation.
Smoking: The Waldorf is a smoke-free environment. There are designated outdoor smoking areas. Guests who smoke in their rooms will be charged $250 per day.
Wheelchairs and Medical Supplies: For those in wheelchairs and scooters, all entrances have an automatic feature that can be used by pressing the appropriate button located near the entrance.
The Waldorf keeps one wheelchair available for guests, for short term usage only, such as transport from the lobby to a guest room. It's available on a first-come first-served basis, and only for use on property.
Though the Waldorf will accept mobility devices and medical equipment from any company, the official rental agency for the Waldorf is K & M Rentals. They offer scooters, wheelchairs, recliners, oxygen related equipment, strollers, cribs, and other home medical equipment such as microwaves and shower chairs. Their website is: www.km-rentals.com, and their phone is 407-363-7388. Guests can pick up their scooters or wheelchairs from the concierge in the main lobby.
The Waldorf Astoria Orlando Building
The resort has 15 floors. You'll enter at the 3rd floor, where you'll walk right into the main lobby. During our stay, the hallways where the guest rooms are always seemed especially quiet. We also found our room to be extremely quiet.
Guest elevators provide audio support with an announcement of the direction the elevator will be moving, a bell that chimes as you pass each floor, and an announcement of the floor number you've arrived at.
Fragrances: The resort uses fragrances throughout the building, but we're told they don't spray fragrances in the guest rooms. However some of the cleaning products used in the guest rooms may have fragrance in them. We had requested no fragrance in our room, and found it to be relatively fragrance free.
The Waldorf fragrances are created by the same people who make the Disney fragrances, such as the ones you experience on Soarin' in Epcot. In the Waldorf main lobby there's a device that emits an "Ocean Breeze" fragrance. We're told that the halls are periodically sprayed with a different fragrance. We found the fragrances to be very light, but noticeable. Those without allergies to fragrances will find it to be very pleasant and not at all overpowering. The guest room hallways have fresh flowers; however we observed only very small, occasional displays of cut orchids.
Special Requests at the Waldorf
The resort is willing to accommodate special requests. In fact in true Waldorf fashion, the comment that was made to us during our guided tour of the resort was that "we'll do whatever is needed to help the customer".  Rather than having a specific list of special requests they offer, they treat each guest individually, and they'll try to support your needs.
Handicapped rooms must be requested when you make your reservation. All rooms have down pillows which can be changed out for a non-down alternative. Our room had fresh roses in a vase, so request no flowers if you have allergies. There are a limited number of air purifiers available for use by guests. Microwaves may be available upon request.
Check-in & Check-out Information
Check-in is 4 PM and check-out is 11 AM. Late check-out may be requested on the day of departure. If you're driving, upon arrival the bell/valet staff will remove your luggage from your car, and will store it until your room is ready. They'll also park your car.
We found the valet area of the resort to be the one and only place that we often felt rushed, especially upon arrival for the first time. Since we have a mobility scooter that must be put together when we arrive, or broken down to store in the car when we leave, it takes us extra time. We often felt a sense of pressure to move more quickly than we could from the valet staff. On a positive note, they were very polite, they always offered to help with the scooter, and they offered us cold water bottles to take whenever we were leaving the resort. We eventually learned that we just needed to do what we needed to do, without getting stressed. They'll wait.
The lobbies do not have special children's waiting areas. The check-in counters do not have low counters for wheelchairs.
The check-in experience was calm, quick and easy, and the staff was exceptionally friendly and happy to please. Once your room is ready, you can head right over. Bell Services will bring your luggage to you.
Rooms at the Waldorf Astoria Orlando
Elegant, comfortable and clean, the rooms range from the standard room called the Deluxe Room, to a variety of suites. The Deluxe Room is 448 square feet, the Deluxe Suite is 945 square feet, and the upper level suites go all the way up to 2852 square feet. Deluxe Rooms with a King bed sleep two, and those with two queen beds sleep four. The largest suites sleep up to 6 people (not including infants).
The color pallet in all the rooms includes soft golds, yellows, and tans with some pale blue/turquoise accents. The beds feature white quilts with white sheets. The wood furnishing is dark and reflects quality. Windows do not open, so if you need fresh air, choose a suite with a walk-out balcony. Guest rooms have a doorbell. The front entry door is quite heavy.
Each guest bedroom has either a king bed or two queen sized beds. The beds have pillow-top mattresses and a mattress cover with a layer of additional pillow-topping. Down pillows are standard but can be substituted. All rooms have wired and secured wireless internet access, a high-definition 42-inch LCD television, blu-ray player with DVD/CD/MP3 capabilities, an alarm clock radio with an iPod docking station, a work desk, 2 soft cotton terry cloth bathrobes and slippers, iron and ironing board,  and an in-room coffee maker with coffee.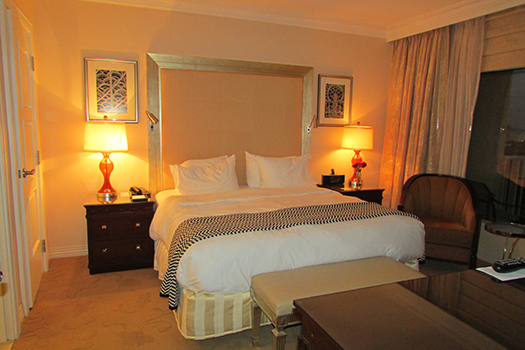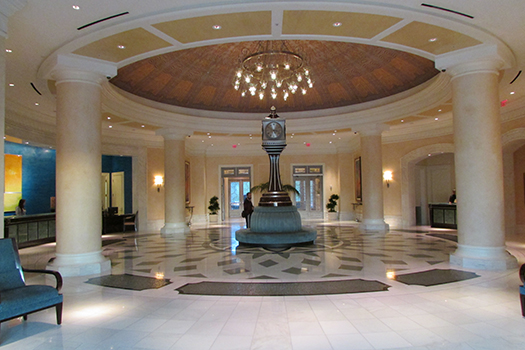 The coffee capsules supplied with the coffee maker are from Italy. The Waldorf did not have information on whether the coffee was gluten or allergen-free. Although we were told that they'd send up a pot of fresh coffee instead, we found that all the coffee in the Waldorf is from Italy, and as of yet, has not be researched for allergens or gluten.
We researched the coffee capsules found in our room. The company is called Nespresso, and on their site they say the following: "Nespresso coffees do not contain any source of food allergens or gluten." They also state that their coffee is Kosher. Coffees without flavors are "Passover" certified and Coffees with flavors are "Parve" certified. The coffee used throughout the restaurants is currently made by Lavazza. We have not been able to confirm the allergy and gluten status.
All rooms have small wine refrigerators that have racks for wine bottles, as well as regular racks for food. The Waldorf told us that they're cold enough for food and medication. We found that our food stayed fresh. They're slightly bigger than the refrigerators in the Disney resorts. There are no freezers in the units.
The Deluxe Room and the bedroom in the one bedroom Suites include a desk and chair, credenza, side chair, mirror, two night tables, phone, and LED reading lights on either side of the beds' headboard. Each room has a small safe suitable for laptops. In our room it was kept inside the dresser, on the bottom-most level. We found that it was physically challenging to bend down in that space, read the directions written on it, and access it.
The bathrooms feature Italian marble with a soaking tub and a separate glass enclosed shower. We especially enjoyed the shower with its spacious feel, large shower head and full water pressure. Bathrooms in the suites and handicapped rooms have a phone. All guest rooms have a hair dryer, lighted mirror, shoe horn, shower cap, soaps, shampoo, hair conditioner and body cream made by Salvatore Ferragamo.
The Deluxe suite offers a separate living room with an additional 42 inch TV, dining area with a dining table, pull-out couch that opens to a queen size bed, chair with ottoman, phone, and wet bar area. Most suites have walk-out furnished balconies with two chairs.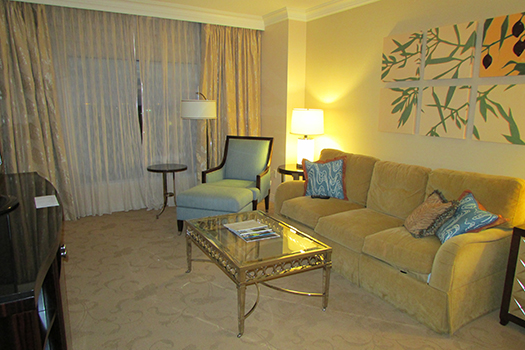 The higher level suites have everything these rooms do, but they increase in space and have some additional amenities. For example the Waldorf suite features an additional half bathroom, a larger kitchenette and breakfast bar. The Chairman's Suite has two bedrooms and two bathrooms.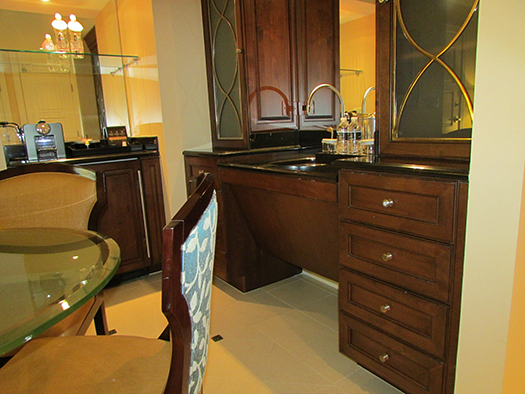 The twice-daily housekeeping seemed to go beyond what we've experienced in most other resorts. We arrived back in our room in the evening so we don't know what was done when, but after turn-down service we found the following in addition to what you'd normally expect: Our ice bucket filled, fresh bottles of water left, our room neatened, our slippers laid out by the bedside, soft jazz music playing on the TV, the room service menu on the bed, and many other small touches. The chocolate left on the bed varied, and sometimes included a chocolate with chamomile flavor for relaxation.
Handicapped rooms: They offer a variety of handicapped rooms which may include a roll in shower, support bars by the toilet and the bath tub, larger hallways, a room design that permits easy wheelchair access, lower level peep holes on the door, lower bars in the closet, ability to fit a wheelchair under the bathroom sink, a phone in the bathroom, etc. They can also equip rooms with hearing impaired equipment, such as a low vibration door bell, and a ringer amplifier with a strobe light.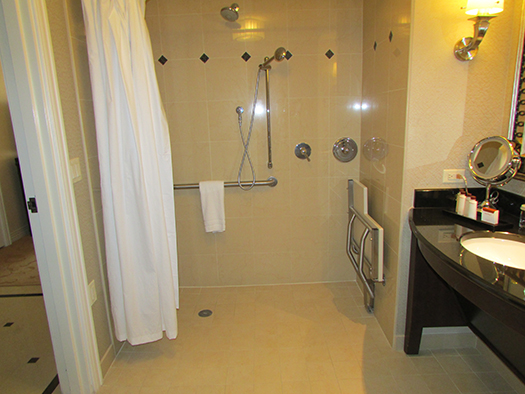 For those who don't need a handicapped room but use a wheelchair or scooter, all standard rooms and suites have sufficient space to permit them through the door. We also found ample space to park inside the rooms.
Dining at the Waldorf Astoria Orlando
Between the Waldorf and Hilton, there are currently 11 restaurant and bar locations, with another one being added to the Hilton's lobby as of January 2014. There's also 24 hour room service. If you're looking for a quick bite, you'll probably want to stick to your own resort because of the distance between the two. However if you're looking for a leisurely meal, or you are visiting the other resort's pool, you'll want to consider the other resort's options.
There is no food court or quick service dining option in either the Waldorf or the Hilton. The Hilton has a coffee bar called Muse that comes the closest to this, serving pastries, ice cream, yogurt and other snacks. It's located in the Hilton's lobby area. In the morning, the Waldorf's Peacock Alley lounge serves a small selection of grab-and-go pastries, coffee and tea. They also have an afternoon and evening menu of small plates, salads, sandwiches and desserts.
Aquamarine is the poolside restaurant, offering items such as burgers, salads, sandwiches, flatbreads and wings. Oscar's serves breakfast only, and offers a Champaign breakfast buffet and an a la cart menu. The Clubhouse Grill is located in the Waldorf's Golf Club, and serves items including salads and sandwiches such as Chicago-style Hot Dogs and Angus Burgers.
Bull and Bear is the Waldorf's signature restaurant, having been named Best Fine Dining by Orlando Home & Leisure. With tableside preparation and highly personalized service, the menu choices will be seriously tempting to those who enjoy fine dining. It includes items such as Flaming Lobster on the Spit, Escargot & Gnocchi, and 32-Day Dry-Aged Tomahawk Rib Eye.
Special Dietary Needs: The resort caters to people with dietary needs such as low fat, low sugar, etc. Also, the restaurants usually retain some special foods like gluten free bread. We were told that they will bring in special foods if they're notified in advance.
As we've noted, they'll usually go to great lengths to provide for your needs. However if you're dealing with allergies or celiac, please note that we observed inconsistent training among the chefs and restaurant managers with cross-contamination food preparation and handling. We were also told that the chefs in all the restaurants have not researched the ingredients of the foods they use for allergens or gluten. For example, during our visit to Oscars for breakfast they did not know if their coffee or butter contained gluten, and at Aquamarine they did not know the ingredients in their burgers or turkey. We spoke with the Manager of the Bull and Bear who expressed that his intent was to make improvements throughout the resort.
At this time, if you have allergies or celiac and choose to eat in one of the restaurants at the Waldorf or Hilton, I would strongly advise you to speak directly with a chef. Explain your needs in detail for avoidance of cross contamination, and explain what that would entail. Stick to simple unprocessed foods that you're sure of, such as eggs, fruit, and ground meat with no filler, etc. We were told that most of the foods are pre-made within the resort, so it may be difficult to get simple single ingredient foods such as plain ground beef. It was mentioned that they may be able to get some items from Bull and Bear, so if this is not offered, try requesting it.
Edit: As of March 2019 we have heard good reports about improvements with providing gluten free options. We still recommend handling special dietary requests with care as described above. 
Resort Shopping at the Waldorf
There are a couple shops in the Waldorf. One sells primarily clothing and handbags. The other also has clothing, as well as some snack foods, Disney items, and a small amount of sundries such as over the counter medications and toiletries. You can also buy Disney park tickets here, as well as at the Concierge Desk in the lobby.
Pools at the Waldorf 
Guests of the Waldorf can use their pool or the Hilton's pool. The pools are currently open from 7am to 10pm, weather permitting. There is no lifeguard on duty at the Waldorf pool, though there may be lifeguards at times at the Hilton pool. This is not consistent. There are no transfer tiers in any of the Waldorf pools. The pools are all heated to 82 degrees Fahrenheit.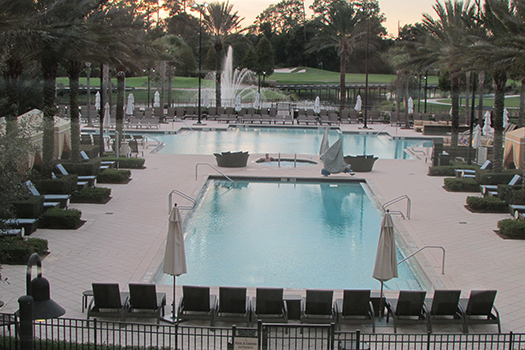 The Waldorf pool seems designed for comfort and calm. Adult travelers looking for a more adult experience may want to stick to the Waldorf pool. Although kids do swim in this pool, they'll be more apt to want to visit the Hilton with its fantastic lazy river and waterslide. The WA Kids Club offers arts and crafts (currently $5) during the day, and adults and kids are invited to the daily poolside Scavenger Hunt on Sundays' through Thursdays at 3pm, and Fridays and Saturdays at 6pm. Things get louder at the pool during this activity time.
In the morning during our visit to the Waldorf pool, we encountered some employees who were quick to help us set up, and provided soft cotton chair covers. They offered to help in any way, and I have no doubt that guests with physical limitations will find the staff extremely supportive. During the day, there were many times that we didn't see any employees by the pool. However there's a small hut there that has items for sale, and they disperse towels there. If you need help and don't see anyone, I'd suggest you let that attendant know.
The Waldorf's pool area sits in back of the resort, bordered by the golf course. It has two separate pools. The first small rectangular pool has private cabanas on two sides.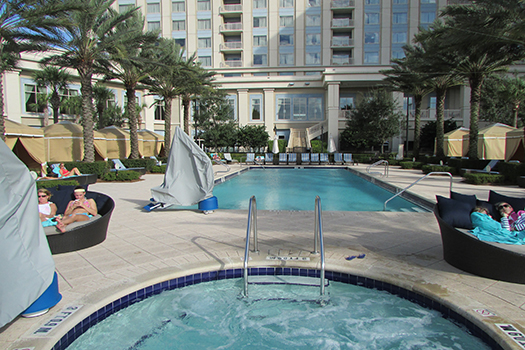 Although anyone can use this pool, we were told by a staff member that it's designed to be most easily accessed and used by the guests using the cabanas. This pool does not have zero entry, but it does have a pool lift.
Between that pool and the other is a hot tub, also with a pool lift. The second pool is much larger, and has a zero entry on one end. There is no pool lift.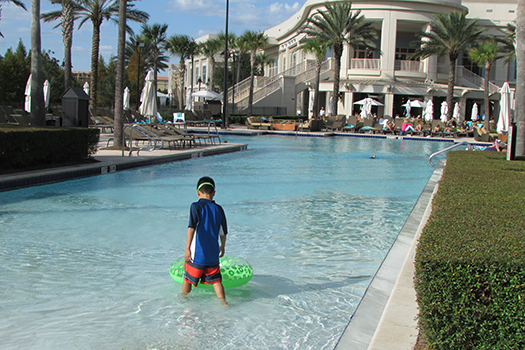 At one end of the pool you'll find Aquamarine, a restaurant and bar. They serve guests in their pool chairs, and there's also seating by the restaurant.
There are two fire pits between the restaurant and the pool, each surrounded with comfortable outdoor couches. On cool days and in the evening, this cozy area is well used.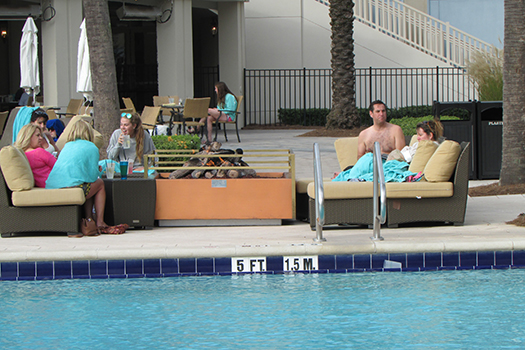 The restaurant is by the fire pits, and plays soft rock, and guests who are lounging on that end of the pool will hear it, however we found that we did not really hear it throughout the rest of the pool area.
There are restrooms by Aquamarine, including a family rest room.
The lounge chairs around the larger pool are more upscale and comfortable than your average beach chair. The lounge chairs that are provided for the cabanas have additional padding.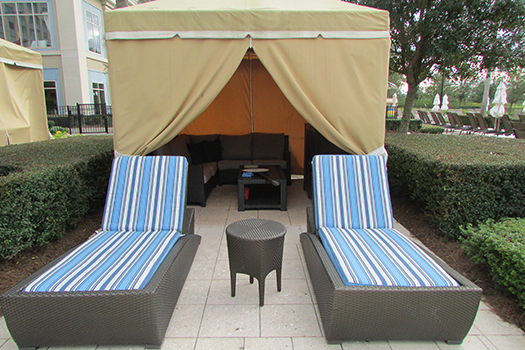 You can request chair covers for your lounge chairs. There are some umbrellas for shade between some of the lounge chairs. On windy days they can't be left open.
Guests of the resorts have unlimited towels, which we found to be thick and on the fluffy side. You may be asked to show your room key. Guests are not permitted to bring inflatable tubes or floating devices, but the small store by the pool sells them, along with sundries like suntan lotion, and sun glasses. Since my wife is on a special diet, we brought a small, soft cooler bag with food to the pool in case the restaurant could not accommodate her. Although the Waldorf states on their site that they don't permit food to be brought in, there were no objections raised.
There's poolside services for drinks and food. A server will come to your lounge chair with a menu from Aquamarine, and will serve you at your lounge chair.
Wheelchairs can get just about everywhere in the pool complex. The ground is smooth inside the pool area; however just outside the pool area the ground may be slightly bumpy for wheelchairs.
The entire pool area is protected from birds by fine, clear wires overhead. If you've ever hung out in an area filled with birds, you know this is a plus on many levels. They wires are not particularly noticeable, so they don't take away from the pleasant atmosphere.
Private Cabanas are available for an additional fee, and can accommodate up to 6 people. They include complimentary soft drinks, water and a fruit platter, poolside service with food from Aquamarine, 2 chaise lounges, a sofa and coffee table, a beverage refrigerator, a high definition LCD TV, and wireless internet access. Rates vary by season, but are currently $300 for a full day from 10am to 7pm.
Waldorf Astoria Spa and health club
Guests of the Waldorf can use the facilities in the spa, even if not purchasing any services.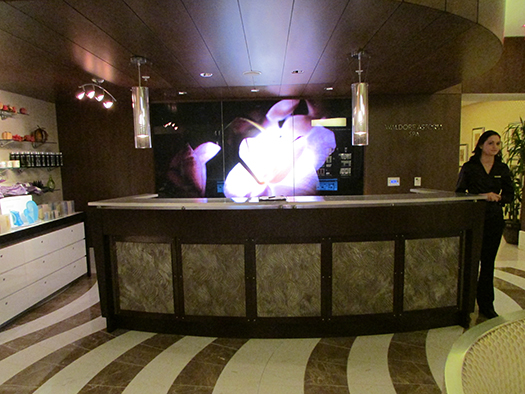 This includes use of the Experiential Shower which has 6 jets, a steam room with eucalyptus, the indoor hot tub which has a pool lift, and the tea lounge that has various teas and nut/fruit mixtures. These areas are separate for men and women.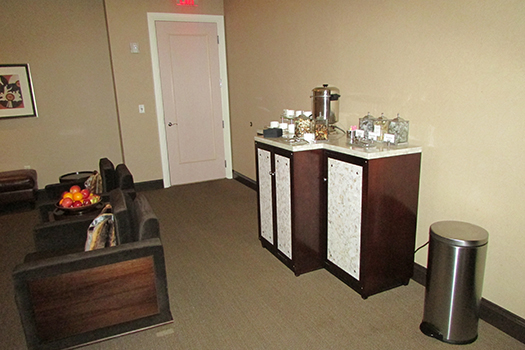 Salon services are available for hair and nails, as well as for make-up application.
The spa's shower area and bathroom are fully stocked with a variety of items you may need, including soap and shampoo. The entire area is accessible; however some guests may need to be accompanied to get through the doors because some of them are on the heavy side. Let them know at the front desk if you need this. There's usually an attendant who walks throughout the spa area, and will help as needed. The accessible shower is extremely spacious.
The spa has a mild fragrance throughout. We were told that they have fragrance free massage oil. If you need it, I'd suggest verifying that they have it, and requesting it in advance.
The 4000 square foot health club is also available to guests of the resort at no additional charge, or to visitors for $10.95 per day. Keeping with the Waldorf's atmosphere, it's one of the nicest facilities we've seen, if not the nicest. Atmosphere-wise, it's got that upscale feel with light hard-wood floors, floor to ceiling windows with views of the pool and golf course, towels and water bottles on each piece of equipment, fruit infused ice water and a clear mini refrigerator with cool water bottles, flat-screen TV's on most of the equipment, fresh fruit, a well-equipped children's play room with glass windows so parents can observe them, and some very calming spa-style music playing. It appears very clean and well maintained.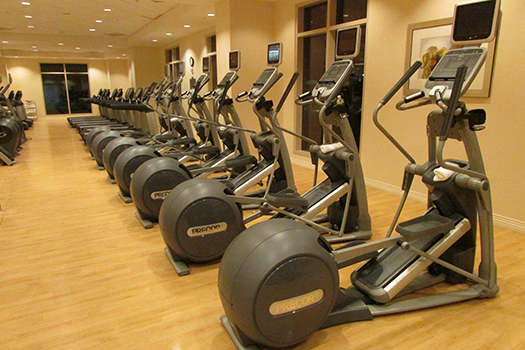 Most of the equipment is made by Precor. There are free weights, a number of weight training machines, as well as stationary bikes, treadmills and ellipticals. There are two recumbent bikes. There are also jogging trails and rental bicycles.The accessible bathroom stall with a door that opens outward.
Other resort information
 Entertainment: Peacock Alley offers live piano music nightly, a Royal Tea event on Sunday afternoons, and on select Friday and Saturday evenings they hold Bar du Chocolate with hand-crafted chocolate treats priced by the piece. See the pool section for children's poolside activities.
Childcare: Kids Club is available for children from ages 5 through 12. Day Escape is a daily program from 10:30-2:30pm.  Astoria After Dark  is an evening program that's available on Friday and Saturday nights only, from 6-10pm. There are special holiday evening programs December 26 – 31st. Kids are entertained with things like board games, arts & crafts, scavenger hunts, and t-shirt coloring.
Cost for each program is currently $75 for one child, and $25 for each additional child registered in the same or adjoining room. Advance reservations are required by 3pm for Astoria After Dark, and by 6pm on the prior day for Day Escape. They can be made through the Concierge or by calling 407-597-5388.
Transportation: The resort provides accessible luxury motor coaches to and from the four main parks and Downtown Disney. Guests pick them up at the porte-cochere in front of the Waldorf. They have a specific schedule of departures and returns for each park based on the park hours. Request it at the front desk or Concierge. The shuttles do not run to special ticketed park events such as Mickey's Very Merry Christmas Party.
During our visit we noticed that the shuttles to Magic Kingdom ran approximately every ½ hour, but they ran only hourly to Epcot and Hollywood Studios. The shuttle to Animal Kingdom had the least frequency, running hourly at times, but every two hours at other times. Shuttles to Downtown Disney started a 12:30pm during our visit, and ran every two hours.
 Pest Management: We were given the following statement by the Waldorf: "We have a certified professional company treat this area". We were not able to get details on methods used. One staff member mentioned that when outdoor spraying is needed, it's usually done early in the morning, such as 5am.
Laundry: Guests can use the valet laundry and dry cleaning service. The form and bag for your laundry is in your guest rooms' closet.
Business Center: The Waldorf has a computer and printer available to guests, should you want to print your boarding passes. During our recent stay I had need of a computer for business purposes, and was cheerfully permitted to use that same computer. It's a Mac and had Microsoft Word on it. It's located behind the front desk in the lobby.
Do you have more tips or thoughts on this topic?
Please feel free to post them in a comment below. We'd love your input.
Join our facebook group!!!!
Ask any questions, share your knowledge and just enjoy getting to know other Disney fanatics in our facebook group called Walt Disney World Made Easy for Everyone.
Also join me on Pinterest here.
GET UPDATES, NEWS & TIPS (IT'S FREE!!!)
Sign up below to stay updated on the newest information, tips and tricks to help you plan your perfect Disney World trip!