Facts at a Glance About Buzz Lightyear's Space Ranger Spin:
Park:

 

Magic Kingdom. Location: Tomorrowland. Height Requirement: None. Genie+: Yes. Individual Lightning Lane: No.
Quick Notes: Gentle ride through a life-size game where you shoot targets with a laser gun.   
Disney Warnings: None
Our Additional Cautions: Includes one slow speed spin as the ride car gets into position for the start of game, and several slow partial turns during the ride. Repetitive hand motion needed to shoot laser gun. Includes repetitive electronic noises and voices, bright primary and neon color, many spinning and moving targets. Various light effects including flashing lights, swirling lights, red laser lights, and a dim tunnel near the end of the ride that has lights moving towards the guests, giving the illusion of greater speed than is actually present. There are repetitive bright single flashes of white light in the scene after the tunnel. Each car can spin, but riders control this. There can be jerking when you spin your ride car, but this can be minimized by the rider. See other cautions below.
Length: Rides last about 5 minutes.
Special Needs & other info: You can ride this attraction in a manual wheelchair or transfer to a ride seat. Guests must transfer from an ECV to a manual wheelchair or walk in the queue. You can ride this attraction in a wheelchair or transfer to a ride seat. Handheld Captioning, Audio description. Automated External Defibrillators.

Overview of Buzz Lightyear's Space Ranger Spin
If you like video games, you might love this attraction. Adults and children alike seem to enjoy it and even find it addicting like a video game. You're inside a life-size game where you'll pilot your own "space cruiser" to defend the galaxy from Emperor Zurg. When you hit targets with your laser gun, you'll earn points. Each player's score is shown on a digital display, so you can compete with your ride companion. Some people ride this attraction over and over, trying to better their score.
Queue and ride car information for Buzz Lightyear's Space Ranger Spin
The queue is indoors but can extend to the outdoors in a sun-exposed area. The main queue can be quite stimulating due to the video-game–style sound effects, props, neon black light paint, and multi-colored lighting. This continues throughout the attraction.
Guests board from a moving walkway, which is moving at the same speed as the ride cars. The car has a hard bench seat that has a back. The front of the vehicle has a console with the laser guns and digital score boards. It hinges out like a door to allow passengers to board. Once you're in the vehicle, the front closes. Two adults can fit comfortably, though you could squeeze in a small child. However there are only two laser guns. People of size may wish to have their own ride cars.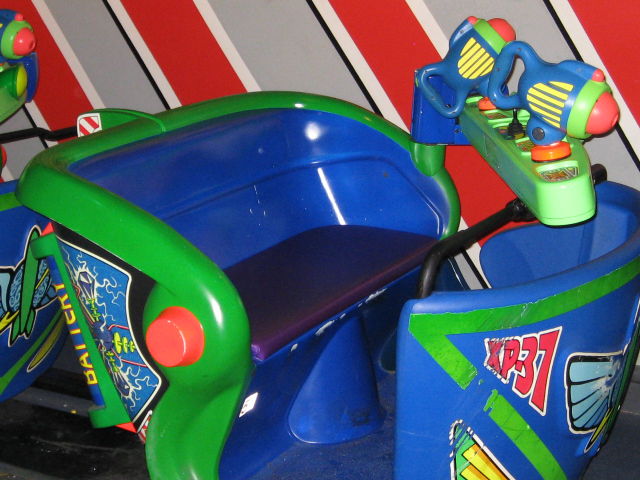 Wheelchair and mobility information for Buzz Lightyear's Space Ranger Spin:
Guests in ECVs must transfer to a wheelchair for this queue. Just prior to loading, people in wheelchairs will be directed through a hallway to board the ride where passengers are disembarking. The hallway itself is narrow, longish and dimly lit. It may be a challenge for someone with claustrophobia, but once you're through it, you enter a wide-open space for boarding.
Those in wheelchairs who can walk will park near the unloading area and will return to the same spot at the end of their ride. To both board and leave the ride car, you'll go on a moving walkway which matches the speed of the ride cars. If you need the walkway slowed or stopped, let a cast member know. To board you'll have to step up about 4-6 inches.
You can stay in a wheelchair on this ride. Let a cast member know if you want to do this, and they'll show you where to wait for a car that accommodates a wheelchair. The cast member will fold down a ramp from the back of the ride car. Then you and a companion will be directed on how to load into the ride car. After you're in, the back will be secured and you'll be on your way. Other members of your party will be directed to their ride cars. Many of the Cast Members are so efficient at loading wheelchairs that they can do it with only slowing the moving walkway slightly.
Additional details about Buzz Lightyear's Space Ranger Spin
Once on the ride, there are Z's on the targets, and you aim for them with your laser pistol. The pistols are fixed on the console so you don't need to lift them. People with vision problems may have difficulty spotting some of the targets. People with sensitive hand or wrist problems might find holding the pistol trigger down will create some discomfort. The pistol itself pivots up and down and side to side. When not held, it points up toward the ceiling; some guests may find it difficult or awkward to aim and fire it at the same time.
The environment is brightly colored, and there's a lot of activity and sound. It gets loud with the background space sounds, and the sounds of laser guns, music and space creatures. This can be very stimulating. There are some creepy space creatures, but they're flat and cartoonish, and only the extremely sensitive will be scared by them.
The ride itself is gentle, smooth and slow-moving. The ride cars stay level with a very slight incline at one point. Each ride car has the ability to spin 360 degrees and to change the direction your car is facing. This is controlled by a single joystick in the center of the two pistols on the front console. You don't have to turn your car if you don't wish to; however, there are a couple of times when the ride car gradually turns on its own to face the action. This is usually relatively gentle.
If you do wish to turn or spin your ride car, you can control the speed. You can move slowly or quickly—it's up to you. There can be a jerky motion when turning the ride car, but with a bit of practice you can minimize this. Most people will find that the joystick used for turning is easy to move.
Tip: If someone in your party has issues that can be impacted by the turning and spinning, you can refrain from turning your vehicle altogether (except the few times when the car changes direction automatically). However you won't always be facing the targets. Another option is to allow the person with the problem to control the turning in accordance with their comfort level. In this way he/she can anticipate any turns. This will help them to brace themselves properly, and it can help avoid or minimize vertigo, motion sickness and disorientation. Being in control of this function can also minimize fear.
There's a brief period of darkness. There is also a part of the ride where you pass through a tunnel-like room. There's a "spaceship moving through space" scene projected on the walls and ceiling. This is a special effect that was invented by Walt Disney, officially titled a "speed tunnel." This gives the illusion that you're traveling at great speeds through space. This section can be challenging for those with claustrophobia, motion sickness, dizziness and vertigo. Here's one person's suggestion:
"I've always had to close my eyes in here because of motion sickness. This worked fine, but once I realized that you could fire at the spaceship image for more points, the motion sickness stopped. By focusing my eyes on the ship as it moved around I didn't seem to get queasy."
Another way to control motion sickness during this part of the ride is to focus on the side walls or the floor of the tunnel. This will break the speed illusion and make you aware of how slowly you're actually traveling. For those with claustrophobia, remember that this part of the ride usually only lasts maybe 30 seconds to a minute. You'll be out shortly, and into an open area.
You'll pass through an area with a red light that projects many lines of light spinning against the walls. There's also a white light that flashes at close intervals when photos are being taken.
Check out Buzz Lightyear's Space Ranger Spin on video:
Check out other rides in Disney World's Magic Kingdom:
Adventureland 

Fantasyland

Liberty Square

Main Street USA

Tomorrowland
SEE RIDES AND ATTRACTIONS IN THE OTHER PARKS:
Join our facebook group!!!!
Ask any questions, share your knowledge and just enjoy getting to know other Disney fanatics in our facebook group called Walt Disney World Made Easy for Everyone.
Also: Like our facebook page here.
And join me on Pinterest here.
GET UPDATES, NEWS & TIPS (IT'S FREE!!!) Plus get a Free Disney World Planning Schedule Form.
Sign up below to stay updated on the newest information, tips and tricks to help you plan your perfect Disney World trip!