By Sue Guindon
First, we want to thank you for your service!
Since 2009, Walt Disney World has offered significantly discounted theme park tickets and discounts at their resorts for eligible military members and their families. Prices and details have changed each year, but it is wonderful that Disney "salutes" those who serve, to help them experience the parks and resorts! There are other discounts as well, which we'll cover here.
This article includes info on: 
Disney World Theme Park Ticket Discounts for Military
Shades of Green Military Resort
Discounts on all other Disney World Resorts
Memory Maker Discounts for Military
Special Events Discounts for Military
Who is eligible for these Disney World Military discounts?
The following are the conditions that can qualify you for Disney's Military discounts:
Active service (this includes active duty military, and current Guard and Reserve members)
Military retirees
100% service-related disabled veterans
Medal of Honor recipients
Foreign military members currently serving at a US base
The spouses of members in any of those categories
Who can NOT participate? Unfortunately Disney does not include veterans who served in the military but did not stay until retirement (usually at least 20 years).
The ticket purchaser must have a valid (current) eligible military ID to purchase the tickets.
Military Promotional Tickets

(Previously called "Armed Forces Salute" Tickets)
Once called "Armed Forces Salute Tickets", they are now officially called "Military Promotional Tickets", although many still refer to them as Salute tickets.
For 2019, these tickets are available at Walt Disney World: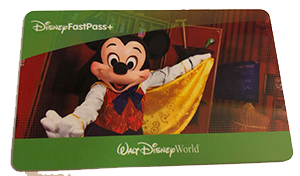 4-day Park Hopper – $241
4-day Park Hopper Plus – $291
5-day Park Hopper – $257
5-day Park Hopper Plus – $307
This is almost 50% off the regular price of these tickets, so it is a great deal!
For 2020, these tickets are available at Walt Disney World:
6-Day Military Promotional Tickets
With the Park Hopper Option: $301
With the Park Hopper Plus Option: $351
5-Day Military Promotional Tickets
With the Park Hopper Option: $283
With the Park Hopper Plus Option: $333
4-Day Military Promotional Tickets
With the Park Hopper Option: $265
With the Park Hopper Plus Option: $315
Visit Disney's site here to see the 2020 ticket options. 
How many tickets can we get? 6 tickets total. There's an exception if the total number of the member's immediate family (including the member, spouse, and dependent children) is higher than 6. In that case  they can purchase tickets for up to the number of immediate family members.
If an eligible guest has an Annual Pass, he or she does not need to use a ticket, so the limit for purchasing is 5 instead of 6.
Time of Use: Tickets can be used anytime during the current promotional period, which is 1/1/2019 – 12/19/2019. So if you bought a 5-day ticket in January, you could use 3 days in March, and the last 2 in October, as an example.
Non-Transferable: Like other Disney tickets, they are non-transferable. Once a ticket is used by an individual, it can only be used by the same individual.
Buying Additional Time: If you buy the 4-day ticket, you may add the 5th day at a later date for the $16 difference, but other than that, more days cannot be added to these tickets.
Upgrading to Annual Passes: You can use their value toward an upgrade to an annual pass, but you will only get credit for the cost you paid for the ticket, and the annual pass will expire a year after the date of first use of the ticket, not the day you upgrade.
Who can use these tickets? These tickets can be used by anyone the member wishes to give them to as long as the military member or spouse uses one of the tickets and is there at the time of ticket activation. A valid military ID or spouse ID may be requested.
How often can this be done? Each military member or spouse (not both, unless the spouse is eligible in his or her own right) may purchase up to 6 of these tickets each calendar year.
Where can I purchase Military Promotional Tickets?
It's best to buy in advance – and not at Disney World.
Although you can buy these tickets at a Walt Disney World ticket window, there are two reasons it is better not to.
You won't be able to make advance Fastpass+ Reservations. These tickets cannot be purchased in advance directly from Disney online or by phone. Only after buying tickets are you allowed to book Fastpass+ reservations.  If you wait to buy your tickets when you arrive at Disney,  you won't be able to book Fastpass+ reservations in advance, and the most desired Fastpasses get taken quickly.
You'll be charged tax. If you buy at the Disney ticket window, sales tax will be charged. Sales tax is not added for tickets purchased from a military ticket office, as described below.
Where can you buy tickets in advance?
Many military base ITT (Information, Tickets, and Travel) or MWR (Morale, Welfare, and Recreation) offices sell the tickets.
Exchange Certificates: If you purchase tickets from a base travel office, you will receive what are called Exchange Certificates. Exchange Certificates are cards with a code on the back. You can link the code to your My Disney Experience account, to be able to book Fastpass+ before your visit, within the appropriate booking window.
Allow time: Some ITT offices need to order the tickets, so give yourself some time before your FP+ booking window.
To activate your Exchange Certificates: You will need to activate the tickets when you arrive at Walt Disney World. To do this, you can visit any ticket or guest relations window, at the parks or Disney Springs, to show your eligible military ID. At that time, the cast member will give you activated plastic ticket cards. If you have a MagicBand, you do not really need the cards, but it never hurts to hang onto them as a backup. Even if you do have a MagicBand, you still need to activate the tickets, by showing ID.
Where else can you buy tickets in advance?
Shades of Green: If you don't have a base near you that has a travel office, you can also order the tickets to be shipped to you from Shades of Green, the military resort at Walt Disney World. If you are staying at Shades, you will receive an order form via email before your trip, and they will have the tickets for you at check-in.
If you are not staying at Shades of Green, you can still order tickets from the ticket office there. Send an email to advancedtickets@shadesofgreen.org, requesting an order form. You fill that out and email it back. Within a day or so, they will call you for your credit card information, and a few days after that they will send the tickets to your home via FedEx ($10 shipping fee added to your order). You must be present to sign for the delivery.
There is one significant benefit to ordering from Shades of Green — you will receive activated tickets, not the exchange certificates. This saves time upon arrival, because you can proceed directly to the gate to enter the park of your choice.
Need more days than 5? Or have more extended family members or friends than your allowed 6 tickets?
There are also slightly discounted tickets available from some ITT locations and the Shades of Green ticket office. These discounts are much smaller, but the tickets are still tax free, so it is a good option for those needing more than 6 tickets, or tickets for longer stays.
Here is a link to the price list from Shades of Green: TICKETS
Looking for military ticket info for beyond 2019?
There is never a guarantee that the promotion will be offered each year, but traditionally, the details for the coming year have been released in late September of the previous year.
Military Discounts at All Disney World Resorts
In addition to the Military Promotional tickets, Disney also offers discounts for stays at their resorts, to eligible members. The same eligibility requirements apply as for the tickets. Availability and the amount of the discount varies seasonally, but it is up to 30% off at value resorts, 35% at moderates, and 40% at deluxe resorts. Call Disney directly to check availability.
Each eligible member may reserve up to 3 rooms with the military discount. When you make a reservation with the military discount, the cast member will give you the option to add a Disney Dining Plan, even if you are using Military Promotional Tickets.
As mentioned within the ticket information, there is also a military resort on Walt Disney World property, Shades of Green.
Call Disney for information on resort Discounts.
Military Discount on Memory Maker
One other generous discount that Disney offers to eligible military families is on Memory Maker. Normally priced at $199 (or $169 purchased at least 3 days in advance), military may purchase Memory Maker for just $98.
This must be purchased in person, at any guest relations window, by showing valid military ID (same eligibility requirements as tickets and resort discounts). Once purchased and linked to your My Disney Experience account, it can be used immediately. In fact, if you have photos linked from a few days prior to your Memory Maker purchase, they will also be available for download.
The same timing limitations that applies to regular Memory Maker also applies to the military discounted version. You can capture photos for up to 30 days, and they expire 45 days after they were taken.
Military Discount on Special Events
Disney has also offered military discount tickets for some dates for special events, like Mickey's Not So Scary Halloween Party. For 2019, the discount for MNSSHP is:
$15 off on all August party dates
$15 off all September dates up through 9/24
$4 off on 9/27, 9/29, & 10/1
$2 off on 10/3, 6, 8, 10, 14, 15, 17, 20, 21, & 24.
Other dates do not offer a military discount. Tickets may be purchased through the Shades of Green ticket office or at any ticket window at the parks. At the time of this writing, no details have been announced yet for for Mickey's Very Merry Christmas Party.
FOR ARTICLES WITH STEP BY STEP DIRECTIONS ON HOW TO PLAN YOUR DISNEY WORLD TRIP, VISIT HERE. 
TO CHOOSE WHERE TO STAY ON YOUR TRIP, VISIT HERE. 
Join our facebook group!!!!
Ask any questions, share your knowledge and just enjoy getting to know other Disney fanatics in our facebook group called Walt Disney World Made Easy for Everyone.
Also join me on Pinterest here.
GET UPDATES, NEWS & TIPS (IT'S FREE!!!)
Sign up below to stay updated on the newest information, tips and tricks to help you plan your perfect Disney World trip!