When you plan for Disney World, you'll need to pick dates. The dates you choose can make a giant difference to the quality of your experience.
How to Pick Travel Dates for Your Disney World Vacation
Some people don't have the luxury of flexibility when it comes to choosing their trip dates, but if you do, there are several things to consider that fluctuate wildly and can change your experience dramatically. Those things are:
Weather at Disney World
Crowd Conditions at Disney World
Special Events at Disney World
Seasonal pricing changes
Holidays at Disney World
We'll walk you through the 4 easy steps to pick your best dates, given your personal preferences. First we'll give you some general rules for picking your dates, and below we'll walk you through the steps.
General Planning Rules for Choosing Your Disney World Travel Dates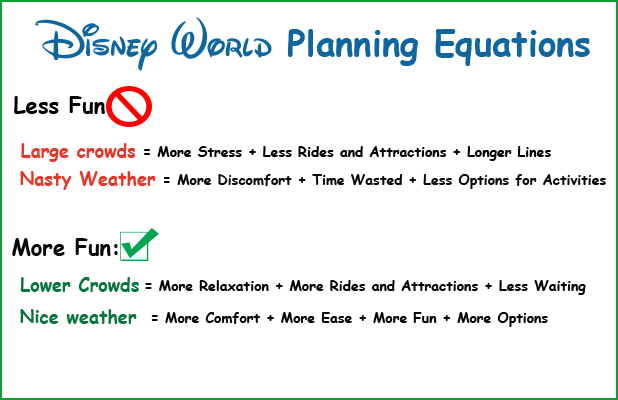 Remember, these rules aren't made in stone. You can have a great time at Disney any time, but you'll have to plan really well and adjust your expectations of what you can accomplish.
Dates we avoid for our Disney World trips
You're more likely to have a lot more fun and get a lot more done at Disney World if you schedule your trip well. Here are times you may want to avoid if at all possible, along with an explanation of why:
– Summer – Especially June, July and the 1st half of August. It's intensely hot, humid and rainy, and extremely crowded because American kids are out of school. If you must go in the summer, try to visit as early in June as possible, or as late in August as possible.
– Holidays and Holiday weekends – Crowds can soar. Avoid the 4th of July, Easter, Thanksgiving, Christmas, and the days surrounding those dates.
– Spring Break – Big crowds! A lot of schools start Spring Break around March 5th, but the majority start from the 12th or 19th of March. So avoid the second week of March through the first few days of April to avoid these crowds.
If you must schedule your trip during one of the above times:
You can still have a great time at Disney World. However, you'll have to re-adjust your expectations, so they're realistic. For one thing, expect to spend a lot more time waiting in lines. You'll also need to prepare really well in advance so that you can get the most out of your trip. You can create your own park touring plans using a site like touringplans.com to help you minimize the time you'll wait in lines.
What dates should you pick for your Disney World trip?
Simply said, look for dates that have:
Lower Crowd Conditions
Dryer weather
Disney Festivals and/or Special Events if you're interested in
One consideration is the festivals at Disney World. We really enjoy the Disney Festivals, and we often schedule our trips around them. There are also Special Events that many people really enjoy. The main Festivals that happen every year are:
Epcot Flower and Garden Festival
Epcot Food & Wine Festival
The Annual Special Events that we've had this year include:
Mickey's Not So Scary Halloween Party
Night of Joy (Christian bands and singers)
Disney's Wine & Dine Half Marathon Weekend
Disney Princess Half Marathon Weekend
Star Wars Half Marathon
Walt Disney World Marathon Weekend
Sounds like Summer (Tribute Bands play on the weekends in Epcot)
Holidays Around the World at Epcot
Most if not all of those events are held annually. If those interest you, you'll want to take that into account. You'll see the Festivals and Special Events on the calendars we'll show you below. You can also look on Disney's site for Special Event and Festival information here. There are additional events posted on ESPN's site here.
So here are the steps for picking the best dates for you!
Five steps to follow to pick your dates for your Disney trip!
Step 1. Check Out the Effect of Weather on Your Trip:
Weather is an important planning factor for many people. Read our article that explains the weather during various seasons at Disney, how it can impact your trip, and which times tend to have more comfortable weather.
Look at our recommendations and pick your favorite times based on weather to visit Disney.
We'll also be showing you calendars in Step 3 which have the average high and low temperatures, as well as the average rainfall inches.
Step 2. Check out Pricing Fluctuations (if it's important to you):
Ticket and resort rates vary at Disney. If you need to visit during lower rate periods to get lower pricing, take a look here at the Disney World Resort Room Rates & Seasonal Dates page on Mousesavers.com to see how the room rates change by date. Then pick the dates that make sense considering your date preferences from step 1.
Step 3. Check out the Crowd/Special Event Calendars: 
Crowds are currently difficult to predict, post Covid. It seems that because of all the cancelled vacations, people are making up for lost time. We're finding that although crowds have been historically low at certain times, those times are now crowded. At some point things may go back to normal, but it's impossible to predict when that might be.
Regardless, there are a couple of websites that post crowd Calendars. These will give you an idea of the possible crowd levels throughout the year. Though, these are not always 100% accurate. That's even true before the Covid cancellations. Still, I have found over the years that they would usually come close and give a reasonable sense of what to expect.
So here's what you do: Using the dates you've gotten in steps 1 and 2, we suggest that you find the dates within those time periods that have the lowest projected crowds. If you want to be there for a particular event or festival, factor that in also.
Here are some sites that have crowd calendars:
For more information on Disney World crowds and creating your touring plans, check out this article here: Are Crowds at Disney World Important to Consider? Picking the Best Travel Dates
Step 4. Park Reservations:
You'll want to check Disney's site for the availability of PARK RESERVATIONS. You won't be able to enter a park without a valid ticket and a park reservation. If there's low or no availability for park reservations, you'll want to choose other dates.
Step 5. Choose Extra Dates:
Have a couple back-up dates if it's at all possible for you, in case the resort you're hoping to stay in isn't available during your first choice of dates.
You're done. Now you can move on to the next step in planning your Disney World trip. Visit our planning page to continue: HOW TO PLAN YOUR DISNEY WORLD TRIP
Join our Facebook group!!!!
Ask any questions, share your knowledge, and just enjoy getting to know other Disney fanatics in our Facebook group called Walt Disney World Made Easy for Everyone.
Also join me on Pinterest here.
GET UPDATES, NEWS & TIPS (IT'S FREE!!!)
Sign up below to stay updated on the newest information, tips and tricks to help you plan your perfect Disney World trip!