All you need to know about Disney World's Boat Transportation
Before we give you all the facts, here's a Disney World announcement about their boat transportation.
Disney Announcement: Walt Disney World Watercraft Service Between Resort Hotels Returns Oct. 1, 2023. All aboard! Guests can once again sail across Bay Lake between Disney's Contemporary Resort, Disney's Wilderness Lodge and Disney's Fort Wilderness Resort & Campground on the watercraft "blue route" beginning Oct. 1. This route will be available to Guests daily beginning at 3 p.m., making it even easier to grab a bite to eat at a neighboring resort.
Disney World's Boat Fleet is HUGE!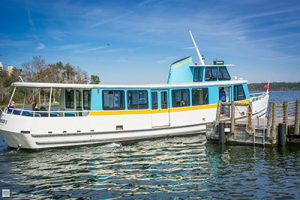 One of our Disney sources told us that Disney has the ninth-largest boat fleet in the world. We're not certain if this is legend or fact, but I do believe it's possible! Throughout Disney World, there are connected waterways and lakes, as well as closed lakes. Many of the resorts, some of the parks and Disney Springs are on them, and some have boats that guests can ride for free for transportation purposes.
First we'll discuss the boats that are for transportation purposes, and then we'll discuss the boats that are for entertainment purposes.
Boats for Transportation Purposes at Disney World
Some of the Disney transportation boats are open-sided with a covering over the top, and we really enjoy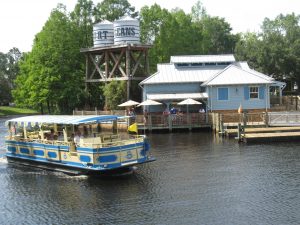 riding those. Whenever possible, we choose them over buses, as they're a pleasant way to enjoy the nature of Disney and take in some great views while getting to your destination. The boat ride from Port Orleans Riverside and French Quarter to Disney Springs and back is particularly pleasant. It passes through the woods for much of the ride. You can see one of those boats in the photo to the left arriving at Port Orleans Riverside.
For those who are sensitive to gas fumes, as the boat reverses we've found that you may get a strong whiff, but because the boat is open, it doesn't usually last long.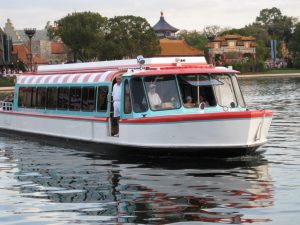 Some Disney transportation boats are enclosed, with a large seating area inside and a small outside seating area in the back. We find these enclosed boats uncomfortable and only take them if necessary. The indoor area is usually not well cooled and there's no hope of a breeze. Unless it's a very cool day, the outdoor seating area in the back of the boat can be uncomfortably hot. Depending on the sun's position, it can beat down on you for your entire trip. We also find that there are heavy gas fumes in this outside area. Those who are sensitive to sun, heat or fumes may wish to sit inside. Although it's not well cooled there, it can be cooler than outdoors in the full sun, with fewer gas fumes as you move further toward the front of the boat. Those who are sensitive to fumes may wish to bring a cloth to breathe through, or use another form of transportation.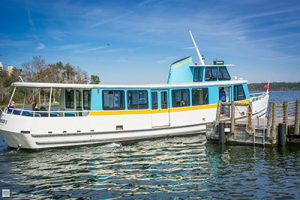 Here are the boat routes around Disney World:
Blue Flag: Runs between the Fort Wilderness, Wilderness Lodge and Contemporary Resorts. These are usually not ECV accessible.
Green Flag: Runs between Fort Wilderness and the Magic Kingdom.
Gold Flag: Runs between the Magic Kingdom, Grand Floridian and the Polynesian.
Red Flag: Runs between Magic Kingdom and Wilderness Lodge.
DVC Ferry: This is the Disney Vacation Club Ferry and there are currently two routes. The first runs between Disney Springs and the Old Key West resort. The second runs between Disney Springs and the Saratoga Springs resort.
Ferry Boat: Runs between the Ticket and Transportation Center and Magic Kingdom.
Sassagoula River Cruise: Runs between Disney Springs, Port Orleans Riverside and Port Orleans French Quarter.
Friendship Boats: These boats run between Hollywood Studios, Epcot and the Boardwalk, Yacht & Beach Club, Dolphin and Swan Resorts.
Disney Springs Water Shuttle: This shuttle takes guests to different sections of Disney Springs. These boat locations and schedules are currently in flux because of the changes in this area. These boats are the same type of boat as the Sassagoula River Cruise boats, but they're themed differently.
Friendship Launches: These boats run on Crescent Lake in the Epcot World Showcase.
Boats can stop running temporarily during thunderstorms and inclement weather.
Boats for Entertainment Purposes at Disney World
Some resort locations and Disney Springs have boats you can rent for fun. Just go to any boat rental location to rent a boat. These boats are not reserved in advance. We've even heard that if you're in a boat rental location in the Magic Kingdom resort area, if they don't have the boat you want, they'll bring it in from somewhere else.
Fireworks Cruises and Other Specialty Cruises at Disney World
Guests can reserve a boat to view the nighttime Epcot or Magic Kingdom fireworks shows. There are different levels of boats, some of which should be accessible. Keep in mind that the Epcot cruise often gets smoky from the fireworks. There are other specialty cruises such as children's Pirate Cruises, and there's even a yacht that can be rented. Call 407-WDW-PLAY for reservations. A credit card is required to make the reservations, and you must cancel at least 24 hours in advance to avoid charges.
Do you have more tips or thoughts on this topic?
Please feel free to post them in a comment below. We'd love your input.
Join our Facebook group!!!!
Ask any questions, share your knowledge, and just enjoy getting to know other Disney fanatics in our Facebook group called Walt Disney World Made Easy for Everyone.
Also join me on Pinterest here.
GET UPDATES, NEWS & TIPS (IT'S FREE!!!)
Sign up below to stay updated on the newest information, tips and tricks to help you plan your perfect Disney World trip!