Facts at a Glance About Monsters, Inc. Laugh Floor:
Park:

 

Magic Kingdom. Location: Tomorrowland. Height Requirement: None. Genie+: Yes. Individual Lightning Lane: No.
Quick Notes: An interactive animated comedy show based on the cartoon characters from Monsters, Inc. with a variety of monsters attempting to make the audience laugh.  
Disney Warnings: None
Our Additional Cautions: Includes minor smoke effect, siren and flashing lights as the 'laugh container' gets full at the end. Audience participation includes yelling, waving arms in the air. Random guests are chosen to appear on large screen and a few guests will be asked questions. See Social embarrassment may be a concern for a few people during each show.  
Length: The pre-show is about 4 minutes; the main show is approximately 15 minutes.
Special Needs & other info: Guests can stay in their wheelchair or ECV. Sign language interpretation is available (check with Disney for days). Since show times vary, you can get the schedule for that day at Guest Relations. Assistive Listening, Video Captioning. Automated External Defibrillators.

Overview of Monsters, Inc. Laugh Floor
Come to laugh, joke and be entertained by your one-eyed host Mike Wazowski and friends from Disney-Pixar's Monsters, Inc. for an interactive show at the Laugh Floor Comedy Club. This hilarious theater show is modeled after a traditional comedy club. The premise is that the monsters used to run their world on energy harnessed from scaring people, but now they're harnessing the energy from laughter instead. They do their best to make you laugh using the interactive techniques that debuted in Turtle Talk with Crush at Epcot. The audience interacts live with the animated monsters.
There are some standard jokes that are used over and over, but much of the show is improvised and interactive. We find that it's always funny with enough fresh humor to make it worth the repeat visits. Periodically the standard jokes are changed also. The voice actors do a great job, and they're clearly real and competent comedians.
Queue and seating information for Monsters, Inc. Laugh Floor
The queue is indoors. Guests stand during the pre-show, which is viewed on monitors in the queue. Seats are long, hard plastic bench seats with backs. The theater seats approximately 400.
Wheelchair/ECV information: Guests using wheelchairs and ECVs enter a separate queue to the right of the main queue, separated by a chain. Those guests will be led into the theater about a minute before other guests and will be seated in the front few rows of the theater at locations marked with a wheelchair symbol. Some are in the front row and some are at ends of rows in the first few rows.
Bench seating for the rest of your party is next to the marked wheelchair spots. It's important to park where you're shown because there are some bench seats with wheelchair markings that have an aisle next to them which must stay clear.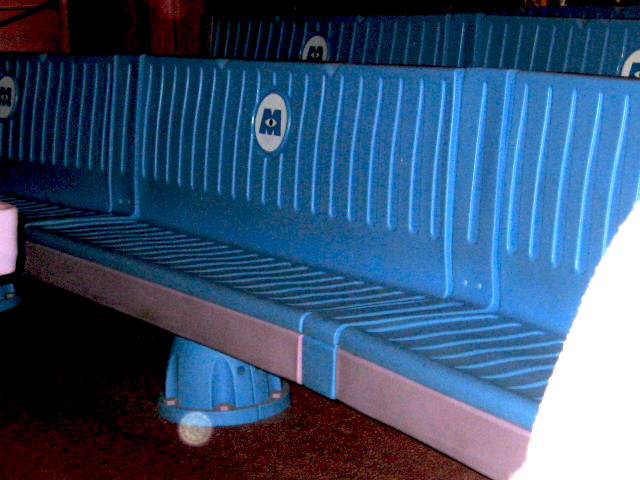 Additional details about Monsters, Inc. Laugh Floor
The monsters are meant to be funny and lovable, not scary. Roz is a critical, unpleasant monster, but she's funny and doesn't seem designed to cause fear.
During the pre-show, you can text a joke that may be used in the show. You won't receive compensation, and Disney reserves the right to use the joke in other shows/media, but you'll be thanked by first name and hometown during the show if your joke is used.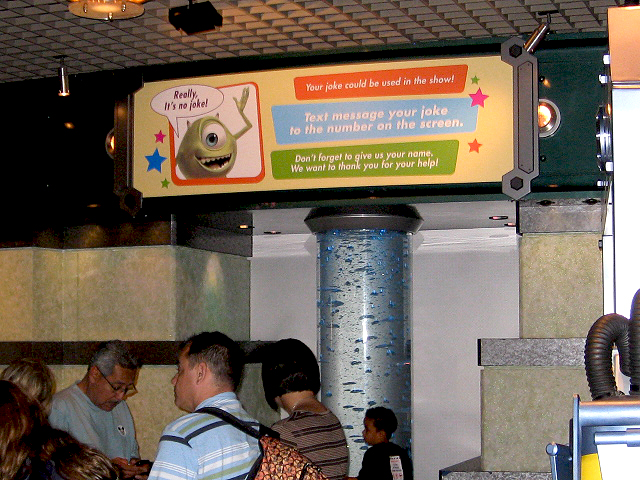 The theater has two small screens and a large screen in the center. There are numerous hidden cameras positioned throughout the show building. The star of the show, Mike Wazowski, and a few other characters created for the show tell jokes and ask members of the audience questions.
A few audience members will find themselves on camera, projected onto a large screen at the front of the room. They'll be asked to do something simple like make a scary face or answer an easy question. There may be silly captions put underneath their images onscreen. Cast members may approach with a microphone to capture the responses. The characters gently poke fun at some audience members. In fact they usually pick one person as the target of their jokes to be shown over and over as "that guy". It's all in good fun, but those who find this uncomfortable may wish to bypass the attraction. There does not seem to be a "safe" seating location to avoid the cameras.
There's a "laughter canister" being filled by the audience's laughter in order to power the city. Towards the end of the show it's filled to capacity, and a small amount of smoke comes out around the canister. This is on the right side of the screens at the front of the auditorium. The smoke may reach some of the audience. The auditorium is large enough so that if you sit towards the back of the theater you should be able to avoid the smoke.
Check out Monsters, Inc. Laugh Floor:
Check out other rides in Disney World's Magic Kingdom:
Adventureland 

Fantasyland

Liberty Square

Main Street USA

Tomorrowland
SEE RIDES AND ATTRACTIONS IN THE OTHER PARKS:
Join our Facebook group!!!!
Ask any questions, share your knowledge and just enjoy getting to know other Disney fanatics in our Facebook group called Walt Disney World Made Easy for Everyone.
Also: Like our Facebook page here.
And join me on Pinterest here.
GET UPDATES, NEWS & TIPS (IT'S FREE!!!) Plus get a Free Disney World Planning Schedule Form.
Sign up below to stay updated on the newest information, tips and tricks to help you plan your perfect Disney World trip!