Transportation: Rides to and from the airport as well as rides on and off Disney World property
Are you looking for a ride from or to the airport? Or perhaps you don't wish to rent a car, but you're still looking for the occasional lift to somewhere that Disney doesn't offer direct transportation to. Maybe you need to leave the Disney World grounds. Or perhaps you're just willing to pay to avoid the crowds and the waiting in line for Disney transportation. In any of these cases, you'll have several options such as:
We'll cover all your options, including airport rides.
Options to Ride from the airport to the Disney World and Area Resorts & Back
Mears Connect Driven By Sunshine – AIRPORT GROUND TRANSPORTATION:
Once Disney's Magical Express program had been removed, Mears became the only airport to Disney World and back shuttle service. Then they got a competitor called The Sunshine Flyer (see below). The two companies have now combined to offer what's called Mears Connect Driven by Sunshine.
Mears Connect Driven by Sunshine is one option for a ride to take you from the airport to the Disney World resorts, and back again. They also stop at some Disney Springs and other Disney area resorts. It's a paid service. They offer a standard shuttle service and an express service option that goes right to your Disney resort, for a higher price. They do have accessible vehicles available upon request. They're available 24/7. 
Visit here for details and registry for Mears Connect Driven By Sunshine airport shuttle on the Sunshine site. 
Or you can visit here to read and register for Mears Connect Driven by Sunshine on the Mears site.
Taxis, Luxury Cars and Limousines in Orlando and at Disney World:
Mears is the taxi service contracted to provide service at Disney (Checker Cab, City Cab and Yellow Cab are all divisions of Mears). No other cab company can use the cab stands at Disney. In addition to regular taxis, they also have luxury vehicles including sedans, SUVs, vans and Limousines. We have heard that Mears tends to be more expensive than Uber.
Costs: Mears allows you to calculate and book your ride online. Visit the site to get pricing for the destinations your planning on:
Accessible Taxis (wheelchairs, ECV's and Scooters): Mears has accessible taxi-vans that will take a wheelchair or scooter, but it can take a while to get one of those to you since there are a limited number of them and they're usually out in service. Town Cars are not accessible, and can't accommodate wheelchairs or scooters.
Mears will pick up at the train station, but they won't take reservations for that location. You can call them a stop or two ahead though.
Uber does not appear to offer accessible cars in Orlando at this time.
Mears Contact information:
Orlando Airport and Attraction Shuttle Reservations – (407) 423-5566 or (855) 463-2776
Mears Luxe – Chauffeured Services – (866) 435-5686
Group Transportation Sales – (407) 839-1570
Taxicab Dispatch – (407) 422-2222
Mears Connect (Airport to resort service replacing Magical Express) – (407) 422-4561
Mears Shuttle (407) 423-5566
Mears Shuttle Service to Universal and Sea World from Disney World
If you're going from a Disney World resort to either Universal or Sea World, Mears offers shuttle service. At the time of this writing the cost is $21 round trip, and it's free for children under 3 years old. The shuttles are a shared ride service, so they may be stopping at several Disney and non-Disney resorts. It's usually 3-4 properties. Mears will send either a van or a bus to pick you up. If you need an accessible vehicle let them know and they can send a bus with a lift. See the phone number above.
Using Uber or Lyft in Orlando and at Disney World
With Uber and Lyft, local people sign up to be drivers and use their own cars to taxi customers. These companies have been giving regular taxi services a run for their money. They tend to be far less expensive. Of course it's a completely different kind of service, but it's become very successful and mainstream. Many of the members of our Disney Facebook group (feel free to come visit and join) have used it, and really prefer it to regular taxis.
They can take you to your destinations within Disney World. They can also take you to other locations in the Orlando area, and beyond such as Tampa.
How does Uber & Lyft Work? 
You download an app to your phone (Android, iOS, Windows).
You use the app to request an Uber driver to come take you to your destination. You can choose between different levels of cars.
Of course, it's the more luxurious the vehicle, the more expensive the fare. They have a category for minivans and large SUVs that will take up to 6 passengers.
Cost of Uber: To get an example of cost, you can use the Uber fee estimator here.
Cost of Lyft: Here's the Lyft Fare Estimator.
Using Uber or Lyft from or to Disney locations
Your Uber or Lyft driver will pick you up and drop you off on Disney property. There are a couple restrictions in the following locations:
Coronado Springs rooms. They can only pick you up at the main lobby entrance.
At Magic Kingdom you can be dropped off or picked up at the Taxi queue in the Ticket and Transportation Center where you'll pick up either the monorail or the boat to Magic Kingdom's gate. They can not take you to the gate.
Because of the ongoing changes at Disney Springs, pick-up and drop-off locations change. You'll need to check for current locations.
They're allowed into all the parks, and you won't be asked to pay for the car to enter.
Car seats for children with Lyft and Uber in the Orlando area
Uber is currently offering some vehicles with car seats. Lyft is not.
NEED MORE THAN ONE CAR SEAT? If you do need more than one car seat, you may have to provide your own. Here's an article we found which has some detailed information on what car seats might work.
As mentioned above, at this time Lyft is not providing car seats in the Orlando area. Of course that could change. Check with Lyft for their current rules here.
UBER CAR SEATS: For child seats with Uber, they may be able to provide one forward facing car seat for a child who is at least 12 months old and 22 lbs and 31 inches tall (more details on Uber's car seat policies can be found here). There's currently an addition charge of $10 for that. Uber "car seat vehicles" are equipped with one car seat per car. These are the cars that are considered part of the UberX category of vehicles. This might include a Toyota Camry and Honda Accord. This is the Uber car seat FAQs page here. Here's Uber's home page.
Minnie Vans at Disney World

Disney has its own form of taxi, with the Minnie Mouse themed Minnie Vans. Each Minnie Van can carry up to 6 guests. For up to date Minnie Van details on Disney's website, visit here.
Regular Minnie Vans are accessed through the Lyft app. Accessible vans are available and accessed by phone. See the accessible information below.
Minnie Vans do tend to be more expensive than regular Lyft vehicles. The pricing is based the distance between your pick-up location and your drop-off location. The Minnie Vans can take you:
To and from the airport
To and from anywhere on Disney property
Airport travel in a Minnie Van:
To get a Minnie Van reserved to take you from Orlando International Airport to your Disney Resort hotel, you can book up to 6 months in advance. To arrange for one way travel in a Minnie Van, call 407) 828-3500. If you need an accessible van for the airport, call (407) 828-3500.
For departure out of Orlando, you'll need to request to be picked up at least 2 hours before your flight for domestic travel, and at least 3 hours prior to departure for international flights. The Minnie Vans can take up to 6 guests, along with 6 medium sized suitcases. You can have up to 3 child car seats which are available for no additional charge. If you're thinking of having some of your luggage sent with Magical Express, they can't do that.
The Minnie Vans for the airport rides are currently available between 6 am and 11:59 pm.
Minnie Vans on Disney property:
To get a standard Minnie Van to drive you anywhere on Disney property, use the Lyft app and choose the Minnie Van service option. You pay for it through the app. These Minnie Vans runs from 6:30 am to 12:30 am every day (of course this is subject to change). Each Minnie Van comes with 2 child safety seats that can be installed by the cast member driving the vehicle.
To request a ride through the Lyft app:
Open the app and select your Walt Disney World destination
Confirm your pick-up location and tap "Select Minnie Van"; if Minnie Van service is not the default vehicle type displayed, you will need to swipe through your vehicle options until Minnie Van service is displayed
The app will display a map tracking the vehicle en route—along with an identifying vehicle number to help you spot your car
Wheelchair/ECV Accessible Minnie Vans:
Disney does also have small number of accessible vehicles that can take standard wheelchairs, motorized vehicles like electric wheelchairs, and mobility scooters. To get an accessible Minnie Van, call (407) 828-3500.
You can request an accessible vehicle 45-60 minutes before you need it. This is good because it may take some time to get one since there are a limited number available.
To board the Minnie Van with your wheelchair or scooter, you'll ride up the ramp onto the lift. You can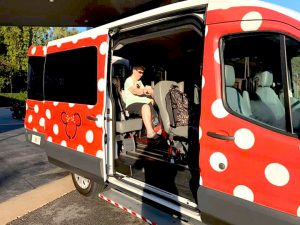 either stay on your scooter or wheelchair during the ride, or you can get off and take a regular seat before it's lifted up and onto the Minnie Van.
The accessible Minnie Vans cost the same as the regular Minnie Vans. No price difference.
(Photos Donated by Debbie Dalgo Raley)
Minnie Vans, Lyft and Uber for international travelers who won't have a working phone
If you won't have a working phone during your visit, you won't be able to use these services UNLESS you have a mobility device like a scooter or wheelchair with you, and you're calling for an accessible Minnie Van while at Disney World. In that case, we've been told that you can have Bell Services call for an accessible Minnie Van, or if you're in a Deluxe Disney World resort with valet, they should be able to call for you.
Comfort Ride for Medical Transport
Sometimes visitors to Disney World need to get to medical appointments. This company provides accessible transportation for medically related visits. Visit the Comfort Ride site here. Or you can call them at (321) 804-5233.
For more reading on Disney World Taxis and Uber:
To compare Uber vs. renting a car, check out this article on disneytouristblog.com called Uber vs. Rental Cars at Disney World.
wdwprepschool.com has a great article that's very detailed on Why We Like Uber More than Lyft at Disney World.
There's an entire thread on Using Uber at Disney World on disboards.com. You'll find almost any question you ever had about Uber answered here.
Do you have more tips or thoughts on this topic?
Please feel free to post them in a comment below. We'd love your input.
Join our facebook group!!!!
Ask any questions, share your knowledge and just enjoy getting to know other Disney fanatics in our facebook group called Walt Disney World Made Easy for Everyone.
Also join me on Pinterest here.
GET UPDATES, NEWS & TIPS (IT'S FREE!!!)
Sign up below to stay updated on the newest information, tips and tricks to help you plan your perfect Disney World trip!