Do you need a handicapped or accessible room at Disney World? There's a lot that Disney can and will do for you. In this article we cover:
How to get a handicapped – accessible room.
The room types Disney offers.
The special needs equipment Disney offers.
Who to call when you want to talk to someone about this.
How to reserve online or by phone.
Do you need to book an accessible room if you have a wheelchair/ECV but can walk?
Doors and getting in and out in the resorts and guest rooms.
Who can get a handicapped – accessible room in the Disney resorts?
Disney offers specially designed and outfitted rooms to their guests with disabilities on a first come first serviced basis. You'll need to request the right type of accessible room for your needs when you make your reservation.
Though you can make a reservation online, many people with disabilities or special room needs prefer to speak to a reservation agent. The website is still worth a visit because there are many helpful features, including a general resort overview and a photo album including multiple pictures of accessible – handicapped rooms.
If you call, let the cast member know exactly what you need. If you've called the main Disney reservation number, they'll put you on hold and call Special Reservations to check on availability for a room with the type of room amenities that you need. If there's one available they'll reserve it for you.
Or you can call Special Reservations directly and they'll help you.
You can arrange this by calling one of these numbers:
(407) 939-7211 – The regular reservation phone number.
(407) 939-7807 or (407) 939-7670 (TTY) – Special Reservations
They won't guarantee a particular location, but they will guarantee the type of room you need.
Online Booking of an Accessible – Handicapped Room at Disney World
To make your reservation online, visit https://disneyworld.disney.go.com/resorts
Choose your resort.
Click on the Change button (see the image below). All of the available handicapped room options will be shown. Then choose your option.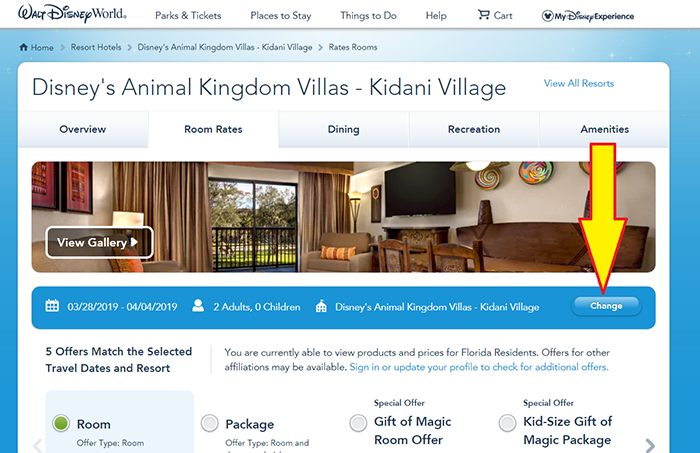 Types of handicapped rooms in the Disney World Resorts
Disney offers rooms with accommodations for guests with:
Hearing disabilities
Visual disabilities
Mobility disabilities
There are different types of accessible rooms in the resorts. They might include various bed types (a King, two queens, etc.), different accessories, room and bathroom designs, and different views of the resort.
Locations of Handicapped – accessible rooms: These can be on any floor, and they're spread throughout each resort. In other words, they're not kept together in one place in each resort.
Some of these rooms have the option to add hearing accessibility.
The room types include:
Wheelchair accessible with a tub.
Wheelchair accessible with a roll-in shower
Hearing accessible rooms with visual alarms and notifications
Wheelchair accessible with a tub and an option for hearing accessibility
Wheelchair accessible with a tub and an option for hearing accessibility
Wheelchair accessible with a roll-in shower and an option for hearing accessibility
In addition to what's already in these rooms, Disney may be able to offer you:
Bed accessories, such as beds with open frames, bed railings or rubber bed pads.
Beds with lower height.
For bathroom support there are rooms with amenities like portable commodes, a bathroom tub with a transfer bench, widened bathroom doors, roll-in showers for wheelchair users, shower benches, wheelchair accessible vanities, bathroom rails and handheld shower heads.
Hearing and Visual disabilities:
People with vision and hearing disabilities can request communication support amenities like a bed shaker alarm, a text typewriter (TTY), door knock and telephone alerts, telephone amplifier, strobe-light fire alarm and closed-caption televisions. There is no additional charge for these items.
Other special equipment:
If Disney doesn't offer special equipment that you need, you can either bring it with you, or rent what you need from an outside medical supply company. You'll want to work with a company that can deliver the equipment to your resort.
There are two types of wheelchair accessible rooms available at Disney.
First kind of wheelchair accessible room in the Disney World Resorts:
The first kind has grab bars in the bathroom by the toilet, and by the shower/bathtub. It has a raised toilet seat as well. The room itself is exactly like a standard, non-accessible room. One thing to consider is that the bathroom door may not be big enough to allow a wheelchair or ECV through. Many of the standard size rooms in the Disney resorts will be tight for anyone who must stay in a chair. It may be a challenge to even get in the room past the furnishings. Even when you're able to maneuver inside, you may have a problem accessing all areas or turning around.
Tip: if you find that space for moving around in your wheelchair/ECV is tight, you can contact Housekeeping to remove extra furniture like table or chairs that you don't intend to use.
Second kind of wheelchair accessible room in the Disney World Resorts:
The second type of room has an enlarged, accessible bathroom, and in order to compensate for the extra room, the bedroom may be smaller than a standard room. The bathrooms include a roll-in shower with a pull-down seat, a handheld shower head, shower grab bars, a raised toilet, grab bars for the toilet, and a vanity/sink you can use in your wheelchair. In the bedroom you'll find lower beds that allow for easier transfer from a wheelchair.
Some thoughts to keep in mind when booking your room. 
For those who must stay in their wheelchairs, you may wish to get a room with one king-size bed instead of two smaller beds. This will give you a bit more room to navigate in. Some of the accessible rooms already have a king bed.
You may also wish to consider staying in a resort with a larger room, such as the Contemporary or the Grand Floridian. Also the Disney Vacation Club accessible 1 and 2 bedroom villas may be a good choice. When you call to make your reservations the cast member can identify the largest resort rooms for you.
Do I need a handicapped room if I have an ECV/wheelchair but I can walk in the room?
The Walt Disney World resort room doors are at least 32-36 inches wide, which is big enough for most wheelchairs and ECVs to pass through.
There are a number of rooms in each resort designed for guests with various disabilities. However, if you're in a wheelchair, able to walk inside your room and don't need any other special aids, you may want to stick with a regular room.
In fact, if you don't need any of the extras in the disabled rooms, you might want to stick with a regular room to leave the accessible rooms for those who need it. There are a limited number of these special needs rooms, and it's best to leave it for someone who really needs it. They don't offer you anything extra unless you really have a need for special equipment and accessibility. They're usually scattered throughout the resorts, so they don't get you a better location.
Resort & guest room doors in the Disney World Resorts
Automatic or handicapped doors in the building common areas: All of the resorts have at least some automatic doors into the main buildings. You may need to look for a button to push, which will be easily reachable from your chair. Some resorts have more of these than others. At times you might find yourself riding a bit farther than you hoped to find an automatic door, but there will always be a way to get to all the resort common areas.
Guest room doors: Unfortunately all of the guest room doors are manual. If you're travelling alone or without someone who can get the door for you, you may have a challenge. The doors are pretty weighty, and holding the door from your seat is not likely to be an option.
Tip: Bring a doorstop. This will work if you're able to get out of your wheelchair/ECV/Scooter, drop the doorstop and move it into position. Then you can drive into the room, park, and retrieve your doorstop. If you don't have one, you may be able to request one from Disney.
Tip: Wait for a kind passerby. If your'e unable to manage with a doorstop, you might need to wait for someone who's passing by and can help you. Don't be afraid to ask. Most people are going to want to help.
If you'd like to see reviews with photos of wheelchair accessible rooms, visit

RollingWithTheMagicBlog.com.
IF YOU WILL BE RIDING IN A WHEELCHAIR, SCOOTER OR ECV AT DISNEY, CHECK OUT OUR SERIES CALLED:

NEED TO RENT A SCOOTER or WHEELCHAIR? We like Buena Vista Rentals!
They're giving a FREE SCOOTER ACCESSORY TO OUR READERS!

CHOOSE A FREE CUP HOLDER OR CANE HOLDER with scooter rental. 
Phone – (866) 484-4797 (mention the "dizabled" offer from diz-abled.com)
 We think Buena Vista Rentals is great! When we decided to seek a wheelchair/ECV sponsor, we researched. Here's why we invited Buena Vista Rentals before any other company:
They're a Disney Featured Vendor. This means that they've been vetted by Disney. This also means that they can drop off and pick up your order at your Disney resort without you being there. That's so much more convenient!
Great reviews! We found that they had consistently great reviews over the years.
Positive personal experience. We had used Buena Vista Rentals before, and had a great experience.
Extra services. They have helpful services and options that other Disney Featured Vendors don't offer. For example they'll deliver cases of water or sports drinks with your scooter. They offer strollers, bicycles, oxygen, as well as helpful scooter accessories.
They can provide service in the parks. If you need service they can come find you in the Disney parks!
Convenient locations.  If you should need to go there, they have a convenient rental location on Disney property at the front of the BoardWalk Inn, and they also have other locations around Orlando.
Service for your personal scooter. If your personal scooter has a problem, Buena Vista Rentals can help!
So please support us by supporting our sponsor!
Have you decided to rent a wheelchair or ECV at Disney, or have you opted out of it? Let us know how it went and what you thought in the comment section below.
Also – Join our facebook group!!!!
Ask any questions, share your knowledge and just enjoy getting to know other Disney fanatics in our facebook group called Walt Disney World Made Easy for Everyone.
Also join me on Pinterest here.
GET UPDATES, NEWS & TIPS (IT'S FREE!!!)
Sign up below to stay updated on the newest information, tips and tricks to help you plan your perfect Disney World trip!