Facts at a Glance About The Many Adventures of Winnie the Pooh:
Park: Magic Kingdom. Location: Fantasyland. Height Requirement: Any height. Genie+: Yes. Individual Lightning Lane: No.
Quick Notes: Ride in a honey-pot car through Pooh scenes.
Disney Warnings: None.
Our Additional Cautions: Includes some dark areas, simulated thunder and lightning flashes at several points. Ride car has simulated bouncing and floating effects. Honey fragrance and possible smoke.           
Length: Ride lasts approximately 3 minutes.
Special Needs Info: Wheelchair users can stay in their wheelchairs for the queue and ride. ECV riders must transfer to a manual wheelchair to go through the queue. For power wheelchair users, in most cases queues and rides that allow wheelchairs also allow most power wheelchairs. See the Cast Member at the attraction for your options. You can transfer from your wheelchair to the honey-pot vehicle, or you can wait for a honey-pot vehicle that can accommodate your wheelchair and board on the wheelchair. There is a ride car that can have the "jumping" motion turned off. Children under 7 years old must be accompanied by someone 14 years or older. Handheld Captioning, Audio Description. Genie+.

Overview of The Many Adventures of Winnie the Pooh
Another cute ride that the littlest folks will enjoy, this is a romp in a honey-pot ride car through colorful Winnie the Pooh scenes. Much of the ride is cheerful with bright colors, happy music and fun character voices. Then the story and scenes turn darker as Pooh goes to sleep and you ride through his dream. A somewhat creepy voice warns "Beware, beware" and the music becomes a bit less cheerful. Guests then ride through a simulated storm sequence where Piglet is rescued from a flood. There's some thunder, rain and lightning effects. Of course there's a Disney happy ending. Still, those who are very sensitive and young children may find this scary.
Queue information for The Many Adventures of Winnie the Pooh
Most of the outdoor queue is shaded with fans to cool down the guests. The queue has a garden themed interactive play areas for children, including a child sized playhouse, fruit and vegetable drums, sunflower bell spinners, a bee bead maze and a 'wall of honey' that is an interactive touch screen.
Ride vehicle and loading information for The Many Adventures of Winnie the Pooh
The honey pot vehicles seat four and have hard bench seats with a back and lap bar. Guests must step up about 6 inches to get in their honey pot.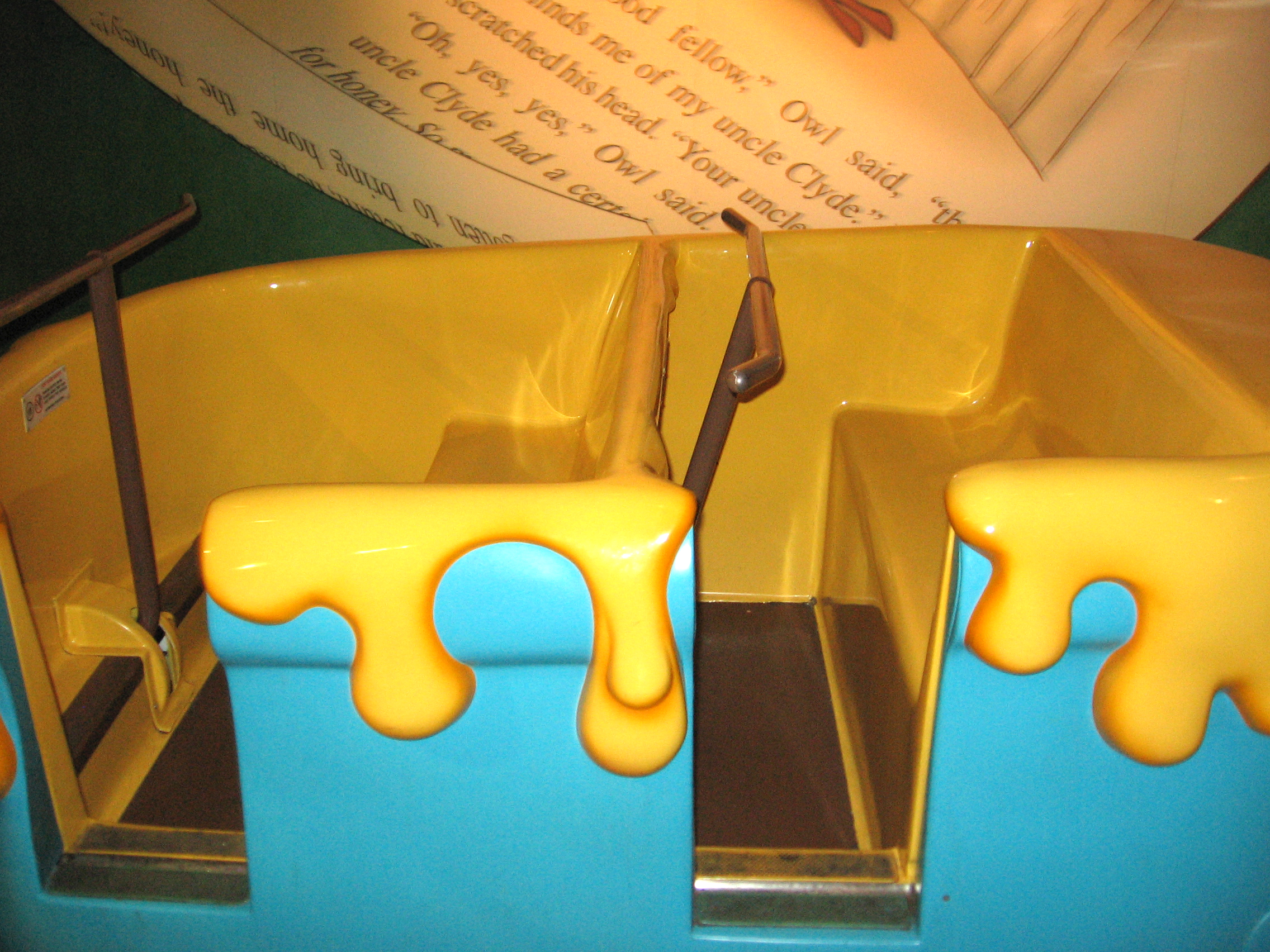 Wheelchair/ECV information: There's one wheelchair accessible vehicle which can seat one guest in a wheelchair and one companion. We have heard from a powerchair user that her large chair fits on this ride car easily (thanks Jennifer Keith Petzke).
Non-motion ride car: This vehicle can have the motion turned off so guests who wish to avoid the jumping and rolling motions can do so. Let a cast member know if you need this.
Here's a video of a wheelchair boarding the ride vehicle:
Details and description of the experience on The Many Adventures of Winnie the Pooh
There's one part of the ride where your ride car is bouncing with Tigger. The honey-pot car moves up and down to simulate jumping, which can be bumpy. It also rolls and tips to simulate riding on water during a storm. Disney gives no back and neck warnings about this ride. Most people we've talked to, even those with back and neck problems, do not seem to have a problem with this. However, those with extreme sensitivity may have an issue with the motion.
There's a lightning effect in several places. There's a bit of smoke when a heffalump (a Disney character) blows a smoke ring at the people as they pass by. It's not a lot, and it doesn't happen with every car that passes by. We've heard that this effect actually breaks down a lot. The car travels moderately fast. Honey fragrance pumped in.
Take a look at The Many Adventures of Winnie the Pooh ride in action:
Check out other rides in Disney World's Magic Kingdom:
Adventureland 

Fantasyland

Liberty Square

Main Street USA

Tomorrowland

TRON Lightcycle Power Run Rollercoaster 

(Coming Soon)
SEE RIDES AND ATTRACTIONS IN THE OTHER PARKS:
Join our facebook group!!!!
Ask any questions, share your knowledge and just enjoy getting to know other Disney fanatics in our facebook group called Walt Disney World Made Easy for Everyone.
Also: Like our facebook page here.
And join me on Pinterest here.
GET UPDATES, NEWS & TIPS (IT'S FREE!!!) Plus get a Free Disney World Planning Schedule Form.
Sign up below to stay updated on the newest information, tips and tricks to help you plan your perfect Disney World trip!