Facts at a Glance About Prince Charming's Regal Carrousel:
Park:

 

Magic Kingdom. Location: Fantasyland Height Requirement: Any height. Genie+: No. Individual Lightning Lane: No.
Quick Notes: Carousel ride with various types of seating.
Disney Warnings: None.
Our Additional Cautions: Carrousel with horses that rise up and down as the carrousel goes around and around. There are also chariots that do not move up and down.
Length: The ride lasts approximately 2 minutes.
Special Needs Info: This ride allows guests to stay in their wheelchairs in the queue and on the ride. For power wheelchair users, in most cases queues and rides that allow wheelchairs also allow most power wheelchairs. See the Cast Member at the attraction for your options. Guests in scooters must transfer to a manual wheelchair. Guests with service animals need to check with a cast member before riding. They are permitted "with caution". 

Overview of Prince Charming's Regal Carrousel
As the name says, you get a carousel ride; however, as with most of Disney attractions, it's so much more beautifully designed than the typical fair ride. This carousel was created in 1917, so it's had a long life of use before being purchased and remodeled for the Magic Kingdom, making it the oldest attraction in the park.
Queue & boarding information for Prince Charming's Regal Carrousel
The queue is outdoors and mostly shaded.
Wheelchair boarding info: To board this attraction, guests will board by a ramp. You may need to go to the main entrance first to let a cast member know you wish to board. We've heard that at times they may not notice you if you wait by the ramp, so you'll want to make sure they're aware you're there. See the map below for placement of the ramp.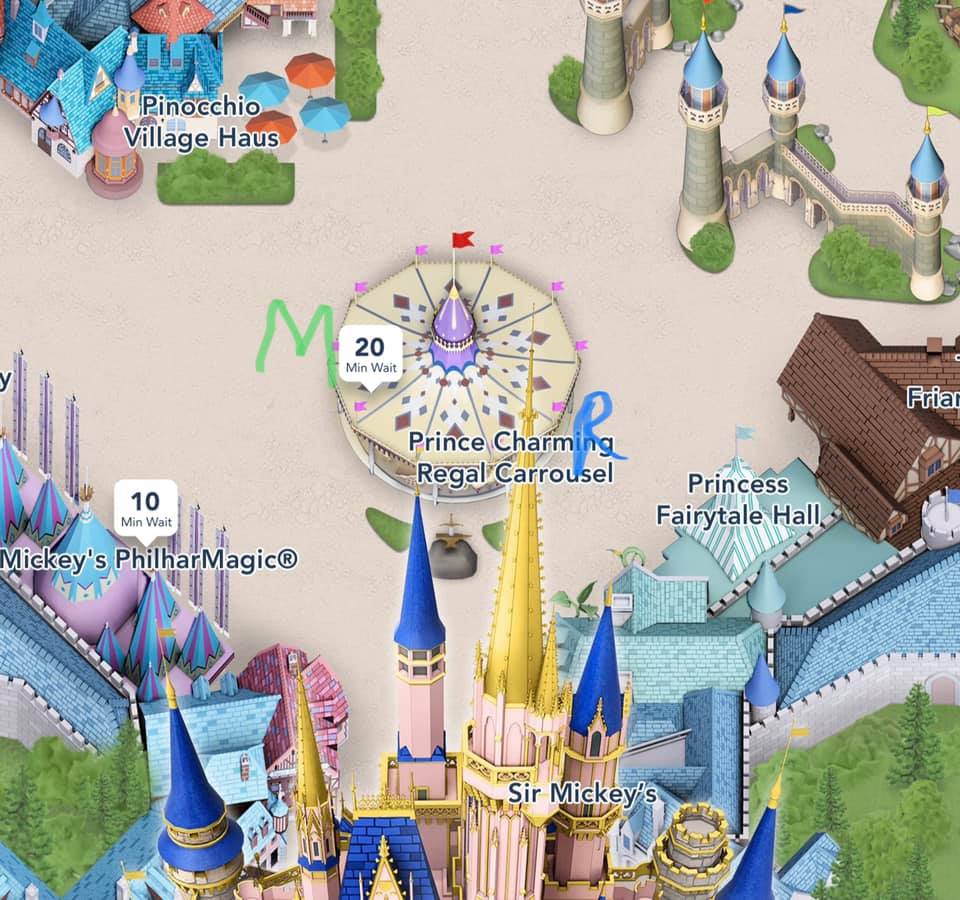 You'll have the option of walking on or riding in a manual wheelchair (in some cases power wheelchairs may be possible as well – see the Cast Member). If you wish to ride in a wheelchair, guests in ECVs must transfer to a manual wheelchair provided by Disney. You'll ride up a ramp and right on to the carrousel platform to the accessible chariot. The Cast Member will flip the seat up on the chariot and your wheelchair will be secured down.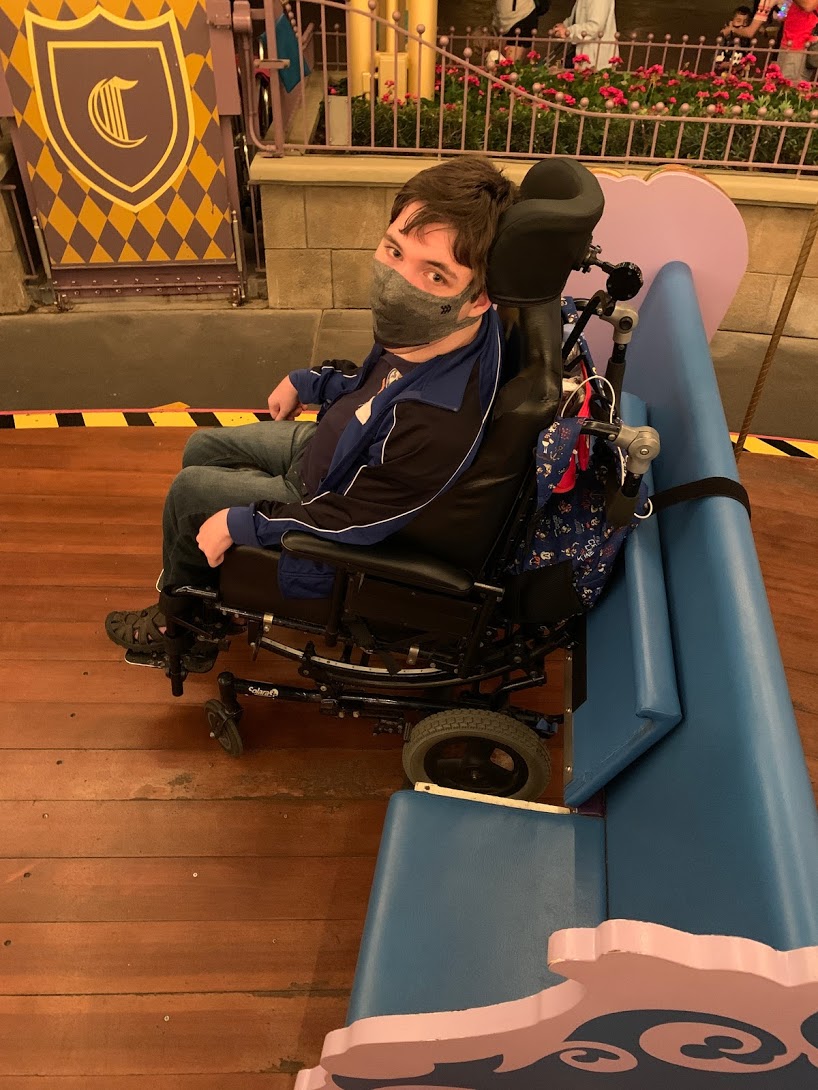 If you wish to walk on, you'll need to step about 6 inches up onto the carousel platform with nothing to hold onto. You'll then walk to a horse or stationary chariot. You may want to have another member of your party go ahead of you to get the horse or chariot you're planning to ride (other guests may rush in front of you and get there before you).
For those with mobility issues, it's possible that you may be given a return time to board.
Details about the experience on Prince Charming's Regal Carrousel
90 colorful horses go up and down as you go round and round. Each horse is uniquely designed and there are various sizes of horses. The larger horses are on the outside ring and they get smaller as you get closer to the center. The horses have a loose fabric seat belt. There's a stationary chariot that has two rows that will seat four adults, made of hard wood with backs and some thin padding.
Remember that even though a horse may be comparatively low to the ground at the beginning, it will go up and down, so it may finish high up on the pole. You must be able to get on and off on your own, or with assistance from someone in your party. The carousel may stop in a different location than it started from, so you may be getting off in a different place than you boarded.
The ride is short, so although the lines get long, they move pretty quickly. Regardless, it's a popular ride, so there can still be a long wait. This ride shuts down completely during the evening fireworks. It's less crowded during parades and late in the evening.
Here's what one mom with a child that has sensory issues had to say about this ride:
"My 8 year old (then 6) LOVES this ride. She finds Disney very sensory stimulating but this is the ONE ride she will go on ALL day. We did magic hours and she rode this for an hour.

For her the joy was: the music, the lights, the security of just going in a circle.

Once the cast member knew she was just running from the exit to get back on they let her stay on.

From a parent point of view there are strollers EVERYWHERE near this ride and that in itself can be a lot since your stroller can be moved." —Natasha Louise
Take a look at Prince Charming's Regal Carrousel:
Check out other rides in Disney World's Magic Kingdom:
Adventureland 

Fantasyland

Liberty Square

Main Street USA

Tomorrowland
SEE RIDES AND ATTRACTIONS IN THE OTHER PARKS:
Join our facebook group!!!!
Ask any questions, share your knowledge and just enjoy getting to know other Disney fanatics in our facebook group called Walt Disney World Made Easy for Everyone.
Also: Like our facebook page here.
And join me on Pinterest here.
GET UPDATES, NEWS & TIPS (IT'S FREE!!!) Plus get a Free Disney World Planning Schedule Form.
Sign up below to stay updated on the newest information, tips and tricks to help you plan your perfect Disney World trip!