Who should be concerned about the sun and heat while visiting Disney World?
EVERYONE visiting Disney World needs to take reasonable precautions because of the climate. This is especially true of the warmer, wetter months. We'll discuss what you can do to have a more comfortable and safe trip.
Also, certain conditions and medications create the need to avoid or limit sun and heat exposure. Be sure to talk to your doctor and get his/her recommendations if you feel you may have a health condition that makes you vulnerable to the heat and sun.
What's the Florida weather really like?
In general, Florida is a subtropical climate with some intense heat and humidity in the summer months. Winter months tend to be far more dry and temperatures can swing wildly from downright cold to comfortably warm. One day you can be wearing your winter coat, and the next you could be in shorts.
We were just at Disney in the last couple weeks of June, and it actually got up to 111º Fahrenheit! With the humidity it was pretty intense even with all the steps we took to stay cooler. Maybe I'd compare it to the surface of the sun! Many people who don't experience this type of heat and humidity where they're from, find the intensity of the warmer months surprisingly brutal.
To see what it's like there month by month, start by Reading our article called Weather at Disney World & Picking Travel Dates. You'll get a really clear perspective on what to expect weather-wise during each month of the year, and you'll find recommendations for best times to travel.
Length of days and sun exposure at different times of the year
For those who need to stay out of the sun as much as possible, consider that daylight lasts much longer in the summer months than in the winter. For example, historically daylight in August has run from 6:32 AM to 8:27 PM. In January it's much shorter, starting at 7:04 AM until 5:28 PM.
You can visit timeanddate.com here to see their Orlando Yearly Sun Graph to get daylight times for the entire year.
If you have sun sensitivity, skip the summer months entirely. The winter is going to be your best bet. Consider visiting from November through March. Even during those months there can be some strong sunlight and heat, however the days are shorter, and the sun tends to be much less intense.
Strategies for handling sun & heat in the Disney World parks:
Here are some ways that you can minimize your exposure:
Try to plan your trip in the cooler months if possible, when the days are shorter.
Remember that UV rays, and often the heat levels, are strongest between 10 am and 4 pm. Plan your days so that you spend as little time as possible outdoors during this time period.
Visit the parks in the late afternoon and evening when it's cooler with less or no sun.
If you're going to a park during the day, try sticking to the parks that have a lot of indoor attractions and queues. For example, Epcot's Future World attractions and queues are almost entirely indoors. Hollywood Studios offers a wide variety of indoor attractions. Magic Kingdom has some indoor attractions, but there are many that are outdoors or have outdoor queues.
Choose only indoor rides and attractions during the day, and make sure they have indoor queues as well. Save outdoor attractions and queues for either early morning or evening.
A large percentage of the attractions at Animal Kingdom are outdoors and/or have exposed outdoor queues. Some of the animal viewing areas are located amidst tree cover, but you'll still be exposed to some sunlight. Animal Kingdom now has evening hours, so stick to early morning or evening hours there, if possible.
Take frequent breaks in air-conditioned locations such as restaurants and stores. Many of the stores are connected inside and they're air conditioned. You can sometimes walk a full street length by walking inside the stores.
Use portable cooling devices (see below).
Stay hydrated! This is so important. Be sure to drink a lot. You can get free cups of ice water anywhere that Disney sells fountain drinks. Many people find that the free water at the Starbucks locations in each park is the most filtered and best tasting.
The truth about using sunscreen while at Disney World
Naturally everyone visiting Disney World should use sunscreen during the day, almost regardless of the weather. Did you know that even in cloudy weather or in the winter sun you can get a sunburn? Even those who are not sensitive to the sun can get sunburned. Here's what one Disney visitor said:
"We hung out at the resort pool all day on our trip. It was around November 1st with temperatures in the mid 70's. In fact there were clouds coming in and out, and we were sitting in the shade. I didn't think I needed sun block lotion. By that night I realized I had a sunburn. My nose was bright red, and my face was burned!  I learned my lesson and wore lotion the rest of the trip." 
Sunscreen tips: When you do go out in daylight, use plenty of sunscreen, preferably waterproof for splashing rides and sweating. It should be at least SPF 15, (SPF 50 is a good idea). Reapply frequently if you're sweating or getting wet from misters or attractions.  Put it on before you go out, and bring it with you to the park so you can reapply it as needed.
More ways to protect yourself from the sun while at Disney World
Using a hat can be protective:
It can protect your scalp and face from the sun, especially if you use a a UV protective hat. However the downside is that a hat can make you warmer. Disney sells a lot of nice (mostly Disney themed) hats that will work great for sun protection, or you can bring your own.
We found a hat that actually cools you down significantly, and repels the sun. It's called Artic hat. We bought the hat off of this site here. The site is a bit glitchy and it took a couple weeks to get the hat, but it really worked great. You actually wet the hat and the moisture is able to cool and keep your head cooler.
Personal cooling devices: 
These can really help cool you down. Disney sells personal cooling fans with water misters, and they can really provide relief in the warm weather. They're kind of large and clunky though, so we prefer to use fans we've purchased in advance.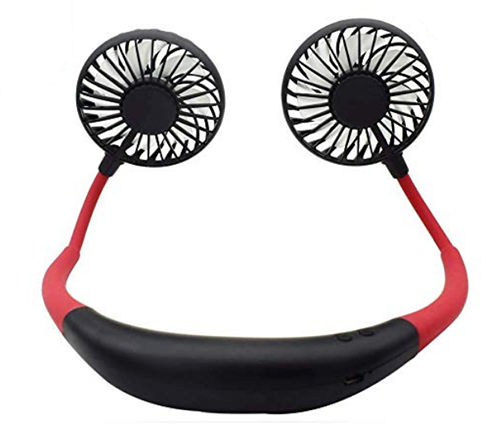 Here's my absolute favorite cooling fan, which we bought on Amazon here!
This one was amazing and after trying many fans, it's now our favorite by a long shot. My wife wore it to Disney during an intense heat wave. I can't tell you how many people stopped her to see where she got it. It really helped keep her cool, and she was loving this fan!
This fan will work great if you'd like to have your hands free. For those pushing a stroller, wheelchair or using a scooter, it's ideal.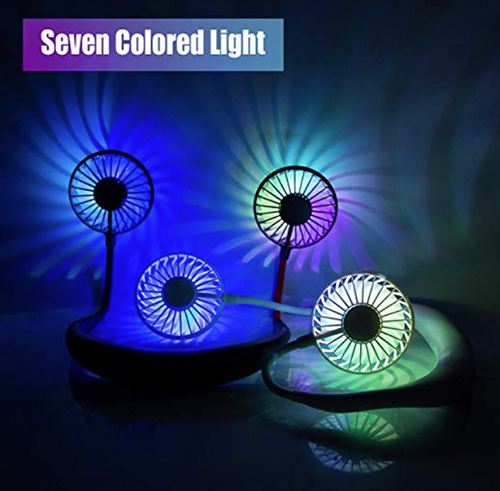 You can wear it around your neck, or you can attach it to a stroller or scooter. You can hold it if you wish, but it's really ideal not to have to carry anything.
It has three settings and blows at you from two different separate fans. It's completely bendable so you can mold it and turn the fans in any direction. We use it at the highest setting most of the time, and the fans blow strong enough to really make a big difference. My wife liked wearing it around her neck, or on her shoulders and she turned both fans toward her face.
We found that it lasted about 3 hours, give or take if you use it continuously. It's rechargeable and comes with the rechargeable batteries.
As a bonus, you can even set it to show different color lights at night.
Here's a tip. If you have a fan that sprays water, try this:
Add ice or ice cold water to the fan's container. It will make it much more effective at cooling you down. You can get ice anywhere that fountain soft drinks are being sold.
However be careful! Around Disney you'll see large tin buckets that are filled with soda and water bottles that Disney sells in the parks. We've been told that there is some type of antibacterial in the ice. I'd recommend NOT taking the ice from these buckets.
Cooling Towels are super helpful!
You can also bring cooling towels to use around your neck. We've been told that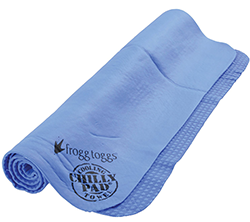 Disney is now carrying cooling towels with Disney themes, but they may not be widely available as of yet. You may find them in some refrigerators that have cold drinks for sale. If you want to be sure to have them, I'd suggest ordering them in advance. Be sure to bring some baggies with you to store the towels when they're not in use.
Protective clothing:
If you're very sensitive, consider purchasing light colored, lightweight clothing with UV protection to help block the sun. Another option is to carry an umbrella with UV protection to block the sun. You can google "UV clothing" or "UV umbrella" to find many websites that sell these products on the web. Here's an example of a woman's T-shirt that has UV protection on Amazon. Here's a man's version of the UV protective T-shirt. They also come in long sleeves, pants, jackets, etc.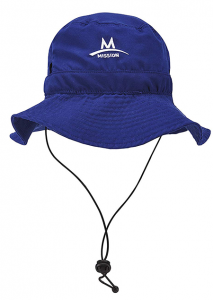 Internet stores that carry these items include http://www.coolibar.com and www.sunprecautions.com. You can also find sun protective clothing in sporting goods and outdoor stores.
Combination protective clothing and cooling device
If you can find something that serves to cool you down in two ways, why not go for it! Check out this hat that blocks the sun and also has a cooling feature. Keeping your head cool can really help. Here's one on Amazon.com and there are many other styles and types on there.
Use Extended Evening Hours (if you're staying in a Disney resort that qualifies):
Staying in a qualifying Deluxe Disney resort or Villa gives you the option of visiting parks during their Extended Evening Hours. Extended Evening Hours allow you to stay in a park later in the evening. The one drawback is that not all attractions will be open during Extended Evening Hours, however most of the more popular attractions will be open. By using Extended Evening Hours, you'll have more time in the parks without the intense sun and heat.
Sunglasses are not optional – eye protection:
This is true for every Florida visitor, including toddlers and infants. The sun in is more intense than in many other geographical locations, so even if you don't need sunglasses in your home area, you'll need them in Florida regardless of the time of year. For people of all ages, wearing a good pair of dark sunglasses is a must. Sunglasses are sold around Disney; however you'll be able to pay less outside of Disney. In addition to sunglasses, a hat with a large bill or wide brim can provide some extra protection for your eyes.
Replenish Electrolytes
When you sweat you can lose electrolytes which can cause some health issues. Consider bringing along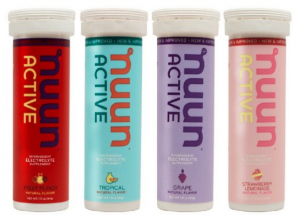 electryolyte tablets or powders to put in your water. We purchase Nuun Active Hydrating Electrolyte Tablets on Amazon. They're easier to carry than bottles, taste good, and they're low calorie, low carb, low sugar, with no artificial flavors or colors. They use plant-based sweeteners, and they're certified gluten free, vegan, soy and dairy free.
Here's a tip from one of our facebook group members:
"My favorite tip is Pedialyte flavored powder sticks. Sold in the baby department at Walmart and Target near the baby food. They work like the crystal light powder sticks in your water bottle, but much better and healthier than Gatorade." —Mindy Ruderman Walbesser

Grace Flanary, an admin for our Facebook group suggests the following: "One thing we always do in the summer. Get a cup of ice water at every meal, even if we get something else, we always get water cups. Also, the water or power aid is expensive. If you find yourself thirsty, just buy it. You've spent a lot to get to Disney, why ruin it by getting dehydrated."
If you need complete sun avoidance:
If you must wait for the sun to go down to participate in outdoor activities, come to Disney in the winter when the days are shortest. This will give you much more time to be outside and in the parks. Consider staying in a Disney resort so that you can have the advantage of night time Extended Evening Hours (see above). Choose a resort that has indoor hallways. These are only found within the Deluxe or Deluxe Villas categories, except for some locations in the Moderate Coronado Springs resort. Also the Art of Animation Value resort has indoor hallways except in the Little Mermaid section.
What can you do during the day? Disney has very little to do that's completely indoors, but there's a movie theater and bowling alley in Disney Springs. If you can leave the Disney grounds during the day, the Orlando area has plenty of indoor options such as shopping, indoor theme parks and museums.
If you drive a mobility scooter while at Disney World:
Consider renting a scooter with a sun shade. This can help you keep the direct sunlight off of you to some extent. We recommend renting from Buena Vista Rentals, and they offer our readers a free basket, cup holder or cane holder with their rentals. They are also giving out free misting fans and PPE kits at the time of this writing. Use the code "DIZABLED" to get this offer.
Here's Buena Vista's page for the scooter sun shield. 
Infants & children and managing in the Sun and Heat at Disney World:
For those traveling with infants, see the Disney with Infants page for tips regarding sun protection.
Pools & swimming:
If you enjoy relaxing by the pool, keep in mind that most of the Disney resorts don't provide tree shade. There are usually a few tables with upright chairs and umbrellas, but if you want to use a reclining lounge chair there are usually no umbrellas. There are a few exceptions and we'll be including that information on each resort page on this site. We're in the process of building the resort section of this website, so check back if it's not there yet.
An option for increasing protection from the sun is to bring your own clip-on chair umbrellas with you. Here's how one reader handles it:
"I need to avoid getting too much sun. When we traveled to Las Vegas, we purchased a clip-on portable umbrella on-line and had it shipped to our resort. Now we always take it to Disney, and since we drive there, it's easy to bring. We've been unable to find one that's large enough for full body coverage, but it does help. I use it to keep my face covered, and then I cover the rest of me with towels. If it's warm, I wet the towels."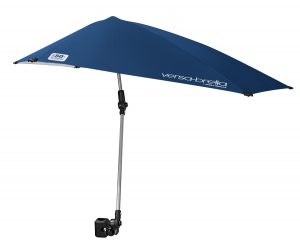 Personally we recently purchased a portable clip-on umbrella that we're very happy with. We like the shape and the way that it's easy to adjust.
Many guests enjoy using the pools at night, even in the winter. As Floridians we're always shocked to see this because it seems too cool to us for swimming. In the winter temperatures can drop significantly at night; however people coming from other parts of the country and the world often seem unconcerned by the cooler night temperatures. When you've come from much colder temperatures, the Florida nights can seem positively warm. While we're chilled in layers of clothing, happy kids and adults are splashing happily and running around the pool in wet bathing suits. Disney heats its pools in the coldest weather, usually to about 82 degrees Fahrenheit. Keep in mind that this is cooler than body temperature.
Overheating and Heat Stroke
Heat Stroke is a serious situation. Take precautions to avoid it, but if you suspect you or someone in your party is overheated, take it seriously. Here's some information we found on the web with instructions for dealing with overheating and heat stroke.
If you take all of the above seriously and take precautions to avoid overheating, you should have a fantastic and safe trip to Disney World.
Masks during COVID restrictions
Masks are required at this time, with no exceptions. In the heat you will sweat and that will impact your mask. One of our readers, Tharwa Ahmad, suggests that bringing multiple masks to change into throughout the day is helpful.
Do you have any other strategies for dealing with the heat and sun at Disney? Have you had problems with it?
Please tell us about it in the comments section below.
Do you have more tips or thoughts on this topic?
Please feel free to post them in a comment below. We'd love your input.
Join our facebook group!!!!
Ask any questions, share your knowledge and just enjoy getting to know other Disney fanatics in our facebook group called Walt Disney World Made Easy for Everyone.
Also join me on Pinterest here.
GET UPDATES, NEWS & TIPS (IT'S FREE!!!)
Sign up below to stay updated on the newest information, tips and tricks to help you plan your perfect Disney World trip!
Please read about affiliate links on this site here.