Disney allows guests to bring their dogs to four of it's resorts.
While service animals were always permitted, Disney is allowing pets that are not service qualified in four of their resorts. There will be approximately 250 dog-friendly rooms in those resorts.
This will be an option for those who don't want to leave their pet friends behind. (See the Allergy Alert below). 
This may also be a great solution for visitors with emotional support dogs. While service dogs can stay in any Disney resort, emotional support dogs do not qualify because they are not covered by the Americans With Disabilities Act (ADA).
How does this pet guest program work?
If you wish to bring your dog with you to Disney (up to two dogs per guestroom), they will be charging an extra fee that they're calling a pet cleaning rate. This will include a deep cleaning after guest is checked out. What that entails will probably vary depending on what housekeeping finds, but I've been told by a Cast Member at Port Orleans that this should probably not include the need for extra chemicals or pesticides.
The four resorts along with their per night/per room pet-cleaning rate are:
Cabins at Ft. Wilderness ($50 per night pet cleaning fee)
Art of Animation Resort ($50 per night pet cleaning fee)
Port Orleans Riverside ($50 per night pet cleaning fee)
Yacht Club ($75 per night pet cleaning fee)
Allergy Alert: Those with allergies should be aware of this new policy.
We've been getting conflicting stories about "dog-free" rooms in the four resorts. I spoke with Cast Members behind the scenes in both Port Orleans Riverside and Yacht Club Resorts. We were told that only certain areas will have pets allowed in them, and guests can request a room in a non-pet allocated area. We were told that it should work the same way in the other participating resorts.
But… After we contacted these cast members, a very reliable source contacted me to say that the opposite is true. They were told that there will be "dog friendly" areas designated, but when they're full, pets can be placed in undesignated areas. So any room in the four resorts could house dogs according to what they were told.
On their original pet friendly resorts announcement in 2017, Disney said the following:
"We will also designate certain floors or sections of a hotel as dog-friendly, while the majority of areas will remain canine-free to accommodate Guests with allergies or other concerns."
So what does that all mean to you? At this time we know that Disney will allow you to request a room that's in an area not designated for pets. Disney will try to accommodate your request, though they never make guarantees. Will that be a 100% guarantee that no dogs have been in your room? We're not sure.
Tip: You can request a deep allergy cleaning of your room prior to your arrival. 
Here are some other things you need to know about dogs being allowed in Disney World Resorts:
Disney's Doggie Welcome Kit
Disney will be giving special treats to their dog visitors at check-in with Pluto's Welcome Kit. It will include a bowl, mat, pet ID tag, plastic disposable bags (for picking up droppings), puppy pads and dog walking maps. Here's a photo of the Welcome Kit (thank you Andrea Kline for the photo):
Disney World Resort Dog Walking Maps
The Dog Walking Maps will show the walkways and green areas where guests will be allowed to take their dogs for exercise and bathroom breaks. We have three of the four maps at this time. We'll add the fourth soon. For a full size view, click on the map images: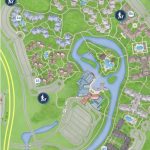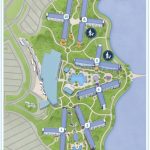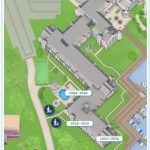 Housekeeping when you have a dog in your room
The kit will also contain a door hanger (Pluto themed) to let the hotel staff know that there's a pet inside the room. Housekeeping will only come in when guests are present, so the door hanger should be put up whenever you leave the dog alone in the room.
One word of caution. We've heard from Cast Members who say that on occasion, a Cast Member has opened the door despite the door hanger. They've had dogs rush out of the door and become lost. This is a concern especially in Port Orleans Riverside and Fort Wilderness where the rooms open to the outside. If you're leaving your dog alone in your room, we'd recommend restraining the dog in some way so it's unable to run outside should the door be opened. Using a dog crate could be a good idea.
Dog Vaccinations Required for your pets at Disney
The dogs are expected to be vaccinated, and they'll be required to be leashed in public at all times. According to Disney's website, Disney World Resort expects dogs to have up-to-date vaccinations that include distemper, hepatitis, parainfluenza, parvovirus, and bordetella. I have been told that although they may not ask for proof, you're required to provide it if they ask for it. Your veterinarian should be able to provide a letter for you.
Other info for dogs staying in the Disney World pet friendly resorts
Dogs will be expected to be well-behaved throughout their stays. This includes silence. If a dog is heard barking consistently, the owner will be contacted within 30 minutes to deal with it. Disney reserves the right to remove your dog at your expense if you don't comply.
These resorts will be adding some pet supplies to their gift shops.
Disney says that pets are not allowed on the furniture in public areas.
Disney is requiring that dogs not be left any longer than 7 hours in their rooms unattended. This will mean that you'll have to split up your park days and come back to your room to attend to your pet. Another option is to leave the dog in doggie day care at Best Friends Pet Hotel, which is on property and available for a fee. See more about this below.
Only licensed service animals will be allowed in restaurants and any food & beverage locations, pool areas, fitness centers, and any other public guest areas. Your pet will pretty much be restricted to the room and the permitted walking areas.
Pets are permitted on Minnie Vans, but must be in a pet carrier. Pets are not allowed on the other public transportation like boats and monorail. Naturally service animals are permitted on all transportation.
Only licensed service animals can be in the Disney parks or Disney Springs.
For more information on this, call 407-W-DISNEY, and DVC members should contact Member Services at 800-800-9800.
You'll be required to sign an agreement at check-in. To see what it includes, visit the Disney World Pet Agreement here.
Feedback we've been seeing from people who have tried this:
In our Facebook group called Walt Disney World Made Easy for Everyone, there hasn't been some feedback. Most people and pets seem to do well with this. The one drawback is that with Disney's rule that you can not leave the dog alone for longer than 7 hours, you'll need to leave the park early and return to tend to your dog. Your schedule will revolve around your pet, who will be alone in a strange room most of the time.
If you think your dog may make a lot of noise during the day when you're out, you may wish to make additional arrangements. One option is to hire a pet sitter to stay with your pet in your room while you're out. Rover.com is one site that has sitters offering this type of dog sitting service. They'll come to your hotel, walk your dog, play with them, and hang out in your room while you're in the parks. Or you can hire someone to simply come and give your dog walks when you're out. Just go to the Rover.com site and put in the address of the resort you're staying at to find sitters who will come to your hotel.
Another option is to use Best Friends Pet Hotel, which is right across the street from Port Orleans Riverside. They offer various levels of pet care, including day care and overnight stays. Since they re-opened post Covid, we've been hearing mixed reviews on their services. Apparently there was a changeover in the staff, and we're seeing a lot of negative reviews. It's important to do your own research.
Personally for our next trip with our pup, we've decided to hire a Rover.com dog sitter to come to our hotel room.
Also, there are some local businesses that provide baby sitting, and also provide pet sitting. They tend to be more expensive than Rover.com and Best Friends, but they may be worth checking out. Visit our article called "Babysitting, Child Care, Mother's Helpers & Senior Care at Disney World" to see which ones offer dog sitting as well.
Join our Facebook group!!!!
Ask any questions, share your knowledge and just enjoy getting to know other Disney fanatics in our facebook group called Walt Disney World Made Easy for Everyone.
Also join me on Pinterest here.
GET UPDATES, NEWS & TIPS (IT'S FREE!!!)
Sign up below to stay updated on the newest information, tips and tricks to help you plan your perfect Disney World trip!