Are you visiting Disney World with a heart condition or blood pressure issues?
You can have a wonderful time at Disney World! In this article, we'll share ideas on how to navigate Disney World, from rides and weather to resorts and dining, while keeping your heart and blood pressure in mind. The following are suggestions for planning a safe, comfortable and fun visit.
Some of the suggestions in this article come from our interview with Dr. P (who prefers to stay anonymous), a Disney-World-loving cardiologist. In Dr. P's opinion, visiting Disney with heart problems or high blood pressure can be a piece of cake if you take the right steps; or dangerous if you don't. We'll include his specific directions throughout the article.
1. Planning and Preparing Ahead for a Magical Experience
Before embarking on your Disney adventure, it's crucial to plan ahead. Dr. P suggested that the first thing you must do is to get clearance from your own physician. Prepare by researching the attractions you'd like to try, and discuss these with your doctor. Ask him/her if there's anything you should avoid, and what would be safe for you. Clarify any limitations you may have. For example, you'll want to know whether your doctor is clearing you to go on thrill rides such as roller coasters.
Discuss any concerns you may have and seek their advice on how to manage your condition while enjoying the Disney experience.
You'll also want to choose where to stay with your health in mind. We'll go into more depth on that below.
Research rides and attractions at Disney World.
To research the rides and attractions, start on this website with a section dedicated to describing the actual physical and emotional experience of all the Disney World rides and attractions.  This section of the site can help you decide in advance what to discuss with your doctor, and with his/her advice you can determine what would be appropriate, safe and fun for you.
Consider a wheelchair or scooter even if you don't normally need one.
You'll also want to know whether you can walk the miles that it takes to see the Disney World parks. Read our article called "Should I Walk or Use a Wheelchair/Scooter on My Disney World Trip?" prior to visiting your doctor. This will give you a great view of what to expect as far as walking and standing while you're in the parks.
The important point is that you'll want to do your research, even if you're using a travel agent to plan your trip.
2. Flying to Disney World with a pacemaker or defibrillator.
If you're flying to Disney and you have a pacemaker or defibrillator, TSA says the following:
"Advanced imaging technology can facilitate your screening and reduces the likelihood of a pat-down.  You should not be screened by a walk-through metal detector if you have an internal medical device such as a pacemaker."
Prior to flying, check the Transportation Security Administration page here for their Implants & Internal Medical Devices information:
https://www.tsa.gov/travel/special-procedures?field_disability_type=1005
TSA suggests that you can provide their officer with a TSA notification card or other medical documentation to describe your condition. If you don't wish to be screened through a walk through metal detector, you can have a pat-down instead.
3. Consider the weather when planning a Disney World trip.
When should you visit Disney World?
Florida's climate can be unforgiving, especially during the summer months. We like to say that it can feel like you're walking on the surface of the sun. Dr. P considers it extremely important to time your visit according to the weather, as do we. He tells his patients to avoid the parks during the warmer months, and suggests sticking to the winter months, when the temperature tends to stay in the 80s or below.
Keep in mind that humidity can make even moderate temperatures seem much higher because your body can't sweat effectively to cool itself down. It can be humid all year round in Florida, but the winter months tend to be drier, while the summer months tend to be very humid.
For help with choosing the time of year to visit Disney World, read our article called: Weather Trends at Disney World
Managing with weather in mind while you're at Disney World
When at Disney, check on the weather for the next day, and make your plans accordingly. Plan your outdoor activities in the cooler times of the day. We consult weather.com, however they can be wrong sometimes. Still, we find it helpful. Be aware that in very warm weather, even lounging by the pool can be physically demanding, so choose indoor activities when the weather is warm.
Since the Orlando weather can be changeable and sometimes unpredictable, even with good planning you may encounter some difficult weather conditions. We'd suggest reading: How to Manage in the Sun & Heat at Disney World.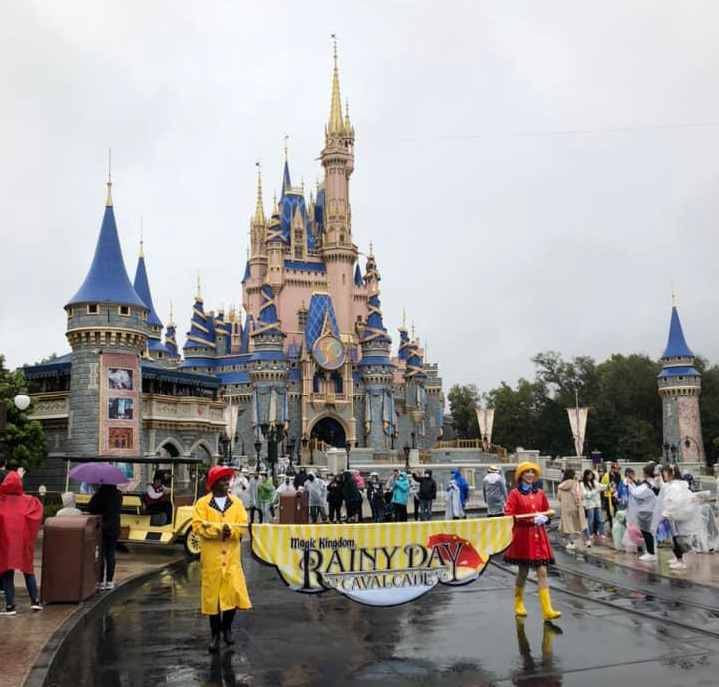 Keep hydrated while at Disney World!
When you're in the parks, remember that dehydration can exacerbate heart and blood pressure issues. So it's vital to stay hydrated throughout your visit. Disney World allows guests to bring water bottles into the parks, so be sure to pack a refillable bottle. Take regular water breaks, especially in air-conditioned areas, and avoid excessive caffeine and alcohol consumption, as they can contribute to dehydration.
Staying cool in the Disney World Parks
Whenever you go, and no matter what the weather is like, always pay attention to your body: be sure to stay hydrated, avoid overheating and take frequent breaks in air-conditioned buildings during warm weather.
Epcot and Hollywood Studios have many attractions that have indoor, air conditioned queues. Hollywood Studios is the smallest park, which means less walking (although it's still a lot of walking). Animal Kingdom has the fewest indoor, air-conditioned places to relax and cool off. Many of the long walkways are in full sun with nowhere to get cooled off. Even on the tree covered animal viewing trails, on warm days it can get scorching hot with nowhere to get cool.
4. Enjoying Rides and Attractions with Caution
Disney World offers all kinds of rides and attractions that cater to guests of all ages and abilities. However, it's crucial to consider the physical demands of each attraction before hopping on. Some rides may have intense movements that could potentially impact your heart or blood pressure.
Or some rides might be scary! My wife went on Tower of Terror thinking it shouldn't be too scary. She came off the ride literally shaking.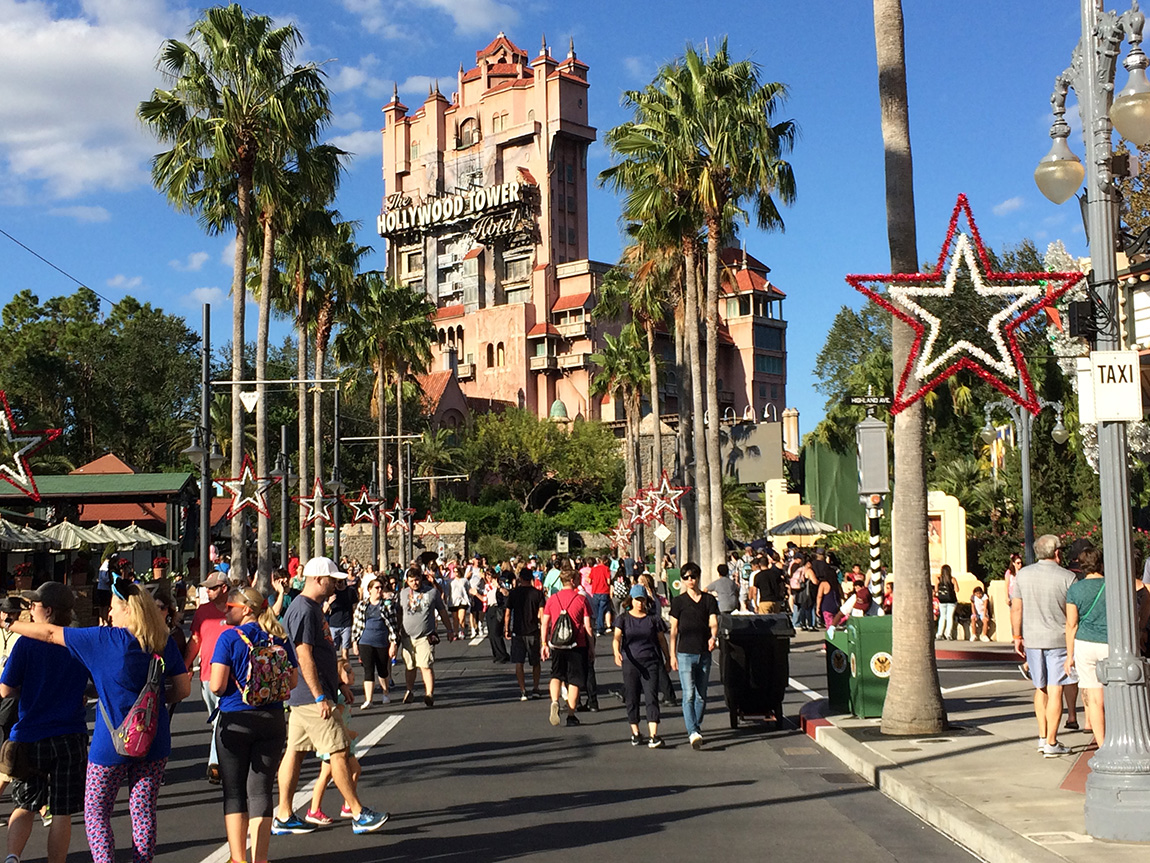 As we discussed above, it's important to take the time to research each attraction description.  On our site we've included Disney's ride warnings for each ride. We've also added some of our own. It's essential to make informed decisions about which experiences are suitable for you. If you're unsure about an attraction, speak to a cast member at the attraction. However, remember that they're not experts on your condition. Ultimately, it's up to you to make wise choices. If still in doubt, we suggest doing without! There are so many choices of rides at Disney World, that it's not worth taking a risk.
Once inside the theme parks, be sure to look for a warning sign at each attraction before entering. These attractions have a red triangle caution symbol on park maps and on the signs at the attractions. They're also visible at points throughout the ride queues.
Keep in mind that although it doesn't happen often, Disney's ride warnings can change. Dr. P says to read the signs, and he also warns that you should not take any chances! He feels that it's better to have a blast on the rides and attractions that will be physically safe for you, rather than to risk your health for a momentary thrill.
Also keep in mind that Disney does not post warnings for those with pacemakers and/or defibrillators. Check with your physician or the manufacturer of your equipment concerning what to avoid. There may be different recommendations for different types of brands and equipment within brands, so it's best to speak with the experts. There used to be more "blanket" recommendations on what to avoid (for example, microwaves), but as products have gotten better shielding, many of the precautions that used to be common are no longer recommended for all equipment. So you really have to check to find the current recommendations for your equipment.
Magnetic fields: If you need information on magnetic fields, this is Disney's comment about it on their website:
"Common equipment, such as electric motors and radios, that produce electric and magnetic fields are utilized extensively throughout the world and also within our Resorts. These fields are generally no greater than you would experience in any urban environment, or may be exposed to through common household appliances such as vacuum cleaners and hair dryers.
If you—or any member of your party—has questions regarding the above, you may speak with a Guest Relations Cast Member for details."
Avoid G-Forces: Dr. P was most concerned about avoiding rides that involve G-forces, such as roller coasters, or anything that spins. Some rides spin without being obvious, so watch for that. Keep in mind that heat causes vasodilation, which can make you even more prone to problems from these rides.
 Chicken exits: If you get into a ride queue and decide you don't want to ride after all, you can always leave before boarding. Every ride has multiple exits. Just let a cast member know and they'll lead you out.
Again, I want to stress that it's important to research in advance. Visit our Disney World Rides & Attractions section where you'll see the physical and emotional experiences described.
5. Embracing the Magic of Disney Entertainment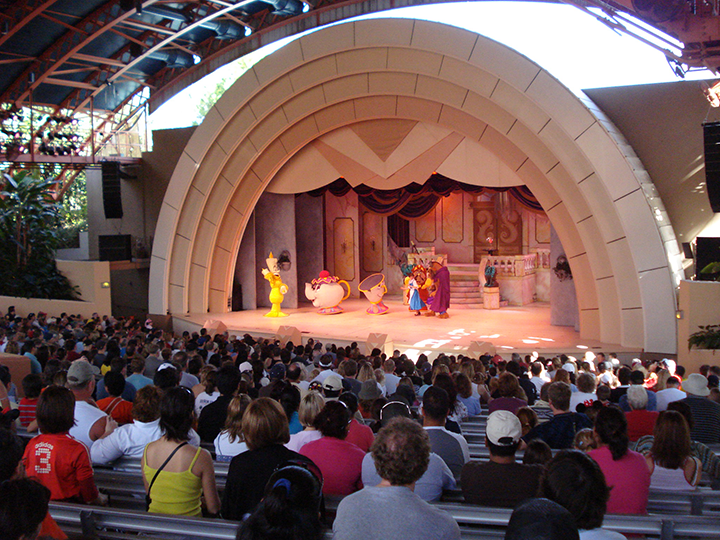 While the rides may be a highlight of your Disney experience, there's so much more to enjoy. Take advantage of the fantastic entertainment options available, such as parades, shows, and character meet-and-greets. These experiences allow you to immerse yourself in the magic of Disney without physical exertion. Take breaks in shaded areas or indoor shows to relax and recharge, allowing your heart rate to stabilize.
We find that even just hanging around in a Disney World park is special. And many of the restaurants are themed and unusual, and worth relaxing in.  Plan on enjoying the ambiance and experience of Disney, while staying safe and comfortable.
6. Making Smart Choices with Disney Dining
Disney World offers a wide array of dining options, ranging from quick-service counters to fine dining experiences. When it comes to managing heart or blood pressure issues, it's important to make smart food choices.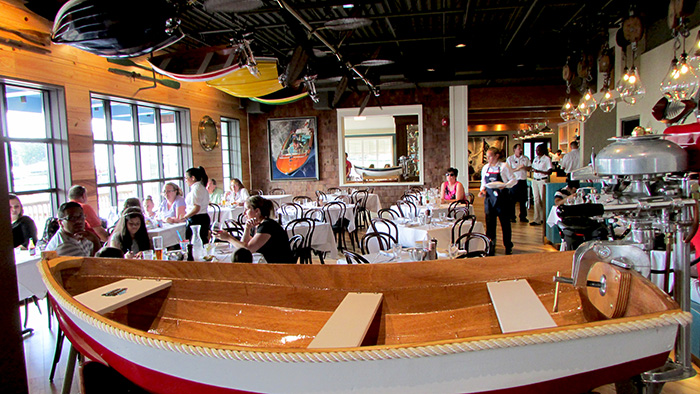 For example, you may wish to opt for meals that are lower in sodium and saturated fats. Look for heart-healthy options on the menus, such as grilled or baked dishes, fresh fruits and vegetables, and lean proteins. Most of the Disney dining venues offer healthy options with lower-salt and fat. If you don't see it on the menu, ask for it. If you have dietary restrictions or specific concerns, don't hesitate to communicate with the restaurant staff, as they can often accommodate your needs. Plan your dining in advance and choose restaurants that have healthier choices. Visit our website's section called Dining at Disney with Special Dietary Needs.
We know that it's easy to get carried away with all the delicious options you'll see. We certainly have! We suggest you decide in advance to stay careful about the foods you choose to eat. Of course, the fast food counters have fewer choices than the full-service restaurants, but there are usually some healthy options.
7. Beat the Crowds with a Solid Itinerary
One of the keys to managing your health at Disney World is to minimize stress and physical exertion. Take advantage of the Genie+ system and the Individual Lightning Lanes to avoid long lines and plan your day strategically. Prioritize attractions that are less physically demanding and allow for breaks in between. By having a well-thought-out itinerary, you can make the most of your time without overexerting yourself.
8. Traveling with Medications and Emergency Preparedness
It's essential to have your medications and medical information readily available during your Disney visit. Pack a sufficient supply of your prescribed medications and carry them with you at all times. Consider using a lanyard or a small bag specifically designed for medical needs to keep your medications easily accessible. Familiarize yourself with the locations of first aid centers in each park and be aware of the closest hospitals to Disney World in case of emergencies.
You may want to read our article called Managing Medication and Medical Supplies While at Disney World.
9. Take Your Time – You don't have to do it all!
When many of us get to Disney World, we're tempted to try to get to every last ride and attraction. Instead of having a relaxed, fun time, it can become a stressful experience. It's a good idea to prioritize the "must-do's" in advance. Once you're in the park, take it at a comfortable pace. Disney World is so large and so full of things to do, that it's important not to let yourself get overwhelmed. It's not a race!
For many of us, Disney World is a place we come back to again and again. Even if you don't complete everything on your list, most of us can plan to come back. Regardless, having fun is the priority. Not completing everything.
10. Pick the right resort for you.
There are a number of things to consider when you're picking a resort for your Disney World trip.
First, consider staying on Disney property. This allows you to stay close by to all the action. And if you need a rest during the day, you can easily make your way back to your resort. It also gives you access to Disney transportation which some people find easier than driving themselves. You'll want to read our article called "Which Disney Resort Should I Pick?".
Consider resort size. Many of the resorts are huge. This could mean a lot of walking. If that's an issue for you, consider one of the smaller resorts. For example, if you're looking for a Moderate Disney Resort, Port Orleans French Quarter is the smallest. While there's still a lot of walking required, it's far less than some of the other Moderate resorts. It has a compact layout so that if your room is close to the main building, the pool and food court will be fairly close by.
Indoor vs. outdoor hallways is something to consider. When you're going from one place to the other at your resort, air conditioned indoor hallways can give you relief from the weather. You won't be walking in the rain, or having the sun beat down on you.
To read more about choosing the right Disney World resort for your trip, visit here.
11. Enjoy the Magic Safely with Loved Ones
Lastly, don't forget to share the joy and magic of Disney World with your loved ones. Engage in activities that everyone can enjoy together and create lasting memories. Communicate openly with your travel companions about your health needs and limitations, so they can provide support when necessary.
With proper planning and care, you can create a memorable experience while managing your heart or blood pressure issues. By following these tips and listening to your body, you'll be able to embrace the magic of Disney with a cheerful heart and a smile on your face.
Remember, your health is paramount, and if at any point you feel unwell or experience symptoms, seek medical attention immediately. Stay safe, stay hydrated, and enjoy every moment of your Disney adventure!
Join our facebook group!!!!
Ask any questions, share your knowledge and just enjoy getting to know other Disney fanatics in our facebook group called Walt Disney World Made Easy for Everyone.
Also join me on Pinterest here.
Thank you Amanda Legget for the header photo!
GET UPDATES, NEWS & TIPS (IT'S FREE!!!)
Sign up below to stay updated on the newest information, tips and tricks to help you plan your perfect Disney World trip!