At Disney, you're going to be around thousands of people from all over the world. While it's not possible to avoid germs completely, there are some things you can do to minimize exposure, and to keep your immune system as strong as possible. This is true even if you're generally healthy. For those who are starting off with an impaired immune system, it's even more important to take precautions.
Depending upon how you approach your trip, being at Disney can actually support your immune system or tax it. Relaxation and joy are known to help support the body. Overdoing it to the point of exhaustion and poor dietary choices are two things that can put a strain on your immune system. That can make you more vulnerable to illness like a cold or flu.
Here are some strategies for avoiding cold or flu and for keeping the immune system strong at Disney World: 
1. Time your Disney World trip away from cold and flu season if possible.
Common Cold season tends to be around September to April, approximately. The flu season tends to be around October through May. The peak of the cold and flu season is between December and February. There are many reasons for this such as a decline in ultraviolet radiation, drier air, and colder temperatures which preserve cold viruses, etc. Though it's not a guarantee, there will probably be less exposure during other times of the year. If this is a concern for you, consider scheduling your trip sometime away from the peak season.
2. Time your trip away from peak crowd times at Disney World.
For years now, Disney has become continuously crowded. Still there are times when it's a little less crowded, and times when it's insanely crowded with shoulder-to-shoulder people. If you're immune compromised or you just want to avoid catching something, consider timing your trip during a less crowded period. For info on how to do this, check out this article called How to Pick Your Disney World Travel Dates.
3. Avoid close contact in crowds as much as possible while at Disney World.
Some viruses can be airborne. To enjoy much of Disney, you won't be able to avoid crowds altogether, but you can minimize your exposure. Here are some thoughts on how to do that: 
Consider bringing or renting a car during your stay. On a crowded bus or monorail car you won't be able to avoid close contact. You could encounter a situation where you can't move away when someone near you is sneezing or coughing.
Avoid crowds during fireworks shows or parades. During these shows, crowds gather and can become very compact. Try to keep your distance from the crowds by either avoiding these shows, or by viewing them in a less popular area. For example in Magic Kingdom, you can watch the fireworks near the entrance/exit of the park. While you won't have as perfect of a view of the projections on the castle, you probably won't be packed in the crowd like a sardine in a can!
Some attractions put you in the middle of a compact crowd for several minutes. For example the Haunted Mansion pre-show has you in a small room filled with people. Sometimes you can bypass certain portions of an attraction. Let a cast member know if you want to do this. They'll let you know if it's possible, and if so, they'll guide you. You'll want to research the rides in advance to know which ones place you in tightly packed crowds.
Use Early Theme Park Entry and Extended Evening Theme Park Hours if you qualify. This allows guests to enjoy early openings and later closings at the parks. Although at opening there may be crowds, once dispersed into the parks there will be far less people to be around. There will also be fewer people in the parks when you participate in late closings. Currently according to Disney's site, all Disney resorts, plus the Swan & Dolphin resorts, Shades of Green are also able to participate in Early Theme Park Entry. For Extended Evening Hours all of the above can participate, plus many of the Disney Springs Resort area hotels can participate.
Time your food court visit away from peak hours. The resort food courts tend to be crowded and hectic at meal times, with breakfast usually being the most challenging meal time. If this is the only dining option in your resort, you may wish to prepare a simple breakfast in your room such as bagels or cereal. Consider staying in a Disney villa or suite with a kitchen. This will allow you to dine in your room without having to handle crowds.
Tip: If someone is displaying signs of illness near you while you're in a line, move away and keep your distance.

Of course you can't go ahead of them, but you can always move further back in the line to put some distance between you and them. Don't worry about looking rude. Just be polite and quietly do what you need to do to protect your health. People travel across the country and the world to be at Disney, and they occasionally get sick on their trips. Still wanting to enjoy their vacations, they'll go to the parks, take Disney transportation, etc. If you need to move away, do so.
4. Using hand sanitizer can help while at Disney World.
In many attractions, guests touch something such as a "ray gun" in Buzz Lightyear, or even a lap bar. Remember that when it's your turn to get on a ride, hundreds of people have touched it before you.
Although washing hands whenever possible is the best way to remove germs, that's not always practical at Disney. Sanitizer is the next best thing. Bring a bottle of hand sanitizer wherever you go and use it frequently. Also sanitize before eating. You can also use it to sanitize a surface such as a table or your ECV hand controls.
At this writing Disney offers hand sanitizer for sale in its shops, kiosks and carts. If it's not visible, ask a cast member. To save money, we bring a larger bottle of hand sanitizer and small, pocket size bottles. We refill the small bottles when we go back to our room.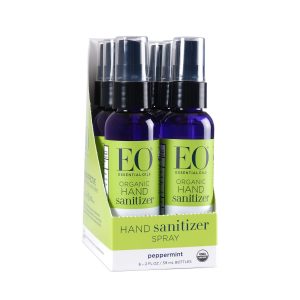 We prefer to use a more natural product, which also happens to be gluten free for those on special diets. It's called EO Organic Hand Sanitizer Spray. While it comes with different natural scents, we prefer the peppermint/lemon as we find that it's not as potent to others around us.
Sue Mickelson is a nurse certified in Infection Prevention and Control. She mentioned that refilling or 'topping off' is not usually recommended because it can lead to a contaminated product. However she suggests that if you do want to refill a small bottle, be sure to empty it and wash the inside and outside before refilling.
Tip: Remember that sanitizer is not 100% effective against bacteria and viruses. Since people can spread and catch infection by rubbing their eyes, nose and ears, avoid doing it even if you're using sanitizer.
5. Wearing a mask while at Disney World can help.
Currently everyone must wear a mask indoors. If you're seriously immune impaired, or if you're concerned about catching a flu or virus, wearing a face mask wherever you are may help.
There are various types of face masks and some will help more than others. Check with your doctor to see what he/she recommends if you plan to use a mask.
Also, according to Mayo Clinic, using a surgical mask and an alcohol-based hand sanitizer was shown to reduce the number of influenza-like illnesses even more than using a surgical mask alone.
6. Resort Strategies for avoiding cold & flu, and supporting immune strength when visiting Disney World.
Consider staying at one of the Disney resorts that offer a more peaceful and relaxing environment. This gives you a place to retreat to so that you can rest and recharge. Request a room in one of the more quiet locations of the resort. Check out our article called How to Choose Where to Stay at Disney World. Take note of hotels that have more issues with noise and avoid them if possible.
When you get to your hotel room, you may wish to use some antibacterial on surfaces that are commonly touched. While we find that the housekeeping staff usually does a good job, we still like to be extra careful. We bring lysol or similar antibacterial wipes and use them on places like the toilet handle and the sink hot and cold water knobs.
7. Keeping a healthy diet at Disney World can help your immune system and maintain resistance.
It's known that a diet that includes refined carbohydrates and simple sugars can suppress the immune system. If you're goal is to keep your immune system as strong as possible, keep those things to a minimum. Foods like potatoes, white bread, white rice, cake, ice cream and candy should be avoided.
With all that in mind, Disney World is full of sweets and tempting foods!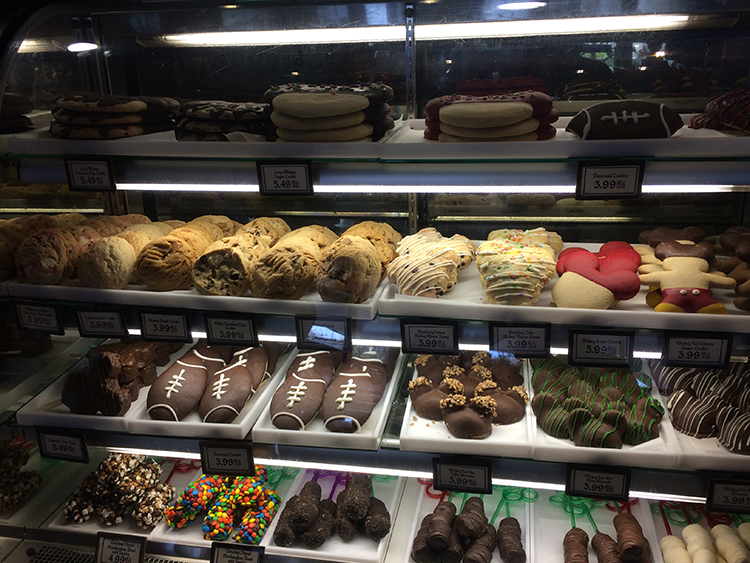 If you feel you must indulge, try to eat healthy during the majority of your visit, and pick your "cheats" carefully so it's worth it. Some people find that it helps to employ a companion help to keep them accountable. If your companion is willing to take that role, work out in advance what you want them to say and do if they see you're about to go over the line. Try to maintain the diet that you've found works for you.  
8. Immune boosters & modulators can help while at Disney World
Immune boosting nutritional supplements are available at health food stores, and even in some drug stores. Speak with your doctor before trying this, especially if you have autoimmune issues such as lupus or Hashimoto's thyroiditis. Here's what one reader does when she visits Disney:
"Parts of my immune system are weak. When I come to Disney, as a precaution I take two different kinds of immune supplements, and I also take a few natural antibacterials and antivirals (goldenseal, olive leaf and colloidal silver). I also take extra vitamin C every day. I bring an ozone machine and drink ozonated water every day. This puts extra oxygen in my body and it has immune boosting and antimicrobial properties. I try to keep my sugar intake very low. Honestly I sometimes treat myself to dessert but not often.  I make sure I get plenty of rest, and then I take the best medicine – I have a good time."
9. Minimize fear, stress and anxiety while at Disney World.
The immune system can be made worse by stress, fear and anxiety. Consider avoiding stressful, fear oriented attractions such as Dinosaur and Tower of Terror. Review attraction descriptions and decide what attractions to skip, and which to try. Bring a list for each park of your picks, and prioritize them.
Remember that depending upon crowd conditions and the length of your trip, you may not be able to do everything, so don't pressure yourself to get it all done. That pressure in itself can cause stress which can impact the immune system.
Determine to take this trip at a restful pace and to focus on having fun. Try not to take this as a marathon, and be careful not to become overtired.
10. The following are additional tips from members of our Facebook group (join us!) and other Facebook groups.
Tip from Missy L.: "Keep your hands away from your face! Your hands get covered in germs and touching your face introduces those germs into your system via your eyes and mouth. We just got back from a trip to wdw and happy to report we avoided getting sick."
Tip from Gillian Knight: "I always bring Clorox wipes for tables at the quick service restaurants and the room.
Tip from anonymous person in our group: "Hand Sanitizer must be at least 60% alcohol to kill bacteria and at least 90% to kill viruses. Bleach wipes, like Clorox, kill the most of both."
Tip from another anonymous person in our group: "We avoid the park food! It's so high in sugar that too much good Disney treats bring down the immune system. Plus too many people touch your food before you even get to eat it ?We don't use hand sanitizer because that eliminates the good and bad bacteria so good old hand washing is the key. Up your vitamin C/D, bring your own water filtration bottles, and we add colloidal silver to our beverages for additional immune boosting benefits. Disney is a huge Petri dish of bacteria so upping your immune system before you go and when you return is key."
Tip from Jealena King Reesor: "Try to avoid buffets, but if you do, eat buffets at off times when it isn't as crowded. People cough, sneeze and touch the utensils, which contaminates everything."
Tip from Kristen Cobb Lindsay: "We just spent a week at WDW. We each had a hand sanitizer attached to our park bags. We used it before and after every single ride. We wiped down tables with clorox wipes. We washed our hands often. We wiped down our plane seats, tray, armrests, seat buckle and belt on the plane with clorox wipes coming and going. Once at the hotel we used wipes to clean every hard surface we could. Maybe we were over cautious- but we all managed to spend a week at WDW and no one got sick!"
Tip from Heidi Forney: "Pillows are a huge potential problem for breathing in someone else's germs… bringing your own vinyl pillowcase cover and pillow cases to protect your face when you sleep can help."
Tip from Beth Evans: "Agree on the sanitizer! I use it after every ride, especially Buzz and Dumbo where you hold the controllers! I also carry Clorox wipes for tables and to use on trays and armrests on the airplane!"
Tip from Susan Smith Goodwin: "Because my son and I suffer from asthma, bad allergies, and I get bronchitis extremely easily, I always ask that my resort room to be deep cleaned before we arrive."
Tip from Mary Knowles: "*Sanitize the bottom of your purse or day bag. We set them down on so many surfaces throughout the day that we aren't even aware of.
*Sanitize/wash the outside of the sanitizer bottle. We reach for it with contaminated hands.
*The chair in a hotel room has been shown to be the most contaminated place.
*Take shoes off when you enter your hotel room if you can.
*Vitamin D3 with K2 has been shown to be highly effective at warding off the flu (Please consult your doctor. This is what our specialists told us because we cannot have the flu shot.)"
Join our facebook group!!!!
Ask any questions, share your knowledge and just enjoy getting to know other Disney fanatics in our facebook group called Walt Disney World Made Easy for Everyone.
Also join me on Pinterest here.
GET UPDATES, NEWS & TIPS (IT'S FREE!!!)
Sign up below to stay updated on the newest information, tips and tricks to help you plan your perfect Disney World trip!