Header photo by Kelly Rouillard
Facts at a Glance About Liberty Square Riverboat in Magic Kingdom:
Park:

 

Magic Kingdom. Location: Liberty Square. Height Requirement: None. Genie+: No. Individual Lightning Lane: No.
Quick Notes: Ride around Tom Sawyer Island in an early American steamship.
Disney Warnings: None
Disney Noted Attraction Details: Artificially introduced odor. May also include operational fumes. Loud noises.
Our Additional Cautions: Slow moving riverboat ride. Some areas are covered and some are exposed to the elements (sun or rain). Can become hot. Steam coming off the stacks may create possible exposure to steam droplets, which can be warm. Steamboat horn is quite loud, especially if nearby. The motor of the boat is very loud. Very few seats on board.
Length: The ride lasts approximately 13 minutes.
Special Needs & other info: Guests can remain in their wheelchair or ECV. The ride closes at dusk, and may not open during slow periods or inclement weather. Children under age 7 years must be accompanied by a person age 14 years or older.
Overview of Liberty Square Riverboat
This is a gentle boat ride around Tom Sawyer Island, aboard a replica of an early American steamship with a large paddle wheel on its stern (back side). It can be a pleasant way to relax, especially if the weather is nice.
Queue and ride car information for Liberty Square Riverboat
The queue is in a shaded area with some benches nearby. The loading dock is a covered, open sided structure. The boat leaves twice an hour on the half-hour, and if there are more people than can fit onboard, it's a long wait for the remaining guests.
Wheelchair/ECV and accessibility information: Wheelchair and ECV entry to boarding is up the exit ramp, which can be steep for manual wheelchairs. Guests take a ramp onto and off of the boat. There is no access for wheelchairs or ECVs on other levels.
We've heard that if you take your wheelchair or ECV on board, you're required to remain in it throughout the trip. Parking and walking up to the higher levels is not permitted. However we've asked permission to do this, and we were permitted. It may be at the cast member's discretion.
Additional details about Liberty Square Riverboat
There are some seats onboard the boat, but the view is partially blocked from those seats. Most people will have to stand anyway. You can lean on the rails if you need to. There are three levels on the boat, with steps to get to the upper levels. The steps are quite steep, and if a guest is unsteady, consider avoiding them.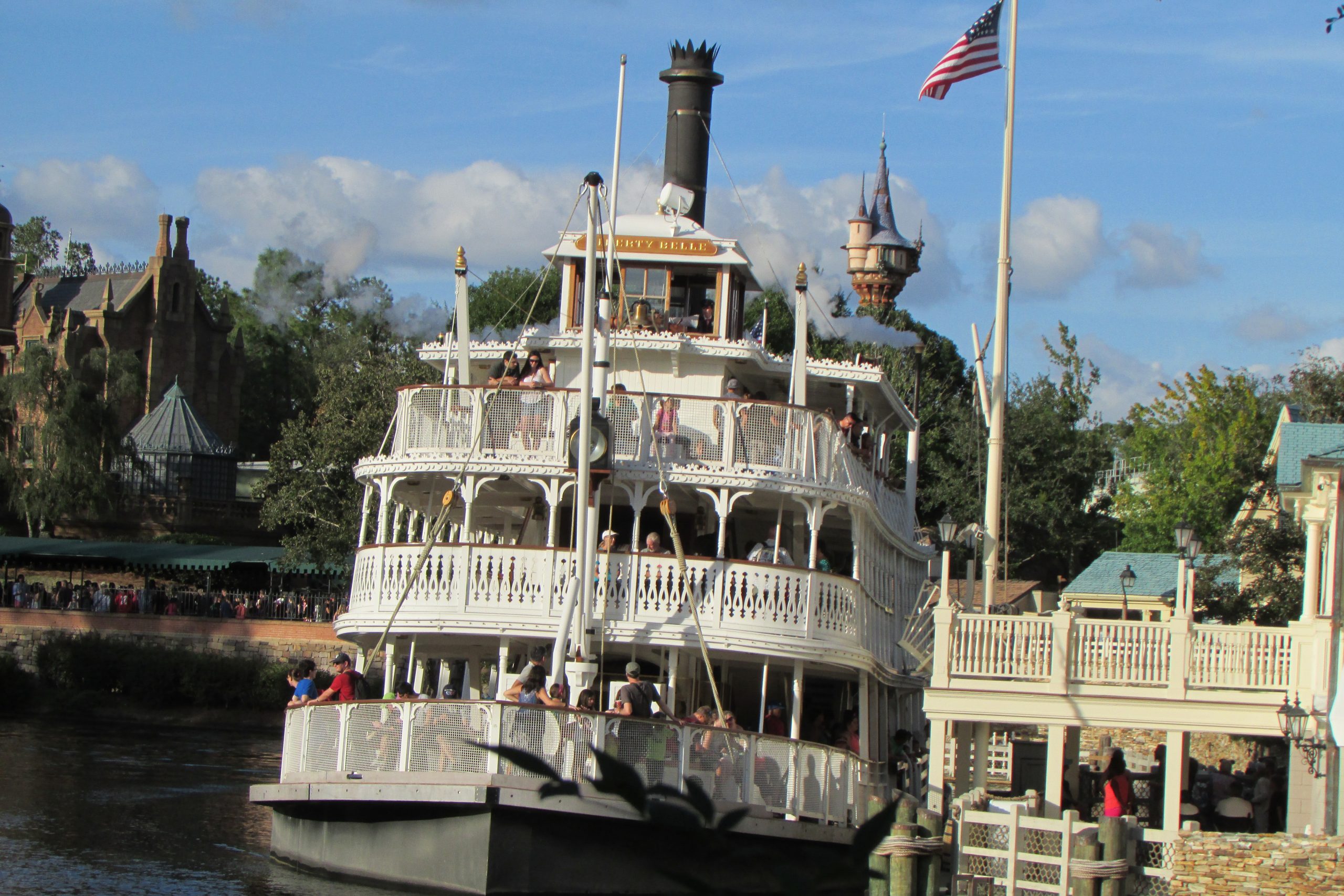 You may feel the steam coming from the stacks if the wind is pushing it towards you. Try to get a spot upwind if this is an issue for you.
If it's hot out, it will be hot on the boat. All of the decks have some shade, but the upper deck has the least. Though you can get out of direct sunlight, the lower two decks can still be especially hot. Don't count on a breeze to cool you down since the boat isn't traveling fast enough to create a strong breeze.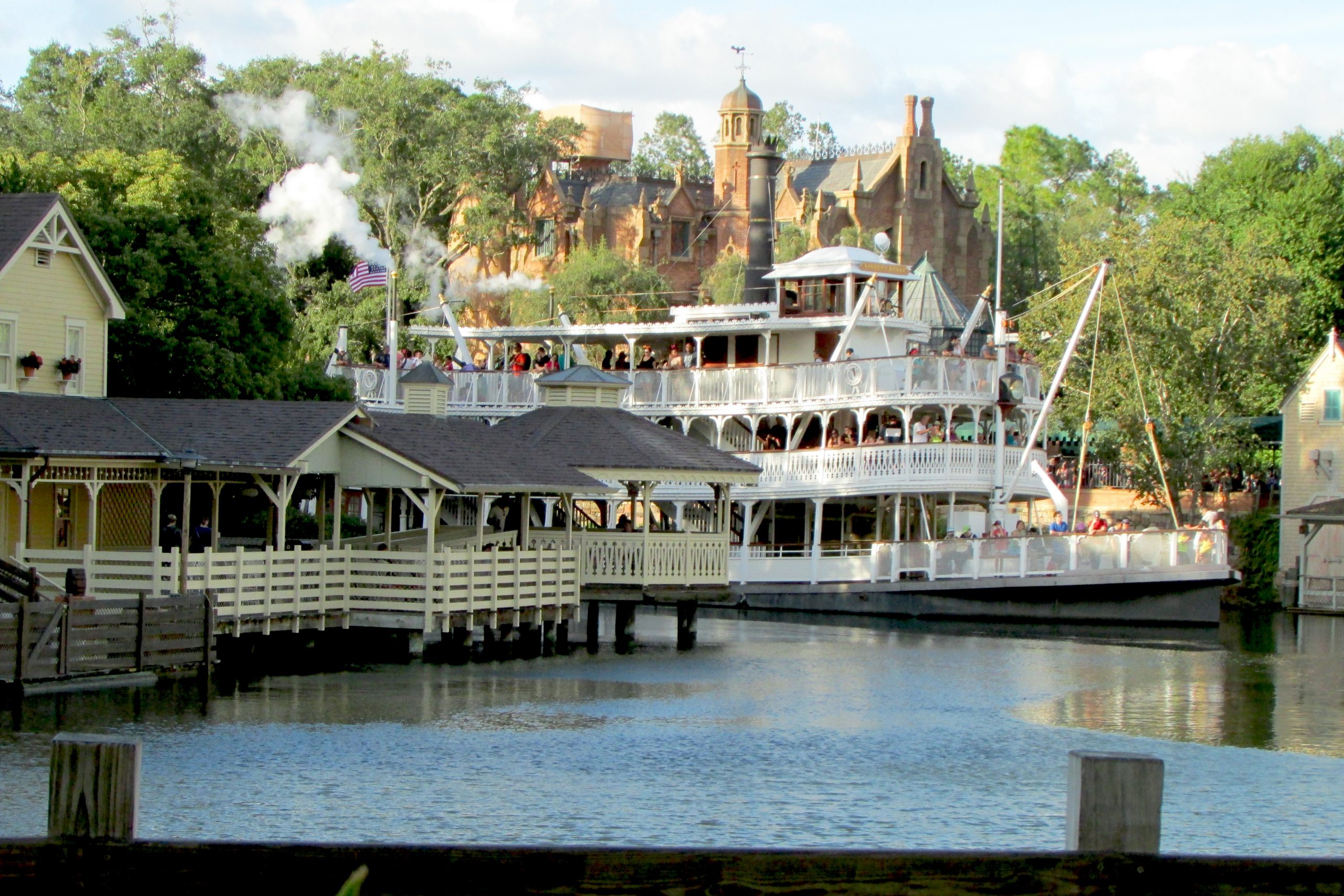 Check out other rides in Disney World's Magic Kingdom:
Adventureland 

Fantasyland

Liberty Square

Main Street USA

Tomorrowland
SEE RIDES AND ATTRACTIONS IN THE OTHER PARKS:
Join our facebook group!!!!
Ask any questions, share your knowledge and just enjoy getting to know other Disney fanatics in our facebook group called Walt Disney World Made Easy for Everyone.
Also: Like our facebook page here.
And join me on Pinterest here.
GET UPDATES, NEWS & TIPS (IT'S FREE!!!) Plus get a Free Disney World Planning Schedule Form.
Sign up below to stay updated on the newest information, tips and tricks to help you plan your perfect Disney World trip!