Guests in wheelchairs or ECVs will be able to enjoy all of the dining locations at Disney World. The processes vary depending on the type of restaurants and your ability to transfer.
Disney World full-service restaurants with wheelchairs and scooters
All Disney restaurants should be able to allow you to stay seated in your wheelchair or ECV.
If you plan to transfer, you can ride it to your seat, and once you've transferred they'll bring your wheelchair or scooter somewhere out of the way until you're ready to leave. They'll get it for you when you're ready to go.
Or if you can walk to your seat, you can self-park your wheelchair or scooter wherever the cast member at the restaurant directs you to place it. Then you'll walk to your table.
If you're not staying seated in your wheelchair or scooter during your meal, some of the restaurants require that they be be left outdoors while you dine, regardless of the weather.
Tip: My wife has a lot of medically oriented stuff on her scooter, so it's challenging to remove it all and take it with us when we have to place the scooter out of view of our table. We often request that it be kept in site of our table so we don't have to remove everything from it. Sometimes the restaurant is able and willing to do this for us, but sometimes it's not permitted.

If you're unable to park your wheelchair or ECV in your line of sight, be sure to take anything valuable with you into the restaurant. Even at Disney thefts can occur.
Some restaurants have tighter seating areas than others, so it would be more challenging to stay in a wheelchair or ECV, or even to ride to your table. That said, if you need to stay in your wheelchair the cast members can usually assist you by opening up a path. They can move chairs and even ask other guests to move if necessary. Another option is to wait for seating to open up on the perimeter of the tables.
Disney World counter-service restaurants with wheelchairs and scooters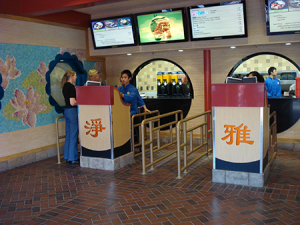 Ordering at  many of the counter-service restaurants in the parks and resorts can be a challenge for wheelchair guests. To find a wheelchair-accessible line, look for the wheelchair symbol, or ask a cast member. Most of the time if there are multiple queues, one or both queues on the ends are wheelchair accessible. Not all counter-service restaurants have an ordering line that's accessible.
Even if you do go through an accessible line, it may still be challenging. Getting in might not be a problem, but getting out of the line once you get your food may be next to impossible. Especially if the restaurant is crowded. Also carrying your tray back to your seat while riding in your wheelchair/ECV can be difficult.
If you feel at all challenged, don't hesitate to ask the nearest cast member to help you. The cashiers can usually help you, or they can call someone else to assist you. If the line is not accessible, they'll order for you and carry your tray. Even if the line is accessible, if you need help with your tray, don't hesitate to ask. They can even bring your food to you at your table, or they can carry your tray for you while you find a table.
If the first person you ask is not helpful (rare, but it's happened), ask someone else. Here's one person's strategy:
"When we eat fast food at Disney, My wife who's in an ECV just approaches the menu board to choose what she wants. She then goes to find a table, and I order for us both, and carry the food. It works out well."
Buffets: We've found that at all of the buffets in Disney World (yes we've tried just about all of them—some many times), there's plenty of room to maneuver a wheelchair to get your food. If there's ever an issue and you're unable to get to food items for any reason, ask a cast member for assistance. If you need help carrying your dish or tray, they should assist you.
————————————————————————————————————————-

NEED TO RENT A SCOOTER or WHEELCHAIR? We recommend Buena Vista Rentals. 
Our readers get a FREE ACCESSORY with rental.

Choose a FREE REAR BASKET, CUP HOLDER OR CANE HOLDER with scooter rental. MENTION THE DISCOUNT CODE "DIZABLED". 
————————————————————————————————————————-
Do you have more tips or thoughts on this topic? Please share them. You'll be helping others enjoy Disney safely and comfortably.
Please share them in the comment section below. We'd love your input.
Join our facebook group!!!!
Ask any questions, share your knowledge and just enjoy getting to know other Disney fanatics in our facebook group called Walt Disney World Made Easy for Everyone.
Also join me on Pinterest here.
GET UPDATES, NEWS & TIPS (IT'S FREE!!!)
Sign up below to stay updated on the newest information, tips and tricks to help you plan your perfect Disney World trip!