Facts at a Glance About Enchanted Tiki Room:
Park: Magic Kingdom. Location: Adventureland Height Requirement: None Fastpass: No
Quick Notes: Audio-Animatronics birds host a musical show with comedy. The show is pretty tame but there are moments that may seem scary to the very sensitive. See below for info.
Disney Warnings: None.
Cautions: Includes realistic looking Audio-Animatronic birds, flashing and bright lights, periods of darkness, loud thunder, lightning, loud noises/drumming, island religion, animal sounds. Most of the show is up towards the ceilings, so you must look upwards. There's a small amount of smoke. See below for other details.
Length: Preshow is approximately 4 minutes. The show lasts approximately 11 minutes.
Special Needs Info: Guests can stay in their wheelchair or ECV. Assistive Listening, Handheld Captioning, Attraction Translation, Audio Description.
Overview of Enchanted Tiki Room:
Rehabbed due to a fire and reopened in August of 2011, it was formerly called "The Enchanted Tiki Room: Under New Management. Lago, Zazu and the angered female tiki volcano god are no longer there, and the show is far tamer. Instead it reopened as a tribute to the original 1963 Disneyland and the 1971 Disney World versions.
This attraction is well loved for it's nostalgia factor! Tiki Room was the start of audio-animatronics at the Disney World parks.
The hosts of the show are José, Fritz, Michael and Pierre, brightly colored parrots with varied accents. They're joined by a wide variety of Audio-Animatronic birds, wooden tiki statues and even plants who all sing for your pleasure. There are over 300 animatronics that will be singing, including animals, plants and even tiki totem poles!
Queue, Seating & Preshow for Enchanted Tiki Room: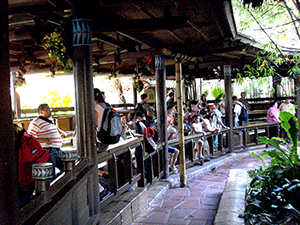 Queue & Preshow: The queue is under cover. There's a brief outdoor pre-show which is standing room only. First, a voice conjures the "spirit of the tropics" as rhythmic drums beat. A wooden tiki god statue is revealed with birds named Clyde and Claude sitting on its horns. There are some sound effects including a lion's roar, an elephant sound, and bird sounds. Clyde screams at one point.
Entering the Theater: After the preshow, guests will enter the theater. Those using mobility devices enter a gated area to the right on entering the preshow area. They will wait in the front row and be directed to enter the theater slightly before the rest of the guests, after the preshow. There are limited wheelchair/ECV spaces inside the theater, so if all are filled, you may be asked to come back to a later show.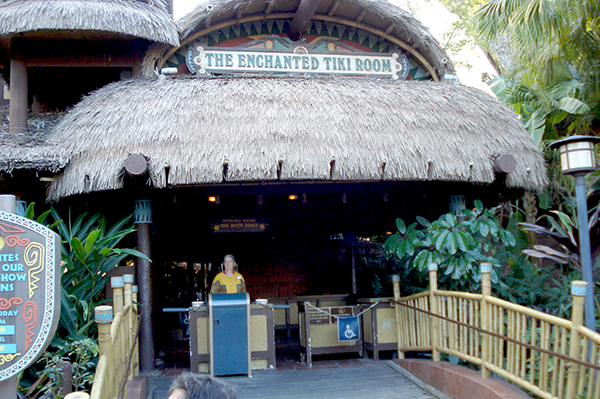 Theater Seating: The show is in a theater in the round. Seats are hard benches with a thin padded wood beam for the back that can be uncomfortable.
Enchanted Tiki Room Feel, Experience, Details & Tips:
Guests near the wall or on the ends of rows may be very close to the "tiki drummers".
The statues have moving eyes and mouths, and some have moving arms for drumming. It's a bit creepy, but it's a low key show which doesn't seem designed to be to be scary except for one brief part. At one point the room goes dark, and rain, thunder and lightning starts. You can see it through windows, and there are some flashing lights in the room. The birds get agitated and they all start making loud bird calls. The lights come back on fairly quickly. A bird says "The god's have been angered by all the celebrating".
Regardless, the show turns immediately positive again after this, and they begin singing their final song which is very upbeat. The 'windows' are along the outside walls, and they show a tropical scene earlier in the show. Watch for these and avoid the rows against the wall if you don't want to be close to the windows.
Most of the show takes place above you, so you'll be looking upwards toward the birds and characters suspended from the ceilings.
The place is kept quite dark, and there are moments where it's completely dark. The birds have bright lights shining on them, so there are brightly lit birds in a very dark room.
There's a variety of light effects including flashing and spot lights.
Here's what one of our readers had to say about this attraction:
"It's my favorite attraction at MK! I have anxiety and slight claustrophobia, and I don't find the Tiki Room triggers those at all." —Toby Fife
But here's a completely opposite reaction:
"We ALWAYS visited the tiki room when I was a kid. I thought for sure my ASD son would enjoy it. Cute birds, lighting is dim, isn't crowded (at least not when we go). Boy was I wrong. He hated it. Thank goodness we were near the exit doors & we just slipped right out the door. I don't really know what exactly set him off, but it was a "no" from him. — Jessica Blake.
Here's a video that includes the Tiki Room preshow, a look at the seating inside, and the main show.
Join our facebook group!!!!
Ask any questions, share your knowledge and just enjoy getting to know other Disney fanatics in our facebook group called Walt Disney World Made Easy for Everyone.
Also: Like our facebook page here.
And join me on Pinterest here.
GET UPDATES, NEWS & TIPS (IT'S FREE!!!) Plus get a Free Disney World Planning Schedule Form.
Sign up below to stay updated on the newest information, tips and tricks to help you plan your perfect Disney World trip!