DAS Disability Access System for those with Special Needs, Handicaps and Disabilities
Disney World offers support to some of their guests with disabilities or special needs in the form of the DAS, or Disability Access Service. We'll go into depth to answer all your questions and to give you tips.
Keep in mind that the DAS is not a part of the Genie+ program. That is a separate plan that you can purchase. They can both be accessed using the My Disney Experience app. They can be used at the same time, and we'll go into that in more detail below.
What does a DAS do for you?
The DAS allows you to wait for a ride or attraction outside of the queue for most of the wait. While you will still need to wait about the same amount of time that you would have if you waited in the regular Standby queue, you can wait anywhere that you're comfortable. You can even go on another ride or attraction if you have time. This is great for those who have difficulty staying inside a queue.
The DAS can be used on rides, attractions and character meet & greets that offer both a Genie+ queue and a regular Standby queue.
The DAS can also be used on any ride or attraction that has a posted wait time and an alternative way into the attraction (usually the Genie+ line).
Finally, the DAS can be used at attractions as long as the Cast Member at the attraction has a way to determine the expected wait time, as long as there is a way to get you into the attraction by bypassing the standard queue. For example, we've heard that they're allowing the DAS to be used for Astro Orbiter in Magic Kingdom. This ride does not have a Genie+ Lightning Lane, but you can bypass the line at your return time and go right up the elevator to the ride.
What does a DAS NOT do for you?
– A DAS does not get you shorter wait times for attractions and rides. It does not get you to the front of the line.
– A DAS does not Provide a place to sit inside the attractions/queues.
– A DAS does not tell Cast Members what other assistance you might need such as sitting up close, avoiding stairs, etc. You will need to explain your needs to the Cast Member at the attractions. A DAS is NOT required for those accommodations.
– A DAS is not usable on rides, attractions, meet & greets, parades and fireworks shows that don't offer both a Standby queue and a Genie+ queue.
– A DAS is NOT used at the water parks, for buses or at restaurants.
– A DAS does not give you a Genie+ pass.
Who is a DAS NOT meant for?
For those with mobility problems, if your issue can be solved by getting a wheelchair or mobility scooter, Disney will not give you a DAS. You will need to have a wheelchair, ECV or another mobility device if you have difficulty standing or walking in lines. Keep in mind that most guests walk at least 5 miles per day at Disney, and many queues are over 1/4 to 1/2 mile long.
A DAS is NOT required to use mobility devices in lines or on attractions. Those using ECVs, wheelchairs and other mobility devices will usually wait in the regular Standby line (or Genie+ line if they have a Genie+ for that attraction). For a few attractions those guests will be given a Return Time ticket because the entrance and/or line is not accessible. A DAS is not required to get a return time.
Who CAN get a DAS?
Anyone other than those mentioned above with a disability that makes waiting in a traditional line difficult. To qualify you can have a visible or invisible disability.
If you do use a wheelchair or ECV but you have other disabilities that are not mobility related and make it difficult to wait in a traditional line, you still may be able to get a DAS.
Where do you go to get a DAS?
There are multiple ways to get your DAS.
1: Pre-Arrival Registration and Planning Live Video Chat feature for the DAS.
Guests will be able to chat via live video chat (English only), as much as 30 days in advance of their park visit. It can be no closer than 2 days to register this way. The guest who needs the DAS pass must be present during the live video call.
Advance Planning Option: In addition to registering for the DAS, during this video chat guests can choose up to 2 experiences each day (subject to availability), to book DAS entry. These DAS times are in addition to any that you request yourself at the park during the day of your visit. For these two experiences, you'll have a 1-hour window to visit the attraction/experience. To see which rides are included, visit Disney's Advanced Planning Option page with the Experiences list here.
When you're ready to register, you can go to this page on Disney's site to "Request Live Video Chat".
We're hearing that there are currently long waits to connect with a live chat Cast Member. When we say long, we mean very long! As much as a 5 hour wait, or even more.
2. Guest Relations at the first park you arrive at.
Officially Disney does officially say that you'll need to get your DAS at a Guest Relations Main Entrance location inside of any of the four parks. However we have gotten it in the past at Guest Relations just outside the entrances, and it's likely that any of the park Guest Relations offices can help.
Here are the Guest Relations locations:
Animal Kingdom:
Before you enter the park, just outside the park entrance, on the left hand side.
Just after you enter the park, to the left.
Magic Kingdom:
Outside the park, there's a window just before the park entrance on the right side.
Inside the park, in the City Hall lobby, to the left of the park entrance.
Hollywood Studios:
Outside the park, there's a window just outside the park entrance, on the left.
Inside the park, near the park entrance, in the Guest Relations lobby near the turnstiles on the far left.
Epcot:
Outside the front of the park to the far right of the main entrance.
Near Spaceship Earth on the left side after entering the park.
Outside the park , at the entrance to the International Gateway – World Showcase entrance.
3. Guest Experience Team blue umbrella locations inside Magic Kingdom and Hollywood Studios.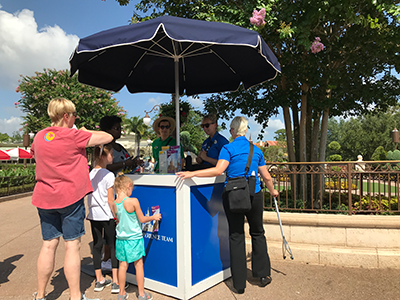 Located around these two parks you'll find blue umbrellas with Cast Members there. They can give you the DAS and they can designate your stroller as a wheelchair. They can give you your DAS return times for your next attraction/ride. Or you can go to the attraction.
In addition to the above services, the Cast Members at these locations can also help with other Guest Relations type requests.
To find the locations of the Guest Experience Teams, either check your My Disney Experience app, or visit Disney's Guest Experience page here to view the map.
Can you get your DAS before your visit?
Yes. You can get a DAS before your visit using the Live Video Chat feature. See details above. If you didn't use Pre-Arrival Registration, you can get a DAS during your visit, when your tickets are active and you're inside one of the four main parks.
Can you get a DAS at Disney Springs Guest Relations?
No. You can not get a DAS at Disney Springs. Only in any one of the four main parks.
How do you get a DAS?
At Guest Relations or during your live video chat, you'll speak with a Cast Member to request a DAS. The person needing the DAS must be there, but they are not required to make the request. Someone in your party such as a guardian can make the request.
If you've had a DAS issued to you in the past, the easiest thing to do is to ask for it to be renewed. If you're still in the system they'll find you and reissue new dates. We are currently hearing that guests are having to go through the full process even if they've had a DAS in the past. This includes needing to answer questions about why you need the DAS.
What will you be asked when applying for the DAS?
If you haven't gotten a DAS before, or you're not in the system, you'll be asked why you need it. All the Cast Member will want to know is why a DAS will help. Be prepared to briefly discuss your concerns with the Cast Member. 
What will you NOT be asked when applying for the DAS?
You do not need proof of your disability. You will not need to give a diagnosis, and doctor's notes will not be looked at because of legal issues. Remember, even though you won't be sharing a diagnosis, you will need to sign the terms and conditions agreement document, confirming that there is a true disability.
More about how to answer when you're asked why you need a DAS at Disney World:
Here are some sentences you may want to finish to think about how to present your needs to the Cast Member in Guest Relations:
Waiting in line is hard for me because …

When I'm in line waiting I experience …

Waiting outside the line helps me because …
Again, a mobility problem will not qualify you for a DAS if a wheelchair or scooter could solve your problem and make you comfortable. We have heard of people getting a DAS for a mobility problem, but that's the exception rather than the rule.
Photos will be taken
Once you're approved, the Cast Member will take your photo and put you in the system. If for any reason you don't want a photo of your child taken, you can have another person in the party have their photo taken. If you do this, that person will need to be present whenever the DAS is used.
How long will the DAS be valid for at Disney World?
The DAS will be good for use in all four parks. It will last up to 60 days.
How many people can I have attached to my DAS?
You can have up to 6 people added to your account. That includes the person needing the DAS plus 5 more. If you have more than that in your party, speak with Guest Relations. They may be able to accommodate you. This usually requires a supervisor to get involved. If you have more than 6 people attached to your DAS, be aware that some attractions won't be able to accommodate that larger number.
Everyone in your party will need to be present when you get your DAS so they can be put in the system as a part of your party. This will enable them to join you on the rides and attractions. If someone joins you later, you'll need to take them to Guest Relations to be added to your DAS.
What if more than one person in your party needs a DAS?
Each person that needs a DAS can have one. The others in your party can be linked to each DAS holder. There's no limit to how many DAS holders they can be linked to. This way the non-DAS using members of your party can go on rides and attractions with any of the DAS holders. However a person with a DAS can not be linked to another person with a DAS. Also a person linked to a DAS holder can only be included in one return time at a time.
How do you use your DAS at Disney World?
1. Get a return time for your DAS pass. 
DAS holders can use the Same-Day DAS Return Time Self-Selection tool using the My Disney Experience app. This is  awesome! Guests can make their next DAS selection right on their mobile devices during the day of their park visit. Now you won't have to go to the attraction/experience to get your DAS as was previously required. When you first arrive at the park, your DAS should become available on the My Disney Experience app.
So, you'll either use your mobile device, or you or someone in your party who is connected to your DAS will go to the ride or attraction you're interested in experiencing.  The person with the disability doesn't need to be present. It can be anyone connected with the DAS. Tell the Cast Member at the entrance of the attraction/ride that you need a DAS return time.
The Cast Member (or the app) will give you a return time based on the current Standby Wait Time for that attraction. If the return time is very long, your DAS return time will reflect that. Remember you can only have one DAS return time at a time, so this will tie it up the DAS.
If there's more than one person in your party with a DAS and you both want to go on the same ride, you'll both need to get a Return Time. Or if each DAS holder wants to go on different attractions, they can. However the members of your party must only be listed in one return time at a time.
How does the Cast Member (or the app) come up with a return time exactly? It should be comparable to the amount of time you'd wait if you were waiting in the regular Standby queue. The Cast Member looks at the current wait time for that ride and then at their discretion, they can subtract 10-15 minutes. So if you were waiting in the regular queue and the current wait time would be around 1 hour, your return time might be anywhere from 45 minutes to 1 hour later.
Your return time represents the earliest you can get in, but it's good any time from the return time forward, until the park closes.
2. Wait for your return time.
What you do with your time is up to you. Rather than waiting the entire time in a queue, you can wait wherever you want. You can grab a bite to eat, go on another ride, explore the stores, or just people watch! You can even use a Genie+ if you have purchased it.
3. Go back to the ride/attraction.
You'll return to the ride after your return time arrives. If an attraction has a Genie+ queue, you'll be able to use it. If there's an alternative entrance for those who are handicapped, you should be able to use that.
The DAS holder will have their Magic Band or park ticket scanned first. Then the others in the party connected to the DAS can go in.
Often you'll still have to wait in a queue once you go back, but it will be a much shorter wait than if you were in the regular Standby queue. It's usually no more than 15 minutes, but that's not set in stone. It can be shorter or longer.
The DAS cardholder has to be going on the ride. This means that the party associated with the DAS holder can not use the DAS without the DAS holder being there.
4. Get a new return time.
After you have used the DAS Return Time you can get another Return Time for the same attraction you just went on, or you can get one for a different attraction.
Here's a tip from one of our Facebook group members: "The DAS can also be cancelled in the app. This is very helpful when the wait time is dropping. I modified (by cancelling and rebooking) one DAS 3 times because I booked it with a 90 minute listed wait, but it immediately dropped to 80, then 70, then 60. All within about 10 minutes. So a few clicks saved 20 minutes of wait time." – Cricket Penny
How many DAS return times can I have at once?
You can only have one at a time, and it's good until you use it (that same day only). Once you redeem your active return time, you can get another one. There is no limit to how many times in a day you can use the DAS system. This does not include your two return times you were given in the pre-check-in.
What if I change my mind and want a DAS at a different ride or attraction?
Go to a Cast Member at the new ride or attraction, and tell them you have a DAS already but you'd like it to be modified. They can do that for you.
How many times can I use the DAS for any one ride? Can I repeat rides?
You can use the DAS to go on any one ride as many times as you'd like. There's been some confusion because with the Genie+ plan you can only use it for each ride one time that day. However, it's not the same with the DAS. With DAS you can repeat rides as many times as you'd like.
You can also use Genie+ for shorter wait times
Genie+ is not included in a DAS. However, if you have purchased Genie+ or Lightning Lane passes, you can make use of the Genie+ system at the same time that you're making use of the DAS. This is a strategy for cutting down on wait times and getting more rides in in a shorter time frame. Take a look at our easy guide to learn everything you need to know about using the Genie+ system.
Feedback from the parks is that some people love having Genie+, Individual Lightning Lanes and the DAS all together. They feel you can really get more rides in, especially in Animal Kingdom and Epcot. At Magic Kingdom it seems to be almost as helpful, and some people find it the most helpful because it has the most Genie+ included rides.
However some people find that it's not necessary to use both the DAS and Genie+. Here's what one of our Facebook group members who used both together had to say:
"We had Genie+ and DAS. We found DAS much more convenient as it said "Any time after … " while the Genie+ said a more specific "between __ and __." If there is a need for rest, even leaving the park, the DAS is still good." – Diane McDorman Dunn
One of our readers, Sherryl Williams also feels it's unnecessary. She had this to say about the need for Genie+ and Individual Lightning Lanes when you also have a DAS:
"…It was not necessary for me . I had no trouble riding everything I wanted with just the DAS. It might speed things up the the point you were rushing from ride to ride.The Genie+ is fine for families who do not have a DAS and do not care about the most popular rides. Individual Lightning Lanes is for those who want headliners. But DAS gives you the headliners without paying extra for them. I think families may try genie plus once and then just return to using the DAS. Rides are not always available with Genie+ as the day proceeds. They are always available with DAS."
Can I use a DAS at special ticketed event parties?
Sometimes Disney closes down a park (usually Magic Kingdom) and throws a special ticketed event party, like Mickey's Very Merry Christmas Party or Mickey's Not-So-Scary Halloween Party. They do not have Genie+ during these events, and during these parties, the official policy has been that guests can not use a DAS, but that's recently been changed.
Now we've been getting feedback that Disney has been allowing the DAS to be used during these special ticketed event parties. We've even recently seen a note that someone received from Disney saying that the DAS would be available during the Halloween party (except for character meet & greets).
Another tip: Usually guests of the special ticketed events are allowed to arrive early. For parties that start at 7 PM guests may be allowed to enter at 4 PM. For after hours events that start at 9 pm or 9:30 guests have been reporting that they can enter at 7 PM. You can enjoy the park while the park is still open to the regular guests who are there for the day. When you go early, you'll be able to get a DAS, and the DAS will be usable until the park closes down for the special ticketed event party.
What if I need additional accommodations?
Disney realizes that this DAS system may not be the complete answer for every guest. Whether or not you have a DAS, you can discuss your needs with a Cast Member at each attraction. We've found Disney World to be very accommodating. Cast Members will try to help if they can. For example they may be able to slow down or stop a moving walkway, or help you get a seat in a certain location such as near the stage. Here's an example:
"My wife has difficulty transferring into a manual wheelchair from her scooter because she finds it painful on her back. We really enjoy Buzz Lightyear in Magic Kingdom, but you're required to transfer from the scooter to a wheelchair to enter the queue. The last several times we've gone we explained the problem. They've allowed her to park her scooter outside, right by an entrance that leads directly to the ride cars. She is then able to walk the short distance to the ride cars without having to transfer to the manual wheelchair."
Be prepared to explain your additional needs briefly to the Cast Member at the individual attraction.
If you have any general questions you can contact Disney. If you have specific DAS questions related to your situation, you'll need to have that addressed in person at Guest Relations in the park. Here's the contact information:
email: Disability.services@disneyparks.com
Phone: (407) 560-2547.
You can view Disney's DAS page for FAQs here.
These articles cover everything from pregnancy at Disney World to Diabetes, allergies, etc.
————————————————————————————————

NEED TO RENT A SCOOTER or WHEELCHAIR? We recommend Buena Vista Rentals. 
Our readers get a FREE ACCESSORY with rental.

Choose a FREE CUP HOLDER OR CANE HOLDER with scooter rental. MENTION THE DISCOUNT CODE "DIZABLED". 
————————————————————————————————
Join our facebook group!!!!
Ask any questions, share your knowledge and just enjoy getting to know other Disney fanatics in our facebook group called Walt Disney World Made Easy for Everyone.
Also join me on Pinterest here.
GET A FREE TRIP PLANNING CALENDAR TEMPLATE, UPDATES, NEWS & TIPS (IT'S FREE!!!)
Sign up below to stay updated on the newest information, tips and tricks to help you plan your perfect Disney World trip!