Facts at a Glance About Astro Orbiter:
Park:

 

Magic Kingdom. Location: Tomorrowland Height Requirement: None Fastpass: No
Quick Notes: Spinning ride that's very high up, and allows you to move upwards and downwards.     
Disney Warnings: Spinning.
Our Additional Cautions: This is an elevated spinning ride located on an elevated platform high above Tomorrowland. Guests take an elevator up to the ride. Those with back and knee problems may find the ride car particularly uncomfortable and challenging to get in and out of. You must step down into a low-sitting smallish ride car.
Length: Rides last about 2 minutes.
Special Needs & other info: Those in a wheelchairs or ECVs must transfer to the ride car. Children under age 7 years must be accompanied by a person age 14 years or older.

Overview of Astro Orbiter
As you walk into Tomorrowland, high above the tops of the building lines you'll see colorful planets, and small rocket ships spinning around a hub. Similar to the other Magic Kingdom spinning rides like The Magic Carpets of Aladdin, this is perhaps a more thrilling version. Instead of gently gliding off of the ground as in the other rides, you're already about 50 feet in the air before you take off. Then you rise higher, getting to approximately 80 feet high. This can be thrilling or scary, depending upon how you see it! The slightly faster motion and longer arms create a more exciting experience when you first rise.
We've heard that Astro Orbiter is regarded by locals as a great "date ride." It affords a fantastic view of the Magic Kingdom, which is particularly nice at night.
Queue and ride car information for Astro Orbiter
Some of the outdoor queue is in the shade, and some in the sun. There's often a long line of people waiting to board. It's a slow-loading ride, so the queue can move slowly. You'll wait on the ground level to take the very small elevator up to the ride cars. The elevators simulate the real gantry elevators for manned space vehicles. They're often packed "like a sardine can" with people. We had previously reported that the elevator had a strange odor, but on our last visit this seems to have been removed.
You're taken very high up, and you get the full impact of the height once you get up to the ride car loading area.
You'll enter a ride car that looks like a little space rocket that seats two. You must step over the side of the ride car and then down into a low-sitting seat. You can use the seat as a step to make this easier. People with back and knee problems may have a hard time getting in and out. Larger or taller people may be uncomfortable in these little rockets. There's no upper back or head support. Two people fit in a rocket; the person in front sits in between the legs of the person in back. You can request to ride alone if you want more room.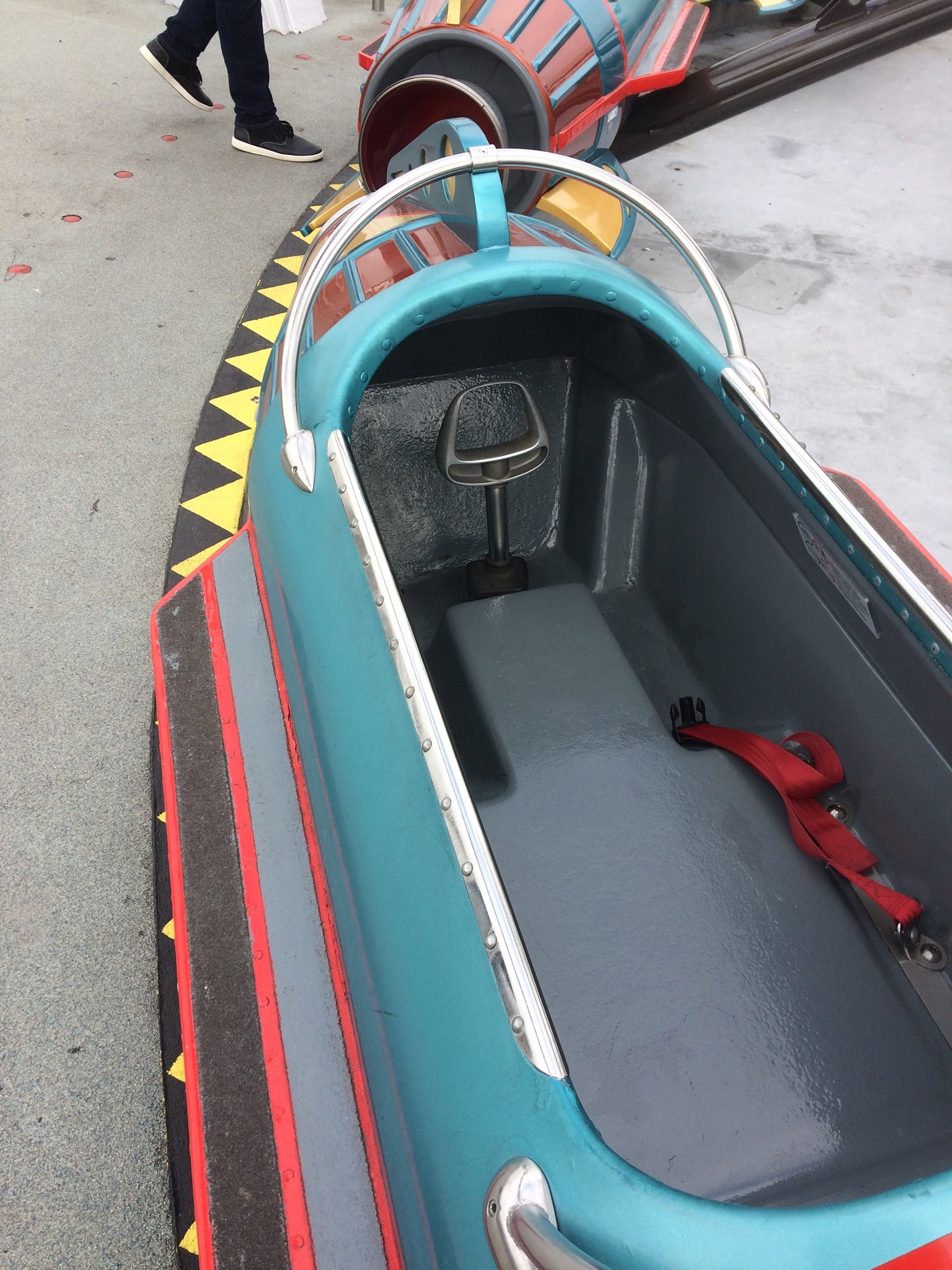 Wheelchair/ECV ride loading: Though it's not posted, if you're in an ECV you will probably be required to transfer to a manual wheelchair to go up to the ride because of the small size of the elevator and limited space at the top. Some people with disabilities will need assistance getting into the ride car, and a member of your party must do this. Wheelchair users can pull right up to the ride vehicle to transfer into it. You must step over the side of the car which is about a foot or so, and down into the ride car which is very low. You'll then have to sit in the car which is almost ground level.
Additional details about Astro Orbiter
The spinning motion will create centrifugal force, which may be challenging and uncomfortable for those who are weak or sensitive. You control the vehicle's up-and-down movement by moving a lever backwards or forward. There's a restraint across your lap, though some people report that they still feel like they could fall out. This ride spins around quickly. People with motion sickness tendencies or dizziness issues will want to avoid this.
Check out Astro Orbiter on video:
Check out other rides in Disney World's Magic Kingdom:
Adventureland 

Fantasyland

Liberty Square

Main Street USA

Tomorrowland

TRON Lightcycle Power Run Rollercoaster 

(Coming Soon)
SEE RIDES AND ATTRACTIONS IN THE OTHER PARKS:
Join our facebook group!!!!
Ask any questions, share your knowledge and just enjoy getting to know other Disney fanatics in our facebook group called Walt Disney World Made Easy for Everyone.
Also: Like our facebook page here.
And join me on Pinterest here.
GET UPDATES, NEWS & TIPS (IT'S FREE!!!) Plus get a Free Disney World Planning Schedule Form.
Sign up below to stay updated on the newest information, tips and tricks to help you plan your perfect Disney World trip!