Header photo by professional Orlando photographer Candi Hall
Location: Magic Kingdom area. Address: 4510 North Fort Wilderness Trail, Lake Buena Vista, FL., 32830  Phone: (407) 824-2900, Fax: (407) 824-3508, Kennel: (407) 824-2735, Check-in: 3 PM for cabins and 1 PM for campsites. Check-out is 11 AM. Parking fee: $20 per night for the Cabins. Guests staying at the Campsites get complimentary standard parking for one vehicle. Check-in: 3 PM. Check-out: 11 AM. Resort Type: Moderate.
Overview of The Campsites at Disney's Fort Wilderness and The Cabins at Disney's Fort Wilderness
While the Cabins at Disney's Fort Wilderness are considered a Moderate Resort, the campsites are considered a Value Resort. Since the two share resort facilities, we'll cover them both here.
In the midst of over 750 acres of pine and cypress trees, this is a great alternative for those who love nature. With an American frontier theme, the 409 cabins offer rustic décor with modern amenities such as air conditioning, housekeeping, and a full kitchen and bathroom. There are also 784 traditional sites available for everything from tents to motor homes.
Check out this video for a complete tour of the Fort Wilderness grounds:
Advantages and some disadvantages of Fort Wilderness Resort
ADVANTAGES: In addition to the Disney magic you can expect in every single Disney World resort, here's what's really good about this resort:
It's beautiful and tends to be peaceful and relaxing. If you enjoy nature, you'll enjoy this resort.
The cabins afford more privacy than most hotel rooms.
Moderate prices compared to the deluxe Disney resorts.
For those seeking fun, there are more activities here than at any other Disney World resort (see below for details).
For those seeking quiet, it's not hard to find it here. 
Animal lovers will enjoy it. Guests often spot the local creatures including ducks, deer, turkeys, rabbits, squirrels, armadillos, raccoons and various birds.  Those who are afraid of animals may wish to consider another resort.

Turkeys on property at Disney's Fort Wilderness (Kristy Capobianco Dewey)

Good dining choices. Guests can cook in their own kitchens, or make use of the various restaurant options.
You get all the benefits of being in a Disney resort. In the past these perks have included Early Theme Park Admission, Extended Evening Theme Park Hours, room package delivery, transportation, etc.
You get to use the Disney bus system.
Cabins sleep up to 6 adults plus a child under 3 years old. 
You can see some of the Epcot and Magic Kingdom fireworks from the lake front.
There's plenty of room on the grounds for kids to run and play. Adults too!
DISADVANTAGES
The resort is huge! Getting around can be time consuming as well as physically challenging.
Transportation is not optimal for convenience. Using your car to get around inside this resort is not permitted. Using the internal and external bus transportation system can mean long waits and transfers. Guests are only allowed one car per campsite or cabin. You can have two cars if one is part of your rig. Other cars can be parked at the lot found near the entrance to the resort.
 Long walks to transportation. It can be a long walk to bus stops from many of the cabin and campsite areas.
Its pools are not particularly themed or as large as some of the other resort pools.
Allergies can be an issue. Those with allergies should keep in mind that the resort is in the woods with plenty of foliage including pine and Spanish moss. Both the cabins and campsites are surrounded and filled with trees.
Accessibility: For the most part, the resort is accessible, and there are paved roads and walkways going almost everywhere. However there are some areas within the resort that are not paved. For example the Campfire Sing-A-Long area is covered with gravel. There are also some wood bridges.
The cabin's largest bed is a queen sized bed. Some people might not be comfortable on a queen.
Yes, it's imperfect, but it's Disney. Many people would rather stay at a Disney Moderate resort than a much more deluxe resort somewhere else. There's that intangible "magic" that everyone talks about at the Disney resorts. It's real and you can't experience it anywhere else. If a Moderate resort fits within your budget, and the theme of this resort appeals to you, this may be a good fit for you.
The main building & Check-in at Fort Wilderness Resort
In this huge resort the amenities are scattered throughout many buildings, however check-in takes place at the Fort Wilderness Outpost building. If you've rented a golf cart (see below) they're picked up outside near this building.
The Fort Wilderness Outpost is a cozy location with a log and stone exterior. Inside there are wood floors, as well as wood walls and counters. The interior has a sitting area by the stone fireplace that adds to the homey feel, and rough-hewn wood furniture creates a wilderness feel. There's a television playing Disney cartoons for the kids to watch.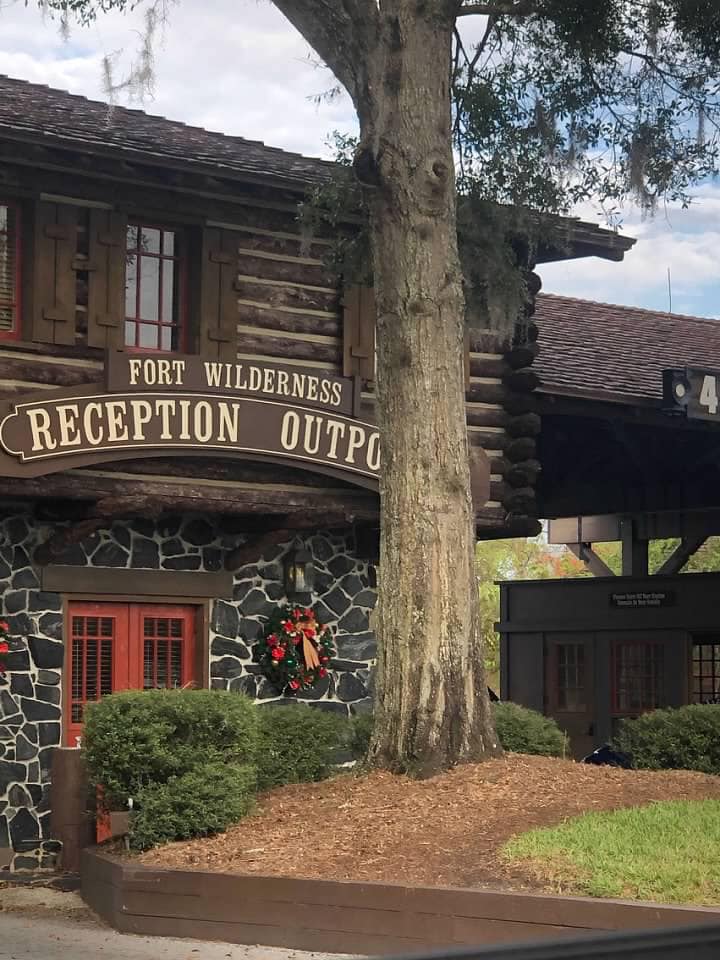 Reception Outpost at Disney's Fort Wilderness Resort (photo by Kristy Capobianco Dewey)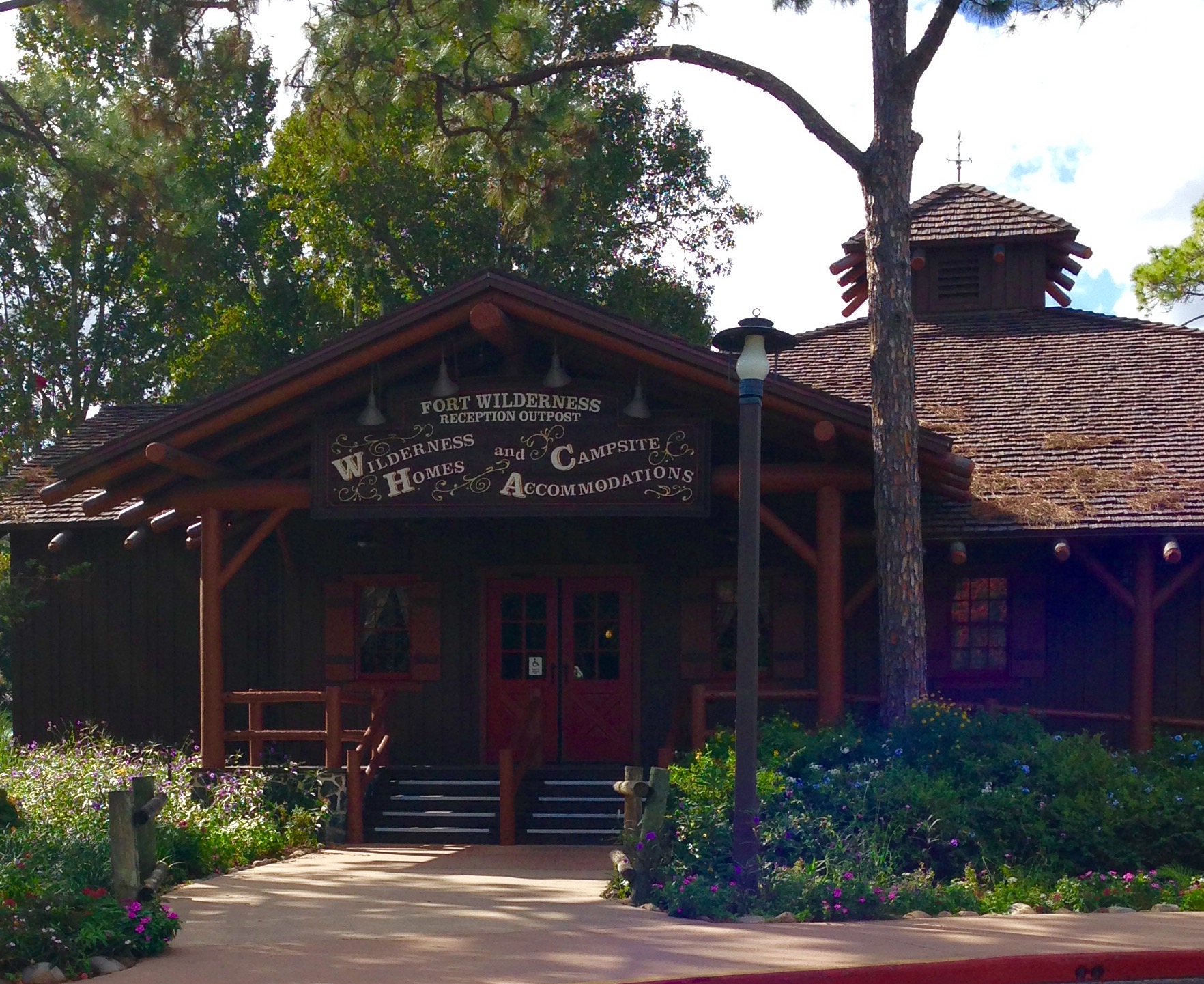 Wheelchairs users will find a low accessible counter for check-in. Guests who are staying in a RV or tent can register in their vehicles at the drive-through windows at the Outpost.
If you're bringing an RV or camper to the resort, guests will drive through and check-in through a drive-up window.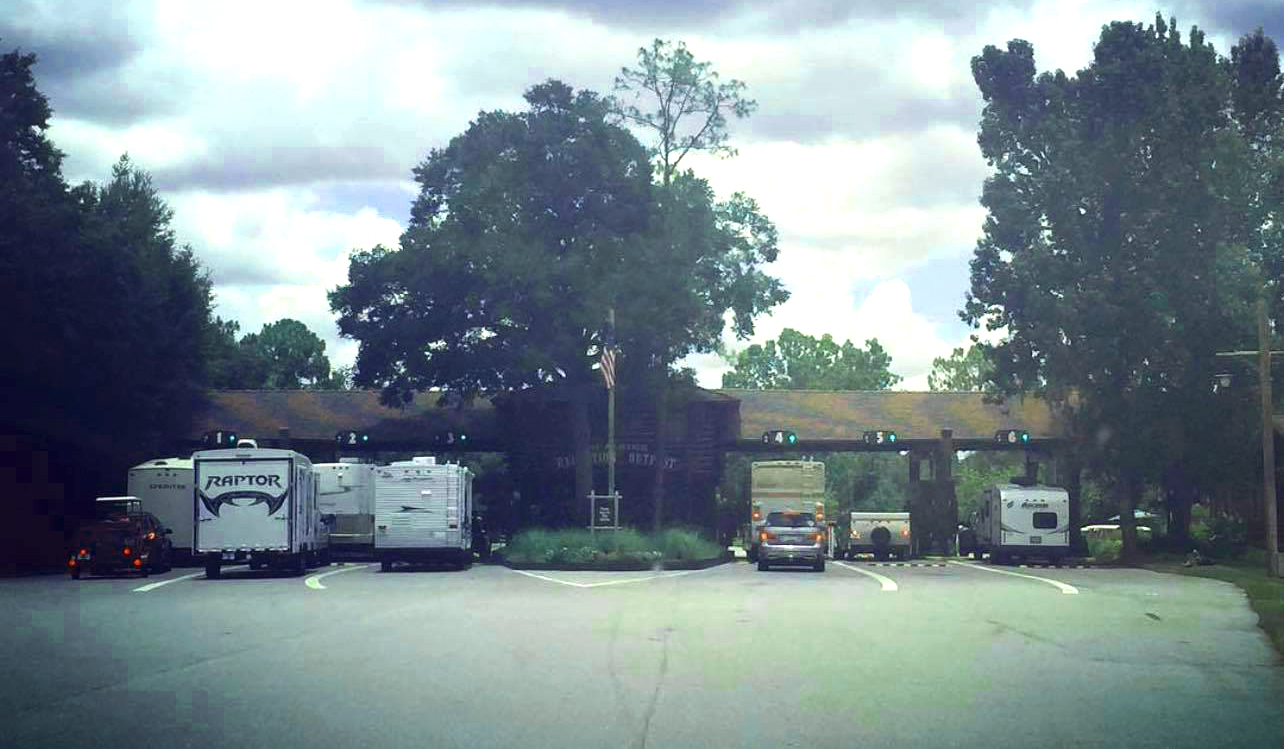 Luggage at Fort Wilderness
If your cabin or campsite isn't ready at check-in, they can store your luggage until it is. You're welcome to enjoy the resort activities, use the pool, dine or to even go enjoy the parks. You can leave your camper, car or RV in the parking lot until your campsite or room is ready. They'll also store your luggage for you after check-out if you're not leaving Disney World immediately. Once your cabin or campsite is ready, they'll give you directions so that you can drive there if you have your own vehicle. If not, you can request to be driven there. You can also take the internal bus.
If you're having a wheelchair or scooter dropped off at the resort by an outside company, you'll pick it up at Bell Services. If for some reason it's not there when you arrive, we have found in the past that bell services will take it to your location once it's delivered. If you think you might need this, we suggest you confirm this is still available.
Cabins & Camp Sites at Fort Wilderness Resort
The campsites and cabins are located around 28 small one-way loop roads that connect to three larger main roads. The loops are numbered, and most of the loops have at least one comfort station. These are air-conditioned locations that offer private showers, pay laundry facilities, restrooms, pay telephones and ice machines (for a fee). They're open 24 hours a day, but from midnight to 6 AM you must use your card key or Magic Band to get in.
The campsites and cabins are located within natural wooded areas (as opposed to the highly manicured gardens of the other Disney resorts). At night the loops have lights, but it's still on the dark side. Each campsite and cabin has a charcoal grill and wood picnic table.
Location Tip: This resort is huge. If you don't have a car, request a campsite near a bus stop. You may also wish to request a location near the main activities locations. Loops 100 – 500 and 700 are the closest to Pioneer Hall, Settlement Trading Post and the marina. Within that group of loops, 100 is the closest.
Wheelchair/ECV & accessibility information: The comfort stations have an accessible roll-in shower with a fold-down seat and hand-held shower head, lower sink and an accessible toilet. The doors to the comfort stations are on the heavy side. The laundry rooms may be a challenge to get around in with an ECV or larger wheelchair.
Accessibility Tip: If you need to minimize walking or you're riding a wheelchair or ECV, request a location near the entrance of the loop.
Parking at Fort Wilderness
In addition to your cabin, tent or recreational vehicle, each site has enough room for one car and a golf cart (which are available for rent) on a paved driveway. If you have additional cars, you can use the main parking lot.
Pets at Disney's Fort Wilderness Resort
This Disney resort allows pets. When you book your campsite, you will be allowed to request a pet- for an additional $5.00 per night. Pets are not allowed in pop-up trailers or tents.
The Cabins at Ft. Wilderness allow pet dogs for a $50 per night pet cleaning fee. For details visit our article on which Disney resorts guests are allowed to have pets in.
Pets can stay alone in your RV or cabin.
Pets are permitted only at certain campsites and cabins, so be sure to request a site that allows pets. Pets must be kept on a leash, and guests must clean up after them. Animals can't be left at the campsites when the owners are gone.
Wagon Trails Dog Park is an onsite enclosed park area where dogs can run free. It's located near the 400 loop. It has a small dog section and a large dog section.
Smoking at Fort Wilderness Resort
Smoking is permitted at the campsites and on the cabin front porches; however it is not permitted in the cabins. There are also designated outdoor smoking locations.
Keep in mind that smoking is banned in all Disney-owned hotel rooms. Even patios and balconies are non-smoking areas. Of course it's always possible that another guest could smoke in a room anyway, but Disney reserves the right to charge a penalty since they'll need to specially clean the room. This usually discourages people from smoking inside their rooms. There are pre-designated outdoor areas around the resort where smoking is permitted. The resort map that you're given when you check in should have the areas marked, or ask a cast member when you check in.
The Campsites at Disney's Fort Wilderness Resort
Each campsite has:
Picnic table
Complimentary Wifi Internet access
Charcoal grill
Television and electrical hook-ups
Cold water tap
Safe Deposit box (upon request)
Views of the woods
Privacy-enhancing landscape
Sewage hook-up (except for Tent or Pop-Up Campsites)
There are trash cans placed within each loop. Not on individual campsites.
Designed to accommodate tents, pop-us and recreational vehicles of all sizes, there are a variety of sites that vary by location, size and amenities. Most of the sites have a canopy of trees overhead. There's foliage giving some separation from the adjoining sites, though not so thick that you won't be able to see the other sites.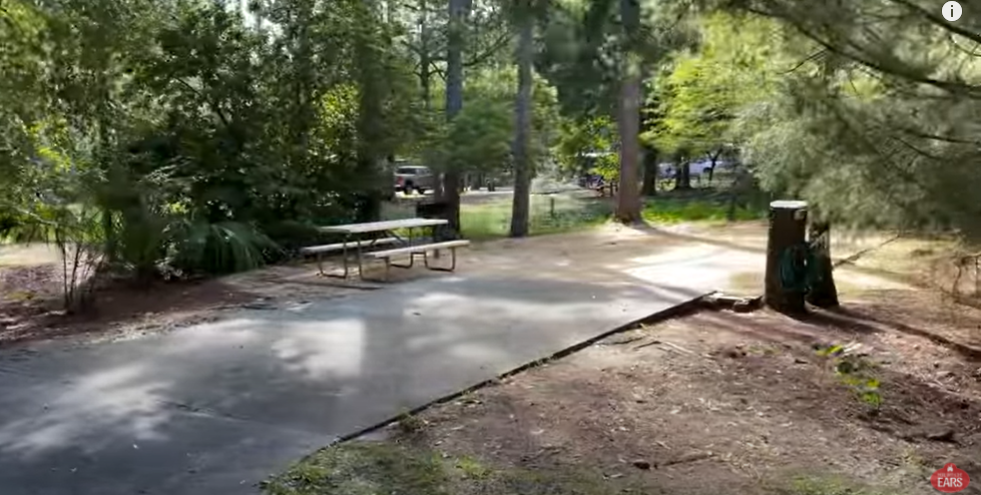 Preferred campsites are near the Settlement Depot and its activities areas, including the marina, beach, Trading Post, and Pioneer Hall with its restaurants and arcade. Premium campsites are on extra-large, concrete parking pads. They're big rig friendly sites placed in some of the more desirable locations. All of the sites are level with paved driveway pads. The Premium and Preferred campsites have upgraded charcoal grills and picnic tables.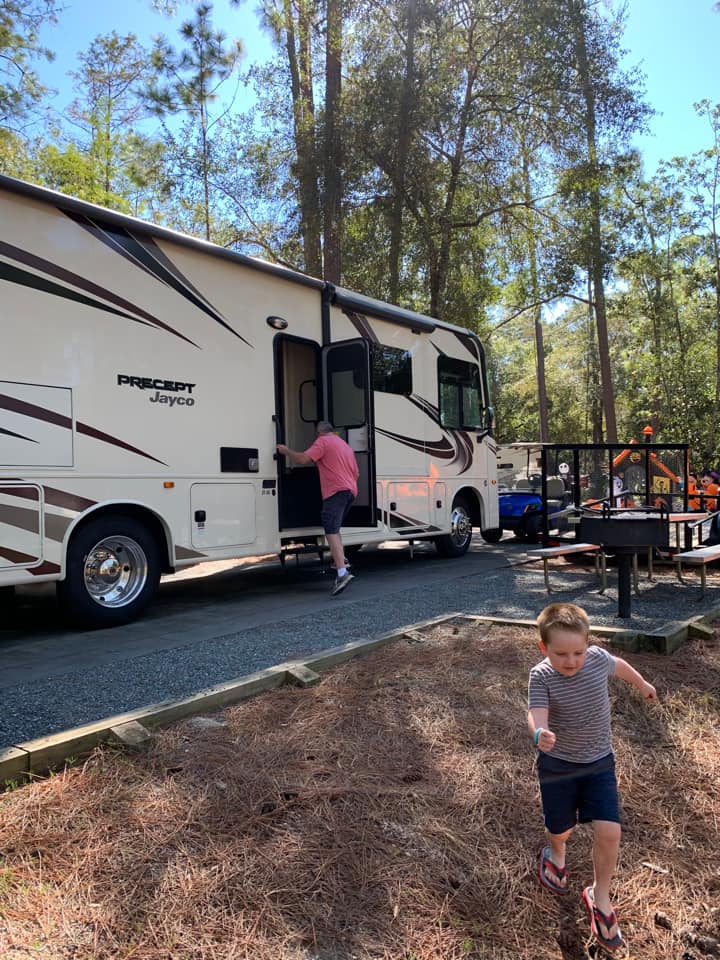 Disney has tents available for rent.
Fire pits: Campfires are permitted only with certain types of fire pits. For details on what's approved, check out this answer from a Disney Parks Moms Panel member. Some cabins do already have an approved fire pit on the premises.
Renting an RV: Disney partners with a couple of RV rental companies if you wish to rent an RV. They deliver the RV directly to your camp site. For info on how to rent an RV from one of these companies, visit here and scroll down to RV Rentals.
The Cabins at Disney's Fort Wilderness Resort
Sleeps: 6 people plus a child under three in a crib.
Size: Approximately 504 square feet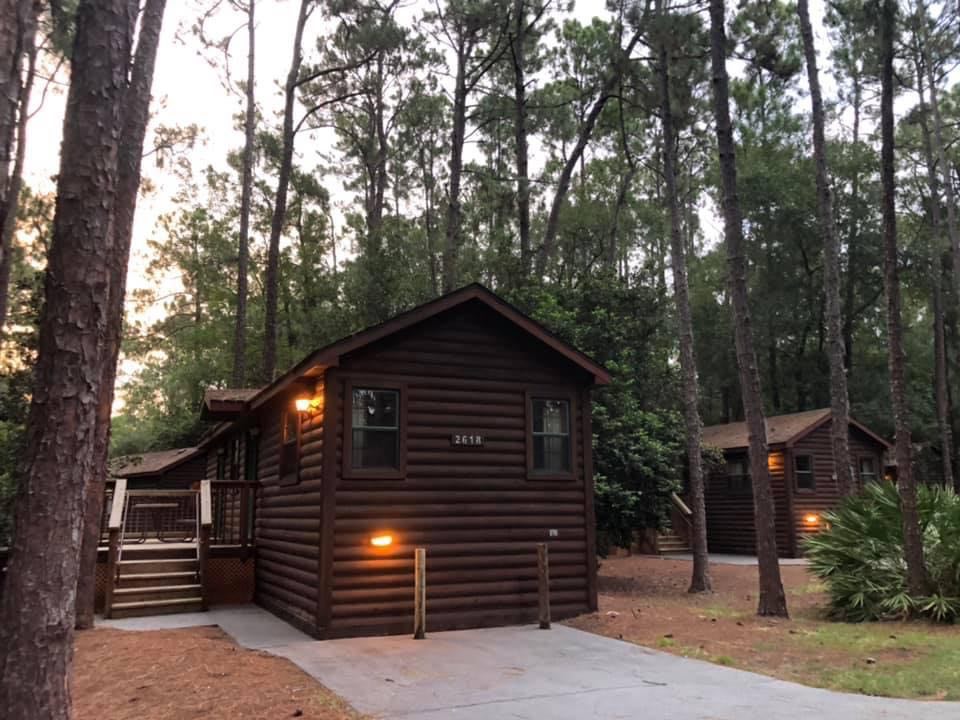 Designed for nature lovers who also want the comfort of home, each cabin has a patio deck, full kitchen, master bedroom, sitting area and bathroom. There's air conditioning as well as heating. Ordinarily housekeeping comes daily, just as in the other Disney resorts.
Though the exterior looks like a log cabin, these units are actually modified mobile homes. Despite the wilderness style décor, the interior does have the feel of a mobile home. For those who prefer brightly lit rooms, these cabins may be uncomfortably dark inside. This is true even during the day. The windows are fairly small, and the cabins are under shady trees. The light fixtures fit with the frontier theme, and the bulbs are on the dim side. The walls, floors, furnishings and fabrics are all on the dark side. Regardless, some people will find this cozy and pleasant.
Please note that camping is not allowed on your cabin lot, and all people in your party must live within the cabin.
The bedroom has a queen bed and bunk bed, and the living room has a double size sleeper sofa.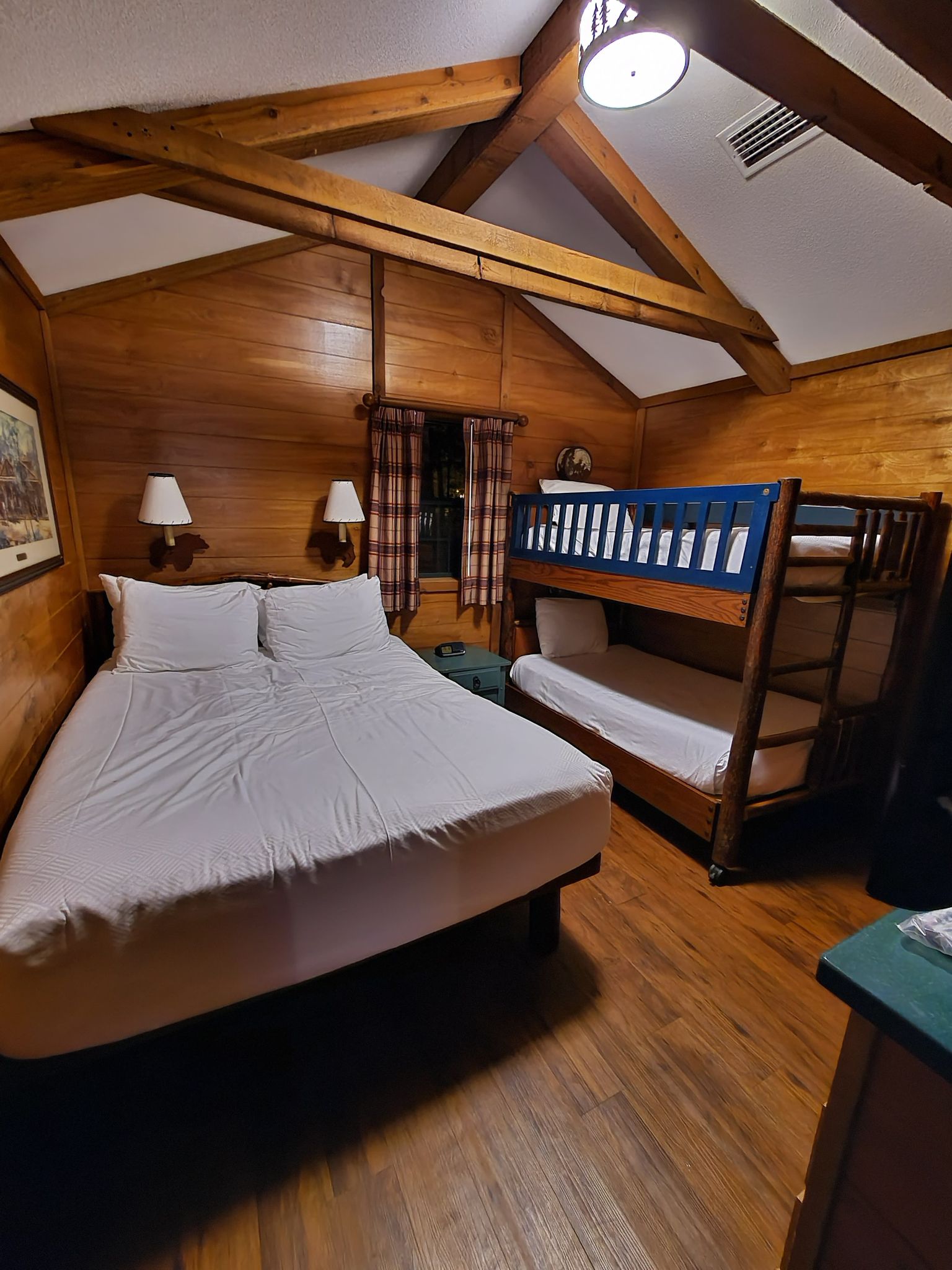 The living room has a TV, small sofa, chair. The dining area is made up of three unfinished wood chairs on one side, and booth seating on the other side that seats an additional three people. The booth seat is padded with a wood back.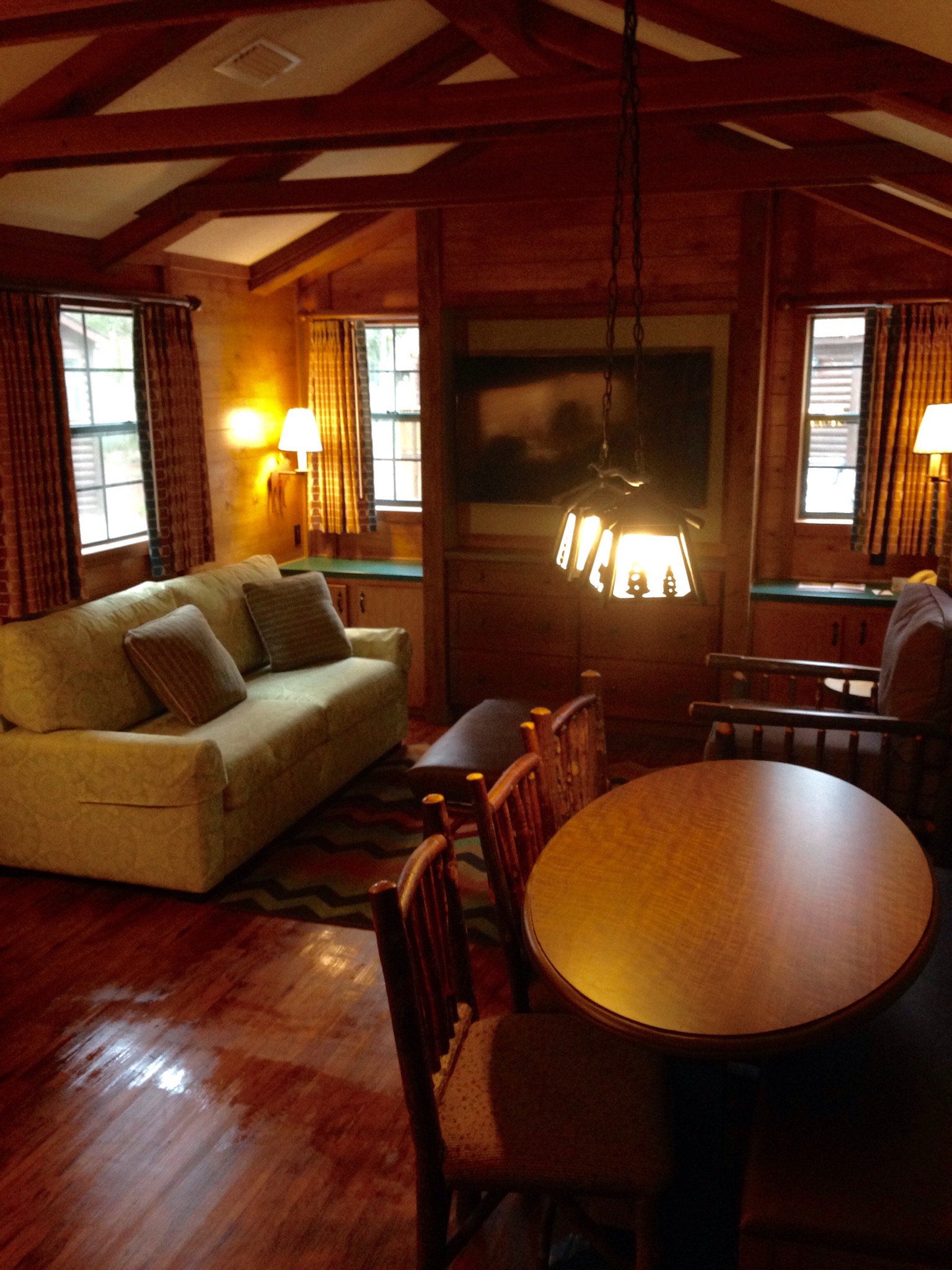 Bathrooms have a single sink and vanity, toilet and shower/tub combo.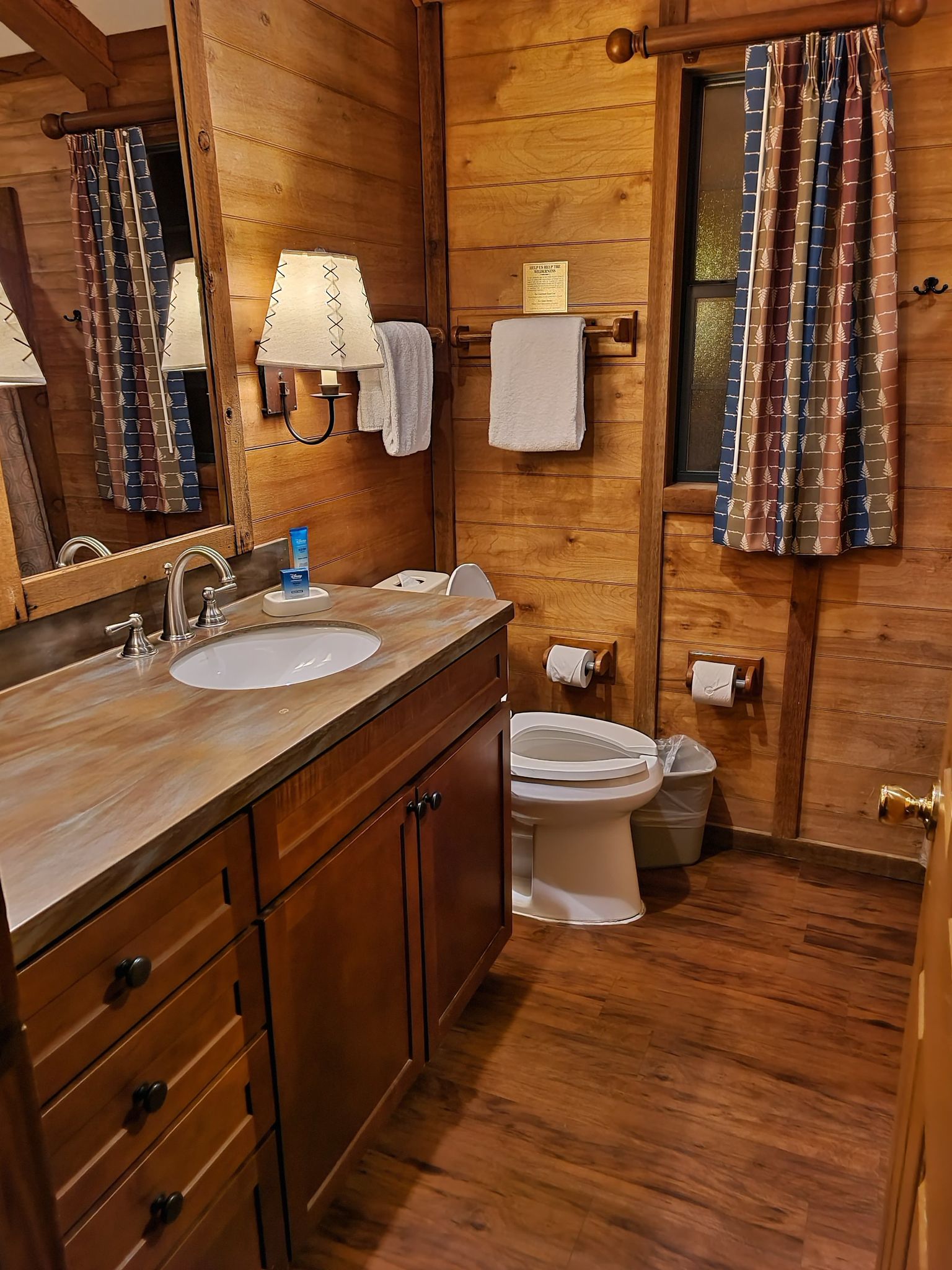 Take a look at the full kitchen. There's plenty of room for food preparation and storage.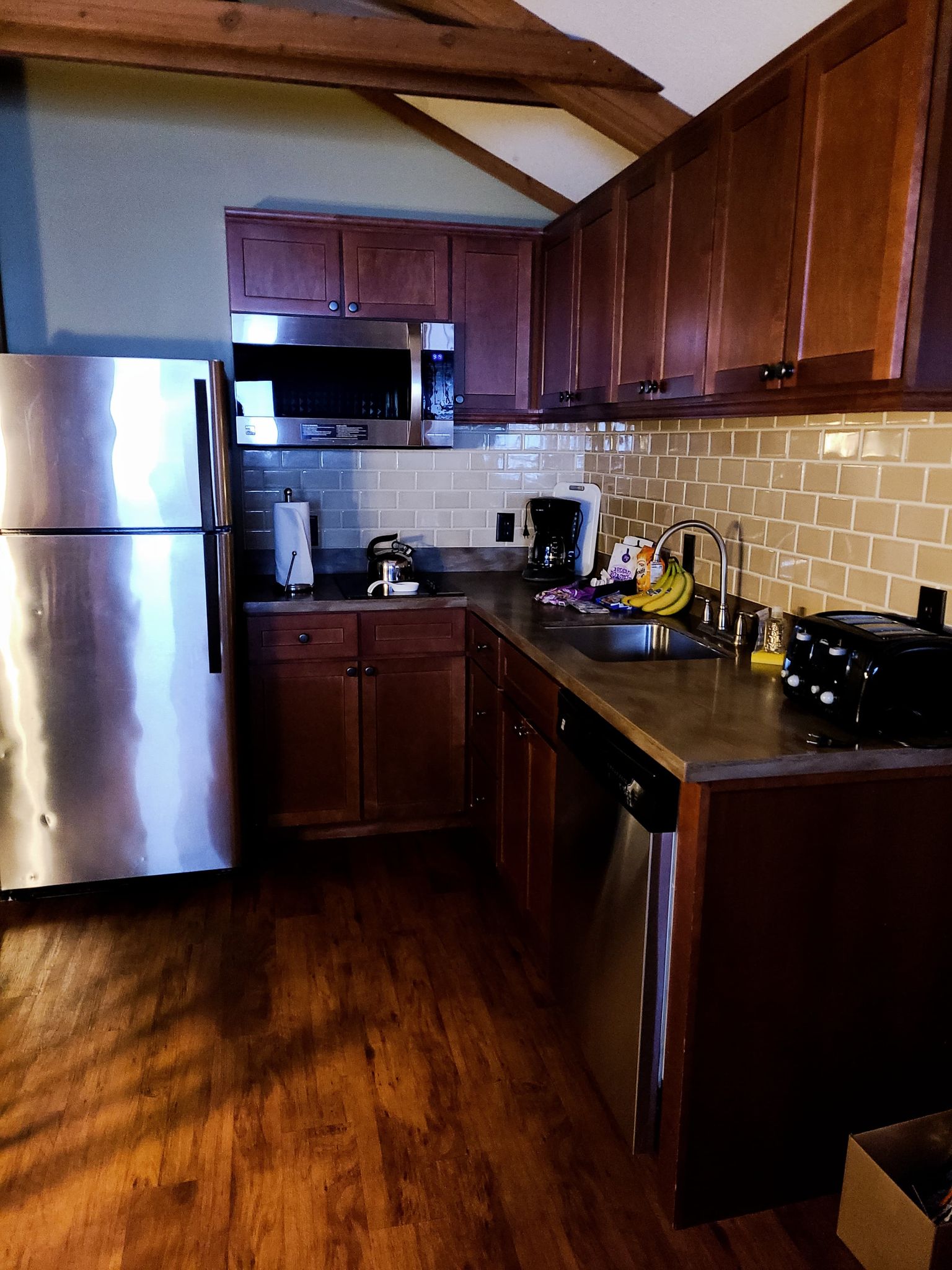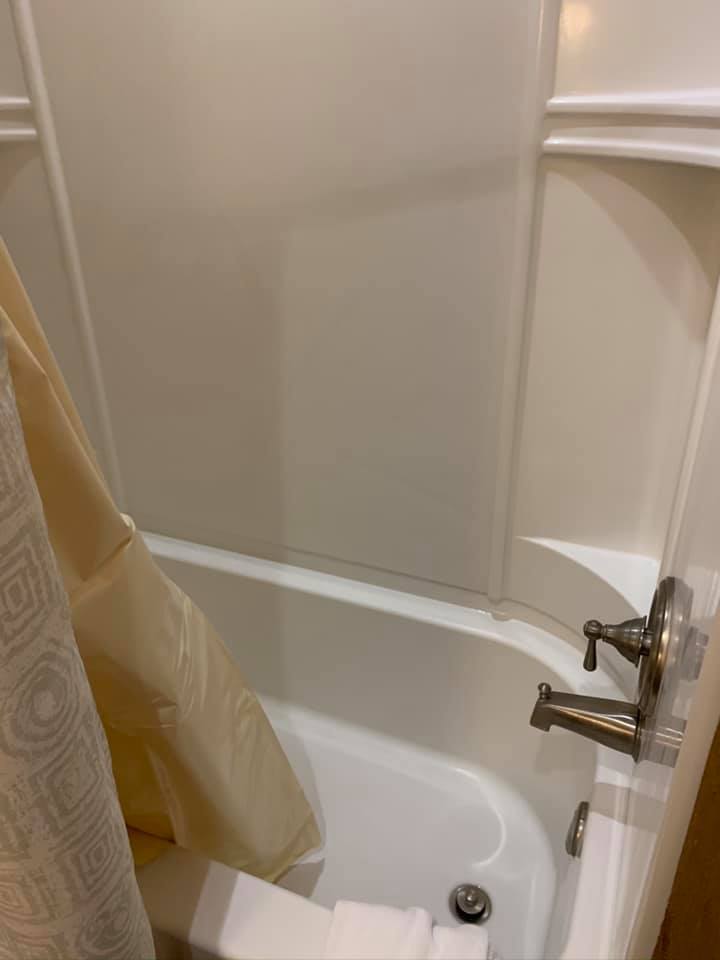 On last check the cabins have:
Free WiFi Service
A full-size refrigerator/freezer with ice maker
Combination convection/microwave oven
Two burner countertop stovetop
Dishwasher
Toaster
Coffee maker
Tea kettle
Glasses, utensils, flatware for six, pots and pans
Sponges, potholders, cloth towels, dishwasher soap, liquid dish soap
Fire extinguisher
Trash bags and paper towels
Telephone with voice mail
In-room safe
Hair dryer
Broom and dustpan, iron and ironing board, vacuum cleaner, sponge mop
They do NOT provide salt, pepper, spices, sugar, coffee or coffee filters. Guests can request an alarm clock with radio, and a high chair.
Housekeeping can provide bed boards and disabled aids including shower benches and a TTY kit. Also available are extra pillows and blankets, baby cribs, highchairs, extra towels, hangers and European adapters.
Wheelchair/ECV & accessibility info: There are some accessible cabins which have ramp access, a larger deck, roll-in shower with a fold-down seat, lower sinks and kitchen countertops, an accessible picnic table and a door and hallway large enough for a wheelchair. There's also a double bed that's lower. There are also cabins with a tub that has hand rails. These cabins are scattered and not necessarily close to the bus stops.
Resort shopping at Fort Wilderness
There are two stores at this resort. The Settlement Trading Post has Disney and Fort Wilderness clothing and souvenirs, sundries, alcoholic beverages and snacks. They also have some basic groceries such as eggs, milk, coffee, hot dogs, fruit, sandwich meats, cheese, bread, drinks, paper plates and charcoal. The Meadow Trading Post has all of the merchandise that the Settlement Trading Post has. They even sell firewood. If you've purchased something in the parks and have had it delivered to your resort, this is where you'll pick it up.
Dining at Disney's Fort Wilderness Resort
Many guests cook at least some of their own meals if not all of them in their cabin or campsite.
Allergy tip: If cross contamination is a concern you may wish to bring aluminum foil to use on the charcoal grill and to bake with.
There are a variety of restaurants on-site. There is no room service here. Here are the options:
Hoop-Dee-Doo Musical Review: This very popular dinner show offers all-you-can-eat dining with a vaudeville-style show.
Trails End Restaurant: This is an American style buffet in Pioneer Hall serving breakfast, brunch, lunch and dinner.
Crockett's Tavern: This is a bar which is also in Pioneer Hall next to the Trails End restaurant.
The Chuck Wagon: Located near the Campfire Program, at dinner time you can get the basics here such as hotdogs served plain or with chili, turkey sandwich, chicken nuggets, salad, popcorn, candy, juice and soda,  ice cream bars, marshmallows with roasting sticks, and s'mores packs.
Meadow Snack Bar: This is the snack bar at the Meadow Pool and it's open seasonally. The menu includes pizza, sandwiches, nachos, salad, fruit, candy, ice cream, beer and soda.
 P& J's Southern Takeout: Serving breakfast, lunch and dinner, you'll find American comfort foods here.
Transportation at Disney's Fort Wilderness
Although you can drive your car to your campsite or cabin, and then out of the resort, you won't be able to use it to get around within the resort. Most of the main activity areas don't supply parking for cars. For example, the marina and Pioneer Hall don't have car parking lots, though there is parking for golf carts (see info below). There's very limited parking at the Meadow Trading Post store with 4 spaces and a 15 minute limit. In addition to walking, riding a wheelchair or ECV, there are a number of options for getting around here.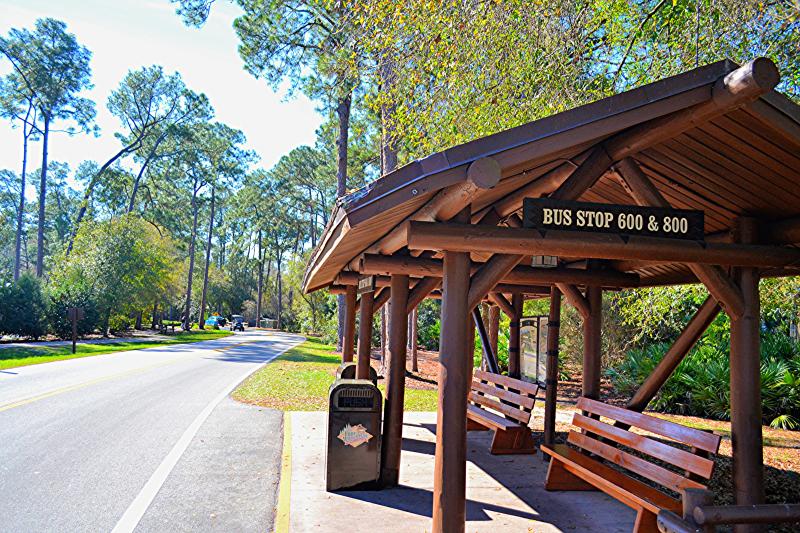 Disney Buses at Fort Wilderness
There are three different bus routes (Yellow, Purple and Orange), but all of the buses go to the Outpost Depot and the Settlement Depot. This includes an internal bus system. The buses are wheelchair/ECV accessible.
The bus stops are at the end of each loop, which can mean a long walk for some sites.
Buses make the rounds every 15- to 30-minutes. Guests will often have to take an internal bus just to get to the transportation going to the parks and Disney Springs. This means you'll wait for two buses. This can increase your travel time significantly. There are covered bus stops throughout the resort.
Buses that go to Wilderness Lodge, Hollywood Studios and the Ticket and Transportation Center are available only at the Settlement stop. Buses to all the other parks and Disney Springs leave from the Outpost area only.
Disney Boats at Fort Wilderness
Boat transportation is available at the boat dock in the Settlement area. Boats travel to the Magic Kingdom, Wilderness Lodge and Contemporary Resort. See the Disney boat transportation section for more information. Please note that there is no bus to Magic Kingdom.
Wheelchair/ECV tip: There are some accessible boats available here. If the water levels are too low or too high, wheelchairs and scooters may not be able to board at this location. If that's the case, you may wish to take a bus to Wilderness Lodge and catch a bus to the Magic Kingdom from there.
There are also smaller boats that run between Fort Wilderness, Wilderness Lodge and the Contemporary Resort. These boats are not accessible, except for those who can fold their wheelchair and walk on the boat.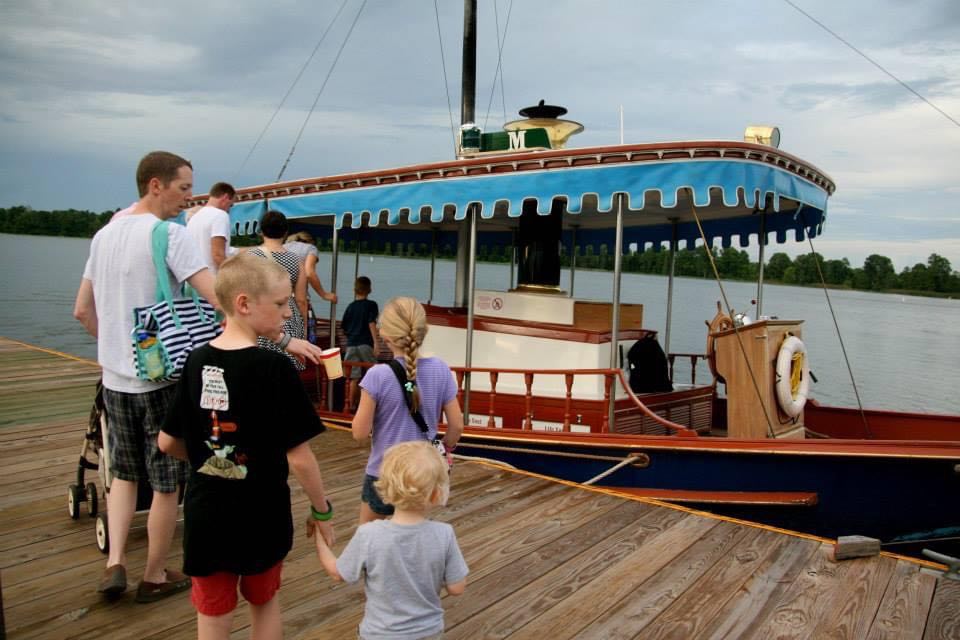 Golf Carts at Disney's Fort Wilderness
The resort is huge with the property somewhere between 1 mile to 1 ½ miles walking through. Available only at this resort, golf carts are a convenient way of getting around the resort without having to wait for internal buses. Those with or without mobility issues will want to consider renting a four seat golf cart. If small children are involved, then Disney allows up to 6 people to ride. There are a small number of 6 seat golf carts but they're available on a first-come first-served basis.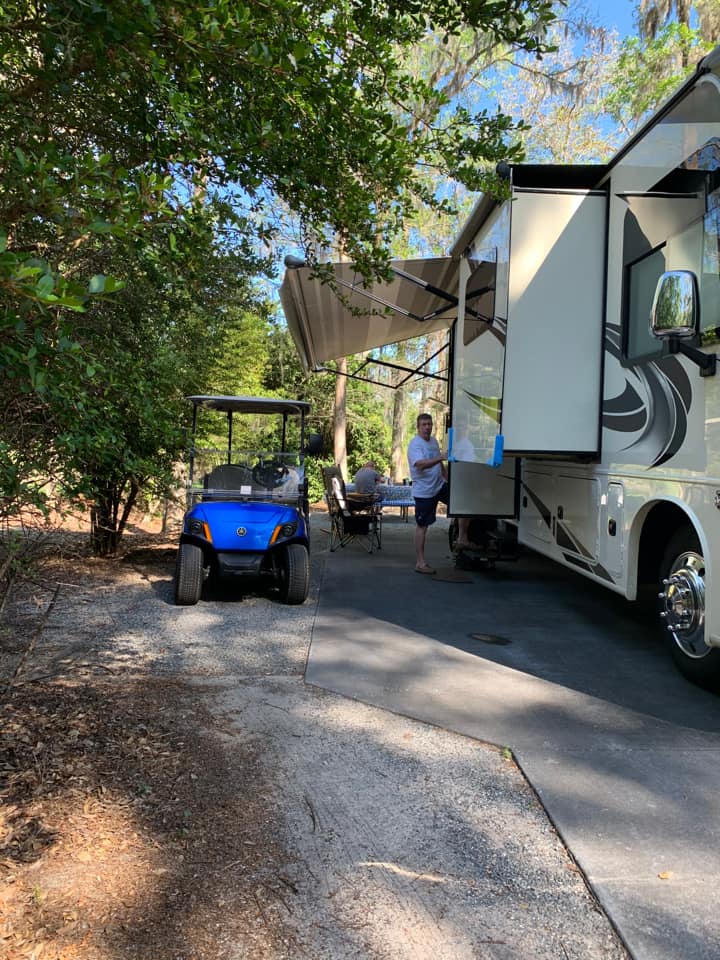 Guests are permitted to bring their own golf carts to the resort. It can be electric or gas powered. Drivers must be at least 16 years of age and have a driver's license.
Golf cart users can park their golf carts at the bus stop areas before they head out to the parks, etc.
Golf carts can be rented as much as a year in advance and they sell out, so make your reservation as soon as possible. Call the Bike Barn at 407-824-2742. To rent a cart you must be at least 18 years with valid driver's license, and to drive a cart you must be at least 16 years old with a valid driver's license.
Bike riding at Disney's Fort Wilderness
Some visitors like to bring their own bikes to get around the grounds, and just for fun! Bike rentals are available by the hour or day at the Bike Barn. Rentals are available from 9 am to 5 pm (check for changes). The bikes you rent can not be taken off the Fort Wilderness premises. Florida law requires bicyclists under 16 years of age to wear helmets. The cost is currently $62.91 plus tax per day. Pick-up time is 1 pm, and drop-off time is 11 am. Pricing is currently $9 plus tax/hour, $18 plus tax/day. (Prices are estimates, call the Bike Barn at (407) 824-2742 for current pricing.)
Pools at Disney's Fort Wilderness Resort
There are two pools and a kiddie pool here. The pools do not have zero entry or transfer tiers.
One of our readers had this to say about the pools at Fort Wilderness:
"… pools are frequently congested, and during peak periods they restrict the number of guests.

The pools are a huge miss by Disney. When the campground was built it had River Country Water Park nearby. Since the park closed, an additional pool was not added to accommodate the guests."
What's available at the pools?
Both pools have a chair lift.
The whirlpool hot tubs have chair lifts. See a Cast Member if you wish to use one.
There are lifeguards at the Meadow Swimmin' Pool only.
Free life vests are available at both pools.
Each pool has restrooms.
Towels are not available at the pools. Guests must bring their own towels to the pools. If you're staying in the Cabins you can request extra towels to be brought to your cabin. If you're staying in the camping loop, you'll need to bring your own towels from home, or you can buy some at the Trading Post.
Water temperature: In the cooler weather, pools are heated to 82° Fahrenheit, 28° Celsius. At times we've found that the pools felt much colder than that. How warm a pool will actually gets will depend on a variety of factors including pool size. At times we've found that the heat was not turned on for a quiet pool. If that's the case, let a Cast Member know you'd like it turned on.
Pool Parties: Most afternoons, weather permitting, Disney Cast Members will lead kids in games and fun at the Meadow Swimmin' Pool. It does get very loud. Cast Members blast music and speak to the kids over a loud speaker. Guests who are looking for quiet may wish to use the Wilderness Swimmin' Pool which is considered the quiet pool.
Meadow Swimmin' Pool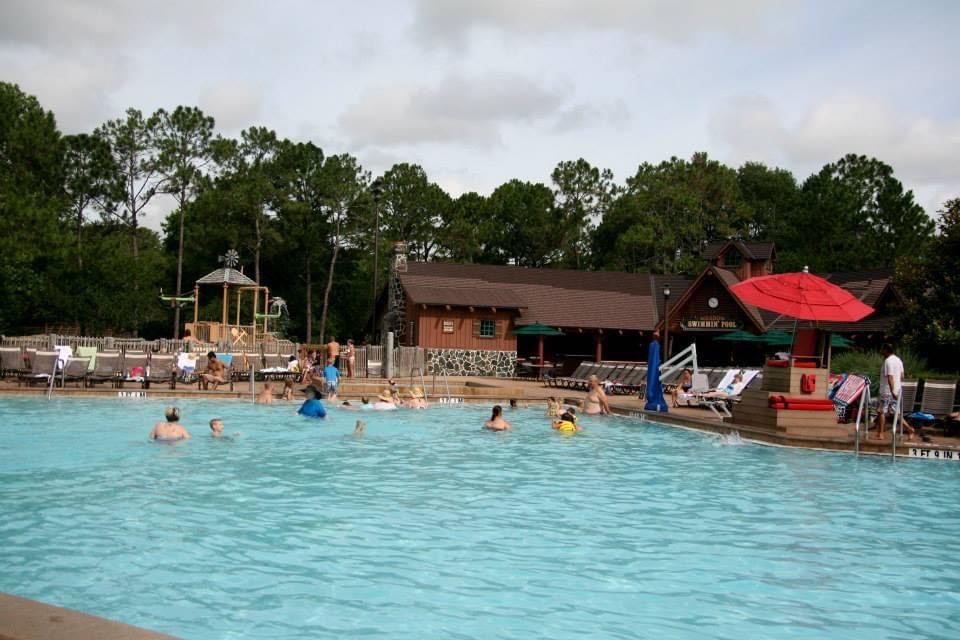 Open 24 hours a day, the large main pool and the kiddie pool are located in the Meadows Recreation Area. It has 67-foot long corkscrew waterslide, hot tub and a fort themed kid's water play area. There are some umbrellas covering some of the lounge chairs.
The waterslide is built around a water tower feature that came from Disney's River Country which has been closed for years.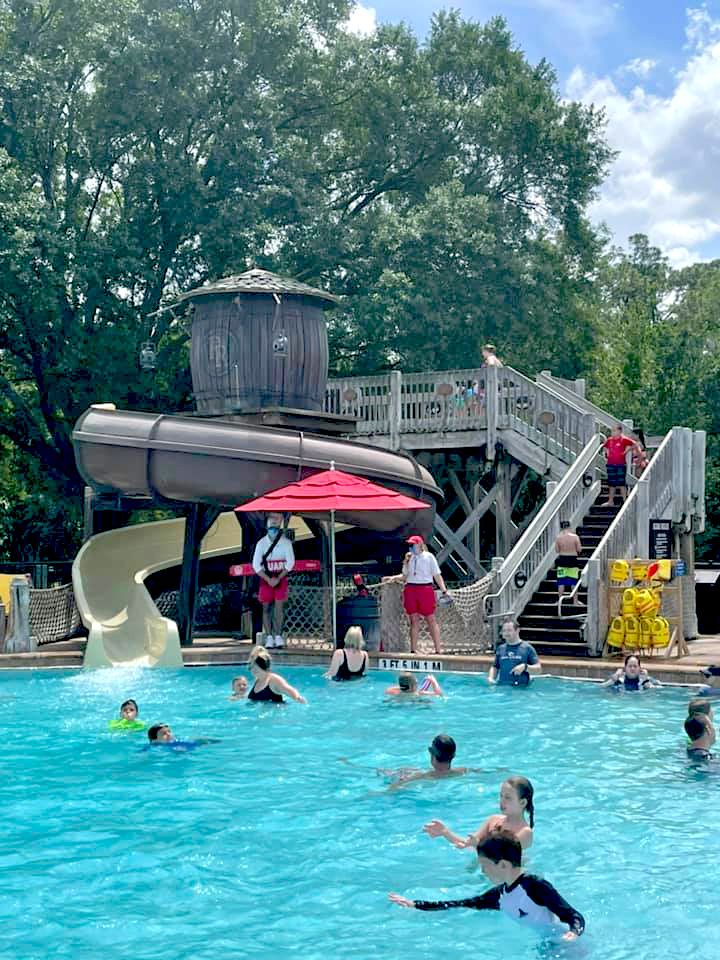 The kid's water play area is adjacent to the pool, and has pipes and features that spray water every which way!
Lifeguards are usually on duty from 10 AM to 8 PM, though this can change seasonally.
The Wilderness Swimmin' Pool
This would be considered the resorts' quiet pool. Open 24 hours a day, there are no lifeguards on duty here, and towels are not available to guests at this pool. It's also a significantly smaller pool than the Meadow Swimmin' Pool.
Entertainment at Disney's Fort Wilderness Resort
This resort is full of entertainment options. In fact, there's more here than in any of the other Disney World resorts. Options include archery, Holiday sleigh rides, pony rides, wagon rides, basketball, horseshoes, tennis (two lighted courts), tetherball, shuffle board, volleyball courts by the water, fishing excursions, bike and boat rentals, canoe rentals, kayak rentals, pony rides, canoeing. There are playgrounds scattered throughout the resort, and there are also jogging trails.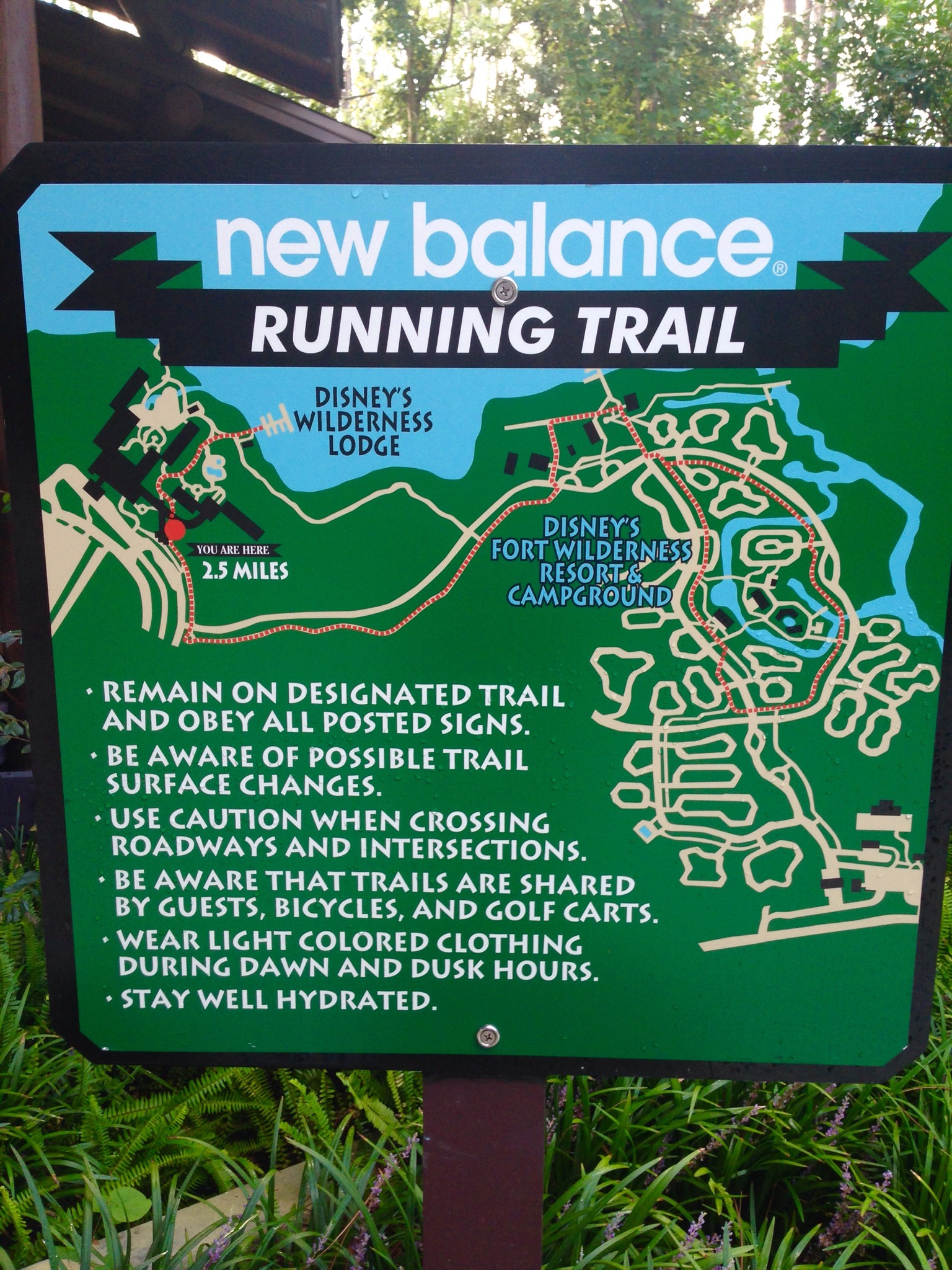 The one thing this resort does not have is a fitness center or spa.
There are two main activity areas. The Meadow Recreational Complex and the Settlement Depot are packed with things to do.
Meadow Recreational Complex
This is where much of the activity takes place at this resort. The main pool is here, along with shopping, dining, Movie Under the Stars, the Campfire sing-along, the Bike Barn, etc. See below for details.
Settlement Depot Area
Located near the Marina that has boat transportation to the Magic Kingdom, this area is activity packed. There are a couple of dining options here including the famous and well-loved Hoop-Dee-Doo Musical Revue. You'll find the sandy beach, which is great for sunbathing, but there's no swimming in any of the Disney lakes or rivers. There are lounge chairs and hammocks with fantastic views.
The beach is a great spot to watch the nightly Electrical Water Pageant. It's consists of a number of attached barges that each carry a different light display. There's music accompanying the show. It usually starts somewhere between 8:45-9 PM, but it can be delayed depending upon the Magic Kingdom fireworks schedule. You can also catch the fireworks from the beach.
Here are details about some of the activities at Fort Wilderness:
The Tri-Circle-D Ranch: Located in the Settlement Depot area, this location has a horse barn, farm and pony rides. The barn and pony areas have cement paths. The pony walking area where children ride has dirt on the ground. Guests can visit the Ranch and see some of the horses. There are also some interesting displays. For questions you can call them at (407) 824-2832.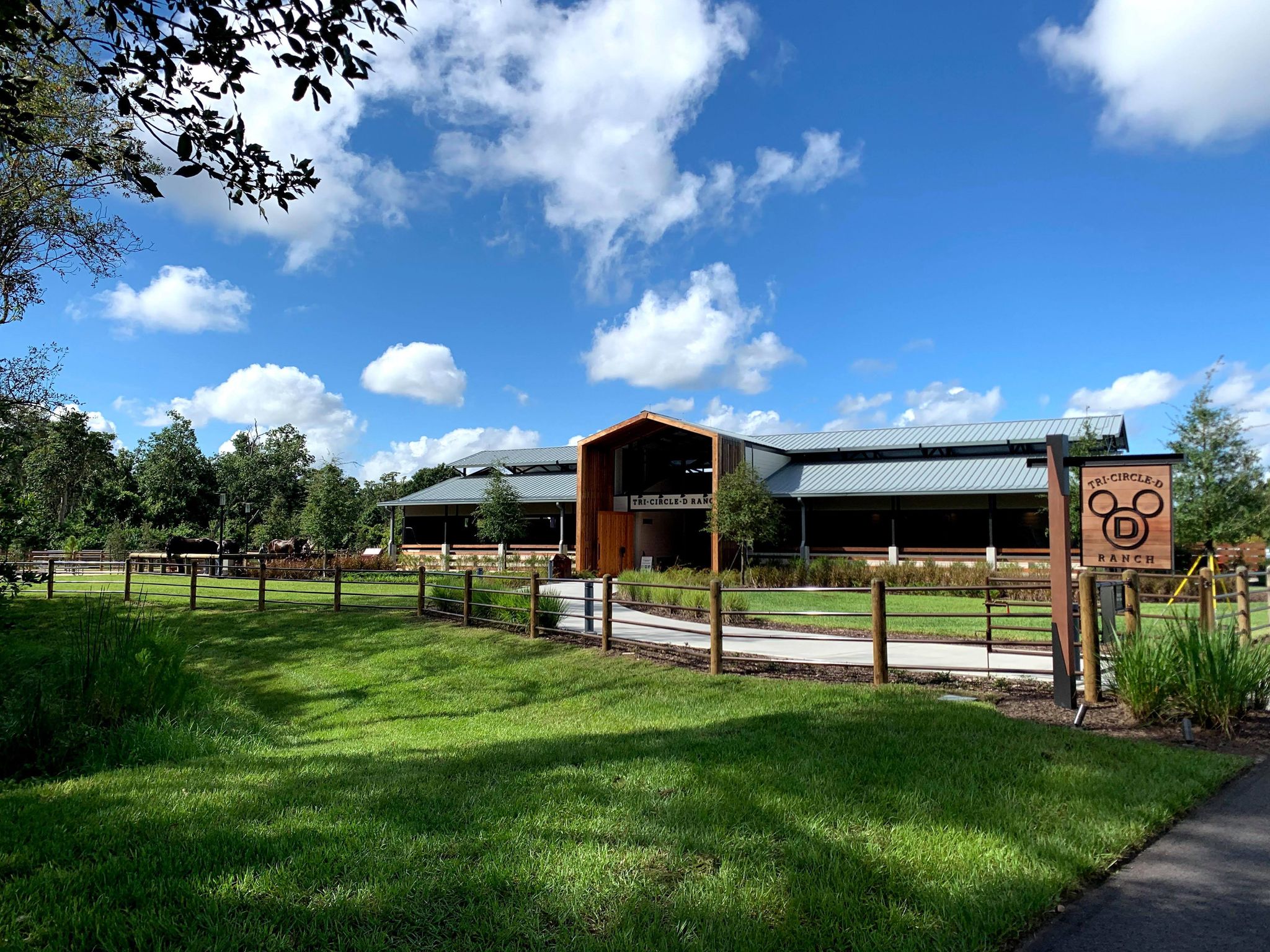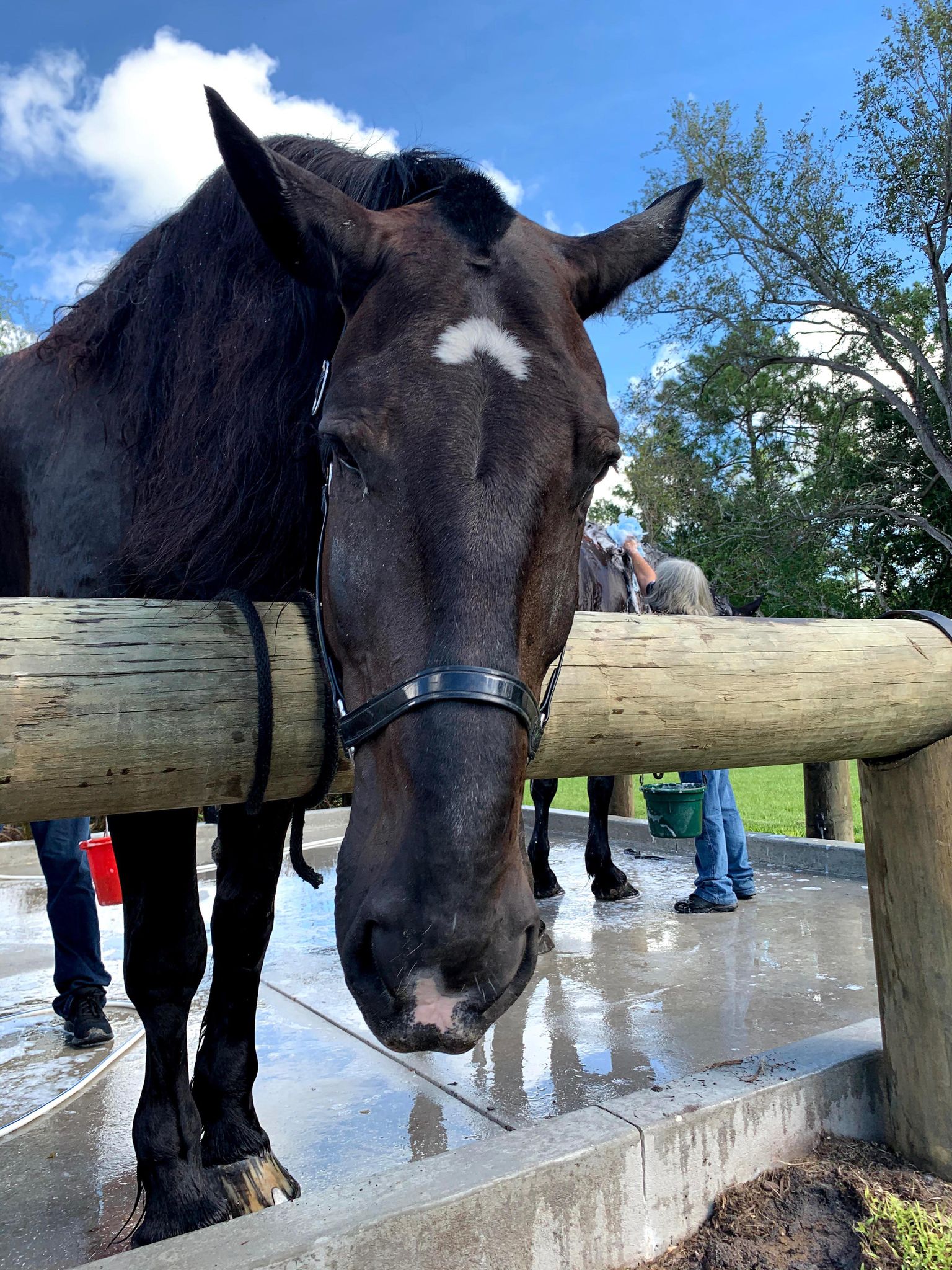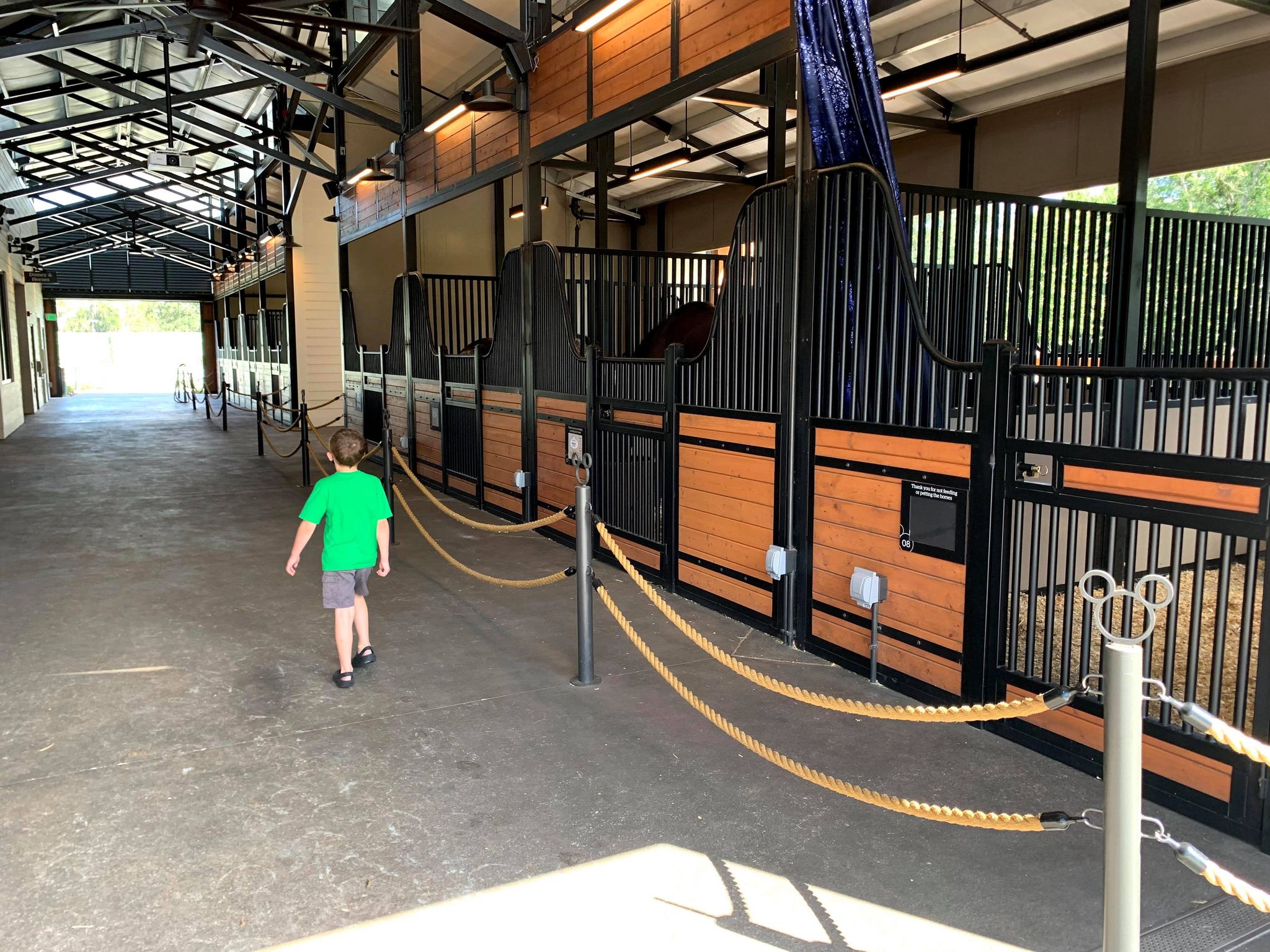 Pony Rides: For $8 a person kids can enjoy a pony ride. Riders must be at least 2 years old, under 80 pounds, and no more than 48 inches tall. They must be able to hang on by themselves. A parent or guardian must lead the pony at all times. To book call (407) 824-2832.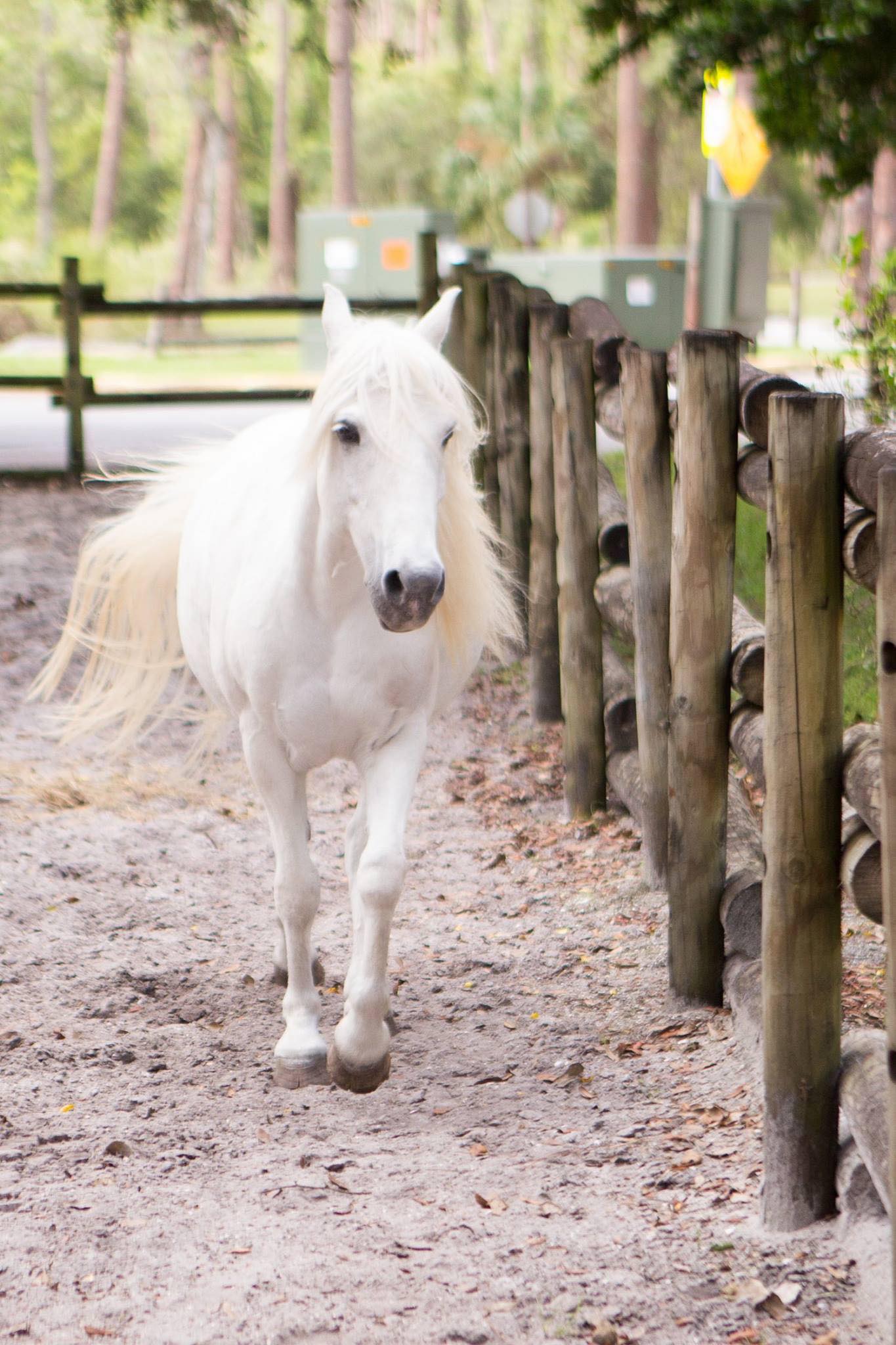 Trail rides: At this location guests can sign-up and check-in for horseback riding with a guided tour through the beautiful Fort Wilderness scenery is available here. Riding is usually at a relaxed, mellow pace with no running. You must be at least 9 years old and 48 inches tall. Guests must weigh no more than 250 pounds. Helmets are free and recommended. Guests are asked to wear long pants. Flip flops, strapless and open toe shoes are not permitted. This is very popular, and reservations can be made up to 90 days in advance. It's a good idea to make reservations as early as possible by calling (407) WDW-PLAY [939-7529].
Campfire Sing-a-Long with Chip n' Dale: This popular activity is free and happens nightly (weather allowing). We think it's worth it to join in just for the toasted marshmallows and s'mores! Bring your own or buy them there. The ingredients can also be purchased at the Chuck Wagon on site, or in the resort gift shops. After the singing, there's a Disney movie shown on the outdoor screen. There are some benches with backs and some benches with no backs. There is golf cart parking here.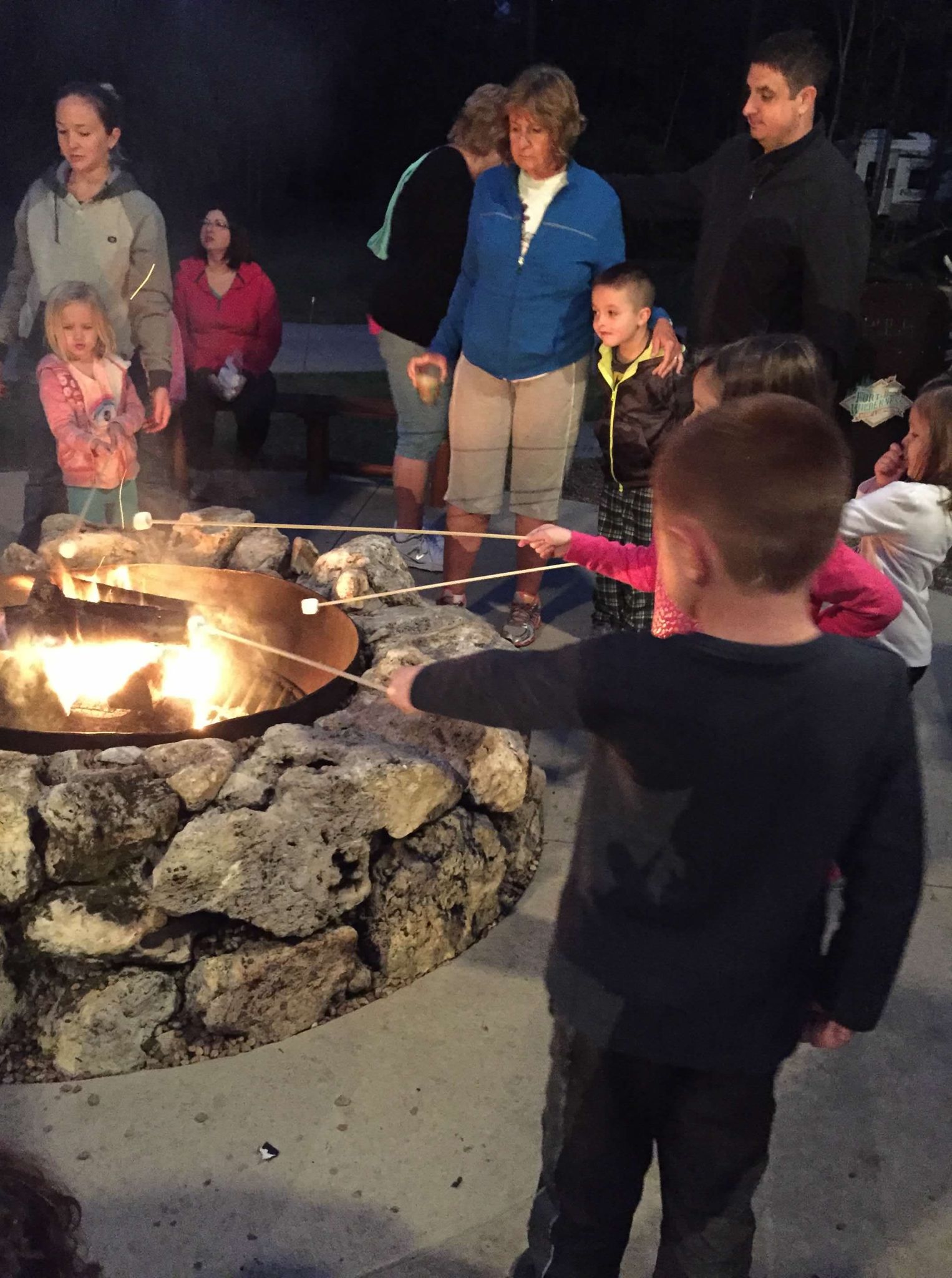 Davy Crockett's Wilderness Arcade – This is found in the Pioneer Hall near the Bay Lake in the Settlement Depot area. It is very tight and small but accessible, though not all games will be accessible.
Daniel Boone's Wilderness arcade – Found near the Meadow Swimmin' Pool in the Meadow's Recreation Complex. It is accessible though not all games will be accessible.
Horse-drawn carriage rides: These 25-minute rides are available only in the evenings for a fee of $55 per carriage. For those who are sensitive please note that these carriages do give a bumpy ride. Hay rides leave from Pioneer Hall for a 45-minute trip. You'll be sitting in a wagon which can be bumpy. There is no actual hay in the wagon. Reservations are strongly suggested as these tend to be fully booked.
Wilderness Back Trail Adventure – This is a paid tour that takes you through Fort Wilderness on a Segway. The Segways ride over paved and wilderness areas. These Segways are made to go over rougher ground. It's a 2 hour tour, with a training session first. You must be at least 16 years old and weigh a maximum of 250 pounds. The price is $90 per person at this writing. Call (407) WDW-Tour to book it. You can also book it at the Bike Barn.
The Bike Barn: Here you can rent recreational equipment such as bikes (on last check these have no hand breaks, just the foot pedal breaks), kayaks (single or dual), canoes (3 people maximum per canoe), pedal boats and fishing gear (cane poles, rod and reel, bait).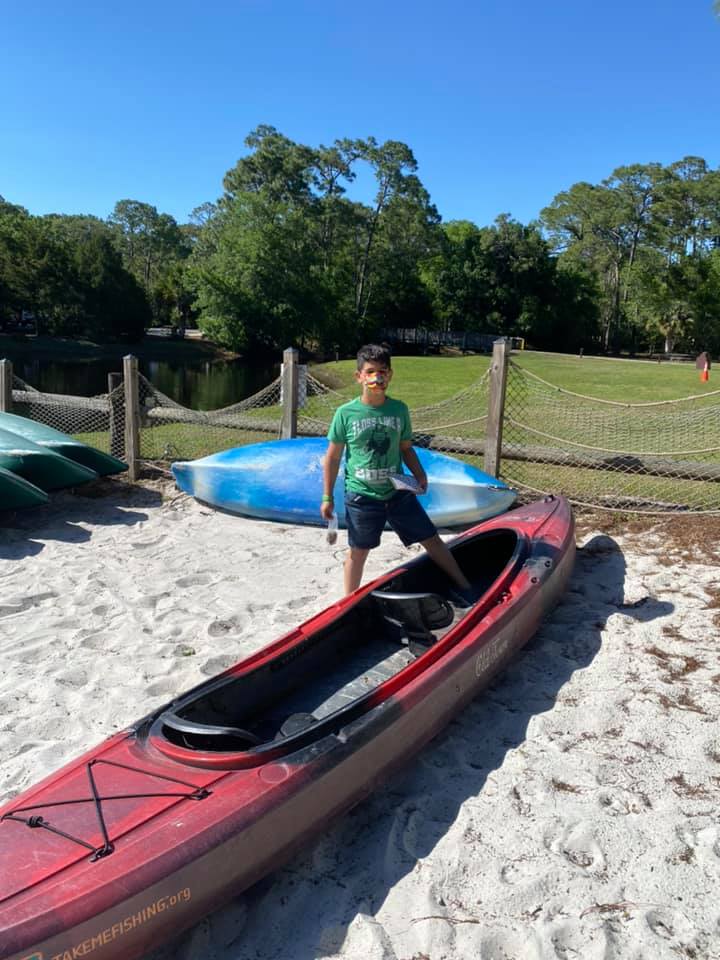 You can also get equipment here at no charge for horseshoes, tennis, volleyball, soccer and shuffleboard.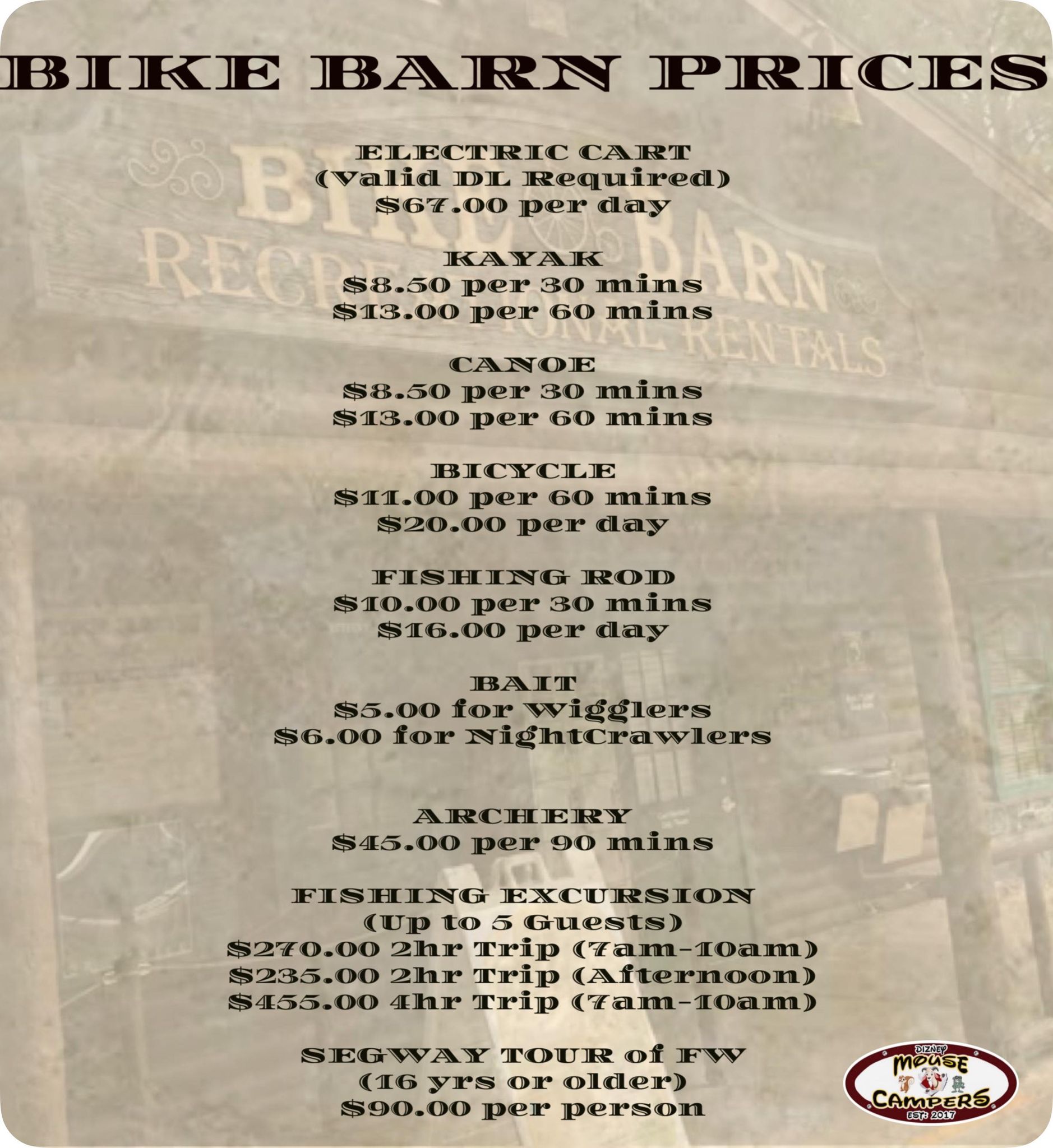 The Archery Experience: You will first receive training and then shoot for about an hour. You must be at least 7 years old. You'll use compound bows with a 20 pound pull. The pull can be toned down if you're having difficulty. This does require some upper body strength and coordination. Real bows and arrows are used. For reservations call (407) WDW-PLAY [939-7529].
Holiday Sleigh Rides: Only in December, guests can enjoy a horse drawn 25 minute sleigh ride. Found at the main entrance of the Meadow Trading Post, the carriages allow for up to 4 adults or 2 adults and 3 small kids. The sleigh ride costs $84. For reservations call (407) WDW-PLAY [939-7529].
The Fort Wilderness Resort Marina: This offers boat and surrey bike rentals.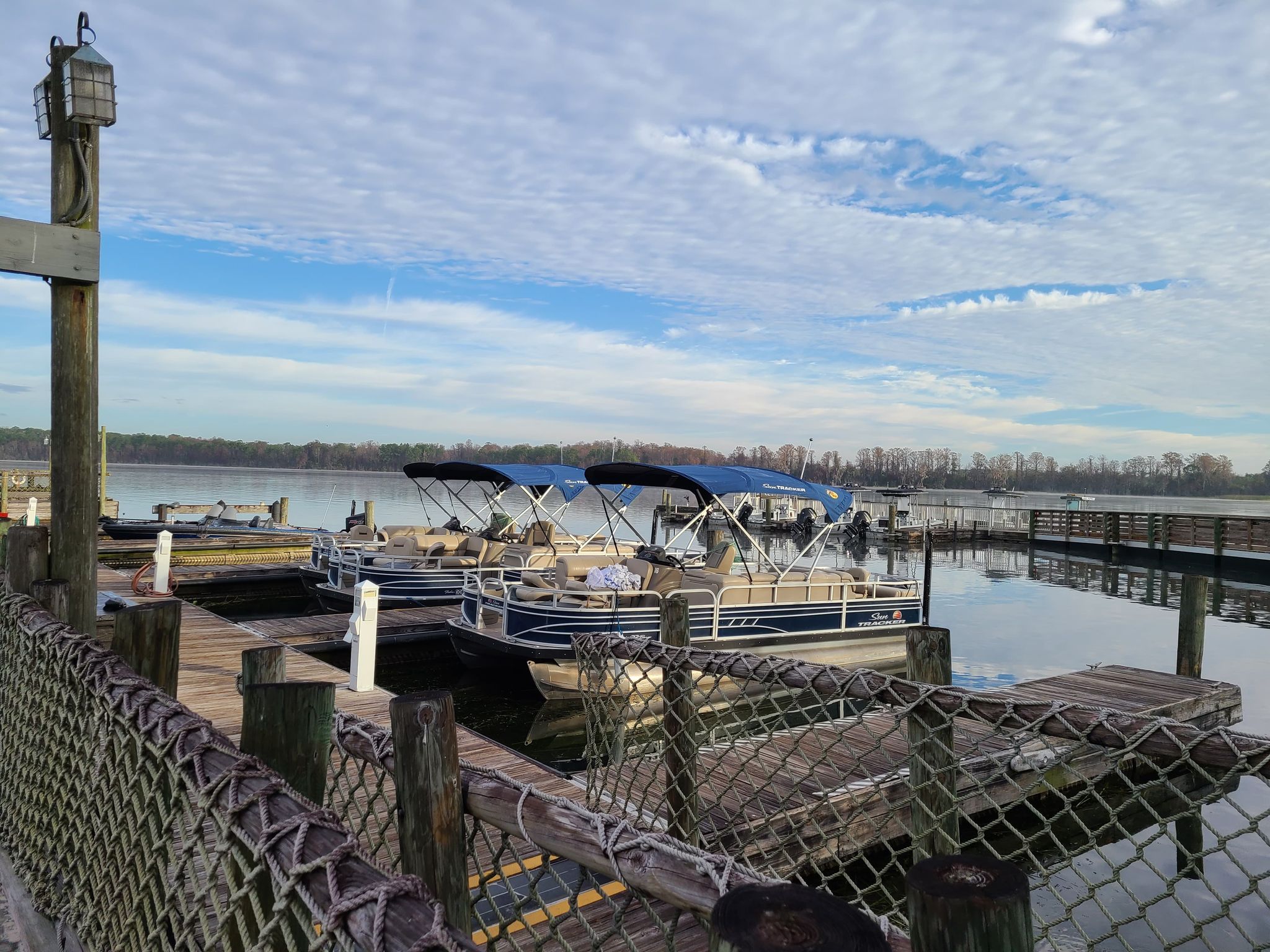 The Swamp Trail: This is a nature walk through a natural Florida cypress swamp.
Gem Mining: Guests can purchase bags at the Bike Barn. They're filled with sand, stones, some cool gemstones and other surprise objects like arrowheads. You place the contents of the bag in the water in the gem mining station and the sand washes away to reveal the treasure. The gem stones don't have real value but the kids will enjoy them. You're given a guide sheet so that you can identify and learn about your prizes. The bags cost about $9-30 plus tax depending on the size of the bag.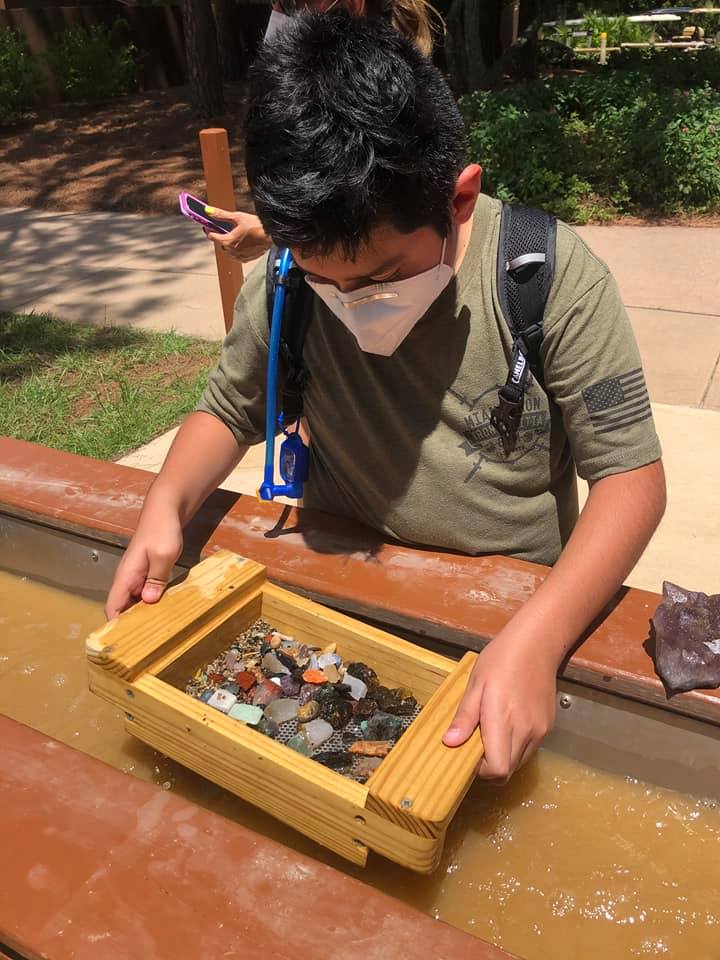 Watch the process of Gem Mining here:
Other Amenities at Disney's Fort Wilderness
There's wireless internet in a couple of common areas in the resort.
Valet laundry service is available in the cabins, with pickup from your cabin. Laundry bags should be in your room closet, with a pricing sheet attached. Guests staying at the campsites can request this service from the front desk.
There's a pay laundry facility in each Comfort Station, and at the Wilderness Pool.
Hunting & weapons at Fort Wilderness
No weapons of any kind are allowed on the premises here (and throughout all of Disney World), so you won't be hunting. This includes archery equipment, air guns, firearms and fireworks.
Map of Fort Wilderness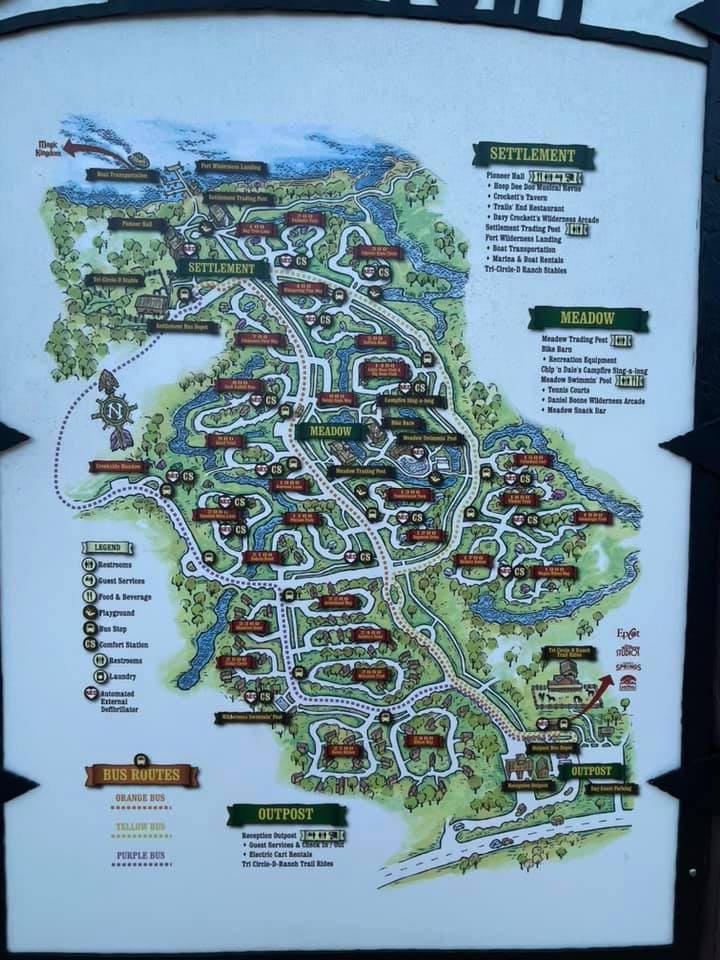 Join planning support Facebook groups to help with your trip to Disney World:
There are a few Facebook groups I'd recommend you join if you're looking for answers, support and help.
Walt Disney World Made Easy for Everyone Facebook group – This is my group (Stephen Ashley). We're happy to help answer questions on anything related to planning your Disney trip, and we love to talk about anything Disney World related.
There are a few good Facebook groups that share specifically about Fort Wilderness. They are:
Also join me on Pinterest here.
GET UPDATES, NEWS & TIPS (IT'S FREE!!!)
Sign up below to stay updated on the newest information, tips and tricks to help you plan your perfect Disney World trip!