Getting Lost & Separated in the Disney Parks & Disney Springs – What to do if it happens, and how to avoid it
Between the crowds roaming the parks, entering and exiting attractions amidst throngs of people, and all of the exciting things that will draw your attention, it's possible to get separated at Disney World. Here are some safety strategies to take, and info on what to do if you do become separated.
First, it's important to know that Disney actually has a "Lost Child department". They should help you find a child of any age, including those who are physically adult age, but developmentally a child. They have procedures in place to make things happen quickly. We've only heard of happy endings!
Where does Disney World take those who are lost?
If you've lost your child or special needs companion, let a cast member know as soon as possible, and then check to see if they've been brought in. Disney keeps information on lost and found people in the following places in the four main parks:
Magic Kingdom at the Baby Care Center and at City Hall near the entrance of the park.
Epcot at the Baby Care Center in the Odyssey Center.
Hollywood Studios at Guest Relations near the entrance of the park.
Animal Kingdom at the Baby Care Center on Discovery Island.
What is done with a lost person at Typhoon Lagoon water park
At Typhoon Lagoon Cast Members will bring those who are lost to Safe Harbor, which is a little sandy spot with beach toys right outside the main shop called Singapore Sals. There's a supervising cast member there.
What is done with a lost person at  Blizzard Beach:
At Blizzard Beach, as you face the Lottawatta Lodge, look to your right. There's an umbrella over a picnic table marked with an "i" (for "information") sign. Usually there's a supervising cast member masquerading as a D.J. right there. So there are often a whole lot of children dancing, or playing with hula hoops, or some such thing. These are certainly not all lost children, but the cast member/D.J. is there to make sure that whoever is lost stays there and is kept pleasantly entertained. Anyone else is welcome to join in.
"Last year, due to miscommunication, we lost track of our 3 year old guest at MK. Disney Castmembers jumped into action fast! We had Security and a Guest liaison in my face in very short order. I was reassured "We got this"! She was missing for more than 20 minutes and actually managed to travel some distance. We got reports she was with a castmember and she was in fact found near Small World occupied by a Castmember who was sitting with her playing a game. Disney said the Castmember did precisely what they were trained to do. To be honest I was impressed with their response and concern!… They were impressive and reassuring… As the Security Officer (David) said. "Not our first Rodeo"!" —David Chinery 
Adults and older Children can also get separated in the Disney World Parks & Disney Springs.
Plan for it just in case. It's not that often that this happens, but it can happen. For those who are able, pick a spot to meet with others in your party should you become separated.
Even adults and older children can become separated. It's a good idea to pick out a location in advance to meet up in case this happens. Sue Mickelson, an admin in our Facebook group suggests this:
"Make sure you have agreed exactly where to meet, including which side is the "front". I have waited at the "front" of Spaceship Earth for my husband, while he was waiting at the other side, which he considered the "front". Cell phones are very helpful – you can describe where you are."
Avoiding separation at Disney World.
This may seem obvious but here goes anyway. Always hold your child's hand. This is especially true for those who tend to wander, but also you'll experience times when you're walking through crowds. It's not that hard to become separated in those circumstances, so the simple act of holding hands can be the perfect preventative.
If you know your young child is especially prone to straying, consider a child leash. Although some people look down on that, it's a way to keep your child safe, and the old saying applies here – Better safe than sorry!  We've  noticed these being used  a lot,  so  you're  unlikely  to  be  only ones  using  this.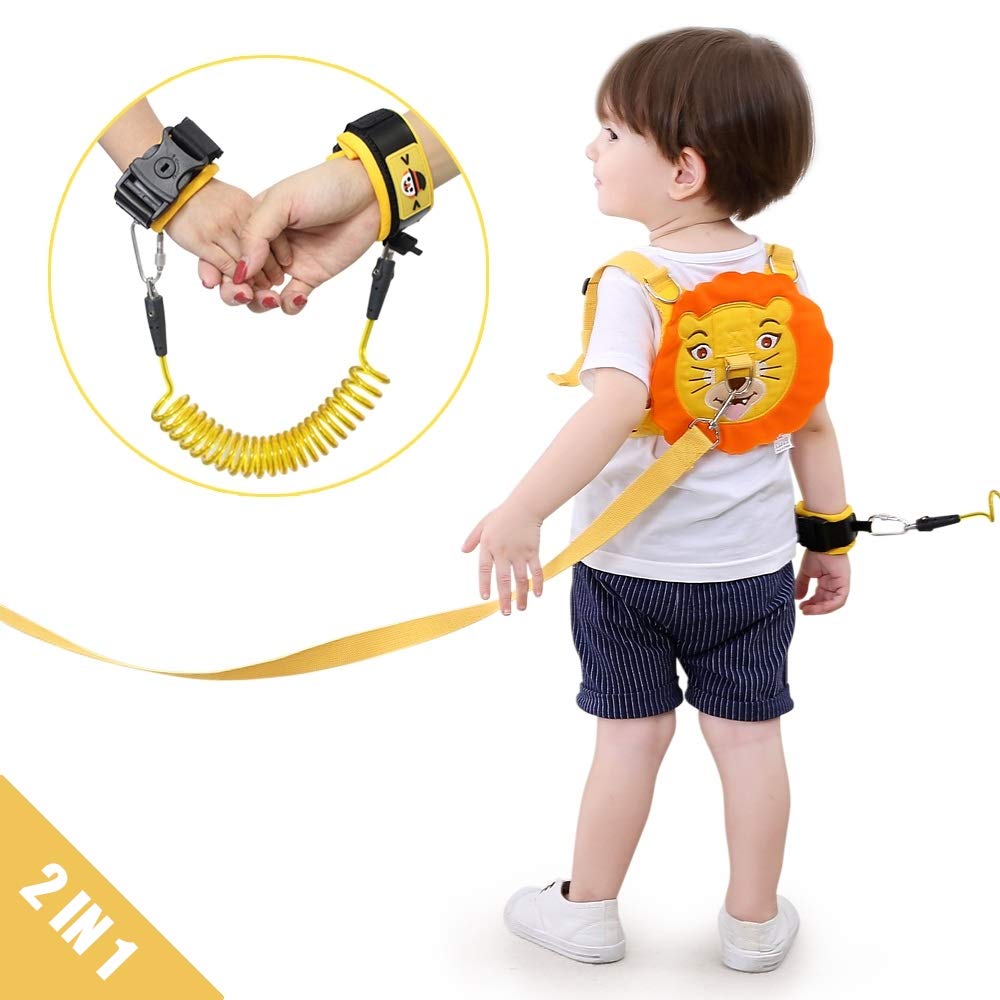 Tip: One thing to be aware of is that some bathrooms have two exits, so you'll want to keep an eye on children or mentally impaired adults who are prone to wandering in these situations.
Lastly, for those who are prone to wandering, a personal GPS tracking device might be practical. There are some that can easily be worn. This is especially appropriate and helpful for children as well as those who are mentally impaired.
While this may seem extreme, for some it's well worth the peace of mind they get knowing that any separation would be quickly resolved.
Here's a quote from one of our readers showing what she did to prevent her three children from getting lost: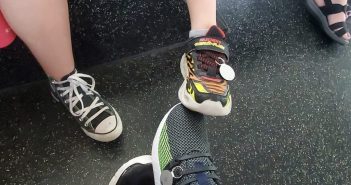 "I ended up putting GPS trackers on the kids shoes and in their pocket, because who knows when they may take off a shoe, lol. The kids liked them better than the leash's. My kids are 2, 4, and 10. The 10 year old is autistic so this worked really well for all 3 of those ages/needs. I literally just used the same type of tracker that people get if they lose their keys/phones, etc. Easy. Pop it on a shoe lace and activate it in a phone app." —Maria Corcoran
You can see the trackers on the sneaker laces. They're similar to the GPS tracker pictured above. You can find these and other styles on Amazon.com.
Explain to younger children and/or mentally impaired companions how to find a Cast Member.
If your child is too young, or your mentally impaired companion is not able to handle finding a spot to meet if you're separated, tell them to approach any Cast Member to tell them that they're lost. Show them what a cast member looks like.
Before you start your day, notice what your child or special needs companion is wearing.
You might want to take a picture of each child when dressed for that day. In case of misplacement, you can show the photo to a Cast Member. They'll be able to identify your child as well as the exact clothing being worn.
Always have the members of your party carry identification, including young children.
Check out Amazon.com for ID's for lost children. There is a huge assortment of identification and travel safety devices, some of which would be fine for older children and adults. There's everything from tattoos that you put your information on, to ID wristbands and bracelets.
On these ID devices, be sure to include your cell number or other contact information, including your resort or hotel information on the identification device. You can also use a Medic Alert bracelet from www.medicalert.org if there are health issues.
Use phones or walkie talkies with those in your party who are able.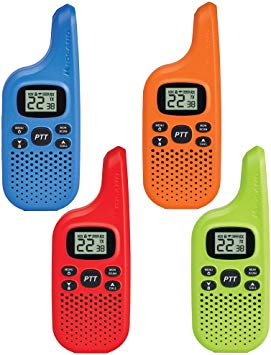 If your child or companion is able to handle it, consider giving them a cell phone. You can also get "pay as you go" cell phones and program them with the number of the other cell phone in your group.
A less expensive solution is to use walkie-talkies.
If necessary, strap the cell phone or walkie talkie to their wrist or attach it to their clothing. Show them how to use it and practice in advance if possible. Cell phones tend to get better reception than walkie talkies, and with walkie talkies the person using it has to remember to hold down the button to talk.
So now you know how to avoid getting separated, and how to find one another should you become separated!
There are some affiliate links on this page. If you make a purchase through that link, we'd get a very small commission. We appreciate your support! 
Join our facebook group!!!!
Ask any questions, share your knowledge and just enjoy getting to know other Disney fanatics in our facebook group called Walt Disney World Made Easy for Everyone.
Also: Like our facebook page here.
And join me on Pinterest here.
GET UPDATES, NEWS & TIPS (IT'S FREE!!!) Plus get a Free Disney World Planning Schedule Form.
Sign up below to stay updated on the newest information, tips and tricks to help you plan your perfect Disney World trip!