Header photo by Gustavo Barroso
Facts at a Glance About The Barnstormer:
Park: Magic Kingdom. Location: Fantasyland. Height Requirement: 35″ (89cm) or taller. Genie+: Yes. Individual Lightning Lane: No.
Quick Notes: Roller coaster in the Storybook Circus area of the Fantasyland expansion.
Disney Warnings: For safety, you should be in good health and free from high blood pressure, heart, back or neck problems, motion sickness, or other conditions that could be aggravated by this adventure. Expectant mothers should not ride.
Our Additional Cautions: This child-sized roller coaster on an elevated track can feel rough, despite its size. You can see through the track to the ground below in most places. Includes a 'ratchety' sound as the car climbs hills. Also includes moments of being angled sideways on banked turns, rises, falls and quick turns.          
Length:  The ride lasts approximately one minute.
Special Needs Info: Guests in ECVs must transfer from their ECVs to a manual wheelchair for use in the queue. For power wheelchair users, in most cases queues and rides that allow wheelchairs also allow most power wheelchairs. See the Cast Member at the attraction for your options. Guests using wheelchairs must transfer onto the ride vehicle. Service animals are not permitted on this attraction. See details below for additional info. 

Overview of The Barnstormer:
This is the only attraction that wasn't demolished in Mickey's Toontown Fair to make room for the new Storybook Circus area. It's a re-themed version of Goofy's Barnstormer which used to be themed as "Goofy the Traveling Barnstormer Pilot", and now it's "The Great Goofini Circus Sideshow Stunt Pilot". Guests climb aboard their own 'stunt planes' and go on a fast and fun roller coaster ride.
Barnstormer might be considered a more mild, kid oriented roller coaster. This might be a good starter roller coaster for those who are new to them, especially kids. Here's what one mom had to say:
"An ideal introduction to rollercoasters for younger or more nervous riders… as it's smaller and more cartoon themed it's less visually intimidating than Big Thunder Mountain." —Sarah Chudley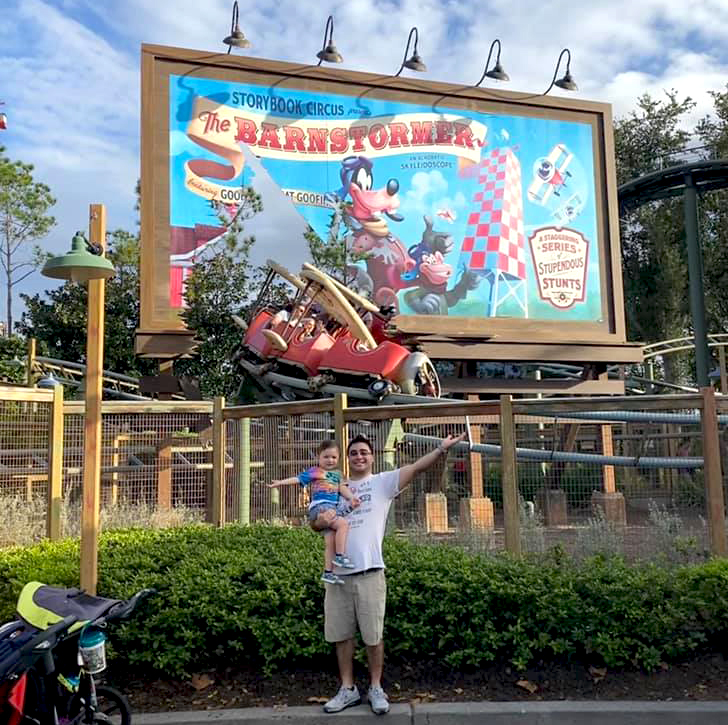 Queue information for The Barnstormer
The outdoor queue is partially shaded by overhead target hoops that are spaced out between full sun areas. There's not much to look at besides some circus themed props along the way.
The queue has some uphill areas where it may be challenging to hold a wheelchair in place. The line usually moves along fairly quickly though.
Ride vehicle and loading information for The Barnstormer
The ride vehicles are themed as old fashioned open cockpit airplanes. Eight ride cars with two individual seat sections each are connected together. Guests must step over the side of the ride car,  which is about 18-20 inches high. There's a pull down lap bar.
The roller coaster is sized so that children can ride it, and the cars are quite small. Adults can ride this one, but the seat space may feel tight to larger or taller riders, or those with long legs. Some of the ride cars have an overhead wing, which can make getting in and out even more difficult for larger or taller guests.
Some may find the seats challenging. Check out this comment:
"Actually for a person with bad knees it was the only ride in November I had any issues getting in and out off. Maybe because I was in the very back car that seemed to have higher sides. It was terrible. My son-in-law had to help me. I didn't go on Seven Dwarfs but everything else went great except Barnstormer, go figure?" —Diane Henderson Piper
And these comments might give you a sense of the size issue:
I'm 4'11" and BMI of 26. I wouldn't like to be tall or of a larger build on this, as it was cozy for me! —Sarah Chudley
"I am 5'4 and fit fine.. my BMI is slightly pooh sized before this second helping of honey. My 2 year old (barely made the height minimum) loved it- but a bit jerky for her. My spectrum 11 year old loved it as well but he likes his second and third pots of honey so I would advise not to put piglet and pooh in the same car." —Stephanie Smith Mathis
More wheelchair info: Guests normally board on one side of the track/ride car and unload on the other. Guests using wheelchairs board and unload on the unload side; their party will directed where to go just before boarding. The wheelchair will be waiting at the same place at the end of the ride.
Details and description of the experience on The Barnstormer ride
When leaving the loading area, the plane goes almost immediately up a slow speed hill to about 30 feet. It then rides down a left hand turn and several small rises and falls before finishing up with several banked turns to the right and left, and slowly coming to a stop. During the run, it reaches speeds of about 25 miles per hour. During much of the ride, the ground below is visible through the track ahead, so guests are aware they're off of the ground with just the track below them.
Although The Barnstormer is child oriented, keep in mind that it IS a roller coaster. Though it's small, there are still the same basic moves including moments of going around bends where you're angled sideways, some dips and quick turns. Since it's a short ride with gentler turns than the bigger roller coasters, it may be a good 'practice' roller coaster for people who are not sure whether or not they want to ride one. Here's what one mom had to say about it:
"This was the first roller coaster my youngest son was tall enough to ride. He was three so it has been 16 plus years ago (wow, where does time go?!). We lucked out and caught it with no lines so we were able to ride it over and over again as much as he wanted. He still enjoys hitting this ride at least once a visit every year and especially if we have a new person with us that hasn't ever ridden it. I don't normally do roller coasters but this one is a mild one that can be a lot of fun for the whole family. Great memories surround this ride for me and I am sitting here smiling while I type this because I can still hear his little three year old giggle. Thanks for bringing up such great memories!" —Teresa Hampton Harper
Take a look at The Barnstormer ride in action:
Check out other rides in Disney World's Magic Kingdom:
Adventureland 

Fantasyland

Liberty Square

Main Street USA

Tomorrowland
SEE RIDES AND ATTRACTIONS IN THE OTHER PARKS:
Join our facebook group!!!!
Ask any questions, share your knowledge and just enjoy getting to know other Disney fanatics in our facebook group called Walt Disney World Made Easy for Everyone.
Also: Like our facebook page here.
And join me on Pinterest here.
GET UPDATES, NEWS & TIPS (IT'S FREE!!!) Plus get a Free Disney World Planning Schedule Form.
Sign up below to stay updated on the newest information, tips and tricks to help you plan your perfect Disney World trip!