How do you manage at Disney World if you have allergies?
For most people, enjoying Disney World while managing allergies is doable! If you're dealing with FOOD ALLERGIES, read our special dietary needs articles here.
In part 1 we'll cover some things you should know about Disney World and the Orlando area when it comes to allergies. This page includes info on:
Flying and allergies
Latex allergies
Smoking on Disney World property
Florida fires
Nebulizers
Stress and allergies
Plants & pollen
Mold issues and Central Florida
Watch for Allergies at Disney World Part 2 coming soon.
Before we share the above, are you looking for a Travel Agent? Do you have special needs or extra challenges such as allergies? If so, consider using one that knows Disney World well and has experience with special needs travel. Visit our Travel Agent page here to learn more.
General Allergy Information You Need for Disney World
First, if you or someone in your party has severe allergies, before you travel, talk with your doctor to discuss strategies for preventing or dealing with a reaction. Depending upon your allergies and level of reactions you tend to have, you may wish to bring:
Allergy medication.
An epinephrine kit if your allergies are serious (available by prescription).
Topical antihistamine liquid for skin reactions.
Your allergist's contact information.
Extra medication as a precaution.
Medical Alert Bracelet
For the medical alert bracelet, we'd suggest it if you or your child has a severe life threatening allergy. You may be thinking that someone you know will always be with you, or if it's your child, you'll always be with your him/her. However it's possible for your party to become separated. A bracelet can be a life-saving move.
Flying to Disney World with allergies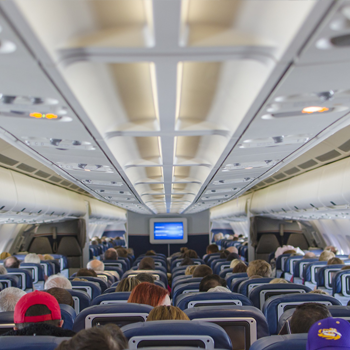 Naturally if you're flying, you're stuck in a big metal tube with a lot of people until you get to where you're going. Most likely you won't be able to move if someone near you has put on a vat of perfume. If allergies are a problem for you, be sure to bring medication. You may even want to pre-medicate if you know you're prone to problems.
Here are some other tips for flying with allergies:
Try to get an end seat. This will allow you to have only one side where there's someone next to you. If you're traveling with someone else, they'll be on your side, minimizing the possibility of someone you don't know sitting really close to you, and exposing you to possible allergens for the length of the flight.
Carry medications, and even medical equipment if size permits, with you on the flight. If you're taking medications and/or medical equipment such as a nebulizer with you on your trip, bring them in your carry-on bag. If you put these things in your suitcase, you run the risk of losing them.
Order oxygen in advance. If you need oxygen for the flight, you'll need to go through your airline in advance to make arrangements.
Avoid discomfort from congestion. Congestion on a plane can cause discomfort when flying because of ear pressure. Here's a tip from a reader who has chronic congestion:
"When I fly, I always use some nose spray to clear my passages before taking off. I also use a product called Earplanes that you can get on Amazon and at most pharmacies. It helps work against the pressure changes to keep your ears comfortable. I drink frequently while on the plane to stay hydrated, and I use sucking candies when the plane is descending and ascending to keep me swallowing. I think gum would work too. It all seems to help a lot."
Latex allergy at Disney World
Although we'll mention some latex that we're aware of around the Disney resorts and parks on this site, we're not able to provide you with complete information on all the places that you'll encounter it. If you or someone in your party is sensitive, always take precautions wherever you go. If you see anything that's suspect, we recommend that you err on the side of caution.
You can speak with Guest Relations when you enter the parks, or even call Services for Guests with Disabilities at 407-824-5217 prior to your visit. If you're staying in a Disney resort, let the booking cast member know of your sensitivity, and ask for information on where you may encounter latex in the resort. It's also a good idea to speak with a cast member about this at check-in.
We've heard that the rain ponchos that are sold throughout Disney may have latex in them. We're told that Disney restaurants are using non-latex gloves for food preparation; however we would still recommend that you double check wherever you go. Let your server know of the allergy, and you can even request to speak with the chef. There are many non-Disney run restaurants on Disney property, and they may use latex in their kitchens. This makes it even more necessary to speak with a chef in those restaurants.
In the parks, Disney employees sometimes handle the ride cars using latex gloves. If you're sensitive, you may wish to bring some kind of hand covering such as non-latex gloves or a pair of lightweight gloves to use when on rides.
Disney says that the balloons they sell are not latex, but we always advise erring on the side of caution. We believe that most of the balloons sold at Disney are mylar, but we've heard that the colored Mickey head balloons may be latex. They're covered with a clear non-latex balloon over the top, but we believe that the very end of the balloon does have a small piece of the latex balloon uncovered. So people who are extremely allergic to latex will want to steer clear of those balloons.
If your condition is serious, consider bringing medication such as an Epi-Pen or Benedryl with you wherever you go.
Smoking Allergies at Disney & Smoking laws in Florida
Naturally smoking is permitted in Disney World and Orlando, but there are very strict laws in Florida, and rules inside of Disney World.  For details check out our article on Smoking at Disney World & Allergy Prevention.
Florida fires can impact air quality at Disney World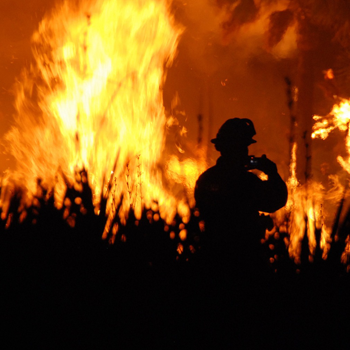 During the dry winter season, fires occur. Often they're out in the Everglades, but they can happen in more populated areas as well. Usually these fires don't pose a threat to people and property, but the smoke can impact those with allergies, heart conditions or breathing issues. The fires can be brief or can smolder for weeks. If there are fires in the area and the smoke is being blown in your direction, you may wish to avoid being outdoors as much as possible.
Air purifiers can help, but they usually need to have carbon filters to take the smoke out of the air. To date we've been unable to find a local business that has carbon filter air purifiers to rent.
Nebulizers at Disney World
If you need a nebulizer, consider purchasing a small portable unit. Nebulizers can also be rented in the Orlando area. When you do a Google search there are several companies coming up that offer this.
Stress can bring on allergies and Asthma – Even at Disney World!
Since stress can cause physical changes that can worsen allergies and asthma, plan your trip as a time to relax. Some people see their Disney World visit as a marathon, and they try to stuff everything they can into their visit. This could end up feeling stressful.
Treat your park visits as a leisurely, relaxing time rather than a race. We've always found that putting a lot of pressure on yourself to see and do everything on your vacation really takes away from the fun anyway. It's better to have realistic expectations, to prioritize what you wish to do in advance, and to have the goal of having fun without putting pressure on yourself to do everything. Not only is Disney more fun this way, it's better for your health as well!
Also, during your trip, consider avoiding situations and attractions that evoke fear, stress and anxiety. There are some attractions that are considered pretty scary. You may want to avoid these.
Plants & pollen can impact allergies while at Disney World

Flowers bloom all year in Florida; however, in the fall, winter and spring seasons we see more flower varieties and more quantity. The heat of the summer can actually be too strong for some plants, so there tends to be less quantity and variety. There are many beautiful gardens all over the Disney grounds year round. This includes the parks and resorts, where flowers can be decorative as well as part of the theme.
Disney also has its annual Epcot Flower and Garden Festival in the spring, when there are a lot more plants and flowers throughout the park. Visit www.Disneyworld.com to check on the dates.
Pollen counts and types of pollen vary in Central Florida, and according to Tampabay.com plants pollinate 12 months of the year in Florida because a hard freeze is rare. They say the following about timing: "Trees begin pollinating in the spring, which in our part of Florida can begin by mid-January. This is followed by grasses, which typically pollinate in the summer. Weeds follow in the fall. In our part of Florida, February through April is the most severe pollen season due to extremely high volumes of tree pollen."
So if you have issues with pollen, you may want to avoid booking February through April.
Visit www.Pollen.com for information forecasts and history charts.
Mold counts can raise at certain times of the year in Central Florida
Some people are sensitive to mold. In the warmer months, the heat and humidity produces a higher mold count. The cooler, dryer air that's more typical in winter translates into fewer mold spores in the air. It can be easier to breathe and far more comfortable for many people, especially those with mold sensitivity.
If you know that you react badly to mold, pick a time of year to visit that tends to be on the dry side. Read the article called Weather at Disney World & Picking Travel Dates.
Here are comments from a couple of mold sensitive visitors:
"I travel with a small UV light style air purifier that plugs into an outlet. It's made by Germ Guardian and I feel it helps. It has a tiny light on it, so it also acts as a night light for me."

"I visited Port Orleans Riverside, and I've been there before with no problem at all. For some reason the air conditioning unit was putting out air that smelled of mold to me. I covered the unit with towels that I anchored with a shoe, and it helped. I later found out that I could have just called the front desk and they would have sent someone to change the filter and clean the unit. You can even request this before you go"
Watch for Part 2 of this article.
Do you have more tips or thoughts on this topic?
Please feel free to post them in a comment below. We'd love your input.
Join our Facebook group!!!!
Ask any questions, share your knowledge, and just enjoy getting to know other Disney fanatics in our Facebook group called Walt Disney World Made Easy for Everyone.
Also join me on Pinterest here.
GET UPDATES, NEWS & TIPS (IT'S FREE!!!)
Sign up below to stay updated on the newest information, tips and tricks to help you plan your perfect Disney World trip!