If you're going to a Disney World park, you'll want to use Genie. You'll also want to decide on whether to use Genie+ and Individual Lightning Lanes or not. This article will cover these options.
Though Disneyland will also have the new app, there will be some differences. So keep in mind that we're dealing with Disney World here, unless Disneyland is specifically mentioned.
You can visit Disney World's Genie page here.
DISNEY GENIE, GENIE+ AND LIGHTING LANES BEGAN OCTOBER 19, 2021
Disney World has now added Disney Genie and Disney Genie+ to their My Disney Experience app. Fastpass+ which was put on hold for COVID changes will not be coming back. In addition, Disney will add the option of purchasing Individual attraction selections which we'll talk about below. So guests will be able to choose to go on rides using the following queue options:
Standby queue – This is the regular queue with no time shortening methods used. No additional fees.
Disney Genie+ – This is a paid option available for some rides which will shorten your wait time like FastPass+ did. What was once called the FastPass+ lines will now be referred to as the "

Lightning Lanes

". This does not include any of the rides/attractions in the Individual Lightning Lane category below.
Individual Lightning Lane – This is an additional paid option to use the Lightning Lanes for high demand rides. It will shorten your wait. You can buy up to 2 rides a day.
Is the change from Fastpass to Genie a good or a bad thing? Of course, we're not thrilled about the extra fees, but we're hoping it will work better than FastPass+.  Disney is saying that each ride is subject to limited availability, just as it was with FastpPass+, but with the change in procedures, it's possible that it could help open things up.
On the plus side, Disney Genie and Genie+ and Individual Lightning Lane is a part of the My Disney Experience app. So if you already have that app, you'll be ahead of the game. You'll just need to update the app before your visit.
Here's some of what you need to know. First, you can check out which rides and attractions are currently part of the various programs. Remember this is subject to change. Here goes: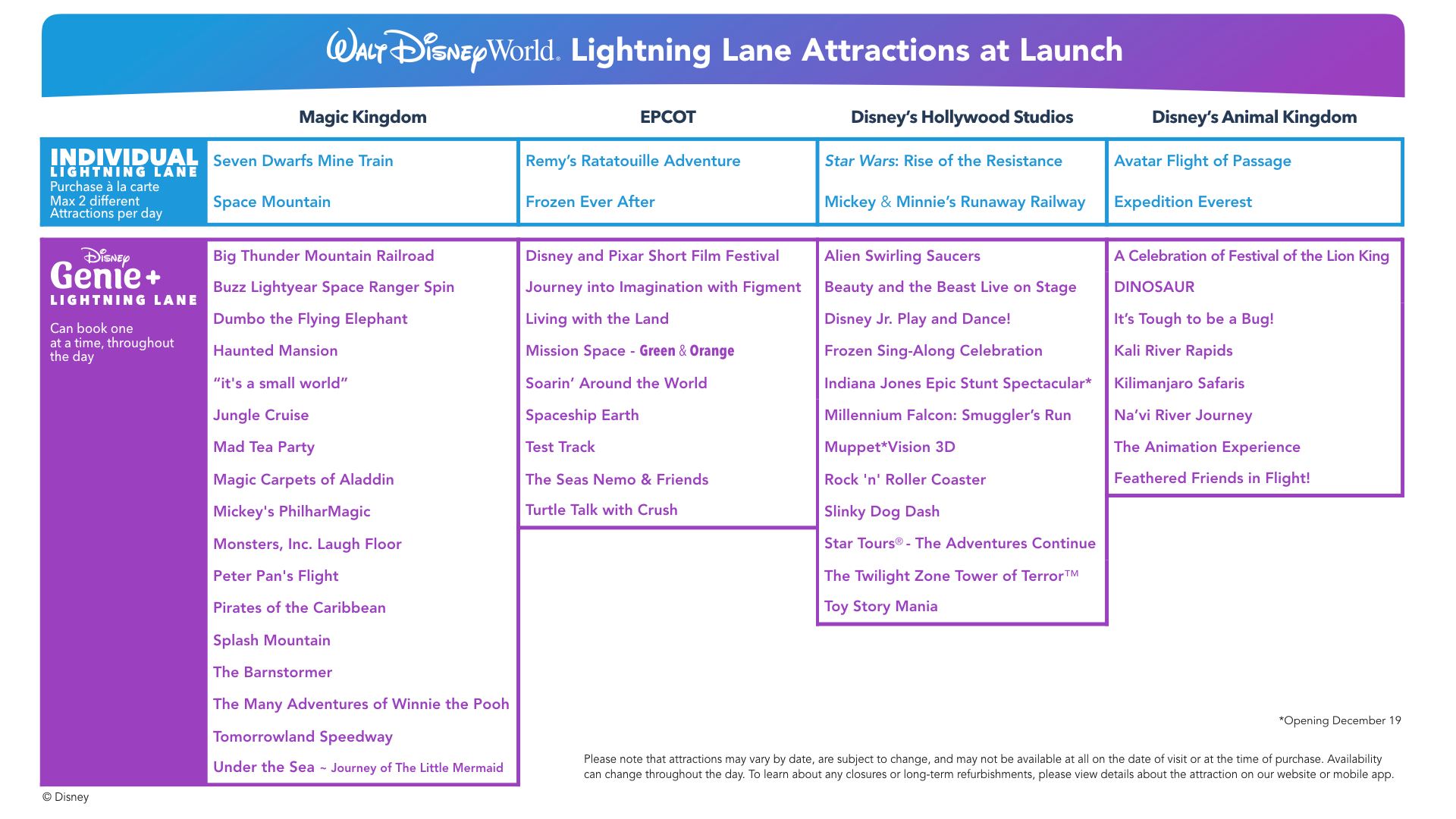 Do you have to use Disney Genie or Genie+?
No. Attractions still have the traditional standby queues they've always had (or virtual queue in the case of Star Wars: Rise of the Resistance). But with Genie and Genie+, you should be able to save a lot of time. They also allows convenience and some other perks.
Also, keep in mind that you can buy Genie+ or the Individual Lightning Lane Option. You can buy one of them, or both of them. They don't have to be bought together.
What is Disney Genie?
Disney Genie is a free planning tool that you'll find in the My Disney Experience app. According to Disney it's designed to help you plan and maximize your park time so you'll have more fun. You can see what a couple of the screens can look like below!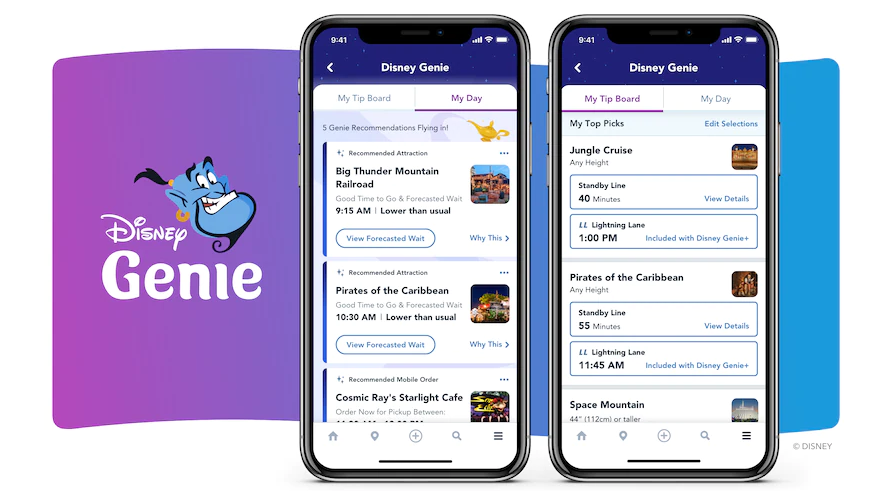 Genie has a personalized itinerary feature that allows you to plan your park day. It will allow you to tell Genie what you want to do with your day, and it will map out an itinerary just for you. Some things Genie allows you to input and plan for includes:
Specific attractions you wish to try.
Interests you have like Disney princesses or villains, Star Wars, etc.
Dining and "foodie" experiences.
Entertainment you're interested in.
It will also allow you to do the following:
Make Dining reservations.
Get on restaurant wait lists.
Check-in at restaurants.
Use Mobile Ordering for some dining locations.
Join virtual queues for some attractions.
Get help from a virtual assistant.
Track current and forecasted wait times for rides and attractions.
The Disney Genie also creates a personalized tip board that's created based on your specific interests and agenda.
What is Disney Genie+?
Genie+ is a paid service you will access through the My Disney Experience app. Genie+ replaces the retired FastPass+, though not every ride that had FastPass+ will be included in the Genie+ deal. Genie+ also has additional perks that FastPass+ did not have (see below). It seems that the main goal of Genie+ is to have you spend less time in lines.
Here's how it's used. On the day of your visit, for certain attractions you will be able to schedule the use of the Lightning Lanes (subject to limited availability). The app will show you the time slots available for attractions, and you will choose one. Now you'll be able to use the Lightning Lane instead of using the Standby queue for that attraction. If you have a Park Hopper ticket and plan to go to another park, you can choose an attraction there.
In theory, Genie+ only allows you to choose one attraction at a time (with a hitch – see below). So Genie+ will allow you to choose the next available time to arrive at certain available attractions or experiences. You can make a Genie+ reservation when the following occurs:
You have used the Genie+ pass you reserved.
Your first return time has ended
120 minutes have passed since you booked your last one.
There's a complicated twist. It's possible to have multiple Genie+ reservations at a time if you follow the above rules, but once you use your original Genie+ reservation, from there on you can only have book at a time.
Here's the pricing for Disney World, and we'll throw in Disneyland since it's different, for your information:
Disney World Pricing: $15 per ticket, per day.
Disneyland: $20 per ticket, per day.
When can you book your first Disney World Genie+ Lightning Lane attraction?
Guests with Genie+ can book their first Lightning Lane attraction at 7 a.m. Eastern Standard Time on the day of their visit. You won't have to be in the same park you're booking for, which allows for park hopping. We think you'll need to be on Disney property though, either in a resort or a park.
Here's More on what you get with Genie+:
Lightning Lanes: This will help you spend much less time in lines. Rides that are included in this are Haunted Mansion, Millenium Falcon: Smugglers Run, and Big Thunder Mountain Railroad. Attractions are subject to limited availability so having the Genie+ doesn't guarantee you will get on every ride/attraction that has Genie+.
Audio Experiences: This includes some behind the scenes audio tours. A nice perk!
Photo Features: The Disney Genie+ app will give you photo features which Disney describes as "augmented reality lenses for those visiting Walt Disney World Resort."
What don't you get with Genie or Genie+ in Disney World?
You don't get to use the Lightning Lanes for all of the highest demand attractions. For those you must pay extra, and you're limited to two of those a day (see below for details).
Also, you may have seen that Disneyland Genie+ allows unlimited PhotoPass downloads. This is not the case with Disney World. Sadly they have not included this perk in the Florida parks.
When can you buy Genie+?
Length of Stay Genie+: Guests buying stand-alone date based tickets, multi-day ticket packages or Disney Vacation Packages will be able to add Genie+ for their length of stay ahead of their visit. If you don't want it for your length of stay, you'll need to buy it each day you want it, on the day of your visit.
Genie+ for the day of your visit: If you're not getting it for your length of stay, guests with valid tickets are able to buy Genie+ on the day of their visit, starting at 12 a.m. Eastern Standard Time.
Annual Pass members should be able to buy Genie+ on the day of their visit, each day they visit. We're hoping that eventually Disney will create an Annual Pass option with Genie+ added to it, but we don't know yet.
At this time I've been told by Disney that they should not run out of Genie+ add-ons. This means that anyone with a valid park ticket should be able to buy Genie+. So you don't have to be online buying your Genie+ tickets the moment you're able to, in this case right at midnight. You can purchase your Genie+ tickets anytime that day, before you need it. However this has yet to be confirmed. We'll let you know when it is!
Booking rides & attractions with Genie+:  You will be able to make your first Genie+ ride reservation starting at 7 a.m. on the day you're visiting. This is true even if you bought your pass earlier.
The "Individual Lightning Lane" Option is available for a fee.
As mentioned above, some high demand attractions are not included in the Genie+ deal. This leads us to this "Individual Lightning Lane" option available for a fee. Prices will vary by attraction, date and park.
Do you need to buy Genie+ to buy an Individual Lightning Lane pass?
You can buy this alone. You do not need to purchase Genie+ to get this option.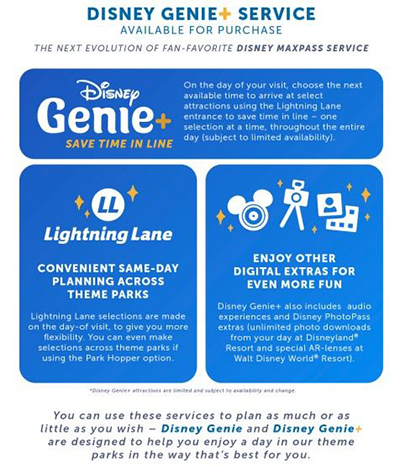 How many Individual Lightning Lane passes can you buy?
Guests can buy up to 2 Individual Lightning Lane passes each day for high demand attractions like Seven Dwarfs Mine Train at Magic Kingdom,  Remy's Ratatouille Adventure in Epcot, and Rise of the Resistance in Hollywood Studios.
How does it work?
Guests can schedule a time to arrive at each of the two rides. As with Genie+, Disney is allowing these reservations to be made in more than one park, for those who are park hopping.
Can I buy both Genie+ and Individual Lightning Lane passes?
Yes, you can use both Individual Lightning Lane passes and Genie+ ride reservations. You can use both programs at once.
When can I buy Individual Lightning Lane passes?
Guests staying at a Walt Disney World resort get to purchase these the day of their visit at 7 am Eastern Standard Time.
Guests staying off-site get to buy these once the park opens, and they must be at the park. You do not need to be in the park that you're scheduling your Lightning Lane for.
If you're looking at the new changes that Genie will  on DAS (Disability Access Service), visit here. Disney will be adding additional services to those who have the DAS.
Finally, here's Disney's introductory video on Genie. Take a look!
Have questions? Or just want to chat with others who love Disney World? Join our Facebook group:
Walt Disney World Made Easy for Everyone Facebook group – This is my group (Stephen Ashley). We're happy to help answer questions on anything related to planning your Disney trip, and we love to talk about anything Disney World related.
GET UPDATES, NEWS & TIPS (IT'S FREE!!!)
Sign up below to stay updated on the newest information, tips and tricks to help you plan your perfect Disney World trip!