Header photo by Vicki Calter
Facts at a Glance About Rock 'n' Roller Coaster:
Park

: 

Hollywood Studios. Location: Sunset Boulevard. Height Requirement: 48" (122cm) or taller. Genie+: Yes. Individual Lightning Lane: No. 
Quick Notes: High octane roller coaster with the music of Aerosmith accompanying the ride.
Disney Warnings: Thrill ride, big drops, Loud. Rock 'n' Roller Coaster is a loud, thrilling, high speed roller coaster-type ride that includes sharp turns, upside-down maneuvers, and sudden drops and stops. WARNING! For safety, you should be in good health and free from high blood pressure, heart, back or neck problems, motion sickness, or other conditions that could be aggravated by this adventure. Expectant mothers should not ride.

The seating and restraints on this attraction may prohibit Guests of certain body shapes or sizes from riding.
Our Additional Cautions: Includes periods of darkness, high speeds, intense G-force pressure, inversions (3 upside down inversion loops), 2 rollover loops and one corkscrew, sharp drops and twists in darkness, flashes of light, lit "road signs" that you pass quickly, loud music, feeling of height. Because of the extreme nature of the attraction, some people may find it over stimulating. Shorter guests may find it uncomfortable even though they meet the height requirement. See below for details and further cautions.
Length: The pre-show is approximately 3 minutes, and the ride is approximately 1 ½ minutes.
Special Needs & other info: Those in ECVs must transfer to standard wheelchair, and then to a ride vehicle. For power wheelchair users, in most cases queues that allow wheelchairs also allow most power wheelchairs. See the Cast Member at the attraction for your options. Due to the nature of the experience, service animals are not permitted on this attraction. Children under age 7 years must be accompanied by a person age 14 years or older.

Overview of Rock 'n' Roller Coaster in Hollywood Studios
This is a high-powered roller-coaster ride with three upside-down loops, 2 rollover loops and one corkscrew. It's themed around the band Aerosmith. In the standing only pre-show, you'll see a video that gives you the back story. You're on a tour of G-Force Records (a fictional recording studio), when you encounter the band Aerosmith en route to their concert across town. They invite you along and then speed off in a stretch limo.
You're put in a "really fast super-stretch limo" (the roller coaster vehicle), and you speed off into the night careening wildly down the L.A. freeways. The car radio blasts one of multiple Aerosmith songs recorded specifically for the attraction. Each 'limo' has a 125-speaker, 24-subwoofer, 32,000-watt audio system.
This attraction gets high praises from roller coaster fanatics! It's dark like Space Mountain, but it's smoother, faster, and has a lot more thrill motion to it, such as the inversions. Unfortunately, the ride itself lasts a total of 64 seconds, so take that into account when you see the posted estimated wait time. On the other hand, it may be short enough for non-dare devils to give it a try!
Queue, pre-show & boarding for the Rock 'n' Roller Coaster
There are usually big crowds at this attraction, as this is a popular ride and a top draw for coaster enthusiasts. When lines are at their largest, they can start outside without any cover in full sun.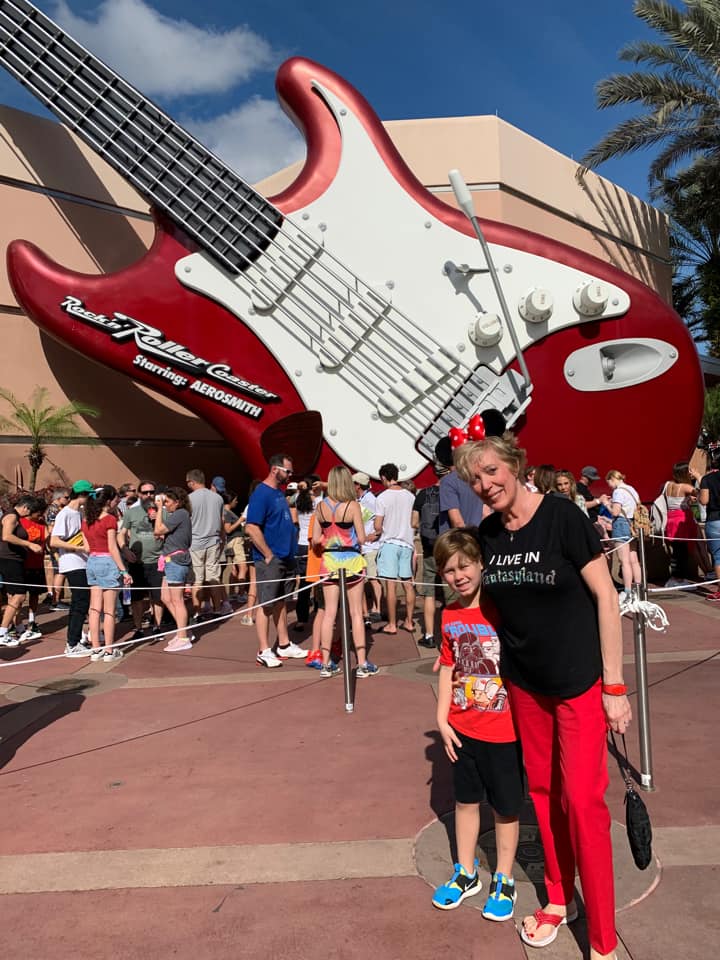 Then there's a shaded outdoor queue. Indoors the queue turns into an indoor area which is a standing pre-show movie featuring Aerosmith.
If you wish to enjoy the queue and the pre-show without going on the ride, or you just make a last minute decision not to try the ride, there's an exit right after the pre-show and before boarding. Let a cast member know, and they'll send you out to the gift shop where you can wait for your party to exit the ride.
The ride car has two car seats per row. The seats are padded, with harnesses that drop down over your head and over your shoulders. The seats are low, so you'll need to get in and out of a low position. You can use the seat as a step to make it easier. There seems to be enough room in the seats for most people of size to feel comfortable, though the front seats may give you more room. You have 30 seconds to board. They cannot slow down the boarding area for you.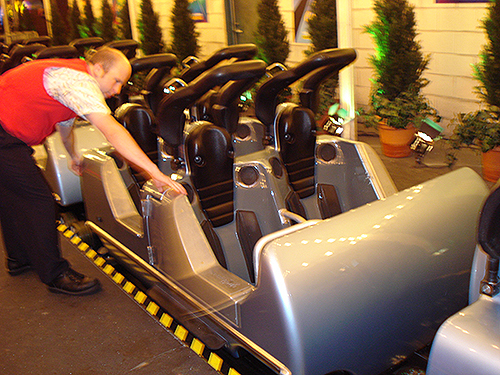 Wheelchair & accessibility information: Those in wheelchairs go through either the Stand By queue or Genie+ queue. You might want to try to get to the front of the room for the pre-show for a better view.
After the pre-show you'll be taken to the loading area. There's a stationary practice car that you can use to rehearse, if you feel you need it. Ask a cast member to help you with this.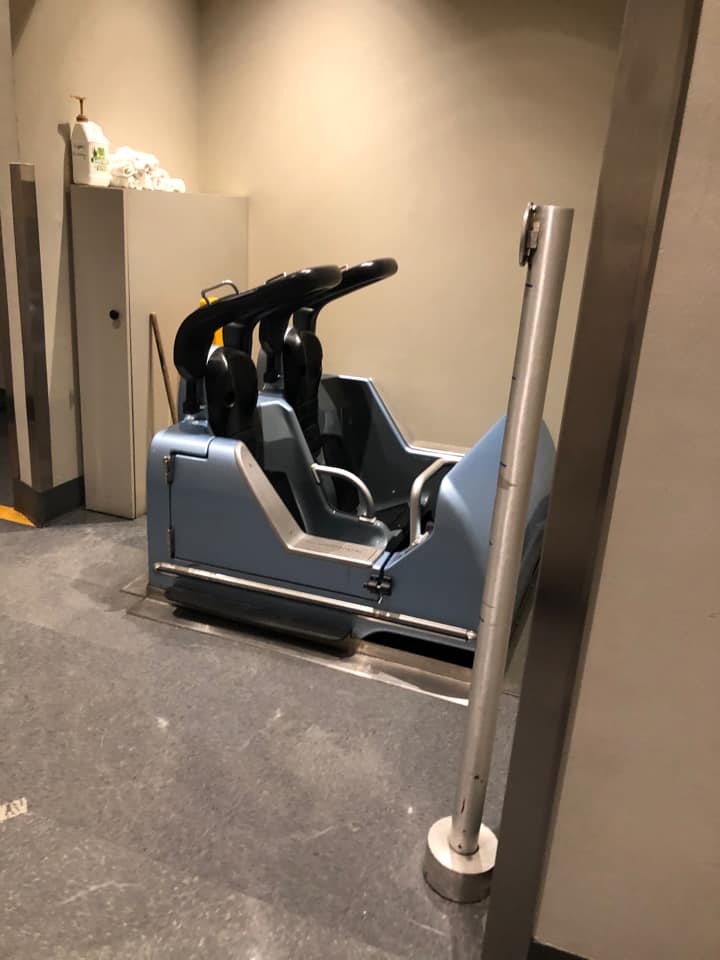 There's a Transfer Door Option for the ride cars. The 'limousine' is equipped with a side door that can be opened for you to transfer. If you're trying out the stationary practice car, the door is manually operated. When you're boarding the actual ride car, the door is Cast Member operated. Make sure to let a Cast Member know if you need this.
For those who need to transfer, Disney gives these instructions: A Cast Member called a valet will position your wheelchair next to the Limo. Set your wheelchair brakes. Place your legs into the Limo. Transfer from your chair onto the sill of the Limo. Lower yourself onto the Limo seat. Lower and set the Limo ride harness. When you return and the Limo stops completely, raise your ride harness. The valet will return your chair you you will get out first, the same way you transferred in.
There is also a transfer device which is like a seat or stool that attaches to the side of the ride vehicle. You can request that if needed.
Again, you have 30 seconds to board, so if needed, practice on the stationary practice vehicle until you can board within that 30 seconds.
For photos and details check out the Rolling With the Magic page for Rock 'n' Roller Coaster. 
Additional details about Rock 'n' Roller Coaster
According to Disney, this ride goes from 0-60 mph in 2.8 seconds, which they say has the force of a supersonic F-14. To compare, the space shuttle gives astronauts about a "three G" experience, and this ride gives guests a "five G" experience. This can be a lot of pressure on the body, although this pressure is only experienced very briefly at the top of the launch when the coaster transitions to the first loop. As soon as you enter the loop, the G forces are released and you feel a sense of weightlessness. At no other time does the ride even approach the momentary initial launch force.
Tip: Some people find that the pressure is dramatically lessened by simply taking a deep breath just before the launch and then screaming during the launch (take the breath the moment the traffic light above the load platform turns green). We've heard that this tends to help equalize the pressure in your body, though we can't confirm this.
Wheelchair, accessibility and disability information: This ride has high-speed loops and turns, three inversions, sharp drops and twists. Though this is a physically demanding ride, and you should use caution when making a decision to try this, there are many wheelchair users who can handle roller coasters with no problem. This attraction's seats are designed to hold you in place. Regardless, you still must have the ability to handle the strange angles and high speeds, and not be vulnerable to a worsening of your condition from the force, speed and angles.
Also, you must be able to handle the strain on the shoulders from the restraints when you're inverted. In addition to Disney's warning, people with the following issues may not wish to ride: Difficulty remaining upright under force, pain issues of any kind, vertigo or headaches. As always, this is not an all-inclusive list, and we feel it's better to err on the side of caution.
Height issues: We've heard from Disney guests that are on the shorter end of the allowable height requirement that they experienced extreme discomfort around the head from the restraints. However, a Disney cast member told us that the ride is designed to comfortably accommodate everyone over the required height. You be the judge.
Other issues: The Aerosmith music is very loud, and it's piped in through the headrests so it's close to your ears. Here's the kicker: The ride is in the dark with occasional black-lit road signs. You can't see what's coming to brace yourself. This can be completely disorienting and adds to the physical demand, as well as the thrill or fear factor. There are also times of complete darkness, which may aggravate claustrophobia in some people. There's a bright flashing of light when your picture is taken during the ride.
Take a look at the queue and the ride:
Check out other dies in Hollywood Studios
Animation Courtyard

Commissary Lane

Echo Lake

Grand Avenue

Hollywood Boulevard

Pixar Place

Star Wars: Galaxy's Edge

Sunset Boulevard

Toy Story Land
SEE RIDES AND ATTRACTIONS IN THE OTHER PARKS:
Join our Facebook group!!!!
Ask any questions, share your knowledge and just enjoy getting to know other Disney fanatics in our Facebook group called Walt Disney World Made Easy for Everyone.
Also: Like our Facebook page here.
And join me on Pinterest here.
GET UPDATES, NEWS & TIPS (IT'S FREE!!!) Plus get a Free Disney World Planning Schedule Form.
Sign up below to stay updated on the newest information, tips and tricks to help you plan your perfect Disney World trip!