All About Soarin' in Disney World's Epcot
Facts at a Glance:
Park:

 

Epcot. Location: World Nature. Height Requirement: 40″ (102 cm) or taller.
Genie+: Yes. Individual Lightning Lane: No.
Quick Notes: Hang-gliding simulation in front of a curved IMAX screen. It feels like you're flying.
Disney Warnings: CAUTION: Those who have a fear of heights or are prone to motion sickness should not ride. In Soarin' you will be suspended in air for an exhilarating, gliding adventure that includes dramatic drops, turns, swoops, and lifts. Children under age 7 years must be accompanied by a person age 14 years or older.
Our Additional Cautions: Simulation of hang-gliding while sitting upright, raised approximately 20-40 feet off the ground. This is a gentle ride with mild angling of the glider chair as guests fly over scenes including water, mountains, snow, the ocean, a nighttime city scene, a golf course, near fighter jets, and fireworks. Also includes fragrances, short periods of total darkness, and wind blown at you to increase the sensation of flying. Guests must be able to remain sitting upright in their seats with only a lap belt and their legs dangling.
Length: The show time lasts approximately 5 minutes. 
Special Needs Info: You must transfer from your wheelchair or ECV onto the ride seat. Service animals are not allowed on this ride. Video Captioning, Assistive Listening (for pre-show only). Automated External Defibrillator. 
Overview of Soarin'
One of the most popular attractions in all of Disney World, this ride simulates the experience of flying in a hang-glider over various locations throughout the world. Most people will find that it's thrilling, yet physically mild and unchallenging. Both kids and adults seem to love it. We find it to be a wonderful experience (and our personal favorite ride in all of Disney), engaging almost all of your senses.
There are usually long wait times for this ride, but we feel that it's worth the wait. Using your Genie+ for this attraction is a good idea.
Queue information for Soarin'
The entire queue from entrance to boarding is more than 1/4 mile, and a similar distance to get back out. The Genie+ Lightning Lane and regular queue are the same distance. Guests in the Genie+ queue do not have access to the interactive games.
Wheelchair/ECV and accessibility queue info for Soarin' in Epcot
Through most of the queue there's plenty of space to maneuver a wheelchair, even when the queue is crowded. However, maneuvering a wheelchair can be a bit more difficult when other guests are taking part in the games, but it's doable.
The queue ramp has many inclines and declines, so pushing a manual wheelchair may be challenging. There will be times when guests are standing in one place on a down ramp for several minutes at time. It can be challenging to hold a manual wheelchair and prevent it from rolling in these circumstances. It helps to turn the wheelchair toward the side and lock the brakes so it's less likely to roll.
More queue & seating information for Soarin'
As you near the actual ride area, the queue space thins, the floor slopes more steeply down and the lights dim. At the end of the queue, just before going into the ride area, you'll be directed into one of three holding areas or gates. Each area has three lines. Row 1 puts you on the ride seats in the front, which rises to about 40 feet high. The center line (row 2) puts you in the second row, which rises about 30 feet high. Row 3 seats you in the back row, which rises about 20 feet high.
The floor is numbered and you'll be asked how many are in your party and assigned a row and a number in that row to stand on. That will also be your seat position inside the theater. The cast member assigning positions will usually try to keep your party together, but you may be assigned to different rows in the same holding area if your party is large. Guests using wheelchairs or EVCs can be assigned to any row.
Seating Tip: We've found that the seats on the far left side of the theater feel as though they're rising the highest. We've been told that they don't actually rise any higher than the rest of the seats, but we believe that this effect has something to do with the perspective of the images on the screen. If you have a fear of heights, request to be seated in the furthest right section in the back row. If you're looking for a bigger thrill, request the left section, especially the front/top row. Cast members will try to accommodate you, but you may have to wait a little longer to get the location you prefer.
Tip: Although every seat is a great experience, the front/top row gives you a bit more of a view. Those in rows two and three will have a view of the feet of those in front of you blocking the top of your field of vision. However, also note that in the front/top row you'll be able to see the top of the screen, which may slightly diminish the sense that you're really flying.
Tip: We've found that sitting in the seats closest to the walls of the theater creates a less realistic perspective due to some mild distortion of the screen. We request to sit at least a few seats inside the row.
Once you reach your gate, you'll stand and watch an entertaining instructional video on the overhead monitors.
Once the theater doors open, the cast member will lead guests in all three rows into the theater area. Row 1 follows directly behind the Cast Member, followed by row   2, then row 3.
Wheelchair/ECV and accessibility information for Soarin':
You can drive right up to your seat and park in front of it. There's adequate room for wheelchair users to transfer in all three rows. Once you transfer into the ride seat, the cast member will take your wheelchair off to the side and park it for you. After the ride, the cast member can bring you your chair.  If you're able, you can walk to it, or a member of your party can get it for you. It stays in the same room as the ride.
If you prefer to park it yourself, you can request that and we've found that they'll usually allow it. A cast member will direct you to a parking area.
More details about Soarin' Seating
There are 3 rows of 7 to 11 seats across, and you will usually have seats assigned side-by-side with your party. Although most hang-gliders put you in a prone position with your stomach down, on this ride you'll sit upright in a seat with a high back that supports your back, head and neck. Though the seat backs look like wire mesh, they're made of a stretchy, supportive fabric. Each seat has its own seatbelt. There are grab bars on the side of each seat, though we've never really felt the need to use them. There's adequate room to feel comfortable for most people.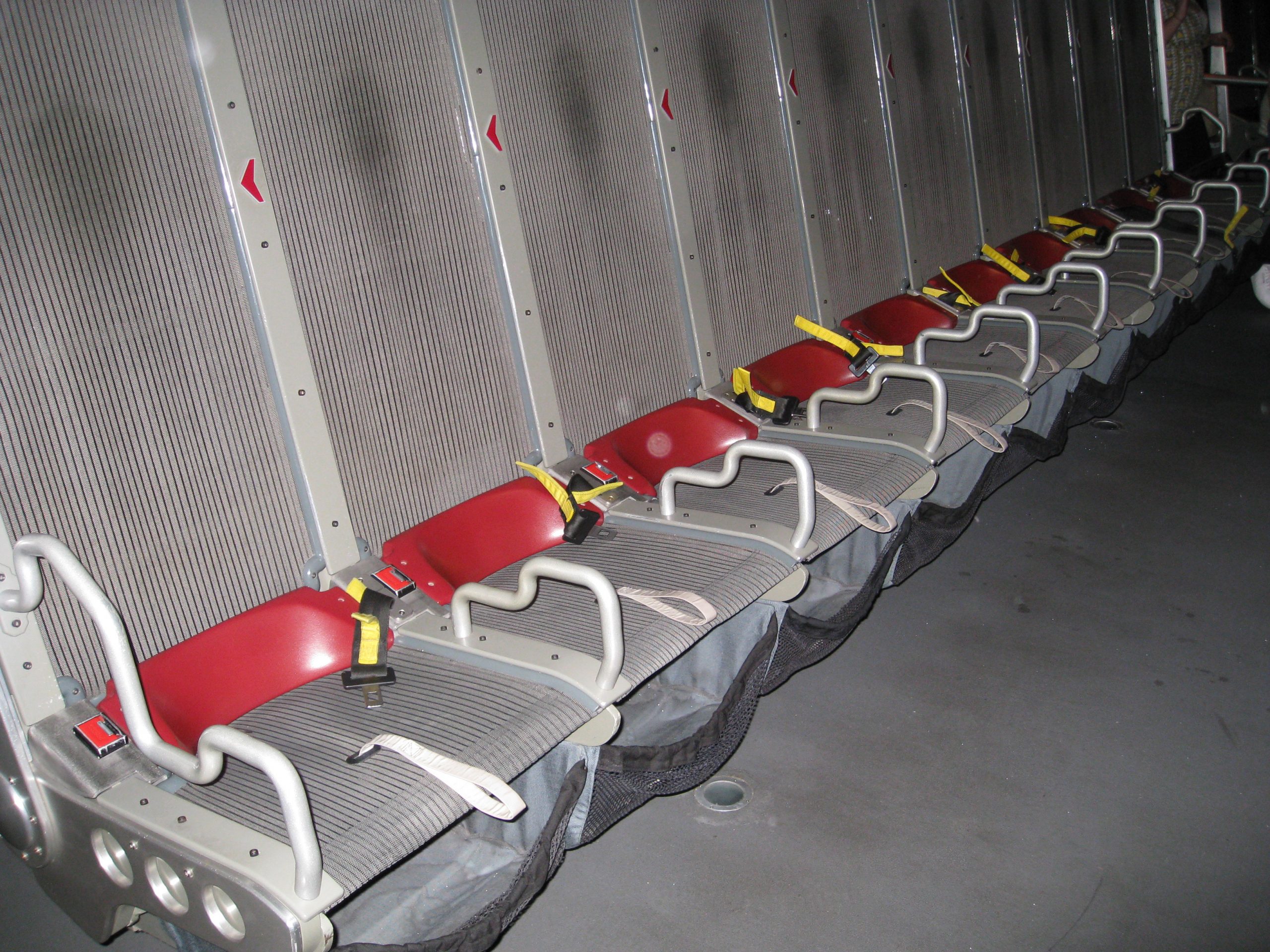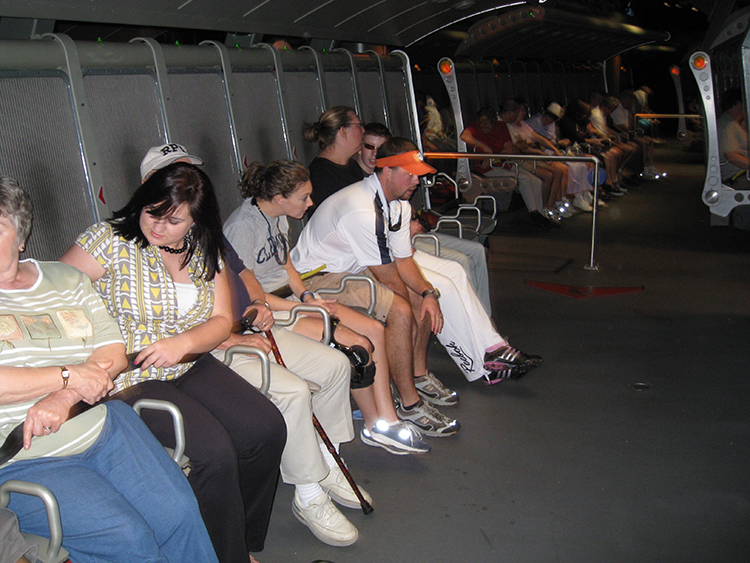 Tip: There are no foot rests, and your feet will dangle once the seats rise. If that's uncomfortable for you, try resting your feet on the small storage compartment below the seat. They're not made to be foot rests, so it may feel a bit awkward, but for some people it feels better than dangling their feet.
Tip: If you're wearing flip-flops or other loose-fitting shoes, you'll be required to remove them. You can store them in the compartment under your seat or leave them on the floor. The ride vehicle returns to its exact starting position, so you can easily retrieve them.
Tip: People of size as those who have mobility issues may find it challenging to snap the seatbelt in. If you're traveling with someone else asked them to do it for you. If you're traveling alone, ask a cast member for help.
Details about the experience of riding Soarin'
When the ride starts, the room goes completely dark for a very brief moment while you're lifted up into the huge screen dome area. It's a quick and very smooth transition. We don't experience any jerking or discomfort. The screen is curved and huge, so it's as though you're inside the scene. You'll then fly through one incredible scene after another.
The seats tilt gently and smoothly to have you feel like you're soaring in different directions. The angles are gentle enough so that most people won't feel a strong demand on their muscles, joints and spine. We've heard from others with a variety of physical issues who find this to be a physically easy attraction.
As you "fly" a wind is blown toward you in a way that enhances the sensation of flying. To us it feels natural and not harsh or uncomfortable. As you fly over certain scenes, mild fragrances are pumped in through the breeze. If you aren't paying attention, you might miss the smells altogether. For sensitive people, a washcloth or something similar over the nose can be helpful. On different visits we've found that the intensity of the smell effects can vary. This has to do with the amount and freshness of the scent beads in the individual rows of each glider. The scent beads are replaced as needed, so the intensity can change depending upon when and where you ride.
Nothing about this ride seems to be designed to make you scared but to give you a thrill and an enjoyable time. There are some dark nighttime scenes. Once the ride is over the lights go out and you're in darkness for the few seconds it takes for the ride seats to come back to the ground.
For the most part, we do not experience motion sickness on this ride, though it's possible. If you have a problem with a particular scene, just close your eyes for the few seconds it takes to get past this scene, or focus on something in the scene that isn't moving.
At times we find that the images on the screen are more or less clean. At times we see things on the screen which looked almost like eye floaters. We've been told by cast members that the lens on the projector needs to be cleaned periodically, so depending on when it was done last you may have more or less of a clean image. This does impact the experience of realism.
View Soarin in this video.
Check out more rides and attractions in Epcot:
WORLD CELEBRATION

WORLD DISCOVERY

WORLD NATURE

WORLD SHOWCASE
SEE RIDES AND ATTRACTIONS IN THE OTHER PARKS:
Join our Facebook group!!!!
Ask any questions, share your knowledge and just enjoy getting to know other Disney fanatics in our Facebook group called Walt Disney World Made Easy for Everyone.
Also: Like our Facebook page here.
And join me on Pinterest here.
GET UPDATES, NEWS & TIPS (IT'S FREE!!!) Plus get a Free Disney World Planning Schedule Form.
Sign up below to stay updated on the newest information, tips and tricks to help you plan your perfect Disney World trip!