Facts at a Glance About The Twilight Zone Tower of Terror:
Park: Hollywood Studios Location: Sunset Boulevard Height Requirement: 40" (102cm) or taller Genie+: Yes. Individual Lightning Lane: No. 
Quick Notes: While visiting a haunted hotel, among other spooky occurrences, your elevator plunges, launches upward and repeats the cycle several times.
Disney Warnings: Thrill ride, big drops, dark scary. WARNING! For safety, you should be in good health and free from high blood pressure, heart, back or neck problems, motion sickness, or other conditions that could be aggravated by this adventure. Expectant mothers should not ride. This attraction includes sudden, fast drops in a dark, enclosed space which may be frightening to some Guests.
Our Additional Cautions: Includes periods of darkness, simulated lightning, thunder and ghosts, light effects, some jolts and bumps. The ride car is an elevator car with seats. It plunges faster than the speed of gravity and then is pulled up rapidly to drop again multiple times. If the seatbelt is not fastened tightly, guests may experience a slight lift out of their seats and then a drop back into their seats. This can be jarring for some guests. Some people of size may find the hard molded metal seats with seat belts to be too small for them. Some will find this attraction scary. See below for more cautions.
Length: There is an approximately 3-minute pre-show. The ride is approximately 3-5 minutes depending on the number of drops. (This varies.)
Special Needs & other info: Those in ECVs must transfer to standard manual wheelchair, and then to the ride vehicle. For power wheelchair users, in most cases queues that allow wheelchairs also allow most power wheelchairs. See the Cast Member at the attraction for your options. Due to the nature of the experience, service animals are not permitted on this attraction. Video Captioning, Language Translation Devices. Ears to the World, Disney's Show Translator, is capable of translating this experience into French, German, Japanese, Portuguese, or Spanish. The service is complimentary and devices can be picked up at the Guest Relations service counter. Children under age 7 years must be accompanied by a person age 14 years or older. Due to the nature of the experience, service animals are not permitted on this attraction.

Overview of The Twilight Zone Tower of Terror in Hollywood Studios
The back story is that you're a guest in the abandoned Hollywood Tower Hotel, a hotel that is now haunted, old and in ruins. You're placed on an elevator (strangely you're seated and strapped in), and suddenly everything goes awry. Your elevator drops, and then rapidly rises over and over. This thrill ride is meant to scare. Just stand outside and watch the tower. Every few seconds a door opens and passersby see an elevator full of people screaming.
Queue, pre-show & boarding for the The Twilight Zone Tower of Terror
It begins outdoors on the partially shaded grounds of the old hotel, passing through overgrown gardens. The walkway is cobblestone, which can be pretty bumpy for wheelchairs. You then enter the hotel lobby, which features a lot of atmospheric, 1920s-era touches. You're told to go into the library to wait for your rooms to be ready.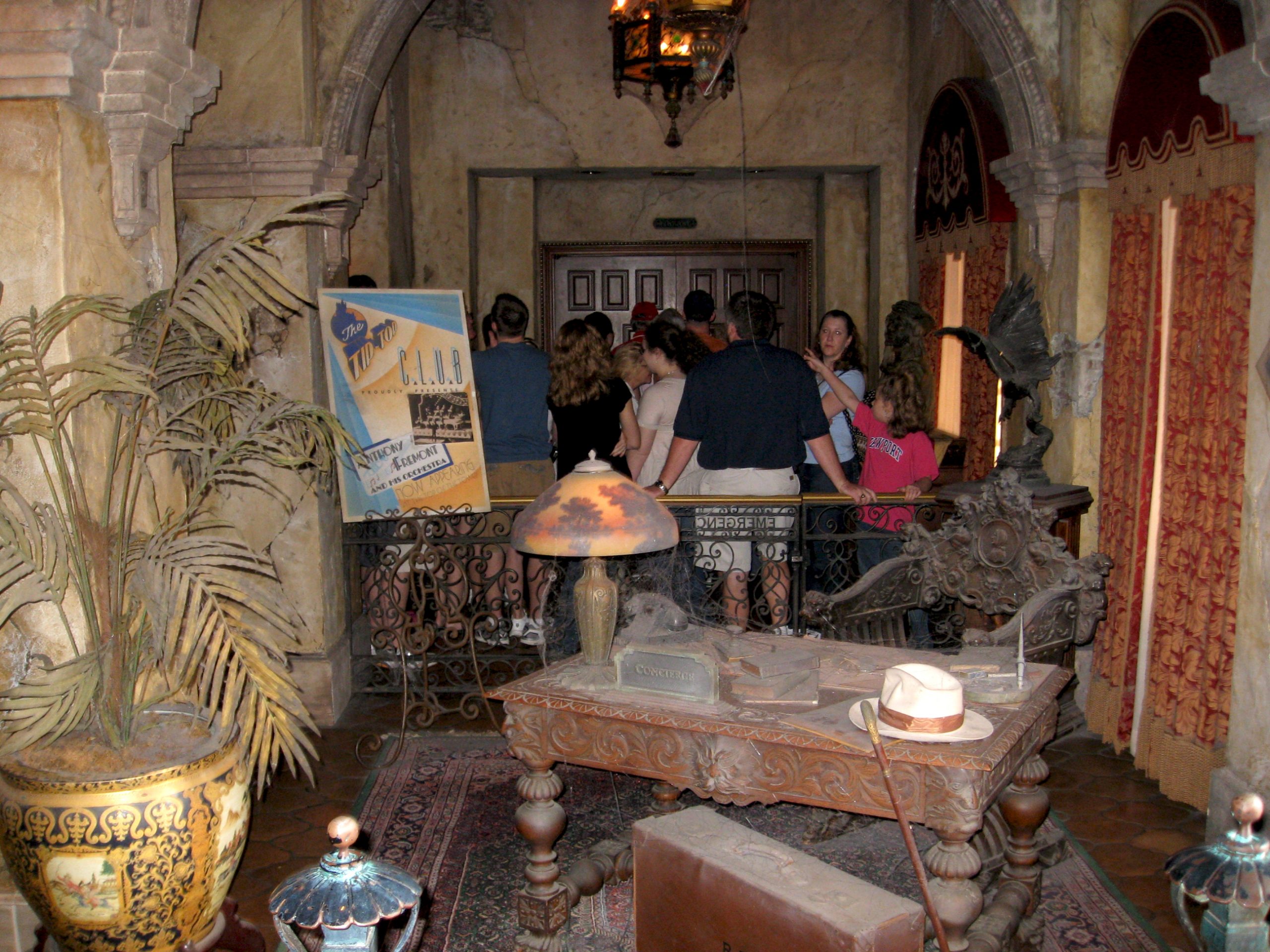 Then the lights dim, and from an old black-and-white TV "Rod Serling" talks about the mysterious history of the hotel, and how it became haunted. The screen flickers like an old-time movie. After you make your way through the hotel's dimly lit, ancient boiler room (complete with dilapidated equipment), you board a "service elevator" where you're seated, to be taken to your room.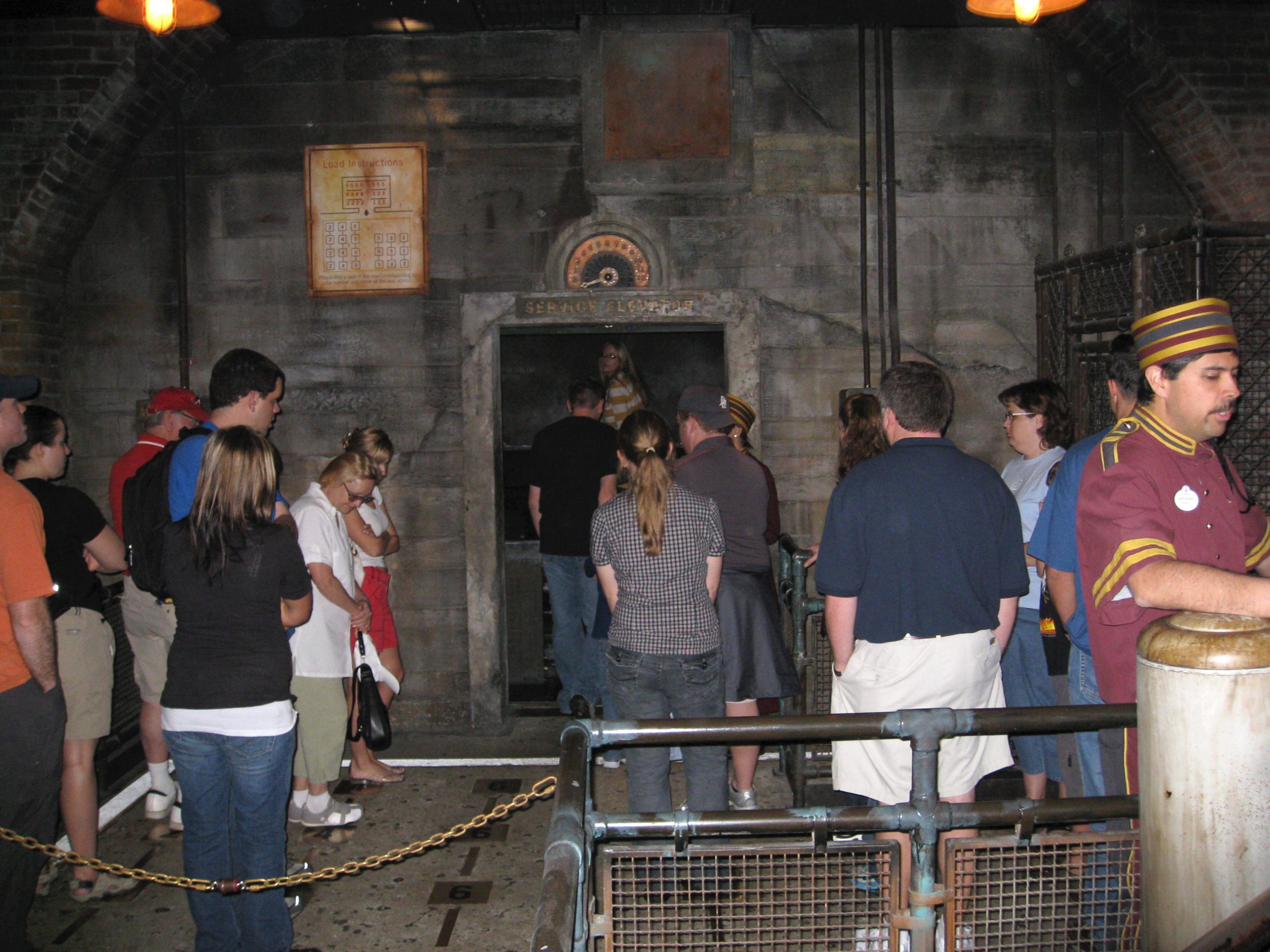 If for any reason you decide you don't want to board, a cast member will escort you out.
The ride seats are one-piece hard benches with backs and individual belts. There are four rows of seats with an aisle down the middle.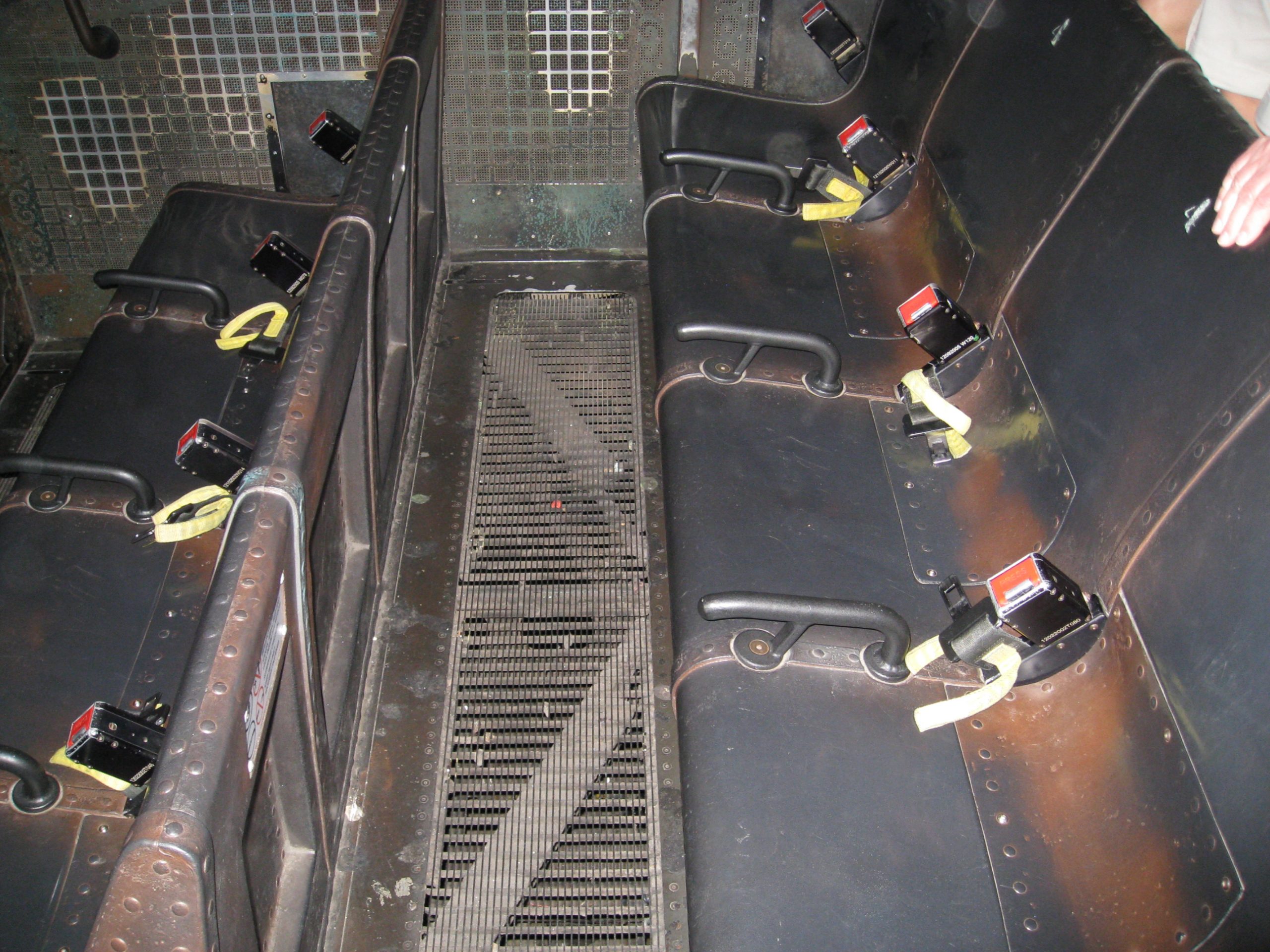 The first row is accessed without steps but there are several small steps to get to the next rows. The seats in the aisle give you more room, while the ones near the wall are tighter, and may be more challenging for people of larger size.
Wheelchair information: Guests using wheelchairs can take them all the way to the boarding area and bring the wheelchair to the doorway of the elevator. A Cast Member will bring your wheelchair to the unload area which is a different place than where guests get on. If you're assigned a seat in the first row, there are no steps to get in. Let a cast member know if you need this. Getting into the second row can be more of a challenge, especially if assistance is needed. This is because of the steps, the narrow aisle and the row of seats fairly close in front of you.
Additional details about The Twilight Zone Tower of Terror
The elevator first ascends but then moves horizontally, taking you on a tour of the haunted hotel and supposedly into the 5th dimension! You'll see many creepy and ghostly effects before the thrill portion of the ride begins.
People who you were told disappeared in the hotel suddenly reappear. There's an electrical current or lightning-type effect all around them, with thunder sounds. The images of the people flicker and disappear. There are also other times when the electrical current or lightning-type effect happens. Twinkling star lights appear as well. There are times of complete darkness.
The building is 13 stories high, and the elevator drop shaft is 135 feet tall. Once you reach the top, the story is that the cable snaps and you begin to plummet. It happens repeatedly. After the drop the elevator swiftly rushes back upwards and then suddenly drops again. To add to the excitement factor, Disney has a system that makes the number of drops you'll experience for each ride unpredictable. The drop is so fast that you rise out of your seat, but the belt keeps you strapped in. Still, you may hit your seat with your bottom when the elevator stops falling. Keeping your seatbelt tight might reduce or eliminate this. Here are two opposing points of view on this ride:
"I wanted to try this ride because I always enjoyed free-falling types of rides I've tried in other parks and fairs. I expected the free fall of the elevator to be exciting and enjoyable, and the rise back up to give you a moment to breathe. No way. The free fall was so fast and dark that it felt frightening to me, and the rise back up was so fast that my body couldn't relax. I had to constantly find ways to brace myself as we changed direction. It took a lot of strength. When I got off the ride, I'm sure my blood pressure was through the roof, and I was literally shaking."
And the other:
"I love this ride. It's a thrill a second and I can't wait to get back on it once I get off. The drops are exciting and I love that you don't know how many to expect. It's brilliant."
At times when the elevator comes to a stop, it does not seem to create a jolt, but has more of a gradual but quick and smooth stop. On other drops we experience a small jolt upon stopping. There's also an experience of a light jolt just before the first drop when the elevator cable is supposed to be breaking. While there were some jolts, I didn't feel that they were particularly strong or harsh. We've heard from those with mild back and neck problems who said that the jolts did not cause them any discomfort.
Not only are the drops randomized, but the effects during the drops are as well. Due to the random nature, you really don't know what you're going to get. You may go on once and see a window shatter and ghosts appear and then might go on a few minutes later and get bright lightning flashes with loud noises accompanied by gusts of winds. Some of the visual effects that you see in the elevator may be seen better at night because light from outside can sometimes seep in during the day and minimize them.
The elevator goes completely dark. The sun comes in the elevator when the doors open just before the drop, and you can look outside onto the park. On a sunny day there's a big contrast between the light from outside and the dark elevator chamber. At one point during the attraction your photo is taken, and there will be a bright flash of light.
If there's any question about whether you should ride, we suggest that you skip this or have someone test it for you. However since elements of the ride change each time, keep in mind that your tester may not have experienced everything you might encounter.
Take a look at the queue and the ride:
Check out other dies in Hollywood Studios
Animation Courtyard

Commissary Lane

Echo Lake

Grand Avenue

Hollywood Boulevard

Pixar Place

Star Wars: Galaxy's Edge

Sunset Boulevard

Toy Story Land
SEE RIDES AND ATTRACTIONS IN THE OTHER PARKS:
Join our Facebook group!!!!
Ask any questions, share your knowledge and just enjoy getting to know other Disney fanatics in our Facebook group called Walt Disney World Made Easy for Everyone.
Also: Like our Facebook page here.
And join me on Pinterest here.
GET UPDATES, NEWS & TIPS (IT'S FREE!!!) Plus get a Free Disney World Planning Schedule Form.
Sign up below to stay updated on the newest information, tips and tricks to help you plan your perfect Disney World trip!