Facts at a Glance About Kilimanjaro Safaris:
Park: Animal Kingdom Location: Africa Height Requirement: None. Genie+: Yes. Individual Lightning Lane: No. 
Quick Notes: Outdoor safari ride in an open-sided vehicle through a 100-acre animal reserve. The ride is rough and jerky over rugged terrain with bumps and ditches.    
Disney Warnings: The unpaved roads of Harambe Wildlife Reserve pass through rough and rugged terrain. You may experience bumps and sudden jolts on your safari adventure. WARNING! For safety, you should be in good health and free from high blood pressure, heart, back or neck problems, motion sickness, or other conditions that could be aggravated by this adventure. Expectant mothers should not ride.
Our Additional Cautions: Attraction includes free roaming animals and birds. One area includes an overlook of some alligators in an area about 20 feet below. Tram travels over bumpy simulated, rutted mud roads and some rickety looking (and feeling) bridges. May include a sequence with a creaking, moving bridge. Some guests may find the ride uncomfortably jarring.
Length: The safari lasts approximately 18 minutes, but can take as much as 35-40 minutes if an animal blocks the road.
Special Needs & other info: You must transfer from your ECV or power wheelchair to a manual wheelchair, or transfer to the vehicle seat. For power wheelchair users, in most cases queues that allow manual wheelchairs also allow most power wheelchairs. See the Cast Member at the attraction for your options. Service animals are allowed, but you should check with a cast member to be certain that the types of things the animal will encounter won't be a problem. Assistive Listening, Video Captioning (pre-show only). Children under age 7 years must be accompanied by a person age 14 years or older.

Overview of Kilimanjaro Safaris in Animal Kingdom
An open-sided safari vehicle that holds 32 guests takes you on an expedition through a 110-acre animal reserve. The story is that you're actually on Africa on a safari. You'll encounter African animals, most of who roam apparently freely throughout the savanna and hills. You may see giraffes, hippos, zebras, warthogs, crocodiles, elephants, rhinos, lions and a lot of other animals.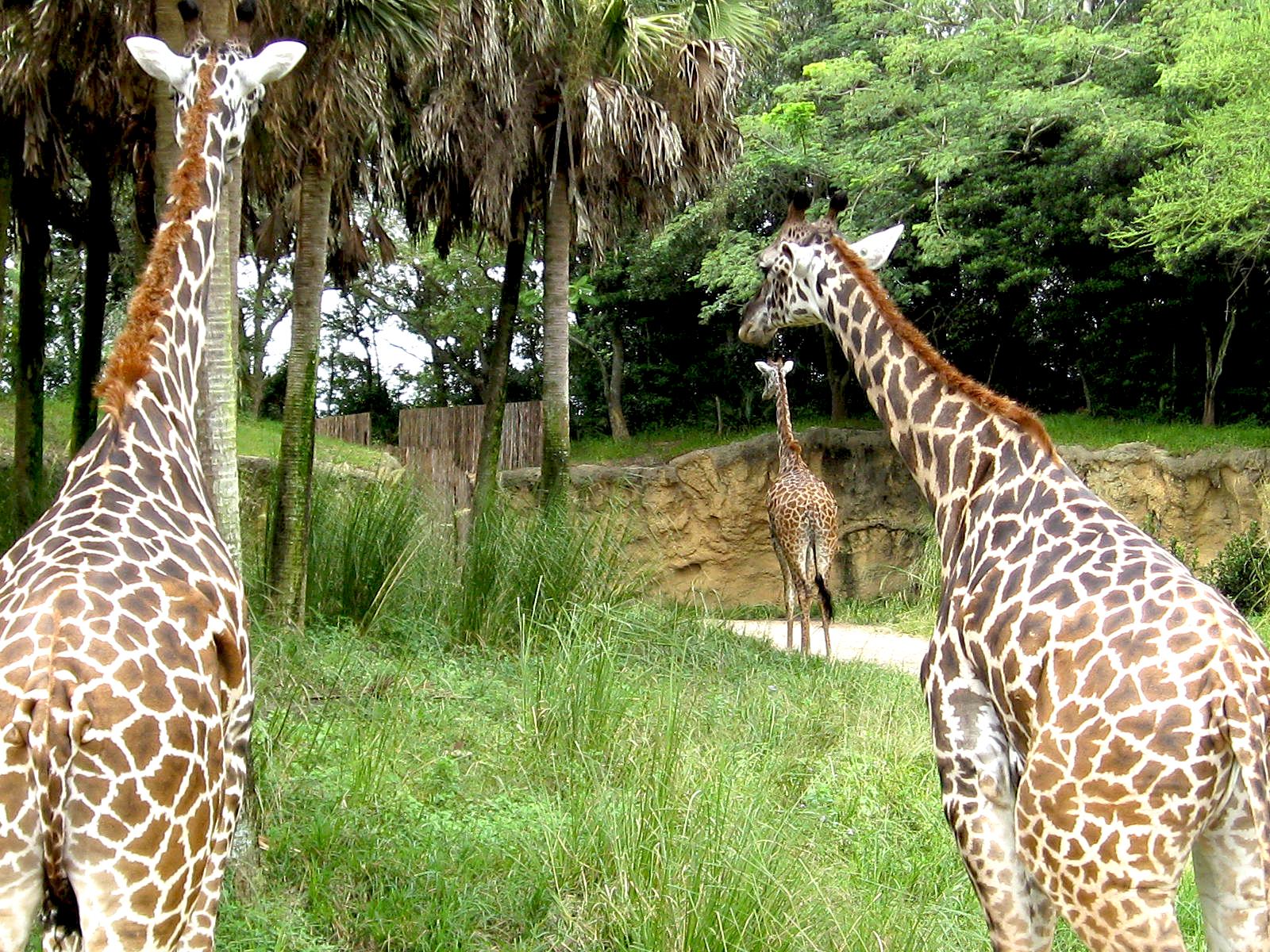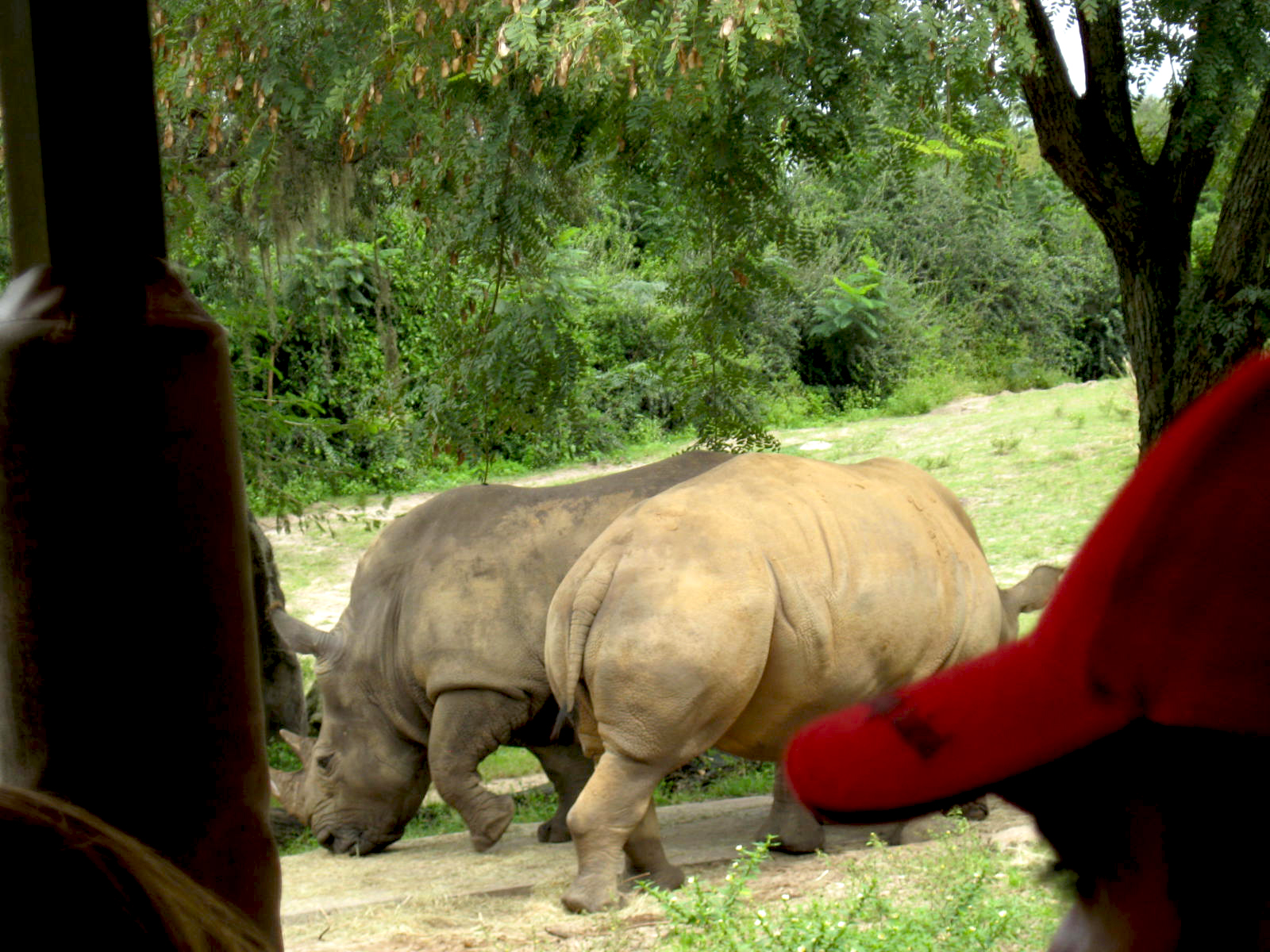 There are over 34 animal species on the Safari. Your tour guide will help you spot the animals, and will teach you about them as he/she drives you on your expedition.
The animals can roam in and out of sight of the vehicles, so every time you take this tour it will be different. Some can come right to the truck and all have the option to vanish from view. The animals are separated in ways that are not visible wherever necessary to keep them from doing harm to each other or to you. For example, the lions are unable to come near the safari vehicles.
There are times when I've seen very few animals close-up, and other times when I've seen a great assortment of animals within easy viewing from the road.
There are nighttime tours with special lighting designed to look like moonlight, that allows you to see the animals after dark.
Queue and ride car information for Kilimanjaro Safaris
The queue is outdoors with a canopy and a few ceiling fans and misters. Although the queue is spacious, when it's hot and crowded it can feel claustrophobic to some people.  You'll view a video about the problems of poaching on the televisions overhead.  This sets the tone for the story you'll be a part of on your safari. During warmer times of the year, between the heat, crowd noise and the visuals the queue can be overstimulating for some.
Guests board a safari vehicle with rows of seats for the tour.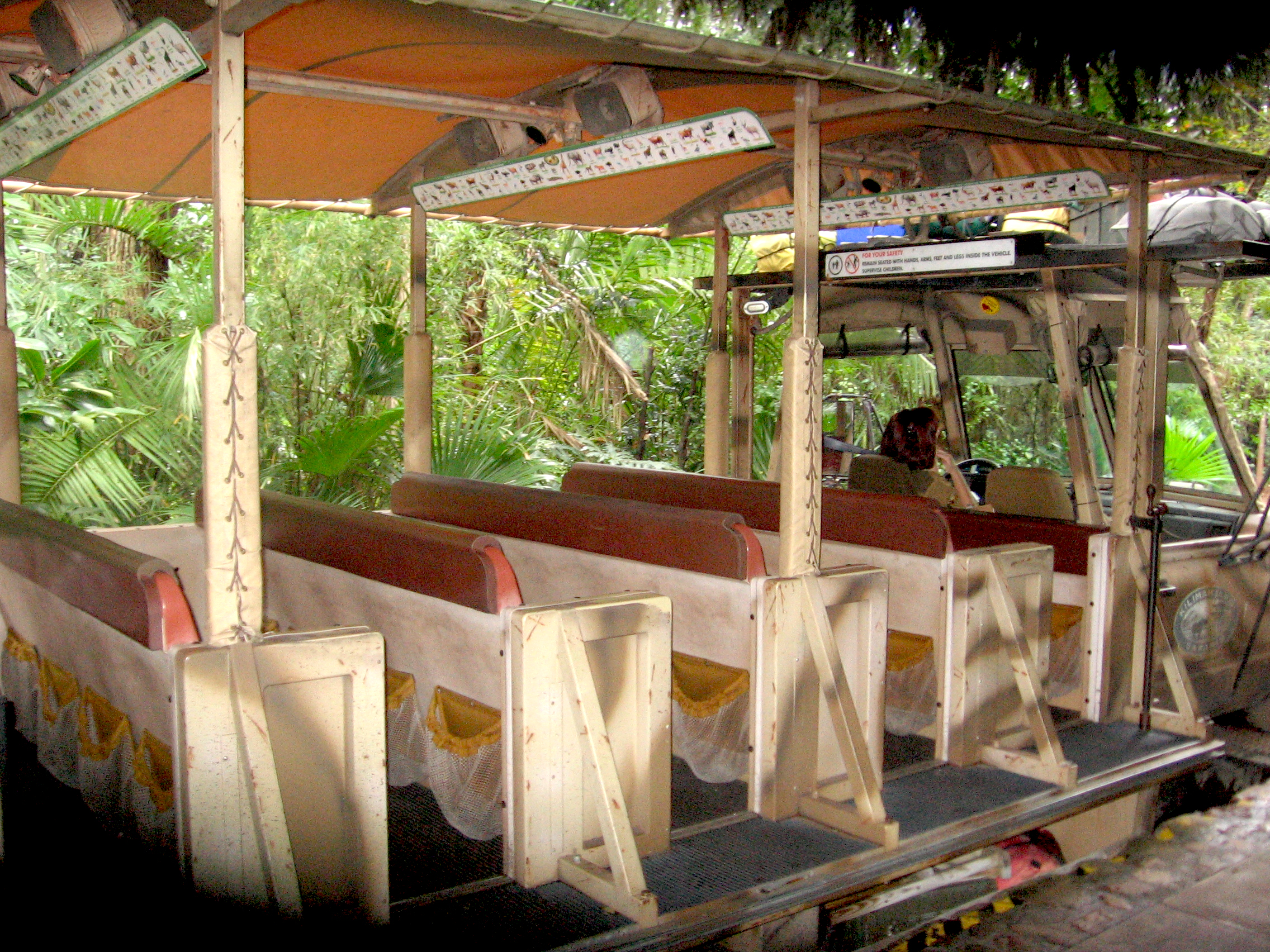 Currently for COVID precautions the seats have been modified to have dividers between rows.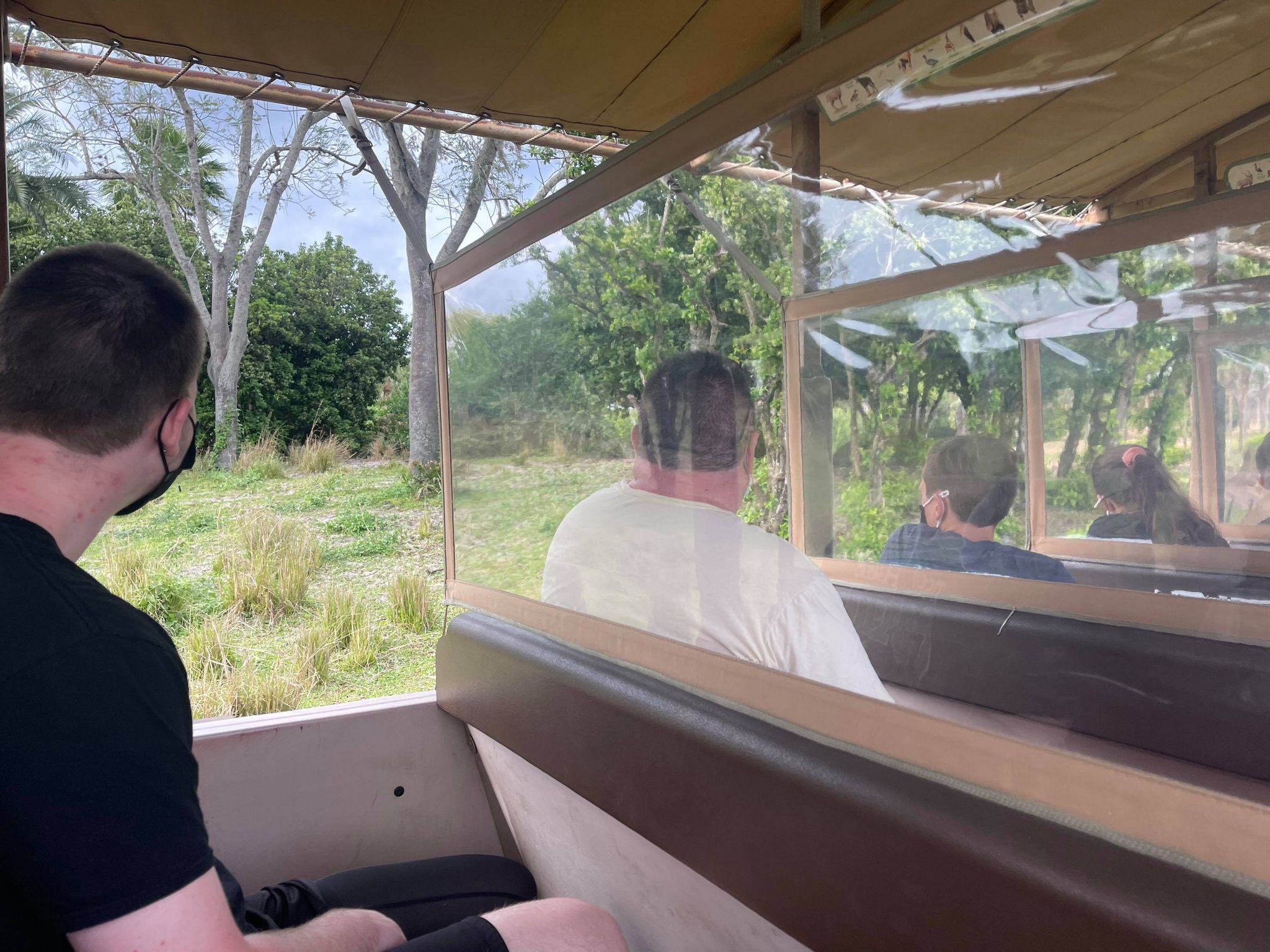 Wheelchair/ECV and accessibility information for Kilimanjaro Safaris:
Guests must step up approximately 15 inches to get onto the ride car. There are handholds available.
This is one of the longer Genie+/DAS queues as it merges with the standard queue earlier than some other Disney ride queues.
Guests with ECVs, wheelchairs and other mobility devices will be directed to an accessible boarding and unloading area. It's located soon after the stroller drop off area, just before the regular line gets to the boarding area. Wheelchairs, ECVs and other mobility devices can be parked in this area and will be waiting in the same place when guests return from their safari.
The vehicles
All of the safari vehicles serving the accessible boarding area can hold one occupied wheelchair (manual or power) in the very front seat. ECV drivers who do not wish to transfer to a vehicle bench seat must transfer to a Disney-provided manual wheelchair. Since each tram holds only one occupied wheelchair, guests needing this type of access may have an additional wait compared to those who are transferring to a vehicle seat.
The area has a permanent ramp, which will be flipped down to get wheelchairs on and off the safari vehicles. The wheelchair will be fastened down with tiedown hooks by a cast member as part of the loading process. The wait in the accessible line can sometimes be very long. Contributor Sue Mickelson reports that her party once waited over 40 minutes when guests in the regular line were walking right in.
To see photos of the wheelchair boarding check out Rolling With The Magic's Kilimanjaro Safari page.
Service animals on Kilimanjaro Safari:
They are allowed if they can remain lying down during the ride. They'll be strapped in along the floor of the ride vehicle.
Here's a tip about seating choice on the safari vehicle by one of our readers:

"We love this ride however the back few rows are very bumpy. The entire ride is a bit bumpy but the times we have been sat in the last row or two we have been bounced off the seat. It's fun, however if too much jostling is hard on you, you might want to request the first couple of rows.

Also, now with COVID, they have added the plastic screens between the rows. Unfortunately people can still play with / move them so they are not a perfect protection. Our family is high risk so the times we rode the Safari we requested the very front for our wheelchair user to stay in his chair. That gave us the separation we felt more comfortable with." —Mary Benhart
Additional details about Kilimanjaro Safaris
Under normal circumstances, the vehicles don't stop along the way. The driver points out animals and teaches you about them as you drive along, but does not usually stop for viewing. It takes 20 minutes to drive the full course. If an animal stops in front of any vehicle, all the vehicles behind it will have to stop and wait. There may be long delays during the ride if an animal decides to stop along the path. Of course, if the animal doesn't move, eventually keepers come out to help it along (the drivers are not allowed to interact with the animals). So, the ride averages 18-25 minutes, but could be as long as 35-40 minutes if the animals are uncooperative.
The terrain is very rugged, and the vehicles themselves are not designed for smooth driving. This means that the ride is very rough. The roads are designed to replicate what you would find on a real safari in the wild. You'll ride over heavily pitted dirt roads, over bridges and through a creek with geysers. You'll be jerked around quite a bit.
The truck seats 32 guests and you can place your personal items in a small, netted area. The seats are covered with an overhead awning-style top, but the vehicles have open sides. The bench seats have padding, but we find it to be thin for the bumpy ride. The ride may be the least bumpy in the front third or half of the truck.
Everyone is directed to stay in their seats, including children. If you wish to put a child in your lap, that's allowed. However it must be done in the beginning of the trip. It's tempting to stand up in the vehicle during your ride to get a better view or to take a photo, but don't! The driver may stop fast to avoid animals, start back up suddenly after stopping, or drive over a major pot hole. Your vehicle will allow you to be seated quite high up, so that you should be able to see well without standing.
Some guests with mild back and neck issues that we've heard from didn't find that this attraction irritated their conditions. However, keep in mind that Disney posts a warning and those who are sensitive to this type of motion should avoid this attraction.
We've consistently heard that the earlier you go on this ride, the more chance you have of seeing a lot of animals. Also, late afternoon may be better than mid-day since the animals often retreat to shade during the heat of the day. If you can time it right, visiting just before a thunderstorm may provide the best viewing of all, since the animals tend to stampede in anticipation of the storm.
Visual accessibility: Most animals are far from the vehicle and might blend into the trees and surroundings. They might be difficult to pick out or see for those who are visually impaired or for those with cortical visual impairments.
Check out Kilimanjaro Safaris on video:
Ask any questions, share your knowledge and just enjoy getting to know other Disney fanatics. Also: Like our Facebook page here. And join me on Pinterest here.
SEE RIDES AND ATTRACTIONS IN THE OTHER PARKS:
CHECK OUT MORE RIDES IN ANIMAL KINGDOM:
Discovery Island

Pandora – The World of Avatar

Africa

Rafiki's Planet Watch

Asia

Dinoland U.S.A.
GET UPDATES, NEWS & TIPS (IT'S FREE!!!) Plus get a Free Disney World Planning Schedule Form.
Sign up below to stay updated on the newest information, tips and tricks to help you plan your perfect Disney World trip!